Shigatse Altitude: how to visit Shigatse attractions with varied elevations
Shigatse, the second largest city in Tibet Autonomous Region, means "the fertile land" in the Tibetan language. For many travelers, Shigatse is the transportation hub as it connects with Nepal, Bhutan and India in the south, Ngari in the west, Nagqu in the north and Lhasa and Shannan in the east. Also, Shigatse is one of the world's highest regions with an altitude of 3,845 meters. From the east of Shigatse to the west of Mount Everest Base Camp, the altitude also has increased to 5,200 meters. The different altitudes endow Shigatse with the most stunning landscapes, the sacred mountains, the winding rivers and the ancient holy monasteries. All of these are worthy of a visit. And therefore, traveling to Shigatse would never disappoint you.
Altitude of Shigatse City and Counties
Shigatse is situated between the middle of the Himalayas and Kangdese-Nyainqentanglha ranges. The northern and southern terrains are high, while the South Tibet Plateau and the Yarlung Zangbo River form the low-lying middle area. Basically, consisting of high mountains, wide valleys, lakes and basins, this land has a varied topography with an average elevation of over 4,000 meters. To help travelers get a sense of the altitudes of places in Shigatse, let's take a look at the detailed elevations of Shigatse city and counties.
| | | | | | |
| --- | --- | --- | --- | --- | --- |
| Name | Simplified Chinese | Elevation (m) | Area (km²) | Population | Density (/km²) |
| Samzhubzê District | 桑珠孜区 (Sāngzhūzī Qū) | 3,840-4,464 | 3,654 | 120,374 | 32.94 |
| Namling County | 南木林县 (Nánmùlín Xiàn) | 3,840-4,464 | 8,113 | 74,930 | 9.23 |
| Gyantse County | 江孜县 (Jiāngzī Xiàn) | Average above 4,000 | 3,859 | 63,503 | 16.45 |
| Tingri County | 定日县 (Dìngrì Xiàn) | Average above 5,000 | 13,859 | 50,818 | 3.66 |
| Sa'gya County | 萨迦县 (Sàjiā Xiàn) | Average above 3,200 | 7,510 | 47,304 | 6.29 |
| Lhatse County | 拉孜县 (Lāzī Xiàn) | Average 4,010 | 4,505 | 49,286 | 10.94 |
| Ngamring County | 昂仁县 (Ángrén Xiàn) | Average 4,513 | 20,105 | 51,472 | 2.56 |
| Xaitongmoin County | 谢通门县 (Xiètōngmén Xiàn) | Average 5,712 | 13,960 | 42,280 | 3.02 |
| Bainang County | 白朗县 (Báilǎng Xiàn) | Average 4,200 | 2,806 | 42,551 | 15.16 |
| Rinbung County | 仁布县 (Rénbù Xiàn) | Average 3,950 | 2,123 | 27,826 | 13.10 |
| Kangmar County | 康马县 (Kāngmǎ Xiàn) | 4,100-4,500 | 6,165 | 20,522 | 3.32 |
| Dinggyê County | 定结县 (Dìngjié Xiàn) | Average 4,500 | 5,816 | 20,319 | 3.49 |
| Zhongba County | 仲巴县 (Zhòngbā Xiàn) | Average above 5,000 | 43,594 | 22,147 | 0.50 |
| Yadong County | 亚东县 (Yàdōng Xiàn) | Average 3,500 | 4,306 | 12,920 | 3.00 |
| Gyirong County | 吉隆县 (Jílóng Xiàn) | Average above 4,000 | 9,009 | 14,972 | 1.66 |
| Nyalam County | 聂拉木县 (Nièlāmù Xiàn) | 1,433-8,012 | 7,903 | 17,568 | 2.22 |
| Saga County | 萨嘎县 (Sàgā Xiàn) | Average above 4,600 | 12,411 | 14,036 | 1.13 |
| Kamba County | 岗巴县 (Gǎngbā Xiàn) | Average above 4,700 | 3,936 | 10,464 | 2.65 |
Top 8 Shigatse Attractions and Their Altitudes
Travelling around Shigatse along Sino-Nepal friendship highway, you'll have a great opportunity to appreciate its amazing landscapes at different altitudes, capture the stunning vista of the Himalayan Mountains and pay a visit to ancient monasteries en route.
On the way to Shigatse
Kangbala Mountain (Ganbala Mountain, 5,030m)
Kangbala Mountain means "A mountain that cannot be surpassed" in the Tibetan language. It is a famous snow mountain and sits between Nagarze County and Gongar County in the Shannan area of Tibet, with an altitude of 5030 meters above sea level. Kangbala Pass, like other famous mountain passes in Tibet, has a huge pile of Mani stones and colorful prayer flags. Besides, it is the best place to photograph the turquoise Yamdrok Lake. And you can also pay ten yuan to take photo with lovely Tibetan mastiff at the lakeshore.
Nianchu River (5,000m)
Located in south-west Tibet of Shigatse, Nianchu River with a length of 217 kilometers is the largest and major tributary of the Yarlung Tsangpo River. Covering the drainage area of 11,954 square kilometers, the Nianchu River Valley has been well-known as the "Granary of Tibet" (an important agricultural area in Tibet) for the natural pastures and fertile farmlands since the ancient times. Moreover, there are numerous cultural and natural landscapes along the banks of Nianchu River. So taking a stroll or riding a bike along the river bank could be the best way to enjoy it.
Shalu Monastery (4,000m)
Shalu Monastery, with an altitude of 4000 meters, is one of the ancient Buddhist temples in Tibet, as well as the ancestral temple of Tibetan Buddhism Shalu sect. Built in 1087 by Jigzun Xerab Qoinnyai, Shalu Monastery is a perfect combination of Han and Tibet architectural styles and considered as a center of scholarly learning and psychic training. It houses four religious treasures, namely, a 700-year-old sutra board, a holy jar made of brass sealed by a piece of red cloth, the stone basin used by Jungnay, a stone tablet carved with the six-letter mantra. These are the wonders of the monastery from 1040 to the present day.
Enjoying the stunning natural landscape while trekking from Shalu Monastery to Nartang Monastery.
Nartang Monastery (3,850m)
Just 20 kilometers outside of Shigatse in Tibet, Nartang Monastery is famed for wood-block printing the Nartang canon in the 18th century. Consequently, it enjoys a high reputation of the Tibetan Library. Nartang was originally built in the year of 1033 by the Kadampa monk Luojiazha. It was the fourth great monastery of Tsang with Sakya Monastery, Shalu and Tashilhunpo.
After the fourteenth century, it gained great eminence as the oldest of Tibet's three great printing centers (another two are the Potala Palace and the Derge). Also, this monastery stores a large number of cultural relics, such as Thangka of Yuan Dynasty, Ming Dynasty, and Qing Dynasty. The Fifth Panchen Lama took control of the monastery and it continued printing the Buddhist scriptures, the Kangyur and the Tengyur (a list of sacred texts recognized by various schools of Tibetan Buddhism). if time allows, you can join our Shalu to Narthang Monastery trekking tour to explore the two prestigious Tibetan Buddhist monasteries and the stunning natural landscape in just one go.
Entering Shigatse
Tashilhunpo Monastery (3,950m)
There is an old local saying goes that, one has never been to Shigatse if ignoring Tashilhunpo Monastery. Tashilhunpo Monastery (3,950m), regarded as the Tibetan Buddhist center of Tsang, is the most important and popular attraction in Shigatse. Located at the foot of Tara's Mountain of Shigatse, the monastery was founded by the First Dalai Lama in 1447, and expanded by the Fourth and successive Panchen Lamas. Hence, Tashilhunpo is the seat of the Panchen Lamas, the second-ranking person in the Gelugpa Tibetan Buddhist hierarchy, after the Dalai Lama. The monastery houses the tombs of Panchen Lamas and a statue of Maitreya Buddha.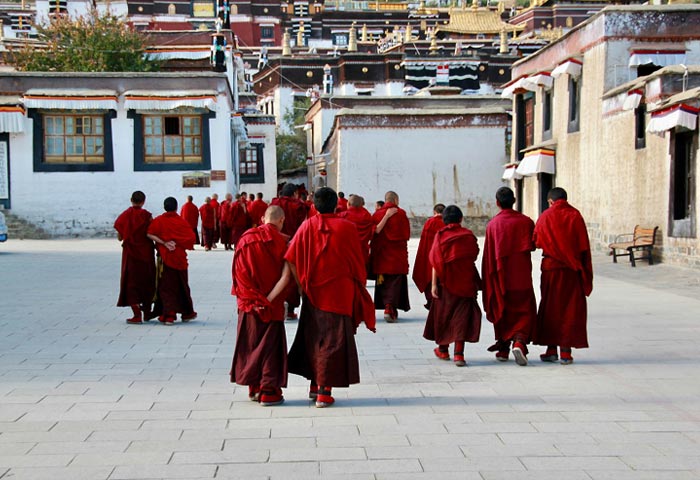 Tashilhunpo Monastery, the Tibetan Buddhist center of Tsang.
The main structures found in the Tashilhunpo Monastery are Maitreya Chapel, Panchen Lama's Stupa-tomb and Kelsang Temple. Besides the grand palace and gigantic statues, the Tashilhunpo also treasures distinctive murals, which are regarded as another masterpiece of Buddhist art because of the variety of shapes, weirdly colorful and exquisite painting. What's more, it has a remarkable nine-floor-high Tangka wall displaying the images of Buddha on the 14th, 15th and 16th of May in Tibetan Calendar. The Thangka paintings are so humongous that one can easily see it in Tashilhunpo Monastery. - Check 8 Days Tashilhunpo Festival Tour
Leaving Shigatse for EBC
Gawu La Pass (5,198m)
The Gawu La Pass is a gateway to Everest, which is 5,198 meters above sea level. When the weather is fine, standing on the Gawu La Pass, you can appreciate the breathtaking view of the Himalayan Mountains, like Mount Everest(8844.43m, the word's highest peak), Makalu peaks(8,463m, the second highest), Lhotse(8,516m, the forth highest peak), Cho Oyu(8,210m, the sixth highest), etc.
Rongbuk Monastery (5,154m)
Built by Ngawang Tenzin Norbu in 1899, Rongbuk Monastery with the altitude of 5,154 meters above the sea level, is the highest monastery in the world. Located at the end of the Rongbuk Glacier in the northern foothills of Mount Everest, Rongbuk Monastery is about 20 kilometers away from the Mount Everest summit. Thus it has become the base camp for climbing Mount Everest from the north slope and the vantage point for shooting Mt. Qomolangma.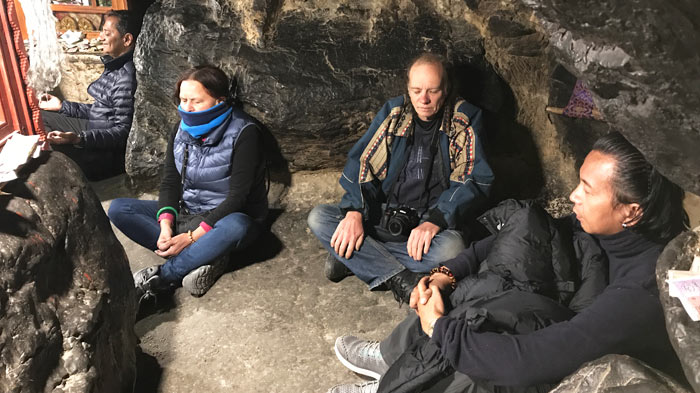 Our clients are meditating in the caves at Rongbuk Monastery.
The temple is divided into new and old parts. Sitting 3 kilometers south to the new complex, the old one houses the meditation caves used by Guru Rinpoche. If interested, you can also ask our Tibetan tour guide to take you go there and do some meditation. After exploring the historical relics and delicate murals, you can follow the pilgrimage kora around Rongbuk Monastery with the stunning view of alpine scenery.
Mount Everest Base Camp (5,200m)
Sitting south to Rongbuk Monastery, North Tibet Everest Base Camp, at the elevation of 5,200 meters above the sea level, is made up of dozens of yak tent hotels with the flags of China and Qomolangma National Nature Preserve flattering in the center. Everest Base Camp provides the very basic accommodation for tourists with simple food and public toilets. By the way, apart from the two public toilets, the base camp has no permanent buildings and all the tent guesthouses would be teared down from late October. But no worries, you can still choose to stay overnight at Rongbuk Monastery guesthouse in winter. The best time to visit Mt.Everest is from April to May and September to November when it's not too cold or rainy. Under the stable weather, you are more likely to capture the great shots of golden sunrise and flag clouds over the summit.
How to Prevent Altitude Sickness in Shigatse Tibet?
It is quite common that most people would suffer from High Altitude Sickness at different levels. If you are concerned about altitude sickness when planning a Shigatse EBC tour, please read some useful tips on avoiding altitude sickness in Tibet.
1. You'd better have a full medical examination of your health, and take seriously about your doctor's advice. Travelers who have heart disease, high blood pressure or other organ problems are not advised to visit Shigatse.
2. You'd better not take bath on the first day of arrival to prevent from catching a cold. A cold can easily turn into dangerous high altitude sickness. Wearing warm and enough clothes for the plateau is usually cold at night.
3. You'd better leave plenty of time to adapt to the high altitude in Shigatse. Also, you should avoid strenuous activities, such as running, jumping or climbing up to high mountains during the first 2 to 3 arrival days. Having a good rest is also important for you to avoid AMS. More importantly, please keep a good mood and be optimistic all times. Fight your fear of altitude sickness.
4. When altitude sickness comes, do not worry about it. The symptoms of Altitude Sickness are dizziness, fatigue, headache, shortness of breath, loss of appetite, nausea, disturbed sleep, and a general feeling of malaise,etc. Symptoms usually start 12 - 24 hours after arrival and begin to decrease in severity on the third day. If the symptoms get worse, you'd better tell our tour guide and go to hospital for treatment.
The tips shown above can help you to avoid high altitude sickness in Shigatse. Here, we, Tibet Vista team, also provide you with the Ultimate Guide to Your Shigatse Tour Planning for your reference. Wanna make things simpler? Just join in our Tibet tour and let us take care of the rest matters. With the considerate preparations and experienced Tibetan local guides, we promise you a once-in-a-lifetime journey to Shigatse, Tibet.