Sera Monastery Library: Another Cultural Highlight When Visiting Sera Monastery
If your impression about Tibetan monasteries has always been an unswerving feeling of solemnity and holiness, then the Sera Monastery which is known as one of three largest monasteries in Lhasa unveils other aspects of monasteries in Tibet. Located in north of Lhasa City, Sera Monastery has been the center for the propagation of Buddhist Dharma and the enlightenment of Buddhist Masters for centuries. Daily Buddhist doctrine debating held by young Lamas (Respectful address for monastics) in Sera Monastery has always been the hot Buddhism-related topics discussed by lots of visitors all day long.
Buddhist doctrine debating is not just some dispute or argument about trivial matters happening around, rather it serves as a kind of auxiliary method for Lamas to penetrate things and get enlightened from meditation after the debate. More formal Discussions or even warmer debates related to Buddhist Dharma are regularly held by eminent monks in Sera Monastery, which make this monastery a prominent place for Buddha doctrine propagation and studying in Lhasa or even Tibet.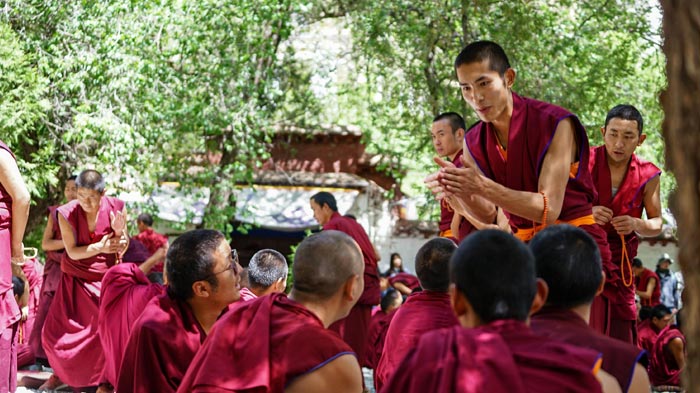 Heated debate on Buddhist doctrines
Insider tips: When you visit Sera Monastery, stop by the well-wooded debating site for some while to get an on-the-spot feeling about the Buddhist doctrine debating.
Serving not just as one of Tibetan Buddhist centers, Sera Monastery has further performed its function extendedly by Tibetan scripture collecting and text printing.
What else can we experience bout Sera Monastery?-Sera Monastery Library
What does Sera Monastery Library Look Like?
In 2007, the Library which serves as a textual repository for a vast collection of Buddhist text and scriptures relating to lama study curriculum and other Buddhist philosophical works was eventually built under the joint efforts of Sera Monastery and Lhasa government. More than 20 thousand books relating to philosophy, linguistics, Buddhism, history and politics are collected and can be borrowed by Lamas studying here. Lamas in Tibet do not live a completely isolated life with their focus only on Tibetan Buddhist philosophical works at present days, rather, in order to keep up the pace with the world development, they are required to read more books and become academic in not just one area. In the past, Institutes without libraries in Sera Monastery left much room for young lama to interpret but very little for self-doubt, even when they preserved the tradition of Buddhist doctrine debating, while the newly built library revitalized the unchangeable life and provided young lamas the chance to meet the world and in vice versa, see themselves.
Located almost in the center of Sera Monastery, the Library is open for all monastic here. Large wooden shelves top the house roof, with well-preserved books and neatly placed scriptures. Long loose-leaf texts are bundled in volumes by light blue or dark pink plastic ropes and piled up in category in a special space emptied out for these long leaf made books. In the Library, you can also find a corner with books in Tibetan. These books printed with white printing papers and bundled with colorful covers are mainly about Buddhist general knowledge and scriptures for sale. Take a close look at these different types of books and make a comparison, amazing things lie in their differences. No matter you can read them or not, most visitors traveling to Sera Monastery buy some of them in the library as souvenirs, for it is widely accepted that books or scriptures printed or published in Sera Monastery are the best in Lhasa City.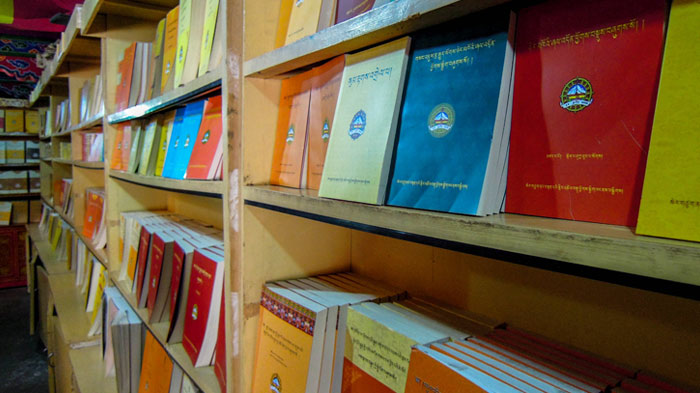 Books in Sera Monastery for sale
Insider tips: If you cannot read Tibetan, then visit the Sand Mandala room which is located next to the library to feel the Tibetan Buddhist philosophy. Sand Mandala is a Tibetan Buddhist tradition involving the creation and destruction of mandalas made from colored sand. A sand mandala is ritualistically dismantled once it has been completed and its accompanying ceremonies and viewing are finished to symbolize the Buddhist doctrinal belief in the transitory nature of material life.
How do books in Sera Monastery are preserved?
With limited conditions, books and scriptures in Sera Monastery are not preserved by the methods we typically do in urban cities, especially for a large number of precious Buddhist classic works. During the long period, time densifies the paper color from white into brown while the mites proliferating in the books are of the great threat in books' longtime preservation. So the librarians in Sera Monastery have to keep these books and scriptures in some extremely dry areas and comparatively higher places. To maintain a longtime preservation within limited condition and constantly changing weather, special handling must be made before the preservation. Books and scriptures are wrapped up in silk respectively and special handmade covers with Tibetan characteristics are sewed in terms of ancestral experiences to place in front of the shelves, keeping the air and the dust from direct contact with these precious books and scriptures.
For some books which have been affected with damp, especially the long loose-leaf scriptures in the Library, are picked out immediately and placed under the sunlight. Some book covers are wrapped by scotched tape in case of rotting away. Nowadays, most books and scriptures in Tibet are made of Tibetan papers. The Librarian told us that the paper prepared for book printing made from the Tibetan wood which is full of plant fibers or from the root of poisonous grasses. These paper-made books with strong and pliable textures are hard to tear, not afraid of mites and seldom fade their color.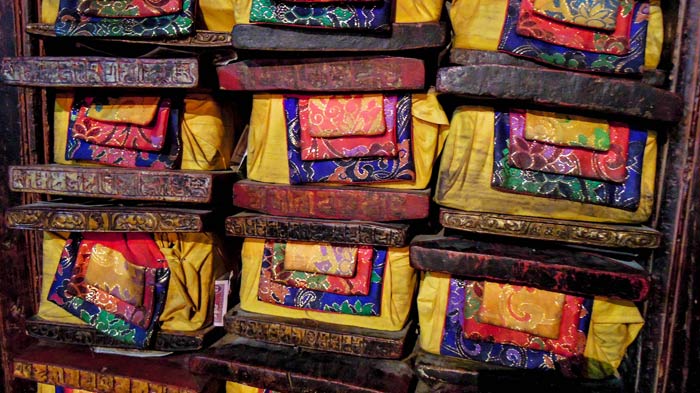 Books and scriptures perfectly preserved in the Library
What does the Printing Rooms in Sera Monastery look like?
In addition to the function of collecting and preserving books, Sera Monastery Library has extended its function to the Tibetan scripture and text printing. The Library once had a traditional block printing department responsible for the printing of Buddhist scriptures, texts, study curriculum materials, etc. So when you enter Sera Monastery Library, you can easily find a vast number of printing blocks and plates placed tidily on the shelves, with the Tibetan characters inscribed clearly on each block. Some mental blocks framed at random on the other side. You may definitely be amazed and marveled by these printing tools since the visual impact of these plates from rows to rows and floor to the ceiling do make you impressed by the traditional block printing in Tibet and admit the reputation Sera Monastery enjoys as the best printing place in Lhasa.
At present, the traditional block printing is no longer the major way to print Buddhist scriptures and texts in Sera Monastery, but most the blocks and plates used in traditional block printing have remained.
Evolution of the Buddhist scripture printing in Sera Monastery.
As part of the Library, Sera Monastery scripture printing plays an important and indispensable role in the development of the Monastery. The evolution of the Buddhist scripture printing means a lot to the library.
Since the first Tibetan Tripitaka which is now housed in Sera Monastery was successfully printed by woodblock printing in Ming dynasty, the block printing techniques had been widely sped and gradually improved. In order to protect the most precious Tibetan Tripitaka and made a restoration of it, the Scripture Printing Chamber was founded in Sera Monastery in the 1980s. Printers adopted the traditional block printing method to reprint this classic Buddhist work. Since then, printing Buddhist scriptures and other texts had become a daily work for lama in Sera Monastery. With time passing by, the printing skills had been improved and the printing scale had been enlarged, Sera Monastery became to print other texts and materials including the classic Buddhist works and various Tibetan books, and gradually became the eminent printing place in Lhasa and even in Tibet.
In 2006, The Sera Monastery and the Jokhang Temple jointly established the "Sera-Jokhang scripture printing chamber for collection and collation of ancient Buddhist classics". Later on, the printing chamber cooperated with the publishing house to make all the collated ancient Buddhist classics published. From then on, modern books have replaced the long loose-leaf papers and become the main products of the scripture printing chamber.
Nowadays, more than 80% of the published scriptures and books in Sera Monastery library are printed in modern ways, which has been proved that these books with cheaper price and portable characteristic are much more popular in lamas as well as Tibetan Buddhism believers.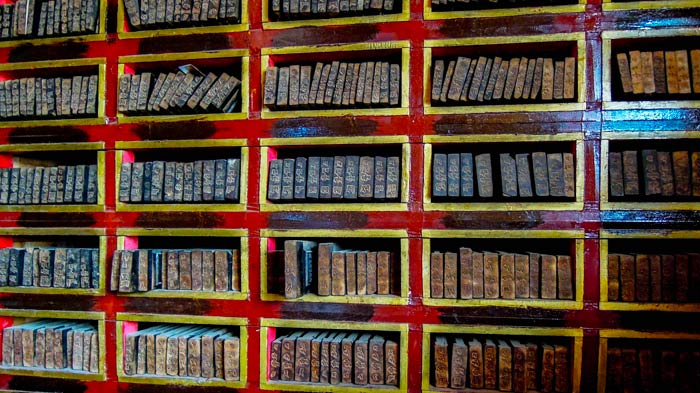 Blocks and plates remained on the wooden shelves in Sera Monastery
Traditional printing tools are no longer used in Sera Monastery, but more than 30 thousand volumes of the Tibetan Tripitaka blocks are preserved in the Library. Most of them are left for monastic to do the research while some are provided for Tibetan Buddhism believers and Tibetan culture researchers. The librarian tells us Sera Monastery scripture printing chamber was the only printing chamber adopting modern technique to print books and scriptures in Tibetan Buddhism monasteries. It is not hard to imagine the once prominent and largest Sera Monastery scripture printing chamber in Lhasa has been so closely integrated with the modern society in such a short time. The Monastery does not abandon the traditions and has never been assimilated by the advanced societies. Rather, Sera Monastery chooses to step forward just for the simple purpose, and that is making more and more ordinary monks and Tibetan Buddhism believers have the chance to read these ancient scriptures.