Ramoche Monastery
In Han and Tang Dynasty
About Ramoche Monastery
The sister temple to the Jokhang Temple--Ramoche Temple was constructed around the same time. It was originally built to house the Jowo Sakyamuni image brought to Tibet by Princess Wencheng but sometime in the 8th century the image was swapped for an image of Akshobhya, brought to Tibet in the 7th century as part of the dowry of King Songtsen Gampo's Nepali wife, Princess Bhrikuti. By the mid-15th century the temple had become Lhasa's Upper Tantric College.

As you enter the temple, past pilgrims doing full-body prostrations and the 1st of 2 inner koras, you'll see a protector chapel to the left, featuring masks and puppets on the ancient pillars and an encased image of the divination deity Dorje Yudronma covered in beads on a horse. The main chapel is full of fearsome protector deities in YABYUM pose, as befitting a Tantric temple.

The fabulously ornate Akshobhya image can be seen in the inner Tsangkhang, protected bu the 4 guardian kings and a curtain of chain mail, which pilgrims rub for good luck. The image represents Sakyamuni at the age of 8. The lower half of the statue was discovered in 1983 in a Lhasa rubbish tip and the head was discovered in Beijing's Forbidden City and brought back to Lhasa by the 10th Panchen Lama.

As you exit the Ramoche Temple, look for a doorway just to the right by a collection of yak-butter and incense stalls, leading to a delightful chapel, the Tsepak Lhakhang. The central image is Tsepame, flanked by Jampa and Sakyamuni. There are smaller statues of Dorje Chang and Marmedze, and a protector chapel next door. This hidden corner is very popular with pilgrims.
Tips of Ramoche Monastery
Photograph is not allowed in Ramoche Temple.
Attractions nearby Ramoche Monastery
Recommended Tour Itineraries Including Ramoche Monastery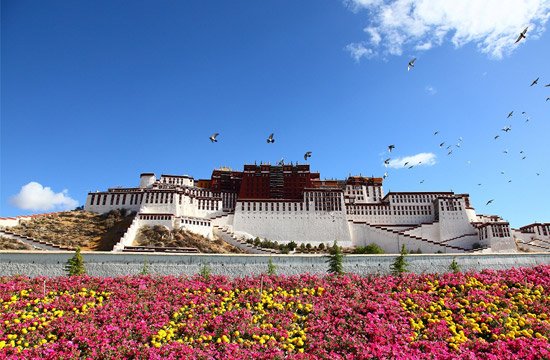 Hot Tibet Tour Packages
It couldn't be better to tour Lhasa famous tourist attractions when travelling in Tibet. Tibet Vista provides more than 10 Lhasa tour packages including these tourist attractions at the best price.
Popular Lhasa Tour Deals
Lhasa Tour Packages
How to get there
Address: No. 41, Ramoche Temple Road
Transportation: 1. Bus--No. 25, 97, 103.
2. Taxi
3. Pedicab
Best time to visit it
You can actually visit Ramoche Temple all year round.
Opening Hours: 9:00-17:00
Read more
Get A Quotation of this Tour