Potala Palace Height: How to Avoid Altitude Sickness When Visiting Potala Palace?
As a pearl on the Tibetan Plateau, the Potala Palace has appealed countless of people to witness its majesty and beauty. Towering on the Red Hill, Potala Palace is honored as the highest palace in the world with an elevation of 3,700 meters which mainly comprises two parts: Red Palace and White Palace. To reach the palace, tourists also need to climb long steep steps. For many first travelers To Tibet, this could be a tough task on such an elevation.
It's common for some tourists to encounter discomfort when first come to Tibet because of its high altitude. Generally, it's called altitude sickness. Altitude sickness is one of the illnesses that are unique to highland travel, and the symptoms abate once the body has had chance to acclimatize to the increase in altitude. However, it's still important for travelers to make some preparations to prevent from altitude sickness during the trip. Following are some suggestions for you that will ensure you a merry and sound trip in Potala Palace.
About Altitude Sickness
Why It Happens
High Altitude Sickness is medically referred as Acute Mountain Sickness (AMS). It is a possible uncomfortable pathological reaction in high altitude regions where the air pressure is low and oxygen is thin. It generally develops at elevations higher than 2,400 meters above sea level. The pressure of the air that surrounds you is called barometric pressure. When you go to higher altitudes, this pressure drops and there is less oxygen available. So if you depart from a place at a moderately high altitude to a higher altitude than you're used to, your body will need time to adjust to the change in pressure. In this way, some symptoms of altitude sickness may occur. Besides, some actions can also trigger altitude sickness like:
· Ascending too rapidly, leaving inadequate time for the body to compensate for decreased oxygen in the air
· Overexertion within 24 hours of ascent
· Inadequate fluid intake
· Hypothermia
· Consumption of alcohol o or other sedatives
Therefore, please do not drink or do some strenuous exercise like jumping or running during your trip. Pace slower than usual, you may be less likely stroke by altitude sickness.
What Are the Symptoms
Individuals vary in their susceptibility to altitude sickness and may develop symptoms at different levels of altitude. Headache is the most common symptom of acute altitude sickness, but affected persons may also experience:
· Dizziness
· Nausea
· Vomiting
· Fatigue
· Restlessness · Shortness of breath
· Less appetite
· Chest distress
· Abdominal distension
Symptoms usually come on within 12 to 24 hours of reaching a higher elevation and then get better within a day or two as your body adjusts to the change in altitude. But if not being treated well, the mild high altitude sickness may cause severe altitude sickness, even threaten your life. As symptoms worsen, emergency medicine physicians, hyperbaric chamber experts, neurologists, and critical care specialists may need to be consulted.
How to Avoid High Altitude Sickness in Potala Palace Tour
It is quite common that most people will suffer from high altitude sickness with different levels. Please also note that the high altitude sickness usually can heal itself by eventually acclimatizing your body to the altitude, air pressure and temperatures. If you can make full preparation before entering Tibet and take prompt actions to cope with the sickness during your trip, you will better enjoy your Potala Palace tour in Lhasa. Here are some useful tips about how to avoid high altitude sickness:
Before Your Arrival in Tibet
Take a physical examination and consult your doctor if you are fit enough for a Tibet tour. For your safety and health, not everyone is suggested for visiting Tibet, especially those with some disease. People with serious heart disease should not go to Tibet, and people with light heart troubles must follow their doctor's advice, as should people with high or low blood pressure. If you are suffering from cold, do not hurry to head to Tibet since it will only make things worse and aggravate high altitude sickness.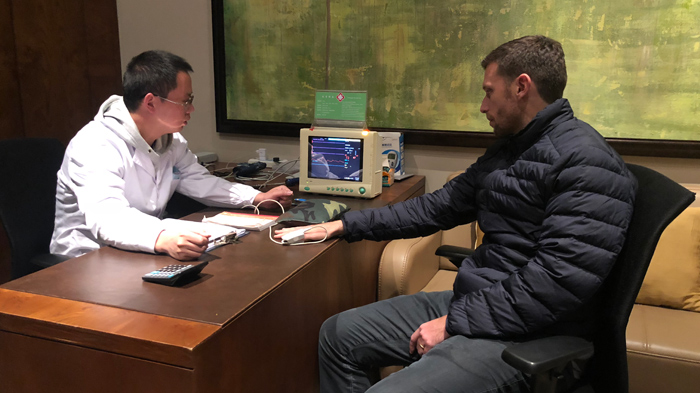 Take a physical examination for Tibet tour
Keep physically and mentally healthy. Regular exercise before departure will help a lot to improve your constitution. Jogging, Swimming, running and cycling are all good choices for you that will help to increase your lung capacity and resilience. But please note that do not push it too hard. Accordingly, if you are a daily excessive exerciser, decrease your amount of exercise two weeks in advance or stop exercising. At the same time, take it easy, learn more knowledge about altitude sickness to eliminate your fear avoid excessive mental stress.
Prepare medicine to fight altitude sickness if necessary. If you still worry about the altitude sickness, the most effective way is to consult your doctor to prescribe some suitable medicines for you. By far, acetazolamide (Diamox) is generally regarded as the most effective medicine to combat AMS. It can not only prevent altitude sickness but also speed acclimation. Ibuprofen, Dexamethasone, Nifedipine and Furosemide will also be helpful. But please remember to take them by following your doctor or pharmacist's medical advice.
Besides, taking a flight may put you in a higher risk of suffering from altitude sickness because of the surge of elevation in a short time. But if you take the Tibet train, you will gain more time to acclimatize the gradual increase of elevation. So generally speaking, it's better to take the train than to fly in to Lhasa if you are not in a rush.
On Your Tour in Tibet
For those that are newly arrived in Tibet, the risk of altitude sickness is higher while the body acclimatizes to the increased altitudes. To prevent the more serious altitude sickness, there are a few things you can do while the body is adjusting.
Start your journey below 3000 meters. To avoid getting mountain sickness at high altitude, the most critical thing to do is follow the basic rules of acclimating. If you have to fly or drive somewhere that's higher up, stop at one destination that's lower for at least a full day before going any higher. For every 900 meters you climb, rest at least a day at that height.
Climb high and sleep low. Note that it is the elevation at which you sleep that counts here, not so much how high you climb or drive during the day. If you have to climb over 300 meters in a day, make sure you come back down to a lower altitude to sleep. Once you are at 2700 meters, do not increase your sleeping altitude more than 500 meters per night.
This helps to hasten acclimatization.
Find new pace of walking. Walking at a high altitude is more demanding than walking at the same pace at sea level. Since your body is struggling to provide oxygen to the organs, any strenuous exercise can be debilitating in certain cases. Walking at a slightly slower pace than normal can help to prevent over-exertion and reduce the risk of altitude sickness. Extreme physical exertion like running and climbing should be avoided for the first few days.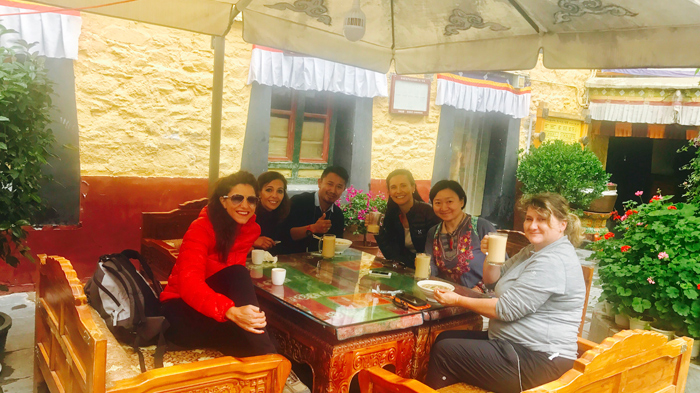 Sweet tea and butter tea are contributive for reducing the risk of altitude sickness
Drink plenty of fluids, but avoid alcoholic beverages and strong coffee. Drink 3-4 quarts of water every day and make sure about 70% of your calories are coming from carbs. Drinking tea is also helpful to reduce the symptoms of altitude sickness. You can get the famous sweet tea and butter tea in many places of Tibet, and they can help reduce the risk of altitude sickness. Additionally, there are some other tips that will also enable you better acclimatize high altitude:
· Keep warm and do not take a shower in the first 2 days in case you catch a cold.
· Less smoke cigarette.
· Eat more food with rich carbohydrate.
If your symptom of altitude sickness such as headache or shortness of breath do not improve promptly with simple changes, the most direct and important way is to descend to lower altitude. Even if you have only "mild" symptoms, you need to descend if the symptoms become worse while you are resting at the same altitude. Delay may be fatal. Besides, visiting a doctor is also helpful if symptoms don't alleviate.
When to Visit Potala Palace
Generally,it's not recommended to rush to any attractions on your first day in Tibet since your body need some time to adjust to the high altitude. With long steep steps to climb, the trip can be hard. Therefore, it's not advisable for you visit Potala Palace on your first day of arrival. For starters, you might want to check that you arrive a few days before visiting the palace to ensure altitude sickness doesn't prevent you from visiting this highlight of Tibet culture.
Climbing steps at high altitude requires good physical condition and there is no lift up to the palace or inside. So, for aged people, a walking stick may be of great use. During your climb, do not strain yourself. Remember take it slow and rest a while.
Correct Way to Climb Potala Palace
Starting the journey from Potala gate, you'll need to climb about 365 steps before reaching the Red Palace. Visitors are usually required to line up on the eastern Potala platform to enter the White Palace, which is also the entrance of Potala Palace. Here you can start your exploration inside. Before your visit of Potala Palace, make sure you are energetic and have had a good rest on the last night, and it's better not to overeat since it's easier to induce fatigue as well.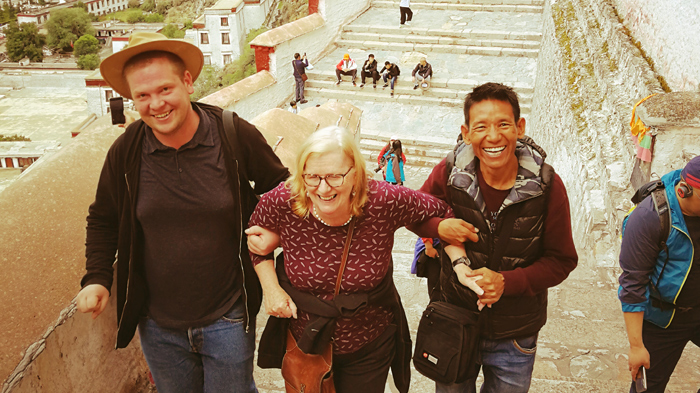 Take it slow and do not strain yourself during the climb of Potala Palace
With totally 13 storeys, relative altitude of Potala Palace is about 115 meters. To cope with the lift of elevation during the climb, you can take some medicines prescribed by your doctor or local pharmacist if you are worrying about the AMS. Don't hurry and slow your pace, you will enjoy a great view on the top of Potala Palace.
Join-in Classic Lhasa Tours