Norbulingka
Summer Palace of Dalai Lama,the most famous garden in Lhasa
About Norbulingka
Lying at the western suburbs of Lhasa, Norbulingka is 2 km to the east of the Potala Palace. In 1988, the State Council authorized it to become a national important cultural relic protection unit. On Dec. 14, 2001, the UNESCO included Norbulingka into the extension subjects of the Potala Palace which is enlisted as a World Cultural Heritage site. In 2001, the State Tourism Administration appraised Norbulingka as 4A on the national tourism region level.

Norbulingka means "Treasure Garden" in the Tibetan language. It was 1st built in the mid-18th century and assumed today's scale through many expansions. Norbulingka has 3 parts: the courtyard in front of the palace, the palace and forest. With over 400 sets of rooms, the garden takes up 3.6 square kilometers, among which 3.4 square km are green meadows or woods. It is the world's highest-located garden, or the "Plateau Oxygen Bar" as some tourists said. After Tibet's democratic reform in 1959, the Norbulingka has become a public park.

According to Tibetan records, there used to be a spring here that could cure disease. Kalsang Gyatso, the 7th Dalai Lama, often fell ill and came here to take bath every summer. The Imperial Minister of the Qing Dynasty stationed in Tibet asked for the central government's permission to build a special place for the 7th Dalai Lama to rest after taking the bath. Thus came the 1st construction of Norbulingka--the Pavillion Palace. Since then, all Dalai Lama stayed here to study before they were formally enthroned. After they assumed real power, they would still come here every summer. Thus Norbulingka is called the Summer Palace of Dalai Lama.

As the world's highest, largest and best-preserved ancient artificial horticultural garden, Norbulingk combines gardening with architecture and sculpture arts in Tibetan, Han and many other ethnic groups. The treasure of Tibetan history and culture now houses over 30,000 cultural relics, 7,000among which are on State level.

Through the long history, Norbulingka also suffered from destruction. In Jun. 2001, the 4th Tibetan Work Session of the Central Committee of the Chinese Communist Party made a decision to include the protection and renovation of Norbulingka into pivot projects of aiding Tibet.
Tips of Norbulingka
1. Everyday at 11:00, there will Tibetan Opera show in Norbulingka.
2. During the Shoton Festival, lots of Tibetan Opera show will be presented, do not miss them.
3. Do not take photos with flash on.
Attractions nearby Norbulingka
Recommended Tour Itineraries Including Norbulingka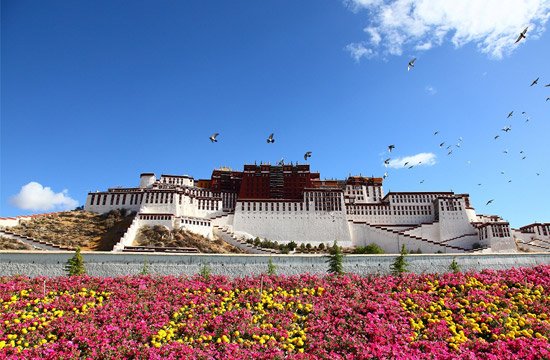 Hot Tibet Tour Packages
It couldn't be better to tour Lhasa famous tourist attractions when travelling in Tibet. Tibet Vista provides more than 10 Lhasa tour packages including these tourist attractions at the best price.
Popular Lhasa Tour Deals
Lhasa Tour Packages
How to get there
Address: No. 21, Norbulingka Road

Transportation:
1. Bus--No. 14, 24. Get off at Norbulingka Station.
2. Taxi
3. Pedicab

Best time to visit it
You can actually visit Norbulingka all year round. Different season will present you a whole different view.
Opening Hours: Monday to Saturday. 9:00--18:00
Admission Fee
CNY 60

Read more
Get A Quotation of this Tour