Map of Ngari Prefecture, Western Tibet
Nagri (also Ali) prefecture in northwestern Tibet is known as "the roof of the roof of the world" for it is situated at an elevation of 4,500 meters above sea level. It's the place where the Himalayas, the Gangdise, the Kunlun Mountains and Karakorum Mountains meet. It is surrounded by Nagqu Prefecture on the east, Shigatse Prefecture and Nepal on the south, India on the west and Hotan Prefecture, Xinjiang Uyghur Autonomous Region on the north.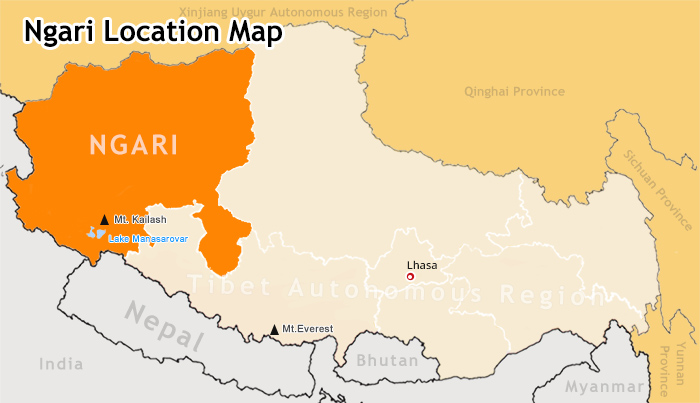 (Simple click to enlarge the map)
Ngari Prefecture Location on Map
Situated on a wild gobi desert in western Tibet, Shiquanhe Town (commonly known as Ali Town) is the seat of the administrative authority of the Ali Prefecture as well as the economic, cultural and transportation hub of Ngari Region. Being the main town of Ngari Prefecture, Shiquanhe Town is 1,450km from Lhasa City, the Tibetan capital; 1,302km from Kashgar City, Xinjiang Uyghur Autonomous Region; 839km from Gyirong Port, China Nepal Border.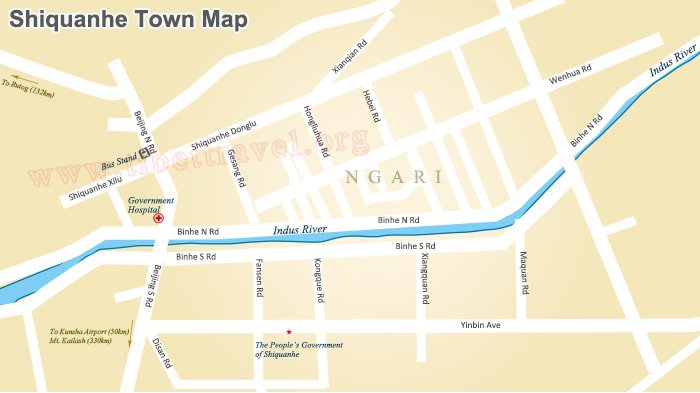 (Simple click to enlarge the map)
Shiquanhe Town on Map
Ngari Attraction Map
Ngari Region of Tibet is dotted with holy lakes and roaring rivers, sacred mountains and majestic glaciers, vast grasslands, spectacular earth forest, as well as many famous cultural and historical sites.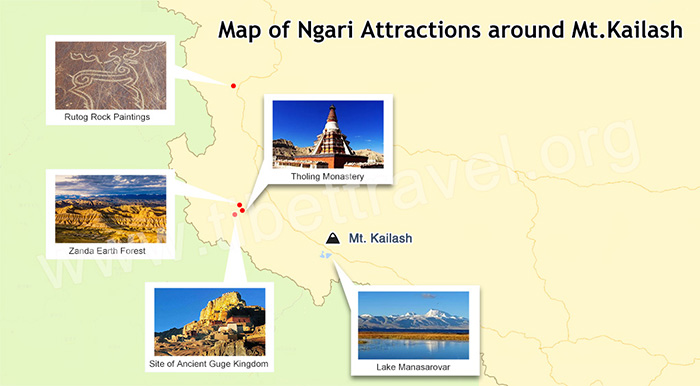 (Simple click to enlarge the map)
Ngari Tourist Attractions on Map
Visiting Holy Lakes and Sacred Mountains in Ngari
Mount Kailash: the most famous holy mountain in Asian history; Kailash Kora is very popular, especially for pilgrims from all over the world
Gurla Mandhata (Mt. Namo Nanyi): at the opposite of Mt. Kailash; the glaciers surrounding the mountain area consist of three crystallized serac forests, which look like palaces in fairy tales.
Lake Manasarovar: one of the top three holy lakes in Tibet; one of the world's highest fresh-water lakes; you can see through dozens of meters into the lake
Lake Rakshastal (Lhanag-tso): one of the twin lakes to its neighbor Lake Manasarova, but it's a salty-water lake
Pangong Lake: means "Long-Necked Crane Lake" in Tibetan language; a destination for photographers and experiential travelers to appreciate the spectacular natural beauty
Chagcam Caka Salt Lake: the largest salt lake in northern Tibet, with abundant mineral resource of Ascharite
Shiquan River: covering a length of 430 km, it's one of the the major rivers in west Tibet
Learning Tibetan Buddhism in Ngari Monastery
Tholing Monastery: the oldest monastery in the Nagri Prefecture; you can see many ancient precious and well preserved frescoes
Korjak Monastery : the most famous monastery in Ali Prefecture; an important monastery of the Sakya order
Photographing Natural Wonders in Ngari
Tsada Clay Forest (Zanda Earth Forest): the most typical and largest tertiary strata earth forest in the world; classified as National Geological Park in 2007
Nagri Dark Sky Park : it is first dark sky park of its kind in Asia, featuring sky observation, photography and study. It is a paradise for star gazers.
Exploring Cultural and Historical Sites in Ngari
Ruins of the Guge Kingdom: one of the first important cultural relic sites under protection; tracing back to the civilization of Guge Kindom
Piyang and Dungkar Grottoes: highly-reputed as the most impressive grottoes, only next to Dunhuang Caves
Ancient Ruins in Rutog County: the most impressive scene is the monastery atop the whole complex and well-designed stupas below the mountains.
>> Check all the tourist attractions in Ngari.
Attraction around Ngari Map
Lots of places of interest are scattering around Ngari Prefecture, including nature reserves, turquoise lakes, religious monasteries, etc. It's worthwhile to touring around Ngari Prefecture.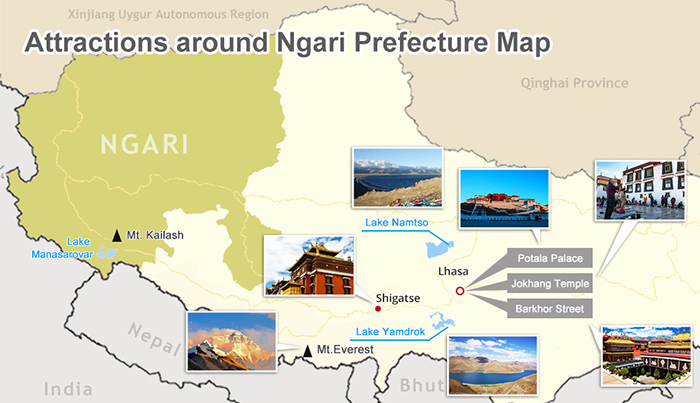 (Simple click to enlarge the map)
Attraction around Ngari on Map
Siling Tso: the highest lake in the world; the second largest lake in Tibet (next to Namtso Lake)
Shenzha Nature Reserve: praised as the paradise of birds; the biggest protecting area of black-necked crane in China
Purog Kangri Glacier:third largest glacier in the world; you can see magnificent view of glaciers, lakes and deserts coexisting together in harmony.
Tangra Yum Tso: a holy lake of Bon Sect in Tibet; the forth largest salt lake in China; it's said that water of the lake would change into three different colors a day.
Nagqu Grassland: home to Tibetan nomads, and you can time your visit with Nagchu horse racing festival (usually held between August and September)
Everest Base Camp: offering the great chance to gaze on the magnificent north face of Mt.Everest; one of the most popular trekking destinations in Tibet
Rongbuk Monastery: the highest monastery in the world; offering basic accommodation to travelers and mountaineers for Everest Base Camp visit and climb
Tashilhunpo Monastery: the largest monastery of the Gelug Sect in U-Tsang; treasuring the world's largest glided Qamba Buddha bronze and many precious cultural relics in Shigatse Prefecture
Pelkor Chode Monastery: housing tons of sculptures, murals and carvings; the landmark of Tibetan art and history
Hotel and Accommodation Map of Ngari
Frankly speaking, hotels in Nagri are a kind of poor and most of them are guest houses. You'd better take your sleeping bag, for self-sanitation and keeping warm. Here we'd like to introduce a handful of hotels around Shiquanhe Town and Mount Kailash for you to choose.
Accommodation and Hotels in Shiquanhe Town, Ngari Prefecture
Xiangxiong Hotel
Xiangxiong Hotel (Xiangxiong Dajiudian) is one of the best hotel in Shiquanhe. Covering an area of more than 6,000 square meters, the main building has five floors and 58 guestrooms. Here you can zeal your meals, drink Tibetan sweet tea, even have an excellent spa.
Address: Binhe South Road, Shiquanhe
Guge Dynasty Hotel
Just next to Xiangxiong Hotel, Guge Dynasty Hotel is well-equipped with modern facilities, like air-conditioner, television, hair drier, etc. Hot water and electricity are available for the whole day. Here you would gain a feeling of home.
Address: Binhe South Road, Shiquanhe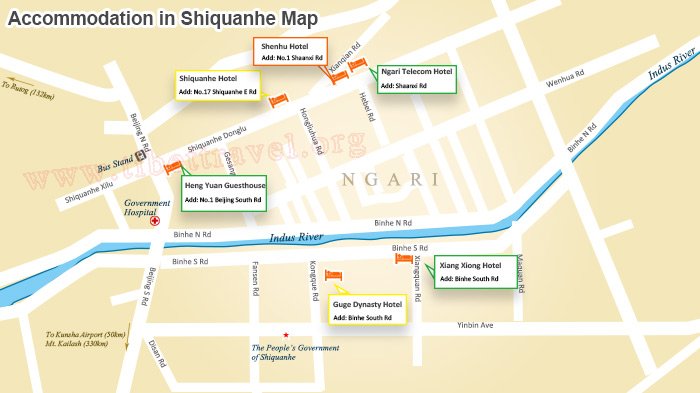 (Simple click to enlarge the map)
Ngari Shiquanhe Hotels on Map
Shiquanhe Hotel
Shiquanhe Hotel (or Shiquan River Hotel) as the only two-star hotel there, provides western-style rooms which are equipped with small bathrooms and 24-hour hot water. Rooms, especially the triples, can not be booked easily.
Address: No.17 Shiquanhe East Road, Shiquanhe
Heng Yuan Guesthouse
Heng Yuan Guesthouse (Heng Yuan Hotel) in Shiquanhe of Ngari Prefecture provides double rooms with spacious bathrooms. You can taste the flavor of Chinese food in the restaurant of the hotel, like beef noodles, dumplings, etc., which are very cheap. There's also an expensive but quite pleasant teahouse-sports bar on the 2nd floor with a widescreen TV.
Address: No.1 Beijing South Road, Shiquanhe
Ngari Telecom Hotel
In Telecom Hotel, the rooms are good enough for one night's stay but there is no running water.
Address: Shaanxi Road, Shiquanhe
Shenhu Hotel
Shenhu Hotel (or Shenhu Binguan) is owned by the Yak Hotel in Lhasa. It offers you clean rooms but no showers. Here you can relax yourself and enjoy warm service. You can also try some delicious food around Shenhu Hotel.
Address: No.1 Shaanxi Road, Shiquanhe
Accommodation and Hotels in Darchen, Pulan Town, Ngari Prefecture
Himalaya Kailash Hotel
Located at the foot of Mt. Kailash, Himalaya Hotel by far is the best hotel at Mt. Kailash, Darchen, Purang County, Ngari, and a very convenient transit hotel for Lake Mansarovar Yatre, offering you a great opportunity to enjoy the beautiful surroundings. Entering the lobby, you can see the Tibetan sofa and tables. It's really special and impressive. The guests' rooms are spacious and well-equipped. You can have a good rest in the warm and soft bed after a long trip. After the Tibetan breakfast, you can have a tea in the tearoom or take your kids to walk around. There are some conference rooms. It's also a good choice for guests who go on business or the team who want to have a training here.
Address: Baga Township Scenic Area, Pulan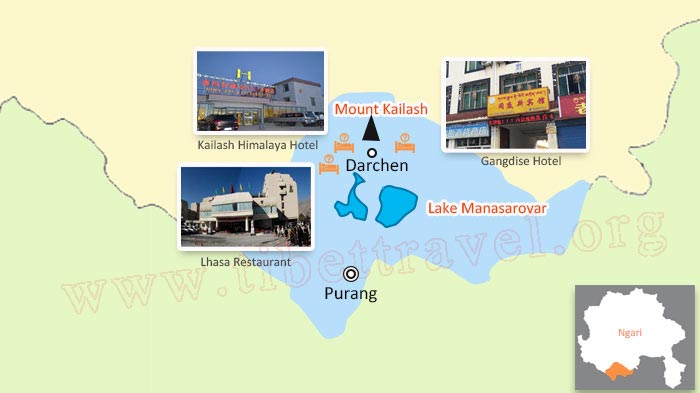 (Simple click to enlarge the map)
Hotels around Mount Kailash on Map
Gangdise Hotel
The accommodation in Gangdise Hotel is relatively better. Here you can have hot shower. The hotel has its own electric generator, so no worry about the electricity. Tibetan food is provided with warm service.
Address: Gongga Road, Pulan
Lhasa Restaurant
Lhasa Restaurant, near to Gangdise Hotel, is considered as the best restaurant around Mount Kailash. Given the remote location, the food is surprisingly good and the stuff are really kind.
Address: Pulan
Restaurants in Ngari
The food in Ngari (western Tibet) is quite limited in varieties under the influence of a harsh climate. Especially vegetables and fruits are mostly imported from other places. Therefore the food in Ngari is much more expensive than expected. Anyhow, it is lucky that restaurants still can be found in most towns and counties of this remote area. The restaurants offer Tibetan cuisine, Sichuan food and Xinjiang dishes. However, during the trip to Mt. Kailash or further overland trip to Kashgar, most of time, the food will be served as fried rice, noodles and simple dishes.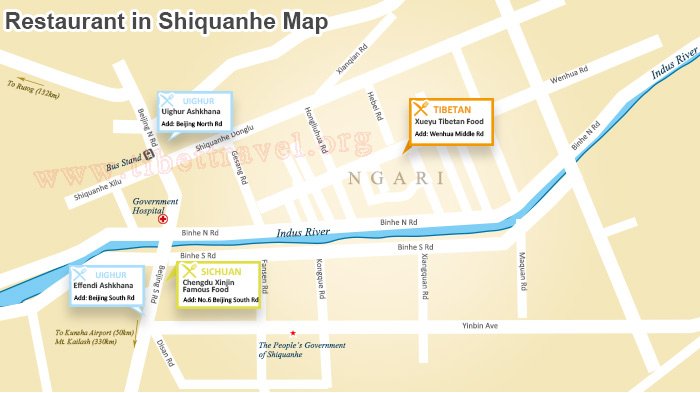 (Simple click to enlarge the map)
Restaurant in Shiquanhe Town on Map
Uighur Ashkhana
It is easy to find the restaurant because a hanging carcass of a cow is always at its entrance. Here you can have a typical taste of central Asia. Fresh bread and barbecue are something you can't afford to miss.
Address: Beijing North Road, Shiquanhe
Effendi Ashkhana
The highlight here is Dapanji, cooked with a chicken, potatoes and boodles. It features in Xinjiang taste. Besides, you still can try some pilau rice and kebabs.
Address: Beijing South Road, Shiquanhe
Chengdu Xinjin Famous Food
You should try some Sichuan cuisine. The food is fantastic and prices are reasonable. The owner is from Sichuan, and you can feel their enthusiasm and kindness. Service is awesome!
Address: No.6 Beijing South Road, Shiquanhe
Xueyu Tibetan Food
This restaurant features in Tibetan style and is very popular among local people. Tsampa and yak butter tea are the staple food for Tibetans. You shouldn't miss them in your Tibet tour.
Address: Wenhua Middle Road, Shiquanhe
Ngari Road Map
Although it sits at the remote west Tibet, Ngari has a very convenient transportation system. Tourists can get to Ngari from Lhasa, Kashgar and Kathmandu.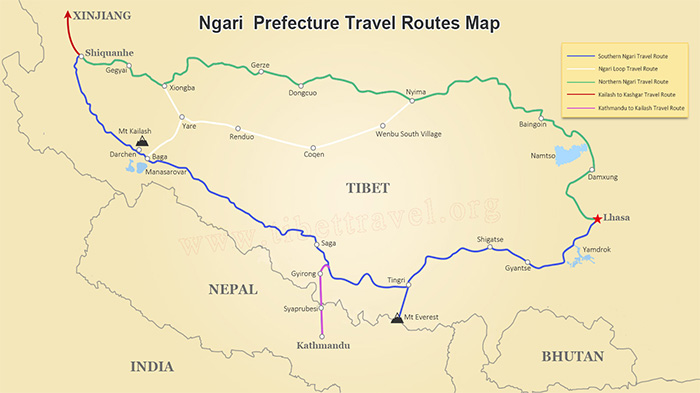 (Simple click to enlarge the map)
Ngari Road Map
Option 1. Lhasa to Kailash Ngari Road
a. Southern Ngari Travel Route: Lhasa (3650m) - Gyantse (4040m) - Shigatse (3836m) - Tingri (4300m) - EBC (5200m) - Saga (4487m) - Lake Manasarova (4588m) - Darchen (4600m) - Mt. Kailash (6638m)
b. Ngari Loop Travel Route: Lhasa (3650m) - Damxung (4200m) - Namtso Lake (4718m) - Baingoin (4700m) - Nyima (4800m) - Wenbu South Village - Coqen (4700 m) - Renduo (4770m) - Yare (4800m) - Huo'er (4600m) - Darchen (4600m) - Kailash (6638m)
c. Northern Ngari Travel Route: Lhasa (3650m) - Damxung (4200m) - Namtso Lake (4718m) - Baingoin (4700m) - Nyima (4800m) - Dongcuo (4414m) - Gerze (4985m) - Xiongba (4609m) - Yare (4800m) - Huo'er (4600m) - Darchen (4600m) - Kailash (6638m)
Most tourists would like to follow the Ngari southern travel route to start their Lhasa Kailash tour for the slower acclimatization to the increasing altitude and more spectacular scenery. Travelling along Sino-Nepal Highway, the 1450-km-long journey would cost you 15 days with short visit to Mount Everest Base Camp.
Option 2. Ngari Kailash to Kashgar Xinjiang Road
Kailash to Kashgar Travel Route: Kailash (6638m) - Shiquanhe Town (4255m) - Rutog (6800m) - 30 Li Yingfang (3646m) - Karghalik (1419m) - Kashgar (1270m)
And for the adventurers, you can try to extend your Kailash overland trip to Kashgar, Xinjiang Uygur Autonomous Region via Xinjiang Tibet Highway G219, which would take you four or five days to finish this 1302-km-long overland expedition. Get your camera ready for Zanda Earth Forest, Pangong Tso Lake, Kunlun Mountain Ranges, Karakorum Mountain and Taklamakan Desert, etc.
Tips: Xinjiang-Tibet road may be blocked by snow during winter and spring (from late October or early November to early April). So the best time to take Lhasa Kailash Kashgar trip falls on Mid-April to Early October.
Option 3. Nepal Kathmandu to Kailash Ngari Road
Kathmandu to Kailash Travel Route: Kathmandu (1400m) - Syabrubesi (2380m) - Gyirong (2700m) - Lake Manasarova (4588m) - Darchen (4600m) - Mt. Kailash (6638m)
Wanna visit Kailash from Kathmandu, Nepal? It also can be done. Starting from Kathmandu, you need to drive all the way to Syabrubesi. Crossing the border, you will be picked up on time by our Tibetan local tour guide and driver at Gyirong Port and then follow the part of Xinjiang Tibet Highway to Mount Kailash.
Tips: Due to the dramatically increasing altitude, you're strongly suggest to spend one day in Gyirong Town (2700m) so as to minimize the chance of acute mountain sickness for traveling from Kathmandu (1400m) to Mount Kailash (6638m).
Domestic Flights to Ngari
Ali Kunsha Airport, also known as Ngari Gunsa Airport, is located near the town of Shiquanhe, Ngari Prefecture, western Tibet Autonomous Region. This airport started operations on 1 July 2010, becoming the fourth civil airport in Tibet. Due to speical geographical location, there are only two direct flights to Gunsa from Lhasa and Kashgar. However, due to the sudden increase in altitude, flights to Ngari is not recommended.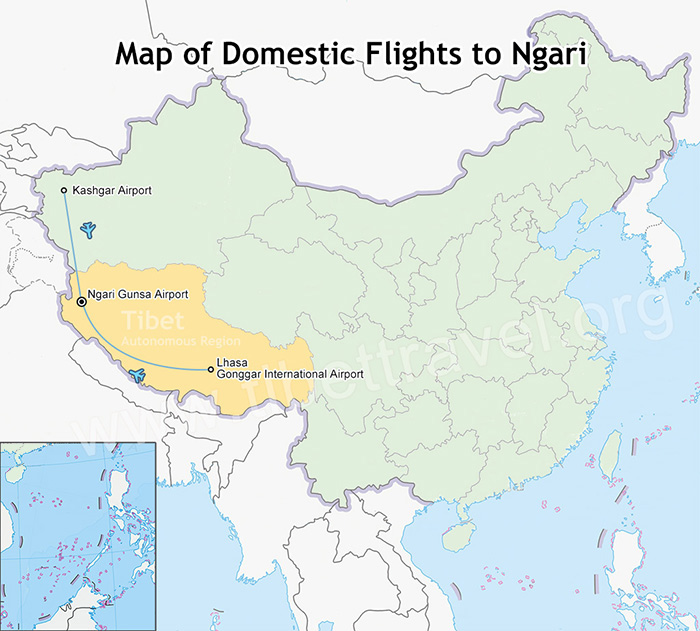 (Simple click to enlarge the map)
Domestic Flights to Ngari on Map