Namtso Lake Sunset: When and How to Take the Best Photos of Namtso Lake
Why Namtso Lake becomes the paradise for photographers and shooting amateurs?
In Chinese traditional culture, there is no lack of verses chanting the glamorous sunset. Among these spiritual treasures relating to the description of it, verses chanted by Wang Bo (One of the four great poets in early Tang Dynasty) top the most. "The autumn water shares a scenic hue with the vast sky; the evening glow parallels with a lonely duck to fly". The vivid and lively description enables the pursuing of a breathtaking sunset by many people. Fortunately, one place in China happens to provide a perfect site for the followers to enjoy a stunning sunset and to get the beautiful moment recorded - Namtso Lake.
Located at an elevation of 4718m on Qinghai-Tibet Plateau, Namtso Lake covers an area of 1920 sq. km. and has been worshipped by Tibetans as a sacred lake for centuries. Living in Namtso may be a bit impractical, but watching the sunset and shooting the lake pictures are definitely not that hard to achieve. Due to the high altitude and uncontaminated environment, sceneries here are incredibly stunning with spectacular views. The large turquoise lake, the sunrise and sunset, the flock-perched birds, the ancient caves and mysterious temples can all be the splendid themes for photo shooting and picture recording.
What's the most iconic shooting subject here in Namtso and when to come?
Strolling along the Namtso Lake, inspirations leap out constantly in every photographer's mind, since the wide space enables a broad vision, making every creative shooting inspiration become possible. The high altitude with excellent light condition brings much better visibility and very little light scatterings, enabling the perfectly satisfying photos shot even with unprofessional cameras or by photography amateurs. Among all the shooting attractions, sunset by Namtso Lake should be the most touching one. The evening glow by the mountain-surrounded Namtso Lake with shimmering golden surface and magnificent lakeshore line captures the hearts of all travelers and it is definitely worth to be recorded to your camera as well as your memories.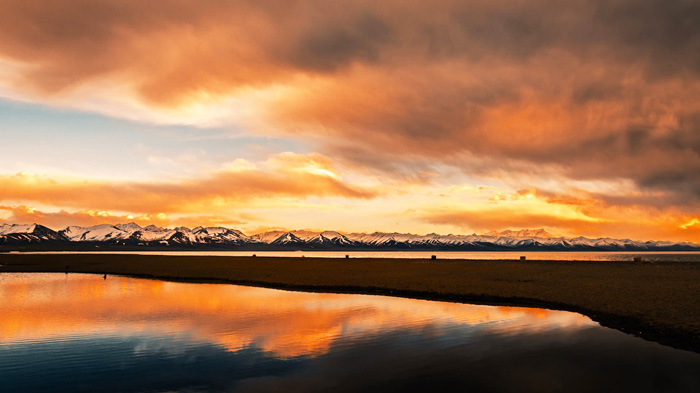 Heart-touching Sunset by Lake Namtso
Best Time to Shoot the Sunset:
Shooting Time: 7:00pm-9:00pm
Shooting season: May – October (Best)
Despite of the constantly changing light and shadows, different seasons in Namtso Lake may present you surprisingly different scenery. Typically, the perfect season to take Namtso pictures falls between May to Oct. The weather is warm and the light condition is fine. In winter, few locals stay on Tashi Byland (Largest peninsula in Namtso Lake), and the only pass (Nagenla Pass with the altitude of 5190m) leading to Namtso Lake is sealed for most of the time due to the heavy snow.
How to Take the Best Photos of Namtso Lake
If Namtso Lake has every piece of corner to shoot, it definitely has some more splendid moment you can't afford to miss. So, grasping some shooting techniques do help you take photos in Namtso and not miss the wonderful moment.
1. Get acquainted with Namtso Lake.
* As we have mentioned, the light condition is perfect with little scatterings.
* Bear in mind the shooting site locations.
* Find a map and mark the sites out. Draw a distinction between the sunrise and sunset orientations.
As shown in the map, we have actually two perfect sites to shoot the Namtso Lake sunset. One is nearby Yinbin giant stone on the Tashi Byland. This site is chosen by most of the travelers who have limited time and do not plan to do the Namtso Lake kora. On Tashi Byland,if you want to shoot the sunset, you have to get your equipment prepared on the top of a small hill. In addition, this place is also amazing to appreciate the sunrise.
The other site is situated on a small but steep cliff on the north shore of the Lake not far from Shengxiangtianmen tourist attraction. This look-out point is still perfect, for we can also put the integrated scenery of the stunning lake and the mighty Nyenchen Tonglha Mountains in one single shoot.Despite this shooting site is awesome, only a few travelers set foot on it. If you are not in a hurry and decide to do Namtso kora, why not put it on your photographic tour agenda and just stopping by? Here come the most recommended shooting sites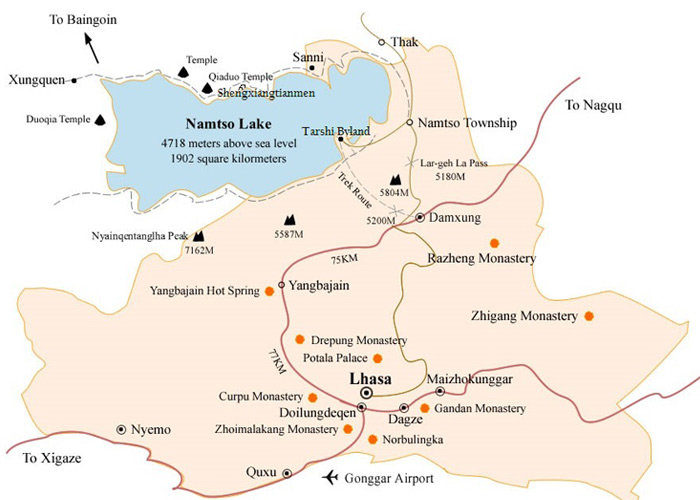 Map of Namtso Lake
Tashi Byland
* Perfect place to shoot Namtso Lake sunset
* Kinds of birds with nests perched on this peninsula
* Gigantic Yinbin Stones with prayer flags, marnyi stones and yak skull (Perfect foreground for photo shooting)
* Gassho stone and good & evil hole
* Grottos with Karst land features
Shengxiangtianmen tourist attraction
This attraction,far from Tashi peninsula is located at the northwest side of Namtso Lake. As a must-visit attraction along the lake kora route, its gorgeousness compares favorably with the Tashi Byland and still gets solemn and mighty sceneries to shoot.
* Best place to shoot the awe-inspiring arc-attached Namtso Lake with snow-capped Nyenchen Tanglha mountain peaks behind.
* Best site to shoot Namtso Lake sunset (7:00pm-9:00pm)
Duoqia Temple
The largest temple around the Namtso Lake with believers practicing inside. Ask permission before taking any picture with any prayer in the temple.
Besides the sites we recommended, actually every corner of Namtso Lake is worthy to be recorded in your camera.
2. Prepare photographic equipment in advance
Photography gears that you need to prepare all depend on the photographic effect you determine to achieve. Anyhow, a light photo tripod definitely helps when doing the Namtso Lake shooting. At some uneven sites, or shooting sunrise or sunset, a light tripod leaves you much room for imagination and help you get the satisfying photos easily.
Other equipment recommendation:
For most travelers or photographers, one golden principle to shoot Namtso is to pack your photo-taking equipment light. It is not a formal photo contest, and more importantly, carrying heavy packs at the sites with high altitude is much more likely to suffer altitude sickness.
3. Arrive at the shooting place ahead of time to make the preparation done.
* When you plan to shoot the sunrise or the sunset, arrive at the recommended place earlier and get the camera ready, for these views are definitely the ones you cannot afford to miss.
* For most of the shooting sites with uneven ground surface, on a small hill or at the edge of a steep cliff (e.g. Sites on north Namtso Lakeshore), fix your photographic device firmly in advance.
* Conduct civilized photo-shooting. Do not make any forced fixation of your photographic equipment to temple poles, protected stones with prayer flags or any other sheltered items in Namtso Lake. Do not scramble for shooting sites.
Other Friendly Tips for Namtso Lake Photo Shooting
1. Rain-proof equipment to keep your camera from moisturizing.
2. Bring Sunglasses, travel hat and moisture in case of ultraviolet ray.
3. When you try to capture some on-the-spot details, do watch your steps. Some of the shooting sites are steep and dangerous.
4. Never jump in succession, try exaggerated postures or rise abruptly from a deep squat. These actions are most likely to suffer an acute mountain sickness, which you must bear in mind.
5. Nagenla Pass which is on the only road to Namtso Lake from Lhasa, has a high altitude along the whole kora. Bus vehicles usually makes a short-time stop here for travelers to take photos. Due to the rapid rise of height and the lack of oxygen content, altitude sickness can be easily caused. Do not exert yourself like chasing around or jumping when arriving at Nagenla Pass. Do not make grand or exaggerated gestures when doing the photo-shooting. Relax the body and breathe smoothly. Nagenla Pass is quite a distance from Lhasa, and more than 1,000 meters higher, so take some altitude medicine and oxygen with you in case of an emergency.