Mount Namjagbarwa
The most beautiful snow-capped mountain in China
About Mount Namjagbarwa
Mount Namjagbarwa is the highest mountain in Nyingchi Prefecture. It, soaring 7,782 m above sea level, is situated on the eastern dege of the Himalayan range in southeast of Tibet. Mt. Namche Barwa and Mt. Gyala Peri (7150 m) climbs thousands of feet from 2 sides of Yarlung Tsangpo River, creating the world's deepest valley-- Namche Barwa Valley. The average depth of the valley is 5000 m, with the lowest point 5382 m. In 1994, the Great Canyon of the Namjagbarwa Valley was confirmed as the largest in the world by both the American Geographic Committee and the Guinness Book of World Records.
   
In Tibetan language, Mount Namjagbarwa literally means "burning thunders". In The Epic of King Gesar, Mt. Namjagbarwa was described as a "spear pierced into the sky". It is worshiped as one of the residences of gods. The best known legend tells the story about Namche Barwa and his younger brother, Gyala Peri, both of whom were formerly sent by god as guardians of southeast Tibet. Since Gyala Peri later turned out to be the more talented, the jealous Namche Barwa was driven mad that one night he killed his brother and threw the head away. As punishment, Namjagbarwa was turned into a guarding mountain of his brother while the latter prolonged his existence as Mt. Gyala Peri, a round-peaked mountain north to Mt. Namche Barwa over the Yarlung Tsangpo River.

( Namjagbarwa from the west)

Restaurant and Accommodation
The specialty in LuLang town is Ishinabe chicken. The raw material is made up with local chicken and Gymnadenia conopsea. The flavor is very unique and you should not miss. And don't forget to taste local Tibetan Pig, which is said to be the most delicious pork.
There is no accommodation on Mount Segyi La observatory. You can stay in LuLang town. Except hotels, you can choose to stay in restaurants, which provide accommodation with 25~30RMB each.

Shooting Location
1. Mount segyi La Observatory
You can shoot the solemn Mount Namjagbarwa with gentle angle of view as the Segyi La pass has a broad vision. But the composition of the photo is slightly dull and lacks of conversion of foreground. You have to wait for appropriate light and shadow.
2. Tripe observatory ( also calls 'clouds of heaven')
You can take a low angle to shoot the snow mountain. There are more flexible foregrounds and sites to choose. The only drawback is that the mountain in front blocks the snow-capped peak.

(Namjagbarwa Peak is reputed to be Paradise in the Clouds.)
Photography Plan
Generally speaking, there are mainly two routes to Mount Namjagbarwa.
Plan A: If you travel to Tibet via National Road 318 in Sichuan-Tibet highway, you can arrange your shoot time on the way across Mount Segyi La. But the weather is very important at that time.

Plan B: Rent a car to Mount Segyi La from Nyingchi or Lulang, or start directly from Bayi town of Nyingchi and stay overnight in Tripe. Tripe observatory is another tourist attraction to appreciate the mountain in recent years. You can take advantage of the time in the morning and evening to shoot the beautiful scenery. In addition, the best time to shoot in Tripe is in early April, when the areas are full of beautiful peach blossom. You can get a visual feast.

( Sunset of Namjagbarwa )
Tips of Mount Namjagbarwa
1. Brahmaputra River Grand Canyon is the ideal place to shoot Mt. Namche Barwa.
2. Segyi La Mountain is also a very popular spot to shoot Mt. Namche Barwa, but the weather of Segyi La Mountain itself is sometimes hard to predict.
3.You can drive directly to Tripe without border pass, but sometimes there are checkpoints inspecting your ID card along the way.
4.The climate changes frequently on Mount Sejila, and the weather at the foot of the mountain can only as a reference. Prepare some warm clothes will never be wrong.
Attractions nearby Mount Namjagbarwa
Recommended Tour Itineraries Including Mount Namjagbarwa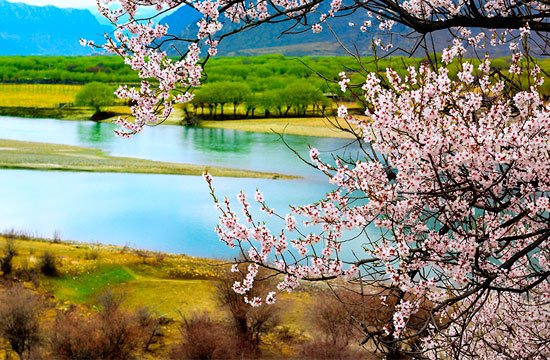 Nyingchi Prefecture is the lowest land in Tibet with breathtaking natural scenery. Every tourist who has come Nyingchi will never forget what they have seen. Tibet Vista provides more than 10 tour packages including these tourist attractions in Nyingchi Prefecture at the best price.
Popular Nyingchi Tour Deals
More Tibet Tour Packages
How to get there
Address: Mainling County, Nyingchi Prefecture
Transportation:
1. Car-- You can drive all the way from Lhasa to Bayi Town. It's about 440 km in all. Then drive along the Niyang River to Mainling County.
2. Boat-- The boat starts in Bayi Town. The round way ticket is about CNY 580 per person.
3. Trek-- Most trekkers start in Mainling County and trek along Yarlung Tsangpo River to the lower reaches.
4. Bus-- The bus starts from Bayi Town at 8:00, about CNY 50 per person.
Best time to visit it
Autumn is the best season to travel there. The climate is relatively dry and clouds are fewer than before in Autumn. Then you can have a clear visibility of this beautiful mountain.
During the end of March and early
April
, you can see peach blossoms in Nyingchi. Alpine azalea blooms in May and June.
The prime time of shooting is within an hour before sunset. It is very difficult to gain ideal light condition because of backlighting in the morning. Sometimes, there will be a good result at night.
Opening Hours: All day long
Admission Fee
None
Read more
Get A Quotation of this Tour