Mount Everest
Highest place in the world
About Mount Everest
At an elevation of 8,848.13 meters, Mount Everest, or Mount Qomolangma is the main peak of the Himalayas. This world's No. 1 peak rises high on the border of China and Nepal. It's northern slope lies in the Tingri County of Tibet. Commanding reverence from fellow giant peaks nearby, Mount Everest is shaped just like a majestic pyramid propping up the sky for the Earth.

Surrounding Mt. Everest, 4 (Mt. Makalu, Mt. Lhotse, Mt. Cho Oyu and Mt. Shishapangma) of the world's 14 peaks above 8,000 meters stand guard within a sphere of 200 square kilometers. They are escorted by another 38 peaks above 7,000 meters of see level. Together they form one of the world's most grandiose landscapes.

For foreign travellers, Everest Base Camp has become one of the most popular trekking destinations in Tibet, offering the chance to gaze on the magnificent north face of the world's highest peak-- Mount Everest.

Analyses of geological structure indicate that in the Mesozoic Era about 230 million to 70 million year ago, the region where Mt. Everest stands now was part of the ancient Mediterranean Sea. Beginning from the late Tertiary Period of the Cenozoic Era, the region gradually rose. Chinese scientists have concluded that Mt. Everest is still rising at a speed of 3.2 to 12.7 millimeters per year.
   
At the top of Me. Everest, there always hangs a wisp of cloud. It flies eastward in the fast western wind just like a flapping flag. This is the unique phenomenon of the area-- the "Cloud Flag of Mt. Everest". At times, the cloud will change from surging waves into a thin cooking smoke, or from galloping steeds into the mysterious veil of a goddess. Gazing at Mt. Everest, one will immerse in a solemn ethereal mood.
   
In recent years, mountain climbers and explores have focused on Mt. Everest. It has become many brave people's dreams to demonstrate their courage and skills by climbing onto this world's highest peak. The weather is relatively mild and steady with less rain or snow early Mar. to late May, and again so from early Sept. to late Oct.. These are the 2 best seasons for tourists and mountain climbers.

Belonging to the Nyingma Sect of Tibetan Buddhism, Rongbuk Monastery is the world's highest religious architecture. This monastery is unanimously seen as the best place to admire Mt. Everest. Sitting at the foot of the mountain's northern slope, the monastery is located at the tail of the Rongpuk Glacier with a sea elevation of 5,600 meters. The monastery has become the base camp for expedition teams on the northern slope of Mt. Everest. With many rooms for tourists, climbers and explorers, the monastery is also the world's highest hotel.
(A close shot of majestic Mount Everest)
Restaurant and Accommodation
The guesthouses of Rongbuk Monastery and the tents of Everest Base Camp offer Butter tea, instant noodles and other simple food. The catering condition is very hard and you can prepare some solid food by yourself.
The accommodation only owns the word 'basic'. Each bed costs you CNY25 in the guesthouse of Rongbuk Monastery. You'd better bring a sleeping bag. Or you can choose to stay overnight in Rongbuk Everest Hotel, and the price is 260 RMB per night per room(Double room without toilet).

Shooting Location
1. The old Tingri Mount Qomolangma Observatory
You can drive directly to the observatory to shoot the distant view of sunrise and sunset of the Mount Everest. Use telephoto lens and balow lens to take a close-up shot.
(a close-up shot at sunrise of Mount Everest from distance)

2. Cover Gora pass
This is the perfect place to shoot four mountains 8000 meters above sea level. They are Mount Makalu, Mount Lhotse, Mount Everest and Mount Cho Oyu. You can overlook Mount Everest from there and use 300mm lens to zoom in the distant scenery. The wind is very strong in the pass and you should reinforce the tripod.

3. The hill next to Rongbuk Monastery
This place has long been recognized as the perfect shooting angle of Mount Everest. The scenery of sunset can better express the beauty of sunshine. You can take the white tower of Rongbuk Monastery as the foreground to give stronger sense of humanity.
(Everest North Face glistens in the morning sun from Rongbuk Monastery.)
4. Everest Base Camp
This is the nearest place to enjoy a close view of the Everest. You can take some unique photos with different angles. For example, take photos of the campsite, prayer flags and other scenery as foreground.

Photography Plan
Generally you can start from Lhasa, and this route costs you at least four days.
Day1: From Lhasa to Shigatse. Along the way, you can shoot Yamdrok Lake, Palcho Monastery, Castle Hill, Tashilhunpo monastery and so on. Stay overnight in Shigatse.
Day2: From Shigatse to Rongbuk Monastery via Tingri. You can shoot four mountains 8000 meters above sea level at Cover Gora pass, which is the perfect place to appreciate the magnificent Mount Everest. If the weather is good at night, you can appreciate magic night scenery with shining stars.
Stay overnight in Rongbuk Monastery.
Day3: Continue to stay in Rongbuk Monastery to shoot the sunrise. Then charter a car to Everest Base Camp.
Stay overnight in old Tingri.
Day4: Return to Lhasa via National Highway 318.

(The scenery of Mt. Everest from National Highway 318)
Tips of Mount Everest
1. If you want to stay overnight in Everest Base Camp, you need to prepare warm clothes, enough food and sleeping bags. It's really cold out.
2. The best place to take pictures of Mt. Everest is a little hill in EBC. You can ask the locals about the time of sunrise. Don't miss it. It's a fantastic scene.
3. Be aware of the altitude sickness even if you don't have one when in Lhasa.
4.You have to bring your border pass or activated passport to check in at the checkpoint. It's better to prepare all the documents in your registered permanent residence before your travel.
5. There is a hospital in Tingri County. If you don't feel good, please check your body condition ASAP.
6. There is a post office at EBC, opening from Apr. to Oct..
Attractions nearby Mount Everest
Recommended Tour Itineraries Including Mount Everest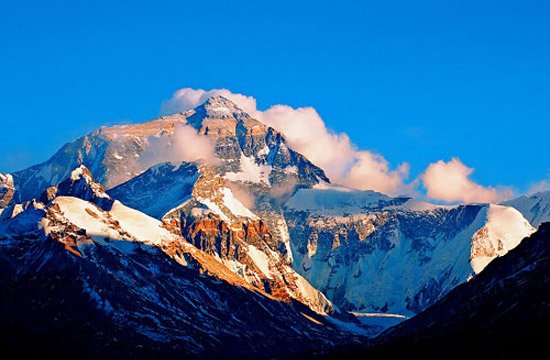 Located in Shigatse Prefecture, Mount Everest attracts a lot of tourists to visit every year. Besides, Shigatse is the second largest city in Tibet characterized Tibetan culture. Tibet Vista provides more than 10 tour packages including these tourist attractions in Shigatse Prefecture at the best price.
Popular Shigatse Tour Deals
More Tibet Tour Packages
How to get there
Address:Tingri County, Border of China and Nepal
Transportation:
1. Airplane-- You can fly to Heping Airport and then shift to bus.
2. Bus-- There are buses to Tingri everyday starting from Shigatse, CNY 85 per person.
3. Car
4. Rental Car-- Jeep would be the best choice. You need to negotiate with the price in advance to prevent any money issue.
Best time to visit it
The
weather
is relatively mild and steady with less rain or snow early Mar. to late May, and again so from early Sept. to late Oct.. These are the two best seasons for tourists and mountain climbers. The mountain is virtually inaccessible in summer due to the deadly monsoon season which generally brings mist to the area.
The prime time of shooting is before and after sunrise or sunset within an hour, as the light is softer than noon.
Opening Hours: All day long


Admission Fee
CNY 180
Read more
Get A Quotation of this Tour