Mindroling Monastery
Special emphasis on astronomy
About Mindroling Monastery
A worthwhile detour from the Lhasa-Tsetang road, between the Dratang turn-off and the Samye ferry crossing, is Mindroling Monastery. It is the largest and most important Nyingmapa monastery.
   
Mindroling Monastery was founded by Rigzin Terdak Lingpa in 1676. Tendrak Lingpa's lineage is known as the Nyo lineage. Mindroling, in Tibetan means "Palace of Perfect Emancipation". It is located in Dranang County, Shannan Prefecture, approximately 43 km east of the Lhasa airport, on the south side of the Tsangpo river.
   
Mindroling Monastery has cham dancing on the 10th day of the 5th Tibetan lunar month. The latter festival features the creation of a sand mandala 9 days later.
   
At Mindrolling Monastery, special emphasis was palced on the learning of Buddhist scriptures, astronomy, Tibetan lunar calendar, calligraphy rhetoric, and Traditional Tibetan medicine. Monks traditionally studied13 major sutra and tantra texts of the Nyingma, and learned the practices stemming from various terma, especially from the Lineage of Terdak Lingpa. The monastery had at one time, over 100 satellites and its throne holder was one of the most revered in Tibet.
   
In the years after 1959, the monastery suffered damage to its buildings, but it was not as severe as at other monasteries such as Ganden Monastery. At present, the monastery is still being reconstructed in Tibet.
   
The central Tsuglhakhang is an elegant brown stone structure on the west side of the courtyard. As you walk clockwise, the 1st chapel is the Zhelre Lhakhang, with statues of Gelug Rinpoche and Terdak Lingpa. The bare main hall itself has another statue of Terdak Lingpa, along with Dorje Chang and a row of Kadam-style chortens-- the monastery originally belonged to the Kadampa school. The inner chapel has a large Sakyamuni statue. Only the statue's head is original.
   
Upstairs, the Tresor Lhakhang houses several treasures, including a stone hoofprint and a famed old Thangka with the gold footprints and handprints of Terdak Lingpa, which was given to the 5th Dalai Lama.
Tips of Mindroling Monastery
1. If you want to stay the night, you can sleep in the guesthouse.
2. Beware of dogs if you leave your room at night.
3. A small shop nearby sell water, instant noodles and the like.
Attractions nearby Mindroling Monastery
Recommended Tour Itineraries Including Mindroling Monastery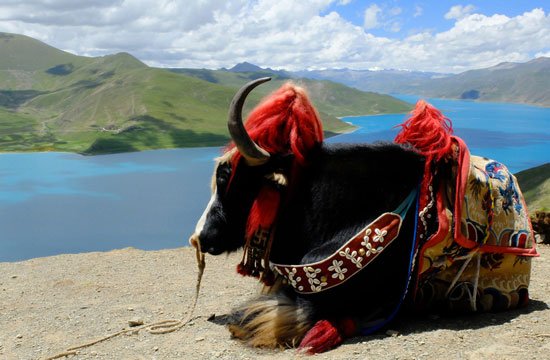 Yamdrok Lake is one of three most sacred lakes in Tibet. Tibet Vista provides more than 10 tour packages including these tourist attractions in Tsedang Prefecture at the best price.
Popular Tsedang Tour Deals
More Tibet Tour Packages
How to get there
Address: Dranang County, Shannan Prefecture
Transportation:
1. Bus-- Take the Lhasa-Tsetang bus and get off at kilometer marker 147. One daily bus leaves the monastery around 8:30 a.m. for Tsetang, returning in the afternoon.
2. Car
3. Pedicab
Best time to visit it
You can actually visit here all year round.
Opening Hours: 9:00--18:00
Admission Fee
CNY 20
Read more
Get A Quotation of this Tour