Lhasa to Manasarovar Distance: distance from Lhasa to Manasarovar by road, flight, and train
Sitting high on the Tibetan plateau around 955 kilometers from Lhasa as the crow flies, or around 1,213 kilometers by road, Lake Manasarovar is one of the most important attractions here in western Ngari. A stunning sight in the remote area of Burang County, Lake Manasarovar is one of the most popular destinations for tourism in Tibet. Kailash and Manasarovar are both important sites in both Hinduism and Buddhism, and are mostly visited by pilgrims making a tour of the two sites, performing the ritual kora around Mount Kailash before taking a dip or a drink at Lake Manasarovar to absolve them of their sins. For tourists, the lake is one of the most beautiful in the region, noted for its sweet purifying waters and the stunning location.
Lhasa to Manasarovar by Road: Distance and How to Travel
There are two routes to take to get to Ngari and Lake Manasarovar, the Southern Ngari Travel Route and the Northern Ngari Loop Route. The southern route is the more popular, as it usually includes visits to the various attractions along the way, and is much shorter than the northern route.
Southern Ngari Travel Route (1,213km)
The Southern route to Lake Manasarovar is the more popular of the two main routes to Ngari from Lhasa, and is much shorter than the northern loop by a large distance.
Travel Route:
Lhasa (3650m) - Gyantse (4040m) - Shigatse (3836m) - Tingri (4300m) - EBC (5200m) - Saga (4487m) - Lake Manasarova (4588m)
Starting in Lhasa, the route runs from the Tibetan capital at 3,656 meters above sea level to Gyantse (4,040m) where you will visit the Kumbum Stupa and Pelkor Chode Monastery before moving on to Shigatse for the night. At 3,856 meters, Shigatse is higher than Lhasa, and is the location of the Tashilhunpo Monastery, the seat of the Panchen Lama. After Shigatse, you will travel on to Tingri at 4,300 meters, where many people turn off to explore the Mount Everest Base Camp. EBC lies at an altitude of 5,200 meters, and is the most popular natural attraction in Tibet. After visiting EBC, you will head for Saga (4,487m) along the G219, and then follow on the next day to the lake itself, at 4,588 meters above sea level.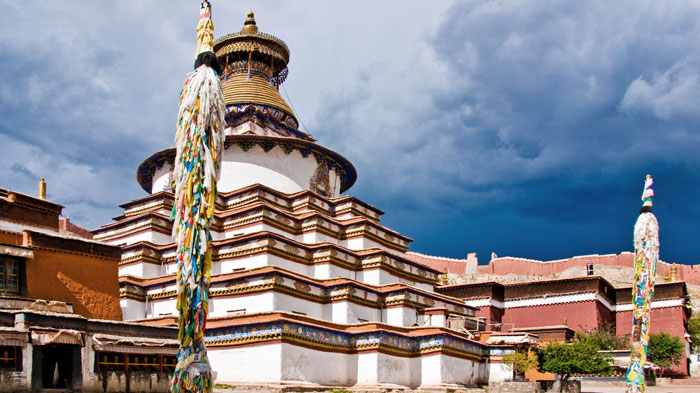 Gyantse Kumbum is one of the foremost attractions in Tibet.
Total Distance and Road Condition
A Total Distance of 1,213km from Lhasa by road, the road from Lhasa to Lake Manasarovar is a well-paved asphalt road for the entire distance, on both the G318 to Lhatse and the G219 that departs from Lhatse and runs all the way to the lake.
Daily Itinerary for Lhasa to Manasarovar Tour via Southern Route
Day 1 - Lhasa to Shigatse via Gyantse (360km)
Day 2 - Shigatse to EBC (350km)
Day 3 - EBC to Saga (450km)
Day 4 - Saga to Lake Manasarovar (450km)
>> See more details at 15 Days Lhasa Kailash Manasarovar Tour
Northern Ngari Loop Route (2,080km)
While it may be a beautiful and unexpected route to take, the loop route from Lhasa to Manasarovar that heads north through Nagqu to Ngari is also one that is rarely used, due to the remote area and the arid landscape.
Travel Route:
Lhasa (3650m) - Damxun (4200m) - Namtso Lake (4718m) - Baingoin (4700m) - Nyima (4800m) - Wenbu North Village - Wenbu South Village - Coqen (4700 m) - Ringtor (4770m) - Yagra (4800m) - Hor (4600m) - Lake Manasarova (4588m)
Starting in Lhasa, the route heads first north to Damxung County (4,200m) and then over the mountains to Lake Namtso, another of the Great Three Sacred Lakes of Tibet. After leaving Lake Namtso, the route takes you over into Nagqu Prefecture and on to Baingoin (4,700m) and on to Nyima (4,800m). From there you head through Wenbu North Village and Wenbu South Village to Coqen (4700 m), and on through Ringtor (4770m) and Yagra (4800m) to Hor Qu (4600m), on the northeast corner of Lake Manasarovar (4588m).
Total Distance and Road Condition
From Lhasa, the total distance of the northern loop is around 2,080 kilometers, and while much of the route north from Lhasa to Lake Namtso and Baingoin is well-paved road, from there, the road across Nagqu and northeast Ngari is irregularly paved, with plenty of dirt and gravel sections. The section from Yagra to Hor Qu, however, is well-paved once more, as it makes up part of the Xinjiang Tibet Highway.
Highlights along Lhasa to Manasarovar Loop Route
After leaving Lhasa, the first major highlight of this trip is the stunning view of Lake Namtso, one of the Great Three Sacred lakes of Tibet. Known as the Heavenly Lake, this beautiful setting is one of the most outstanding sights in Tibet, and is well worth visiting. The road from Namtso to Wenbu South Village crosses the vast Changtang Prairie, filled with wild yaks, kiang, Tibetan antelopes and many other species of wildlife that are native only to this high-altitude plateau. Wenbu South Village is also a great place to visit, being a secluded and picturesque little community set in a charming pastoral scene. Known as the "Wenbu Paradise", it is a great place to rest and explore.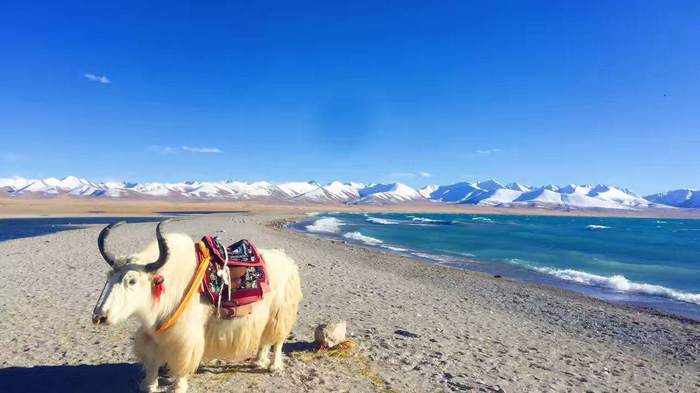 Namtso Lake is one of the three great sacred lakes in Tibet.
Tangra Yumco Lake, which is the holiest lake in Bon religion, lies between Wenbu and Coqen, and it is believed that it is equal to Kailash and Manasarovar in holiness for the Bon devotees. As the road continues across the Changtang Grasslands, it passes through Rutog County of Ngari, the location of the famous Rutog Rock Paintings. Believed to have originated in the Stone Age on the plateau, and made by the original inhabitants of Tibet, these paintings can easily be seen along the sides of the road. The route also takes you to the Guge Kingdom, an ancient civilization in northwest Tibet that died out centuries ago, with no visible explanation as to how these Tibetan Buddhist people disappeared off the face of the plateau.

Tangra Yumco Lake is believed to be equal to Kailash and Manasarovar in holiness for the Bon devotees.
>> See more details at 19 Days Big Loop Tour around Ngari Region
Lhasa to Manasarovar by Flight: Distance (1,097km) and How to Travel
Getting to Lake Manasarovar by flight is possible from the Tibetan capital by taking a flight from Lhasa Gonggar International Airport to Ngari (Ali) Gunsa Airport in Shiquanhe. The flights take around two hours to reach the small airport just outside Shiquanhe, covering a distance of around 1,097 kilometers. However, Shiquanhe lies more than 280 kilometers to the northwest of Lake Manasarovar, and there is no flight that can take you there. The distance to the lake then has to be completed by car, which can take an entire day of driving.
Lhasa to Manasarovar by Train: Distance and How to Travel
While there are railways leading onto Tibet, there is no rail link that connects Lake Manasarovar with anywhere else. The closest railway station to the sacred lake is at Shigatse, in southwest Tibet, almost 900 kilometers away. It is possible to get the train from Lhasa to Shigatse, but from there you would need to drive south to the lake or drive along the G318/G219 to Lake Manasarovar.
Which way shall I choose to travel to Manasarovar from Lhasa?
Which route you take does largely depend on what you want and what you expect from your tour, and while the two routes are vastly different, each has its good and bad points. The longer Northern Loop is a massive journey that takes almost three weeks to complete, and is an expensive and long route to get to the lake. However, while it may be a long and winding road, this unique route takes you through southern Nagqu and northern Ngari, passing through some of Tibet's most outstanding natural landscapes, the Changtang Prairie. A vast and open land that lies at extreme altitudes, this is an area of Tibet that foreign travelers rarely get to visit, and is one of the best places to travel if you want to encounter the unique Tibetan wildlife.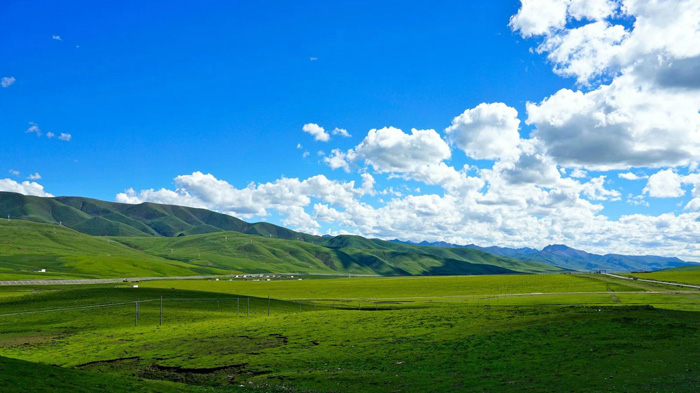 Changtang Prairie is a good choice to encounter the unique Tibetan wildlife for travelers.
The southern route is the most popular, and takes you through the stunning sights and attractions of the region, traveling through Gyantse, Shigatse, Everest Base Camp, and Saga, on the way to the lake. This is also the cheaper route of the two, and is much faster, taking only around 13-15 days for the entire trip. As the more popular route, it is also able to join in on a Small Group Tour to Lake Manasarovar, whereas the northern loop is normally required to be on a private tour. Here we offer you a couple of Kailash Manasarovar tour packages to choose from, or you can contact our Tibet travel guru to tailor-make your journey to Manasarovar Lake.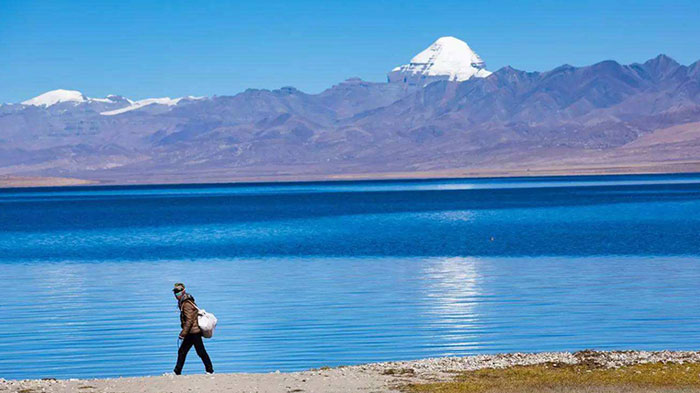 Situated near Mt.Kailash, Manasarovar Lake is the most sacred lake for Tibetans.
What travel documents do I need for Lhasa Manasarovar tour?
Before traveling to Lake Manasarovar, or even to Tibet, you will need to have the right documents, which can only be provided by a registered Tibet tour operator for tourists that are on a pre-arranged tour. Once you have booked your Tibet tour, we will use a scanned color copy of your passport and visa to obtain the relevant documents on your behalf. The documents you will need are: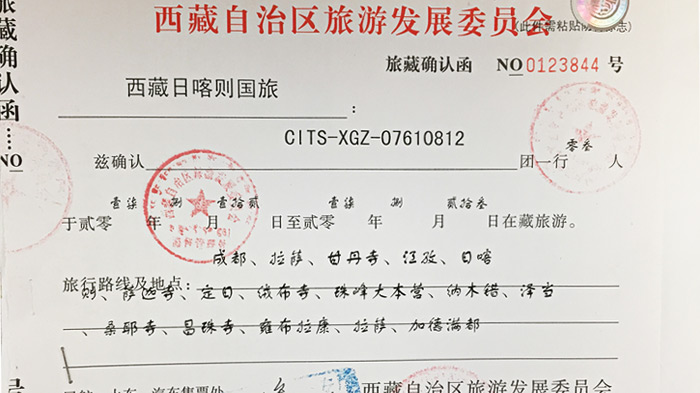 A sample of Tibet Travel Permit
Tibet Travel Permit - required for travel into and around Tibet in the region of Lhasa only. Alien's Travel Permit - required for travel outside Lhasa to the "unopened" areas of Tibet, including Shigatse, Shannan, and Everest Base Camp. Restricted Areas Permit - required for all tourists traveling to the military restricted zones of Tibet, which includes Ngari, Nyingchi, and Nagqu prefectures. Frontier Pass - required for all travelers, both domestic and international, traveling in the regions of the Chinese borders with Nepal, India, and Bhutan.
Conclusion
A trip to Lake Manasarovar in western Tibet is one of the most amazing adventures on the plateau. Traveling thousands of kilometers across this vast open landscape, experiencing such amazing sights as the Jokhang Temple, Potala Palace, Mount Everest Base Camp, and two of the Great Three Sacred Lakes of Tibet, is a journey of enlightenment and spirituality. Even for those that are not devoutly religious, there is something about the sacred sites of Tibet that can bring out the spiritual feelings of achievement and wonder on finally reaching the awe-inspiring Tibetan plateau.