Jokhang Temple Architecture: One of the Most Glorious Buddhist Temples in Tibet
Though Potala Palace enjoys great popularity among tourists, it's the Jokhang Temple that holds the most sacred place in the mind of local Tibetans. Besides spiritual significance, its architecture is also a prominent feature for exploration. The iconic gilded rooftop, sacred Buddhist chambers and multiple construction styles all give away the holiness and uniqueness of this historic Buddhist temple.Before your actual visit, let's learn more of Jokhang Temple's distinct architecture and how to appreciate it when visiting.
Basic Facts about Jokhang Temple
The construction of it started in 7th century by Tubo Empire in its prime days. It was built at the order of Srongtsen Gampo, the ruler of Tubo Regime at that time. One of his wives was a princess from Nepal, Princess Bhrukuti, and she brought from Nepal a life-size statue of Guatama Buddha.
It is allegedly said that building a sacred place to enshrine and worship the Buddha statue thus became an instant need, and was also the origin of its construction. The location of Jokhang Temple was once a lake before that, but Srongtsen Gampo ordered to fill the lake in order to build the temple. This is the legendary and beautiful history of its coming into being.
Top Things to Know for Jokhang Temple Architecture
Occupying an area of more than 25,100 square meters, Jokhang Temple houses more than 20 palaces and sanctuaries. Looking from afar, you can easily be drawn to the gilded rooftop of Jokhang Temple almost glowing under the sky with its bronzed tiles in an orderly fashion.
Outside Jokhang Temple
The exterior of Jokhang Temple features a glorious combination of Nepali elements and Tang features influenced by aesthetics of ethnic Han. One fact that differentiates it from all other temples is its east-west orientation, facing towards Nepal, said to be in honor of Princess Brukuti from Nepal.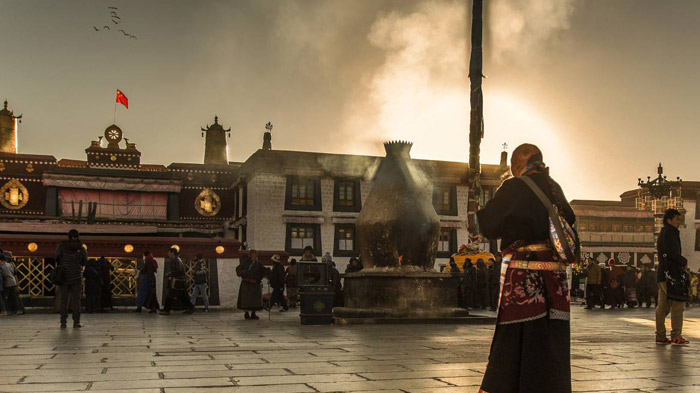 Exterior view of Jokhang Temple
At the front square of Jokhang Temple, you may first spend some time watching the religious rituals. Here, you can see more crowded pilgrims than anywhere else in Tibet. Beside, you'll see people burning Weisang, meaning mulberry branches, as the sacred offerings to deity. This is a fantastic part of Tibetan style of incense burning. In front of the Jokhang Temple, there is a monumental stone standing there, a political symbol of the relations between Tang Empire and Tubo Empire, who reached a peace treaty in 9th century after several wars between them.
Inside the Compound of Jokhang Temple
First sight that comes to your sight as you enter Jokhang Temple is the front courtyard of Jokhang Temple. The forecourt of the entrance is perpetually crowded with pilgrims. Following their direction, you will arrive at the Chapel of Dumu just around the corner. Then there's the Chapel of the Four Guardian Kings, two on either side. Beyond this is the main assembly hall. You'll see a line of pilgrims filling past the main entrance as they walk the circuit around the temple to do a kora. You can also join them. Always remember to proceed clockwise.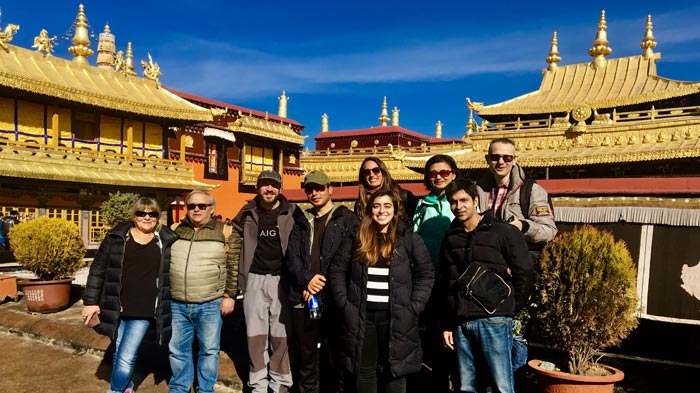 Jokhang Temple
a. Ground floor
The inner prayer hall houses the most important images and chapels. Among them, six larger-than-life statues dominate the central prayer hall. They are 2 statues of Guru Rinpoche, 3 statues of Jampa, future Buddha, and a thousand-armed Chenresig between and to the rear. Encircling this enclosed area of statues is a collection of chapels, which you ought to visit in a clockwise direction. Following the pilgrims clockwise you will see grotesque yet devoutly respected religious traditions of them. They will rub along the doorways and chain-mail curtains, touch their heads to revered statues, throw seeds as offering, and pour molten yak butter into the head of a thousand prayer lamps. This may seem as exotic and novelty as it can be. The hushed atmosphere of wholehearted respect and awe is only broken by groups of tourists chattering into their mobile phone. The chapels, following a clockwise route, are as follows.
Tsongkhapa is seated in the centre of his own chapel, flanked by his eight disciples. The chapel of the Buddha of Infinite Light is usually shut down to visitors. The chapel of the Eight Medicine Buddhas, home to the eight medicine Buddhas, are contemporary and not of special interest. About the Chapel of Chenresig, legend has it that the statue of Chenresig combines aspects of King Songtsen Gampo, his wives and two wrathful deities. In the Chapel of Jampa are statues of Jampa as well as four smaller Bodhisattavas. A bodhisattva is an enlightened (bodhi) being (sattva).
Traditionally, a bodhisattva is anyone who, motivated by great compassion, has generated bodhicitta, which is a spontaneous wish to attain Buddhahood for the benefit of all sentient beings. It is also believed to be one of the four sublime states a human can achieve in life. Besides, a Tsongkhapa is also present there. The image of Tsongkhapa in the Chapel of Tsongkhapa was said to be commissioned by the subject himself and made into a very precise resemblance. It is in the central on top of all steps, displaying a supreme and solemn manner.
b. The second floor of Jokhang Temple
Inner sanctum on the upper floor is also ringed with chapels, though some of them are closed. Also, you go clockwise, and you will pass through several rooms featuring Sakyamuni accompanied by his two main disciples. Then, you will pass the Chapel of Lhobdrak Namka Gyaltsen, or also called the Lamrin Chapel, then the Chapel of Five Protectors in the southwest corner. Next is the Chapel of Three Kings. Also worth a look is the Chapel of Songtsen Gampo, the principal chapel of him in the Jokhang. It is positioned in the centre of the west wall (directly above the entry to the ground-floor inner sanctum). Most of other rooms are hidden behind grills. Back by the stairs, notice the round floor frames of the Chapel of Guru Rinpoche and the Chapel of Samvara, which date back to 7th century.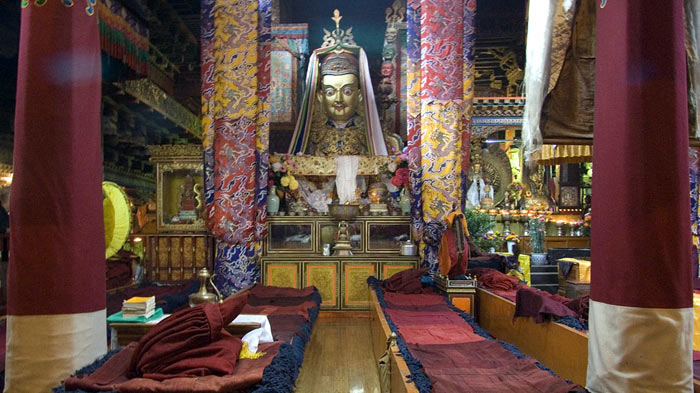 Worship one of the chapels in Jokhang
c. Rooftop of Jokhang Temple
After an exploration of the interiors of Jokhang Temple, it's definitely worth spending some time on its roof. It is a platform with a fantastic point of view, from which you can see all the bustling marketplace activities of Barkor Street, devious pilgrims, and all the symbolic architecture in and around the Jokhang Temple. Of course, you can also shoot all of these superb views and keep them on your superb photos.In a well-organized Lhasa tour, the last thing you'll do is to hunt for some worthy souvenirs to wrap up and commemorate your experience in the Jokhang Temple.
The Most Prominent Interiors of Jokhang Temple
a. Sculptures
There are original carves from the 7th century on original pillars and entrance arches. Jokhang Temple was listed among World Cultural Heritage in the year of 2000. These millennium-old wooden carves are the crucial reason. They cannot be found in any other temples. You can only see and touch them here. If you knock you fingers on them, they sound like metals.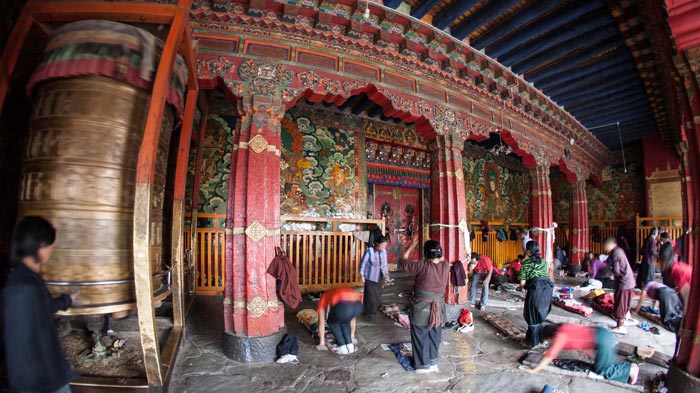 Murals and pillars of Jokhang Temple
b. Statues of Buddhas
The temple keeps numerous pieces of cultural relics, all priceless and invaluable. The most famous and religiously significant one is the Jowo Sakyamuni aged 12, which is circumanbulated by thousands of pilgrims day and night. It was brought by Princess Wencheng, from Tang Empire, China. There are only three life-size statues for him in the world, portraying him at different ages. Princess Bhrukuti brought the one aged 8, which was also a precious symbol worshiped by all. For the longing followers, getting a chance to view his statues is no any different than seeing the real Buddha. - Read more about Jokhang Temple Buddha: the Highlights for Visiting Jokhang Temple
c. Alterations, Renovations and Expansions of Jokhang Temple Architecture
The estimated period of the beginning of its construction ranges from 639 to 647 AD. It lasted for three years, not quite a long time. However, what stands in front of your eyes today has undergone multiple renovations, alterations, and expansions during later dynasties including Yuan, Ming, Qing. Today, it is the most glorious architecture of Tibetan Buddhism, also the most antique wooden structure in Tibet that's still to be found.
Join-in Lhasa Tour with Jokhang Temple