India to Ngari: how to reach Mount Kailash and Mansarovar Lake from Delhi by flight, road, or train?
Traveling to the sacred Mount Kailash from India is one of the most important pilgrimage routes for Hindus to visit the mountain in order to perform the ritual kora trek around the base. Lying in the western Ngari Prefecture, in Burang County, Mount Kailash is one of the most important destinations for pilgrims from four religions - Hinduism, Buddhism, Jainism, and Bon. And while the mountain does lie just 145 kilometers northeast of the border between India and China, traveling Kailash from New Delhi cannot be done direct. As the crow flies, Mount Kailash is a mere 476 kilometers from New Delhi, but travelers to the sacred mountain from India need to first enter Tibet from Nepal or mainland China in order to travel there. However, there are several ways in which one can travel from Delhi to Kailash to perform the kora, and travelers can choose the best route for them from those available.
Different Routes from India Delhi to Mount Kailash and Manasarovar Lake
Travelers from New Delhi to Mount Kailash have several options to get to the mountain, including flights, overland travel, and the use of the Tibet Trains. Ngari does have an airport that serves the seat of the prefecture, at Shiquanhe. However, flights to Ngari are only available from Lhasa, the Tibetan capital, or Kashgar and Urumchi in Xinjiang. Moreover, there are no direct flights from India to Tibet, and all travelers must transfer through either Kathmandu or mainland China.
Traveling by road is one option that is popular for Indian travelers to Mount Kailash, and the easiest route is through Nepal and across the border into China at Gyirong Port. This is a long journey, but with good rail networks in India, getting to Nepal is relatively easy. From there, it is a car journey to the sacred mountain. Unfortunately, there are no railways in Nepal and the railways in Tibet do not extend to Ngari Prefecture, so making the complete journey by train is not an option.
Delhi to Kailash Manasarovar by Flight: distance (1417km) and how to travel
Flying to Lhasa from Delhi can only be done as a connecting flight, and travelers will need to change flights in either Kathmandu or one of the many airports in mainland China that serve Tibet. The easiest route to take is through Nepal, by taking a flight to Kathmandu's Tribhuvan International Airport and then connecting on to Lhasa from there. The first leg of the trip is the 813-kilometer flight from New Delhi to Kathmandu, which takes around 1h 35m and costs from as little as 92 US dollars.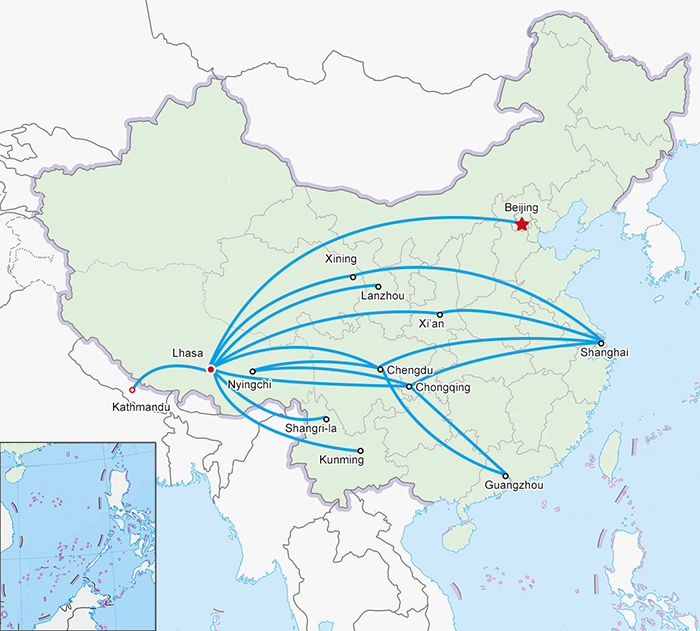 (Simple click to enlarge the map)
Map of Flights to Qamdo Bamda Airport
Then it is the connecting flights from Nepal to Lhasa, which takes just 90 minutes for 604-km-long trip and costs from around 173 dollars, depending on the time of year. The flight is the only international flight to Lhasa from outside China. After reaching Lhasa, you will need to travel by road to Mount Kailash, a journey of around 1,213 kilometers that takes around six days, with the kora trek and return journey on top. There is also an option for getting a flight from Lhasa to Ngari Gunsa Airport at Shiquanhe, which is a short flight of just two hours with Tibet Airlines that departs daily at 7:30am. Considering the sharply increasing altitude, you are not suggested to fly to Ngari but travel overland from Lhasa to Ngari to reduce the risk of altitude sickness.
Delhi to Kailash Manasarovar by Road: distance (1,838km) and how to travel
Traveling overland from Delhi to Mount Kailash is an epic journey of more than 1,838 kilometers. The first part of the route is from New Delhi to Kathmandu, which is relatively easy as Indian nationals have unrestricted access to traveling into and around Nepal. From Kathmandu, you will need to take a car to the border with China at Gyirong Port. Once across the border, you will be met by your guide and driver to make the long journey to Mount Kailash and Lake Manasarovar. From Kathmandu, it is a trip of around 846 kilometers to get to the sacred mountain, a journey of just five days.
Delhi to Kailash Manasarovar by Train: distance and how to travel
While India has a great network of railway lines, both Nepal and Tibet are limited when it comes to rail travel. There are actually no railways in Nepal, and in Tibet, the railway link only runs from mainland China to Lhasa and on as far as Shigatse. There is no direct rail link to either India or Mount Kailash.
Which way shall I choose to travel to Kailash and Manasarovar from Delhi, India?
From the three main routes from India to Mount Kailash, only two are actually feasible for travelers from New Delhi - by flight to Lhasa and overland across the border at Gyirong Port.
The route via Kathmandu and Lhasa is an amazing journey that takes you to two of the Himalayan capitals and crosses the vast Tibetan plateau by car. Starting from Nepal, the flights to Lhasa from Kathmandu leave daily throughout the year, with an increase in the number of flights in the peak season for Tibetan tourism. Flights to Lhasa Gonggar International Airport from Tribhuvan International Airport take around 90 minutes to cross the plateau, and the flight path takes you directly over the summit of Mount Everest. A fast and efficient way to get to Lhasa, this route is ideal for those that want to tour around Lhasa for a couple of days to see the amazing sights of the Potala Palace and the sacred Jokhang Temple.
The tour from Lhasa to Mount Kailash and back takes 15 days, including the time you will spend in Lhasa sightseeing, which is not ideal for those that are traveling with limited time. And when you factor in the cost of the flight to Lhasa, the return flight to Kathmandu at the end of the tour, and the tour itself, you are looking at a total cost of at least US$2,200 per person. With the additional flights to and from New Delhi, the cost increases to at least US$2,400 per person. However, while it may be a long and costly tour, you will get to visit some of the most spectacular sights of the Tibetan plateau, including the massive Mount Everest, the world's highest peak. Meanwhile, if you don't want to fly back to Kathmandu, you can choose our 13 Day Lhasa Everest Kailash Manasarovar Kathmandu Adventure Tour to exit Tibet to Nepal via Gyirong Port.
The alternative route, which takes you from Kathmandu to Mount Kailash overland, is a great way to travel to the sacred mountain, and is a trip of just 13 days, including the trek around the Kailash kora route and the return journey to Kathmandu. Starting once more in Kathmandu, the first leg of the journey is the six-hour drive by car or bus to Rasuwa Gadhi, the immigration checkpoint in Nepal on the border with China. After crossing the Resuo Bridge, your tour to Kailash starts, taking you 604 kilometers through the western part of Tibet in Shigatse and Ngari prefectures.
The cost of the total tour starts from around US$1,990 per person on a Small Group Tour, which does not include the transfer from Kathmandu to Gyirong Port and back, nor the cost of the flight or train between New Delhi and Kathmandu. However, this is an ideal trip for those who only want to visit Mount Kailash in Tibet, and take on the 52km Kailash Kora trek around the base of the mountain. You also get to spend a whole day at Lake Manasarovar, the sacred lake to wash away the sins of a lifetime, a popular ritual with both Hindu and Buddhists alike.
What travel documents do I need to visit Mount Kailash and Manasarovar Lake from India?
The documents required for travelers entering Tibet through Nepal is a little different from those entering from mainland China, but they are not hard to arrange. The first thing to do is book your Tibet tour with us, so that we can make all the arrangements on your behalf. Independent travel is not permitted in Tibet, and all tourists must be on a pre-arrange tour with a registered Tibet tour operator. Once you have booked your tour, we will use a scanned color copy of your passport to obtain the documents you need.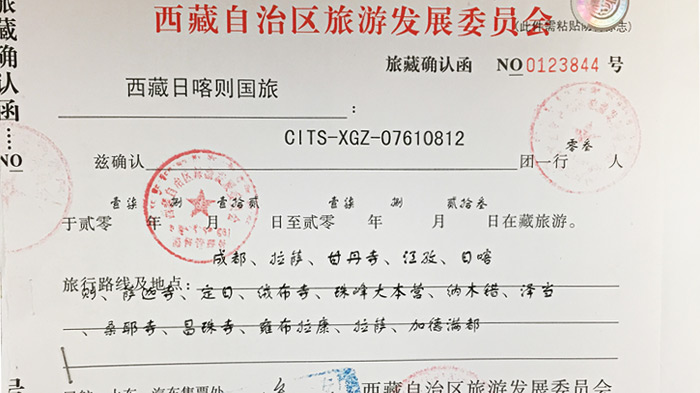 Tibet Travel Permit is an indispensable travel document for Tibet entry.
The first, and most important, is the Tibet Travel Permit, which is required for entering Tibetan and traveling around the area of Lhasa. If you are not traveling to Lhasa, the permit is still required for entry. This is obtained by us using the scanned passport copy that you provided, and the application process normally takes around 15-20 days, so it is advisable to book well in advance.
You will also need the Alien's Travel permit, for travel to the "unopened" areas outside Lhasa, which includes the rest of the plateau. This is normally applied for in Lhasa by your guide, but in this instance we will use the documents we have to make the application in advance. The Restricted Areas Permit, sometimes known as the Military Permit, is also required for travel into the area of Mount Kailash and Lake Manasarovar in Ngari. We will obtain this at the same time as we apply for the Tibet Travel Permit, as it also takes a couple of weeks to process.
The final permit you will need is the Frontier Pass, which is required for all tourists traveling within the location of the Chinese borders with Nepal, India, and Bhutan. This will be applied for in advance of your trip, as you will not be able to board the flights from Kathmandu to Lhasa or cross the border overland without it.
Finally, the last document you will need is your visa to enter China. While this is normally done first when entering from mainland China, for those entering from Nepal, the visa required is known as the Chinese group Visa, and is only issued from the Embassy of the People's Republic of China in Kathmandu. The visa application requires your original passport and the other travel permits, so you need to be in Kathmandu at least five days before your date of travel so that it can be approved in time. The Embassy does not accept personal applications, so we will make the application on your behalf once we have met with you and received your original passport.
For Indian nationals or Indian Passport holders, the rules are somewhat different, and all Indian nationals that are heading for Mount Kailash and Lake Manasarovar are not classed as regular tourists, even if the trip is for tourism only. All Indian pilgrims and tourists who wish to visit holy Mt. Kailash and Lake Manasarovar need to make their applications through the Foreign Affairs Office of the Tibet Autonomous Region. Two organizations can handle the authorization of Indian pilgrimages in Tibet: the Foreign Affairs Office, and the China India Pilgrims' Service Center (CIPSC). These two organizations are the ones responsible for organizing the practical applications of an Indian Pilgrimage Tour, such as the accommodation, transportation, itinerary, guides, yaks, etc. Other organizations and agencies are not permitted to receive pilgrims and tourists to Lake Manasarovar and Mt. Kailash.
While tourists have a choice of which tour operator to use, and can select based on cost, the monopoly of pilgrimage tours by the Pilgrim Center means that the cost is often much higher than for tourists. Tibet Vista is the official agent of the Pilgrim Center, and can provide a free tour consultancy service for pilgrims. However, only the Foreign Affairs Office and the Pilgrim Center can arrange the actual tour.
>> See more at Tibet Visa for Indian Citizens
Conclusion
A trip to Mount Kailash and Lake Manasarovar in western Tibet is one of the most spiritual journeys one can take, and the sacred mountain is an impressive sight, even for those that are not religiously affected. The Yatra journey to Kailash and Manasarovar is considered to be one of the most sacred pilgrimage journeys one can take, and even for tourists, a trip to this amazing mountain, which has never felt the tread of mankind, is an experience you will never forget.
Video about trekking tour around holy Mt.Kailash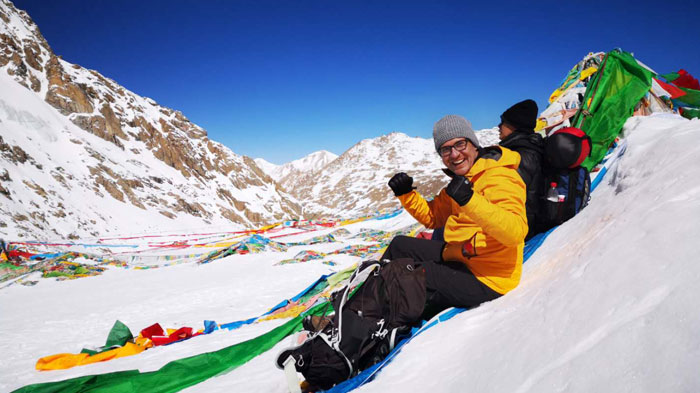 Trekking around Mountain Kailash