Gonggar Chode Monastery
Amazing Tibetan paintings
About Gonggar Chode Monastery
Although the Gonggar Chode Monastery belongs to the Zung branch of the Sakyapa school, Jamyang Khyentse Wangchuk, the founder of the Khyenri school, decorated the monastery with beautiful wall paintings in the 16th century. He painted many wall paintings himself, many of which remain today. Those paintings also serve as an unique art historical documents to allow people find the identification of this school, which is very durable influential on later Tibetan painting as long as to the 20th century. As many as one hundred and 60 monks used to live here, but the number shrinks to about 30 now. For the condition of the monastery, the main building is in good shape. And after the restoration, the exterior are fine now.

Among all the painting, there are 3 groups of paintings are remarkable. One is the wall paintings in the circumambulatory; one is the series of portraits on the back wall of the assembly hall; and finally, ten large panels depicting tantric deities in the Yidam chapel on the first floor of the monastery. The 3 were completed in different period of time, but they are common in delicacy and excellent quality.

Because of the destruction in turbulence, some paintings more or less lost its original beauty. Fortunately, the restoration in recent times enables us to see some of the paintings again. Many organizations are devoted to contribute to the rebirth of those paintings. For instance, Shalu Association aims to reinforce the structure in the Yidam chapel. And it's quite convenient to find materials for the main beams, because a forest is just nearby.
Tips of Gonggar Chode Monastery
Please don't touch these paintings with your hands, which could do harm to them, because they are really rare and valuable.
Attractions nearby Gonggar Chode Monastery
Recommended Tour Itineraries Including Gonggar Chode Monastery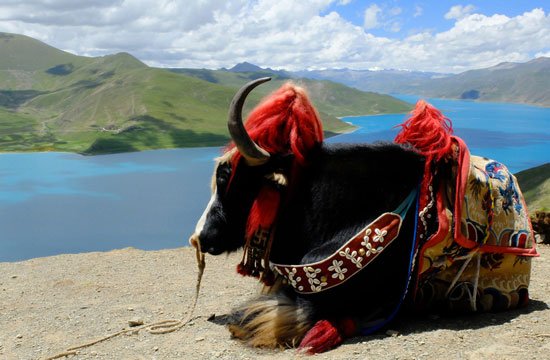 Yamdrok Lake is one of three most sacred lakes in Tibet. Tibet Vista provides more than 10 tour packages including these tourist attractions in Tsedang Prefecture at the best price.
Popular Tsedang Tour Deals
More Tibet Tour Packages
How to get there
Address: Gonggar County, Shannan Prefecture
Transportation: Car
Best time to visit it
You can visit Gonggar Chode Monastery all year round.
Opening Hours: All day long
Admission Fee
None
Read more
Get A Quotation of this Tour