Gangpo Ri
Birthplace of the Tibetan people
About Gangpo Ri
Gangpo Ri is the legendary birthplace of the Tibetan people. It is said that Chenresig, in the form of a monkey, mated with the white demoness Sinmo here. And this is the beginnings of the Tibetan race. That's why the place is very special for the local people.

There is a Monkey Cave near the summit of the mountain. It said to be the exact place where the legend happened. Therefore, this mountain is considered as one of the holy mountains, just like the famous Mount Kailash. If you want to pay a visit to the sacred place, you may need a half-day walk in the hills. The most direct way is that from the Sangngag Zimche Nunnery, from where you only need to climb about 550m to the cave.
Tips of Gangpo Ri
1. Many hotels in Shannan Prefecture are located in Tsedang.
2. Monkey Cave is hard to find. You'd better ask some locals about the route in advance.
Attractions nearby Gangpo Ri
Recommended Tour Itineraries Including Gangpo Ri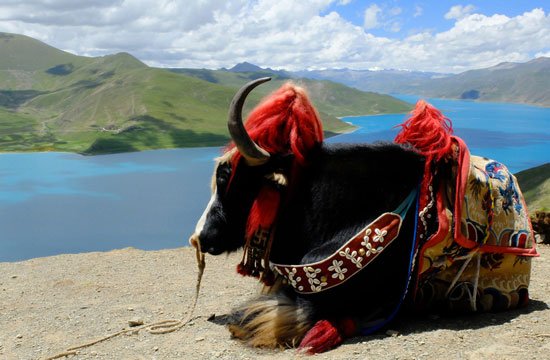 Yamdrok Lake is one of three most sacred lakes in Tibet. Tibet Vista provides more than 10 tour packages including these tourist attractions in Tsedang Prefecture at the best price.
Popular Tsedang Tour Deals
More Tibet Tour Packages
How to get there
Address: Southern Bank of Yarlung Tsangpo River
Transportation:
1. Pedicab--If you start from Tsedang, you can go by pedicab.
2. Trek--It may take 2-hour's walk to the Monkey Cave.
Best time to visit it
You can visit there almost all year round except winter, when the weather is too freezing to endure.
Opening Hours: 9:00--18:00
Admission Fee
None
Read more
Get A Quotation of this Tour