Festivals in Shigatse: top nine festivals to experience in Shigatse tour
Nothing is better than exploring the unique Buddhist culture and alpine scenery in Shigatse, Tibet. Joining one of these festive events during your Tibet tour will definitely add more interesting memory to your journey of the roof of the world. Most of the Tibetan festivals on the Tibetan plateau are full of religious mystics. And traditionally, many Tibetan festivals are held throughout the Tibetan calendar.
In Shigatse Prefecture, there are many festivals around the year which provides lots of chances for you to watch the traditional performances and make your trip in Shigatse great fun. These include Gtsang New Year, Tibetan New Year, Tashihlunpo Buddha Unfolding Festival and other conventional festivals. During these festivals, the local Tibetans will wear their traditional costume and perform different traditional dances and ritual activities. For travelers, to experience the festival in Tibet is the best way to explore the diverse culture and tradition of the local and their ethical affinity.
Gtsang New Year (Farmers' New Year)
Tibetan people in Shigatse will celebrate Gtsang New Year on the first day of November in Tibetan Calendar, generally at the beginning of the first month according to the Gregorian calendar. Gtsang New Year also called "Farmers' New Year". It's a great festival for farmers to share their harvest of a whole year's hard work and celebrate the happiest moment of the whole year. Gtsang New Year in Tibetan calendar is deduced from the Buddhism calendar. It's also an old festival based on the husbandry activities.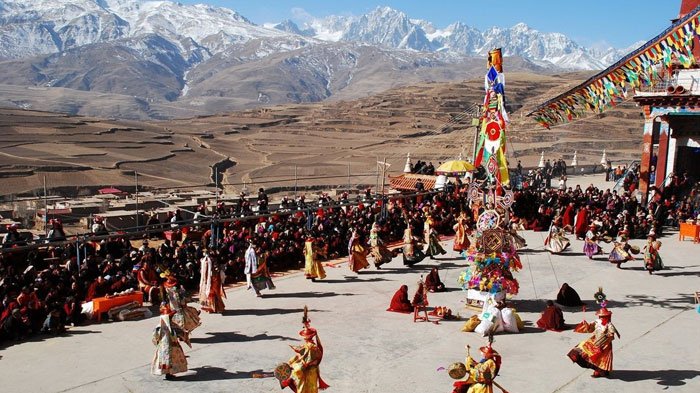 Tibetans are celebrating Gyantse New Year Festival in Shigatse.
Activities during the festival are closely related to the husbandry. With the lives of peasants becoming better off, people celebrate this festival more and more ceremoniously. Shigatse people take the Gtsang New Year most importantly, and celebrate it in the happiest way, with Archery Show, Horse Racing, and other traditional activities. The whole festival lasts about ten days. Everyone in Tibet is singing and dancing to celebrate this festival with full happiness. All families and audience can achieve happiness through this ritual. The whole Tibet seems to be in pink in this festival.
Tibetan New Year (Losar Festival)
Tibetan New Year, also known as Losar Festival, is one of the most significant and grandest festivals in Shigatse Prefecture. It begins in November 29th of Tibetan calendar. The festival falls in winter months and turns Lhasa into a very colorful and joyful place. Across the entire Tibet, you might see Tibetans celebrating their New Year holidays at the temples and in the towns, not to mention Shigatse region.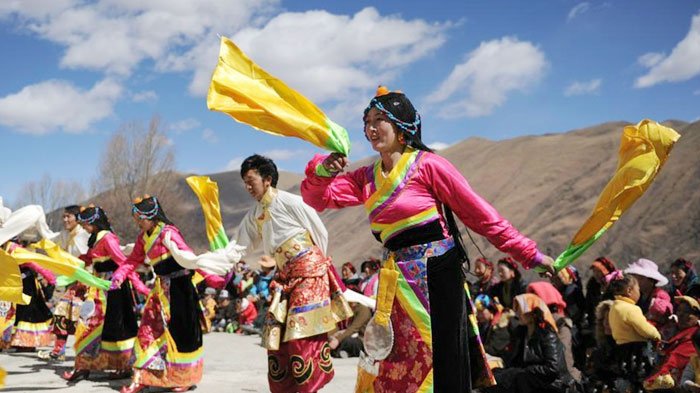 Dressing in the gorgeous clothes, Tibetans are singing and dancing to celebrate their Losar Festvial in Shigatse.
During this festival, local people would clean their house, worship the Buddha, visit relatives and friends to celebrate this great festival. In addition, there are also a lot of interesting and entertaining activities to express local people's happiness and care about this festival. Tibetan New Year offers the travelers a great opportunity to enjoy the annual festive occasion with local Tibetans together. Moreover, you are able to enjoy ancient dramas, feasts, and traditional sports such as racing horses and wrestling here.
Tashilhunpo Buddha Unfolding Festival (Tashihlunpo Thangka Festival)
Buddha unfolding festival is one of the most important festivals in Shigatse, let alone to Gtsang. Therefore, this festival is held on an extremely large scale that has leaven global travelers in awe. The Buddha Unfolding Festival is celebrated in the majestic 600-year-old Tashilhunpo Monastery from the fourteenth to the sixteenth day of May in Tibetan calendar. If you are lucky enough to take part in this festival, your eyes will be filled with unimaginable giant Thangkas of Amitayus, Sakyamuni, and Maitreya which cover over one thousand square kilometers. The Thangka will be displayed on the monastery's Thangka Walls.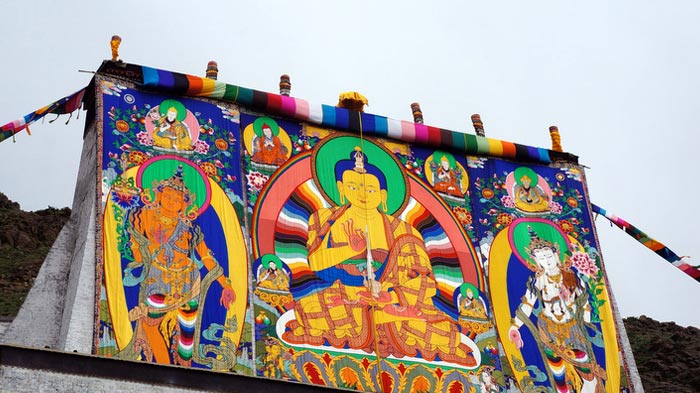 Buddha Unfolding Festival is celebrated in Tashilhunpo Monastery, Shiggatse.
The Buddha Unfolding Festival in Tashilhunpo Monastery is also called a religious doctrines ceremony. During this festival, Buddhist monks in Tashilhunpo monastery participate in lots of religious activities like chanting sutras, turning prayer, and praying for rain. Meanwhile, thousands of pilgrims flock to the monastery to give their offerings to the Buddhas for the accumulation of their merits. In addition, some performances, such as religious dance ceremony and Tibetan operas will be put on to decorate the occasion.
Gyangtse Dharma Festival
Dharma Festival is a traditional Tibetan festival with over 500 years' history. "Dharam" means "riding horse and shooting" in Tibet language. Local peasants and herdsmen in Gyangtse will ride horses to perform the ancient warrior dance. Currently, the Dharma Festival is still popular in many places, especially in the center of Gyangtse. This festival used to be held from 10th to 27th in April of Tibetan Calendar with many activities, such as horse race, horsemanship, wrestle, Buddha exhibition, the performance of shaman's trance dance and sacrificing and so on. During this festival, apart from these traditional performances mentioned above, there are also modern sports like football, basketball, and tug-of-war and so on. Tens of thousands of local peasants and herdsmen take part in these activities of Dharam Festival. Nowadays, the Dharma Festival is celebrated in June when Tibetan people can get a spare set of hands from farm work.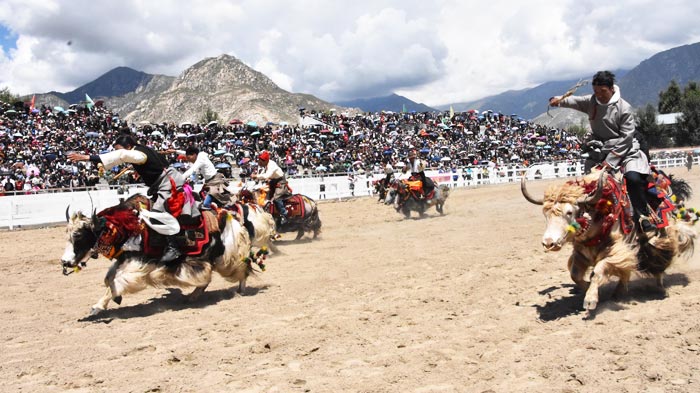 Lots of local Tibetans get together to enjoy the Yak racing during Gyantse Dharma Festival.
Mt.Qomolangma (or Mt. Everest) Cultural Tourism Festival
Mt. Everest, also known as Chomolungma in Tibetan, is hard to be surmounted. However, we can get together in the Mount Qomolangma Culture Tourism Festival. Mt.Qomolangma Cultural Tourism Festival or Mt. Everest Cultural Tourism Festival usually would be held in autumn (August, September or October) each year since the first time in 2001. In 2006, the "Culture Festival of Mt. Everest" was changed to "Culture Tourism Festival of Mt. Everest". During this festival, local Tibetan people recreate themselves with the religious drama performance, Tibetan opera, Tibetan clothing show, etc. In addition, there is also a mysterious religious atmosphere for the Festival of Dancing to God. Tourists can join the carnival in the Guozhuang Evening and the tap dance in Gongjuelinka. Therefore, let's push ourselves into the sea of songs and dances, and taste the hundred-year culture of Back Tibet.
Cham Dance Festival
It has originated from 1408 in memory of the death-day of Gyangz Dharamaraja in Sakya dynasty. In Shigatse, the most colorful and attractive Cham Dance Festival can be found in the Tashilhunpo Monastery in August of Tibetan calendar. At this time, the local people of Shigatse will gather at the Tashilhunpo Monastery to worship Buddha, receive blessings at the monastery, and appreciate the performance of Cham dancers. This dance is called as Cham and is held to transform the evil for the benefit of the world.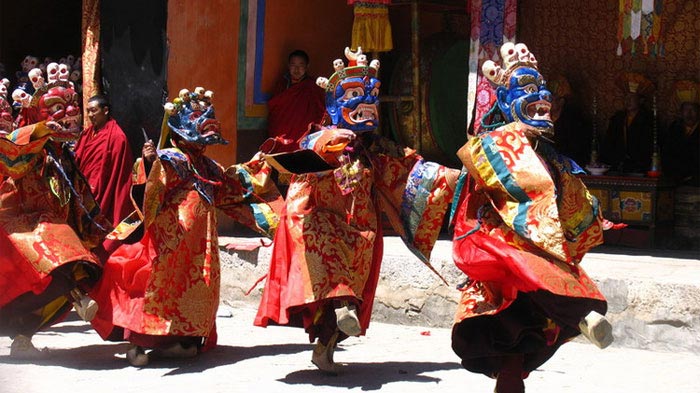 During Cham Dance Festival, Tibetan monks would put on vibrant clothes and masks for the religious rituals.
Cham Dance is a vibrant masked and costumed ritual with roots in Buddhism. Hence, it will be only performed by monks for lay people. And Cham dancers have to pass through several religious rituals before using them. It has interesting plots, characters, music, and dances. However, Cham dance is different from Tibetan Opera and has greater significance in religion. Not only can it entertain the audience but also advocate Tibetan Buddhism. Besides Cham dance, horse race, exchange of goods and other traditional activities will also be performed here. If you are interested in Tibetan Buddhism and Cham dance, taking part in Tashilhunpo Monastery Cham Dance Festival is an excellent opportunity to feel religious atmosphere that you couldn't miss.
Linka Festival
Another Shigatse festival held in June is Linka Festival. "Linka" means "park" or "a place with woods" in the Tibet language, so Linka Festival is usually held at a place with wood or at a park. In the past, Tibetan people had a custom of strolling about Linka, a beautiful place abundant with trees and flowers. People would walk outdoors during the first day to the fifteenth of May in Tibetan Calendar. Gradually, Linka Festival is formed. In this period, Tibetans go to "Linka" for picnic and relaxation. Nowadays, this festival is held on the same day as the Children's Day, the first day of June in the solar calendar, because Shigatse is so charming in June, with the sun shining comfortably and the breeze blowing softly. June is the best time for local people to enjoy the perfect natural sightseeing for the Shigatse land is covered by light green grass and the busiest time for farmers has passed. It is really a great chance for farmers to put their work aside and totally relax themselves for a whole week.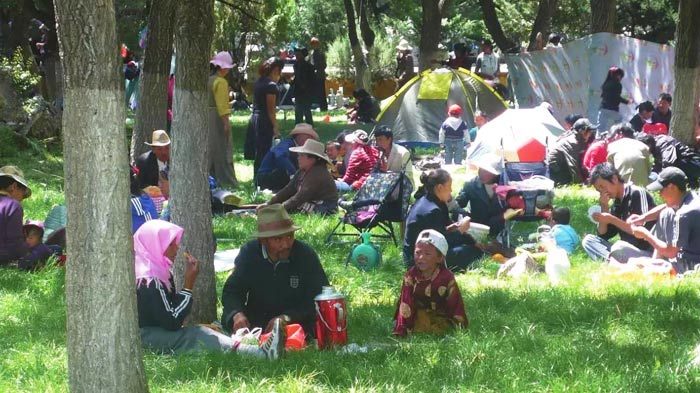 Tibetan are enjoying the Linka Festival in Shigatse. What a leisure time!
Ongkor Festival
The Ongkor Festival is one of the most important Tibetan festivals in the Tibetan Calendar. The villagers offer sacrifices to gods for a good harvest. Also known as Bumper Harvest Festival, it celebrates the upcoming harvest, and literally means "make the circle round the field", or "surrounding the farmland". This festival has no fixed date. But it is usually celebrated when crops are ripe, and it lasts three to five days.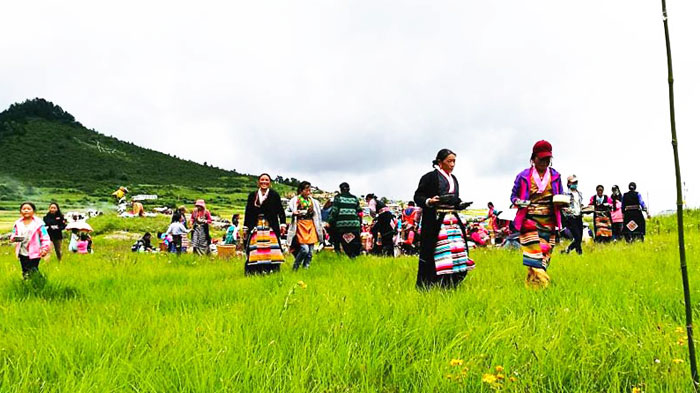 Tibetan peasants walk around the fields for good harvest and merits during Ongkor Festival in Shigatse.
During this festival, each family will send out a representative, mostly a woman, to form a 100-member team. They are dressed in grand Tibetan robes, wear their gold and silver jewels, carry dou (a measure for grain) and scripture book showing a good harvest on their backs and hold colorful arrows. Under the leadership of a revered man and accompanied by the sounds of ritual trumpets and drums, they move around the farmland outside the village, shouting: "Yangguxiu! Yangguxiu!" (" Come back, the soul of the earth!") At the same time, it is also celebrated with activities like horse racing, Tibetan Opera, shooting, stone holding, and wrestling.
Gyantse Horse Racing Festival
Gyantse Horse Race Festival is another exciting moment for Gyantse people, even all Tibet people. There are annual athletic contests in June of the Tibetan calendar, with the grandest scene and largest scale in local area. These contests involve horse racing and archery contests, as well as wrestling, Tibetan Opera, track and field, music and dancing, and ball games. The horse race was a contest at the beginning. Now, it is just the time to have fun for Tibetan people. During the Gyantse Horse Race Festival, people carefully dress themselves and their best horse. Thousands of participants come together and show their excellence in horsemanship and archery. Along with this, there is a swap meet and an open market to buy authentic Tibetan crafts goods and a picnic where you can grasp this opportunity to taste the Tibetan food.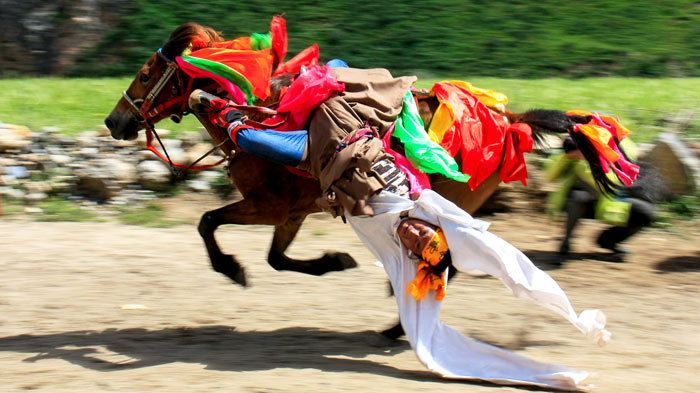 Tibetan are racing the horse fiercely in the Horse Racing Festival in Shigatse.
Tibetan festivals are lively events that bring together Tibetans from all over the plateau. And these festivals will offer you a great opportunity to experience the unique culture and religion of Tibet. Wanna take part in the hilarious Shigatse festivals? Here we have handpicked the most popular Tibetan festival tours for you to choose from.
By the way, we, Tibet Vista team, have already designed out the ultimate guide to Tibet Tour Calendar and Festivals for your reference. Longing for more details of festivals in Shigatse Tibet? Please kindly sent us your inquiry and our Tibet travel gurus are already here to help you out.