Drigung Til Monastery and its famous sky burial site
The famous sky burial site in the world
About Drigung Til Monastery
Close to Tidrum Nunnery is Drigung Til Monastery, a monastery impossibly grafted onto a sheer cliff face. Drigung was originally the base of the Drigung sub-order of the Kagyu sect, dating from the 12th century. At one time it housed over 500 monks. Going up switchbacks in a Landcruiser, you may pass a donkey bearing a body under a blanket: Drigung Til Monastery is reputed to have the best sky burial ceremony of all. It is said that bodies dispatched here will not fall down into the "3 bad regions".

The monastery is intriguing due to its location: it offers stupendous views over the entire valley-- you can clamber up to the gold-capped roofs for better vistas. You can visit Drigung and move on, or you can stay the night at the monastery guesthouse, which has 2 12-bed dorms. Although the dorms are basic, the atmosphere is special, as you are staying inside the monastic grounds. Monks supply hot water in Thermoses, and there's a small shop selling packaged noodles, candles and drinks. Some group tours camp out in the valley below.

Previously, a large sign was posted near the monastery entrance saying that visitors are not permitted to witness sky burials at Drigung. Obviously, photographers sneaking shots with long lenses have upset the monks to the point where they have banished visitors from the sky burial site altogether. Wether this situation will change remains to be seen-- ask your guide or driver. The sky burial site is located about 600 meters from the gompa-- a trial to get there starts just below the monastery and then turns uphill. The site is a large fenced-off area surrounded by prayer-flags.

Anyway, this scene is not for the faint or heart-- it's a grisly ritual where bodies are chopped into pieces and fed to the vultures.
Tips of Drigung Til Monastery
1. If you want to watch the sky burials, you need to get up early at least at 3 a.m. in the morning from Lhasa. However now the government forbids visitors to see the ceremony now.

2. Guest houses near Drigung Til Monastery are not well equipped, and those near Tridrum Hot Spring are better. The Tidrum Hot Spring's infrastructures is not as good as that of Yangpachen Hot Spring, but it's still very popular locally for its naked bath.
Attractions nearby Drigung Til Monastery
Recommended Tour Itineraries Including Drigung Til Monastery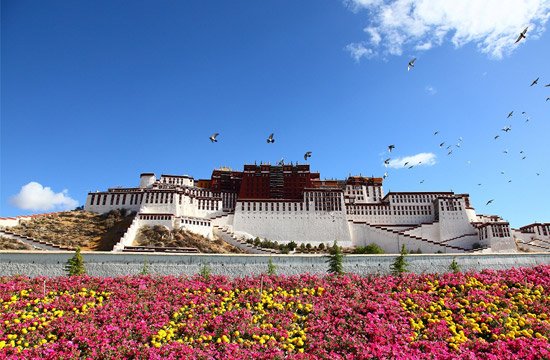 Hot Tibet Tour Packages
It couldn't be better to tour Lhasa famous tourist attractions when travelling in Tibet. Tibet Vista provides more than 10 Lhasa tour packages including these tourist attractions at the best price.
Popular Lhasa Tour Deals
Lhasa Tour Packages
How to get there
Address: Xuerong River, Mozugongka County, 138km east of Lhasa Transportation: 1. Shuttle Bus - You can take a shuttle bus at the Lhasa Eastern Suburb Station. 2. Rental Car - Renting a Jeep from Lhasa is also feasible.
Best time to visit it
Apr. to Oct. would be the best time to visit.
Opening Hours: 6:00--16:00

Admission Fee
CNY 45

Read more
Get A Quotation of this Tour