Lhoka Food and Restaurant: the best guide to dining in Tsedang, Samye, Mindroling and Yamdroktso
Food in Tsedang is relatively rich in varieties for Tsedang is perched at a lower altitude in Tibet and fruits and vegetables are accordingly more abundant. Different from the rest of Tibet, food in Tsedang is dominated by Sichuan cuisine. The Sichuan cuisine restaurants can be seen everywhere, with inexpensive dishes to suit most tastes. All the restaurants represent local features in decoration, both the high grade and low grade. The Tibetan food includes all kinds of sausages, Qingke (highland barley) wine, butter tea, cold yak tongue, steamed stuffed buns, roasted sausages, air-dried meat, Xiapuqing ( a kind of minced yak meat), and all sorts of cakes, pastries, and sweet teas.
What to Eat in Lhoka Prefecture
Traditional Tibetan Food
Traditional Tibetan cuisine can be found all over the plateau, and Tsedang in Lhoka is no different. There are many places to eat that offer good traditional Tibetan foods, from Momos and Tsampa to Tibetan blood sausage and bean noodles. Much of the traditional foods of Tibet have been influenced by Nepali and Indian cuisine, as well as being developed based on the altitude and environment of the plateau. Where few low-altitude crops can grow, the diet of the Tibetan people has formed around what can be grown and what meats are available.
The influx of Chinese and Indian influences have allowed Tibetan cuisine to develop more over the centuries, and in the lower areas such as Lhoka, the influence of Sichuan cuisine has been greater than any Indian influence. Dairy products are more prevalent and Tsampa is widely used across the area. However, with the closeness to the lower Sichuan Province and Nyingchi on the other side of the Yarlung Tsangpo River, vegetables such as peas are commonly found in local dishes, and the use of wheat in cooking is greater than anywhere else on the plateau.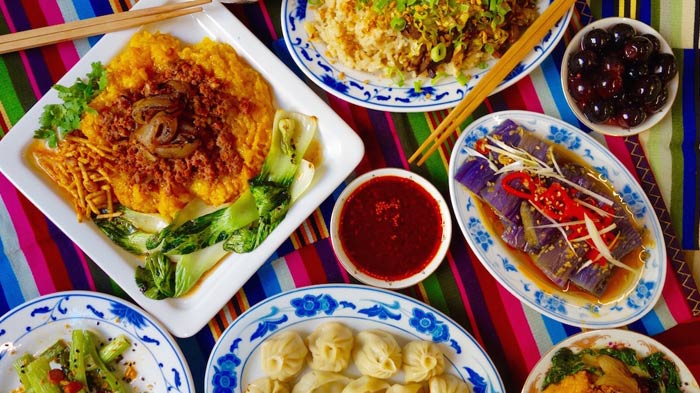 You can easily find traditional Tibetan cuisine and spicy Sichuan cuisine in Lhoka.
Spicy Sichuan Cuisine
Sichuan cuisine has been the greatest influence in Lhoka and the local cuisine, so it comes as no surprise to find a wealth of Sichuan cuisine in Tsedang, complete with the spiciness of the famous Szechuan Peppers. Spicy Sichuan cuisine is one of the world's most popular styles of cooking, and can be found in almost every country around the globe. In Tsedang, you can find a plethora of Sichuan restaurants that offer such classic Sichuan dishes as Kung Pao Chicken, Twice-cooked Pork, Mapo Tofu, and Dandan Mian. If Tibetan cuisine is not to your liking, you can always find a Sichuan restaurant in Tsedang to try.
Where to Dine in Lhoka, Tibet
Restaurants in Tsedang Town
Tsedang is the administrative center of Lhoka, and as such has more restaurants than anywhere else in the prefecture. The largest city in Lhoka and the fourth largest in Tibet, this beautiful city has more than enough restaurants to keep you full and happy during your Tibet tour.
Aba Home Tibetan Restaurant - A traditional Tibetan restaurant, with a cozy and friendly atmosphere, this delightful eatery in Tsedang is decorated in traditional Tibetan décor, with a modern twist. Traditional Tibetan wooden seating and tables meet the dining service of a classic western restaurant, adding lots of local color to the dining experience. With a menu that includes photos of the dishes for international travelers, as well as a good English description, this unique restaurant has a series of set meals that are popular with local diners.
Shǎnxī Fēngwèi - A beautifully decorated and family-run Chinese restaurant, the Shǎnxī Fēngwèi is run by a Chinese family from Shǎnxī Province. Perfect for those snacks while you wait for the local PSB office to open, the fantastic little resto has a delightful menu of local, Sichuan, and Shǎnxī dishes to tempt any taste buds. And if you find yourself spoiled for choice, maybe the menu photos will help you to decide.
You can enjoy Shǎnxī dishes in Shǎnxī Fēngwèi in Tsedang Town, Lhoka.
Yi Wan Mian Restaurant - Across from the local PSB office, a few doors down from the Shǎnxī Fēngwèi, this classic noodle house is a clean place that offers some amazingly tasty snacks, like Shaguo (earthen pot) dumplings. A popular place for tourists to Tsedang, the menu is in Chinese and English, so that you can get a better idea of what you are ordering.
Tashi Restaurant - A local Tsedang branch of the now-famous Tashi Restaurant in Shigatse, the Tashi Restaurant in Tsedang is the same style and design as their Shigatse branch, and has just as wide a variety of dishes on the menu. It can offer Nepalese style food, as well as Indian, Italian, Chinese and Tibetan cuisine. If you are not partial to any of these, pasta and pizza are also on the menu, and the restaurant has a very good breakfast menu, with a range of western breakfasts, often featuring bacon! The English menu also makes it much easier to order for the tourist customers, and the restaurant has the same top quality service as its Shigatse parent.
Restaurants around Samye Monastery, Dranang
While it may be set out of the way, far from Tsedang to the north of the Yarlung Tsangpo River, there are still restaurants near the ancient Samye Monastery, which means there is somewhere to eat and relax after touring the stunning monastery. And at the end of the grueling Ganden to Samye Trek, you can get a decent bite to eat.
Monastery Restaurant - The restaurant of Samye Monastery serves simple food. Located in the adjacent building to the Samye Monastery Guesthouse, this simple restaurant provides basic but good food for the weary traveler and tourist. And the food is prepared fresh every time, so you can be sure of being able to eat without a fear of being ill. The milk tea is warm and refreshing, and is a satisfying finale to a good feed. The menu is all local Tibetan dishes, and is well worth trying.
Friendship Snowland Restaurant - Located at the eastern gate of the monastery, this pleasant backpacker-inspired restaurant is decorated in the traditional Tibetan style, complete with small thangka reprints on the walls. Plenty of decent Chinese and Tibetan dishes are available on the menu, and the price is cheaper than the monastery restaurant. Western breakfasts are also available, with hash browns, pancakes (the Tibetan version, which are a little thicker), and omelettes on the menu. And for the adventurous, try the famous Yak Sizzler.
Teahouse in Mindroling Monastery, Dranang
Lāsà Cáishén Cáng Cān - It is a small and unassuming little teahouse just across the parking lot from the entrance to the Mindroling Monastery in Dranang. Enter the open gateway and you find yourself in a pleasant little roofed courtyard, walls adorned with dozens of historic photos of the monastery. Basic but delicious local Tibetan and Lhoka dishes are prepared fresh for customers, and all the Tibetan sweet and butter tea you can drink.
Restaurants around Yamdrok Lake, Nagarze
If you are traveling west to visit Lake Yamdrok, then you will find the best restaurants in the area in the small town of Nagarze, on the western edge of the sacred lake. While this may not be a large town, it does have some great restaurants, as well as plenty of teahouses, for those wanting a refreshing drink.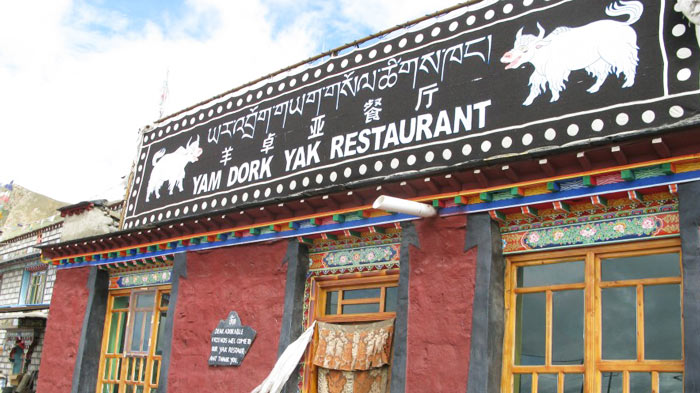 Yamdrok Yak Restaurant is a good place to taste various delicious food in Nagarze.
Yamdrok Yak Restaurant - Lying on the lake-side of the town, on the road from Lhasa, the Yamdrok Yak Restaurant is owned by a former French cuisine chef from Kathmandu, who now spends his days serving excellent western, Indian, and Chinese dishes in his own restaurant. A high red-walled building, this stunning restaurant also has some very unexpected delights for the Tibetan plateau, such as bacon sandwiches (Yes, really!) and an amazing yak-liver pate. In the high season of Tibetan tourism, the restaurant also offers an all-day buffet for travelers passing through the town.
Lhasa Restaurant - A well-established restaurant in the town, the Lhasa Restaurant really lives up to its name, and provides a quality of dining that you can only find in the best Lhasa restaurants. The restaurant has a very colorful Tibetan-styled dining room that is adorned with old black-and-white photos of Lhasa, and is firmly aimed at tour groups. However, it does have an extensive à la carte menu, which is written in English, and the portion sizes are renowned as being on the larger size. While the food may be a little pricier than in Lhasa, you should remember that all food outside the major cities is more costly, and the Lhasa Restaurant provides good meals for the price.
Conclusion
Tibet is renowned for its unique cuisine, and all across the region, traditional Tibetan dishes of noodles, momos, yak meat, and mutton can be found. In Lhoka, however, the local cuisine is very different, yet somehow similar too. Traditional Tibetan dishes vie with western cuisine that is slowly permeating the tourist hotspots, while the local Sichuan-influenced spicy cuisine is one of the most adventurous and tasty styles on the plateau. Additions of low-altitude vegetables and grains such as wheat and rice, make the dishes very versatile, and the cuisine a pleasant change from both Tibetan and Chinese foods.