Ngari Food and Restaurants: what and where to eat in Ngari
As you choose to travel to Ngari, you might be wondering: what about the food availability in Ngari? I know there are many food and restaurant choices in Lhasa but are there foods to choose from at all in Ngari? Do I need to bring loads of my own food before my Ngari tour starts?
Well, Ngari lies in the fast west of Tibet and is hailed as 'the roof of the roof', at an average altitude of above 4,500m. Therefore, food ingredients here are mainly imported from other adjacent places and the price may be a bit more expensive than usual. Although there are not as many types of food to choose from compared to Lhasa, the dining options you can find here generally provide delicious food with big quantities. Most of them are couple-run or family-run restaurants and some run a hostel as well.
Now, just follow our detailed guide below and you'll find the answer to what food to expect in Ngari and during Mt.Kailsh Kora.
Most Recommended Food in Ngari
There are mainly four types of cuisine you can find in Ngari: Tibetan food, Sichuan food, Xinjiang food and Hunan/Dongbei food. Price is basically around 50-70 yuan per person per lunch or dinner meal and 20 yuan for breakfast, depending on what you eat.
Tibetan food is mainly Tsampa, yak beef, yak butter tea, and momos. Sichuan food and Hunan food are similar when it comes to using chilli peppers and flavouring. Xinjiang food specializes in hand-pulled noodles, naan bread, lamb skewers and the use of mutton, beef and chicken instead of pork.
Best Restaurants in Ngari Counties
Restaurants in Purang County
You already know that most of the food ingredients are imported from outside of Ngari. But what you do not know is that Purang County produces many vegetables. This is because of the lower altitude compared to other counties in Ngari. So, the food here is fresher and more well-reviewed.
1. Chongqing Home-Style Restaurant (重庆家常菜馆)
This is a restaurant run by a friendly family from Sichuan. The most welcomed dishes here are mutton hotpot, rib dishes, pig leg soup and Chinese breakfast like noodles and deep-fried dough sticks. The highlights of this restaurant are their home-made Tofu, sweet turnip and dipping sauce made from chilli pepper, spring onion and coriander.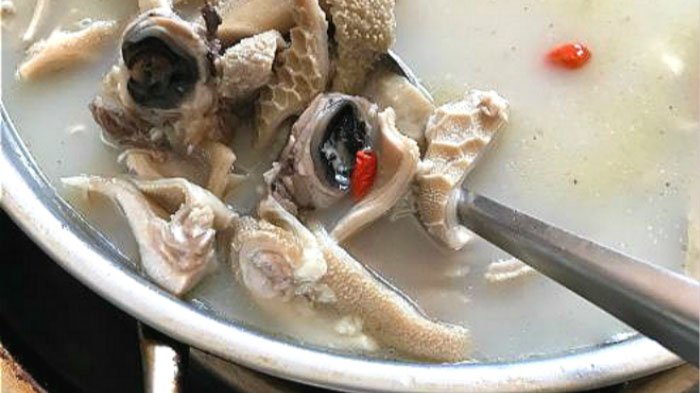 The mutton hot pot in Chongqing Home-Style Restaurant
2. Mao's Hunan-Style Restaurant (毛家湘菜馆)
As a Hunan style restaurant, it prides in braised pork belly, steamed egg cake, pine nuts and corn and sautéed aubergine and string bean, etc. Besides, it serves a simple but tasty vegetarian soup made of cucumber, tomato and ginger, which has very good reviews from tourists. The highlights are the dried mushrooms and bamboo shoots transported all the way from Hunan.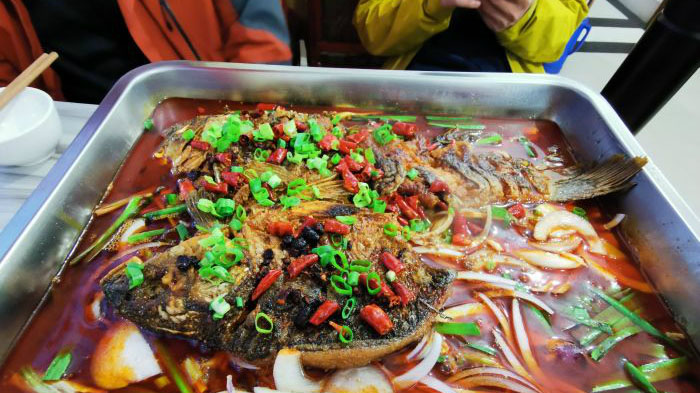 Grilled fish in Mao's Hunan-Style Restaurant
Restaurants in Zanda County
1. Highland Hot-Pot (高原生态汤锅)
This hot-pot place is known for their mutton hotpot and the turnip and lettuce to go with it. Noodles are also said to be good.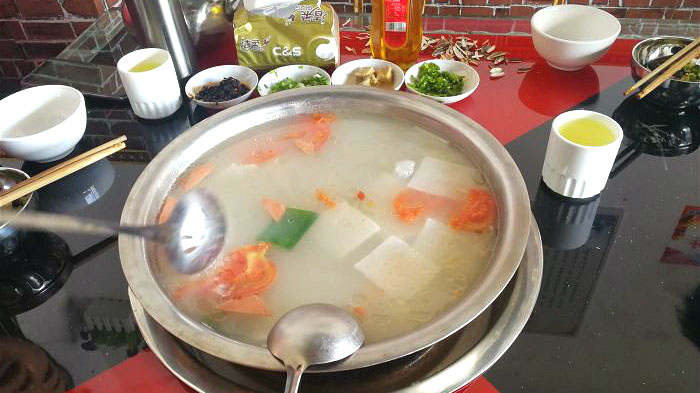 The mutton hotpot with tasty turnip in Highland Hot-Pot
2. Chongqinger Restaurant (重庆人家)
Run by a young Chongqing couple, this restaurant is one of the top reviewed restaurants in Zanda. It serves good pickles and fish hot pot, grilled fish, Chinese cabbage and lettuce, fish-fragrant sliced pork, beef and chicken dishes.
Think it's gonna be spicy? Not really! Even Cantonese travellers have said the food here is not that spicy but delicious. You can also go across the street to have dumplings and noodles in another shop run by the couple's relatives.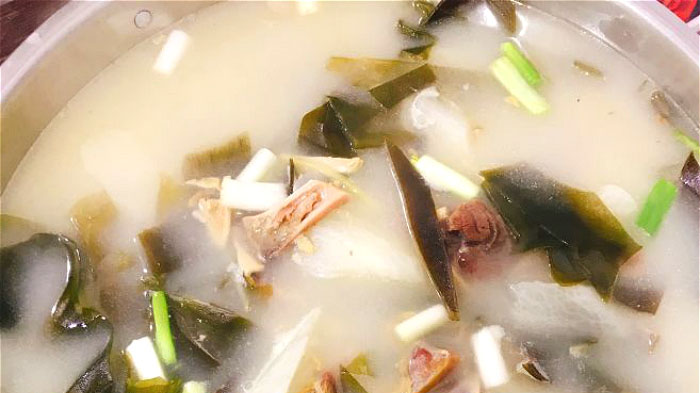 The light-flavoured seaweed soup in Chongqinger Restaurant
Restaurants in Shiquanhe County
Because of the closeness to Xinjiang Uygur Autonomous Region, there is more Xinjiang food here in Shiquanhe County, the municipal centre of Ngari.
1. Caoyuan Fengqing Restaurant (草原风情餐厅)
This is a Xinjiang style restaurant specialising in braised chicken, naan bread and lamb skewers.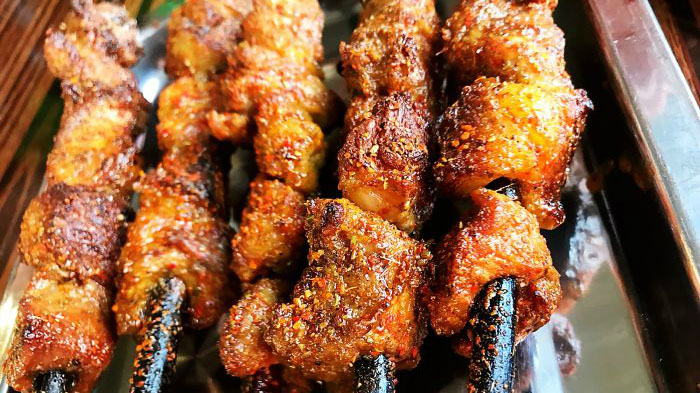 The lamb skewers in Caoyuan Fengqing Restaurant
2. No.1 Chicken Restaurant (一号大盘鸡主题餐厅)
This is a two-storeyed Xinjiang restaurant with Xinjiang style decoration, and waiters are Xinjiang natives as well. The well-reviewed dishes here are chicken, skewers, egg soup with leafy veggies and seaweed.
Amazing as it is, it provides appetizers like shrimp flavoured flakes. You should have probably found that in China we don't usually have appetizers before the main course and no dessert afterwards either.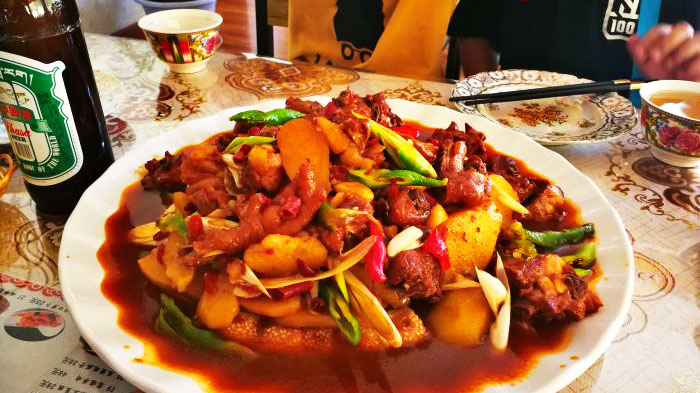 The famous chicken dish in No.1 Chicken Restaurant
3. Zhou's Beef Restaurant (周记跷脚牛肉)
This is a 2-storeyed Sichuanese restaurant specialising in a beef soup cooked with Traditional Chinese Medicine (TCM), which will do your body good. It also provides tasty rice noodles and pig leg soup.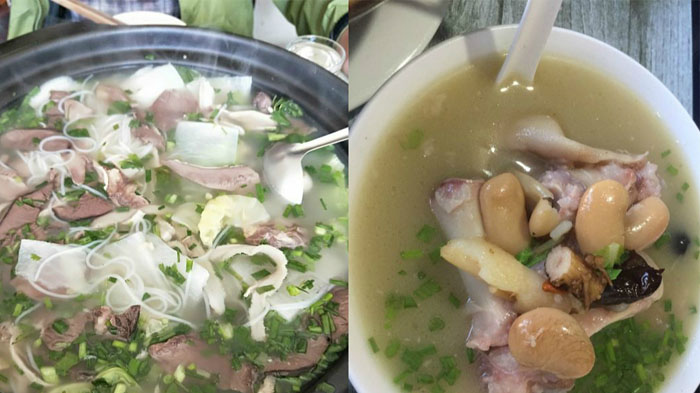 The beef soup and pig leg soup cooked with TCM in Zhou's Beef Restaurant
Restaurants in Hor Qu Village
Hor Qu is a small village on the way to Mt.Kailash and Lake Manasarovar, Since it's close to the holy mountain and lake, many restaurants here also provide accommodation.
1. Dongbei Restaurant (东北餐馆)
Dongbei here means the three provinces from northeastern China where the weather is icy in the winter time. The boss of this restaurants is a native Dongbei couple. They have some nice rice noodles with pickles, chicken stewed with mushrooms and hand-made dumplings. Breakfast is also available which comes with congee and some side dishes.
This restaurant also provides a place for you to stay overnight if you want to. And you can gather in the hall to warm up yourself by the stove before going into bed! Brilliant!
Dongbei Restaurant in Hor Qu
2. Sichuan Home-Style Restaurant (四川家常菜饭店)
This restaurant is one of the top-rated restaurants here in Ngari. They serve authentic Sichuanese food and are friendly. And their rooms are clean and tidy. It is one of the most cost-efficient hostels on the way to Mt.Kailash and many travellers come to eat and sleep for both their journey to and back from Mt.Kailash.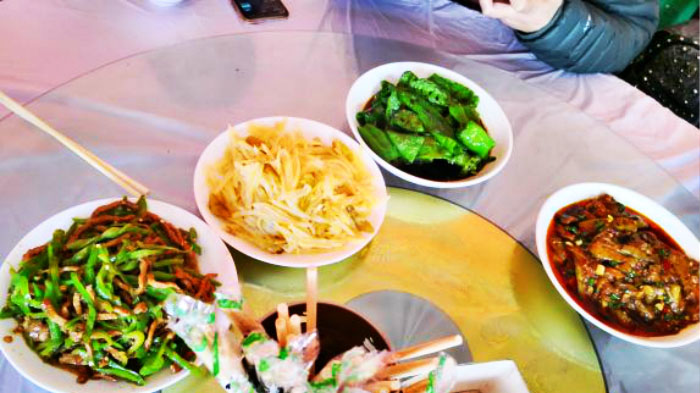 Sichuan Home-Style Restaurant is a top-rated restaurant on the way
Restaurants in Gegyai County
1. Home-Style Restaurant (家常饭店) This is Sichuanese Restaurant right in the downtown of Gegyai County. Food is delicious and is served with big quantity. It is also clean and the boss is very friendly. If it's just the time of some festival, the boss may give you some presents, like mooncakes for the Mid-Autumn Festival.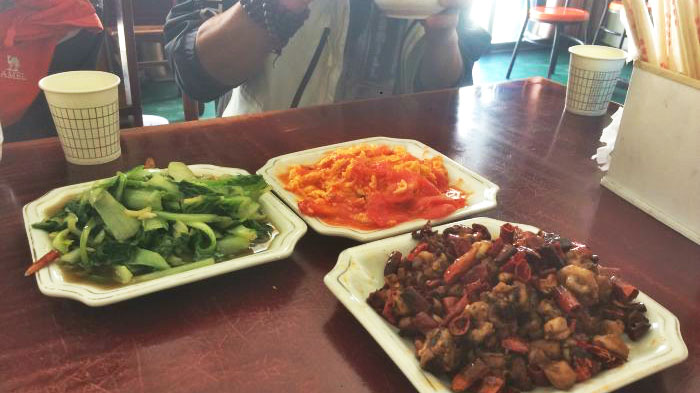 Food in Home-Style Restaurant comes in big quantity
2. Gangdise Restaurant (冈底斯饭馆)
This Tibetan restaurant serves some very nice Tibetan noodles and the soup is very special and nice, which you are not expected to find elsewhere.
The Tibetan noodles in Gangdise Restaurant
Restaurants in Gerze County
1. Tongbao Huanju Tibetan Restaurant (同胞欢聚藏餐)
The boss of this restaurant used to work in Lhasa and returned to Ngari to open his own restaurant. The interior is decorated in Tibetan style and the food is really amazing, with a good combination of Tibetan and Sichuan cuisine, like beef momos and spicy chicken. They also have rib and white gourd soup and leafy green vegetable dishes.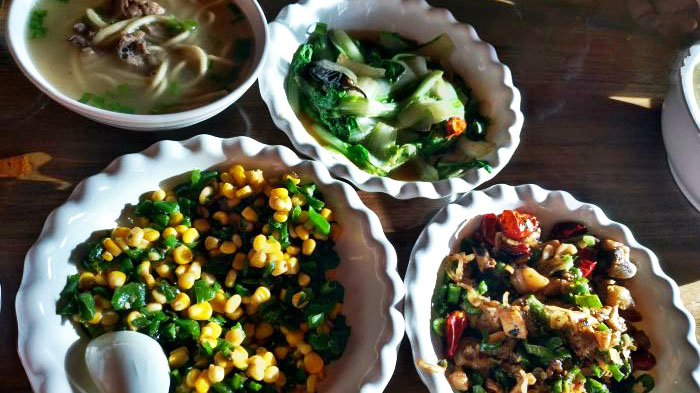 Tongbao Huanju Tibetan Restaurant serves a mix of Tibetan and Sichuan cuisine
2. Snowland Restaurant (雪域餐厅)
The name may be a bit misleading but it really has some very nice skewers and steamed rice rolls! What a combination! Wait, what on earth is this "steamed rice rolls"? Well, it is a kind of Cantonese food. And to make it, you have to soak rice for a whole night, grind it into rice milk, give it a bowlful into a steaming pan, steam it and then eat with other toppings like lettuce, egg and sausage – anything you like.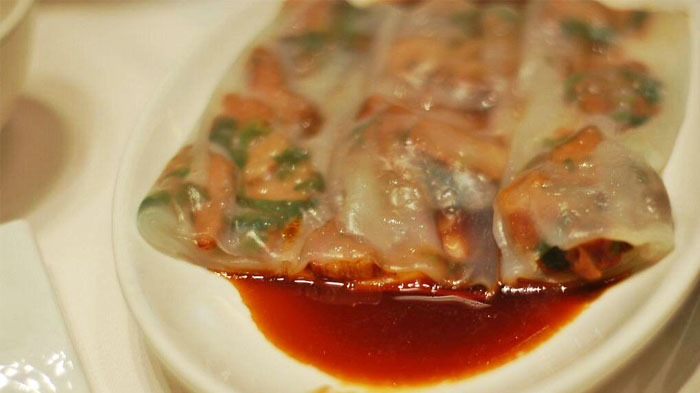 The beautiful steamed rice rolls in Snowland Restaurant
Restaurants in Darchen Town
At the foot of Mt.Kailash and the beginning point of the Mt.Kailash Kora, Darchen is the beginning and ending point of the Mt.Kailash Kora. Almost everyone spends a night here before setting off on the kora, and many spend a second night after the trek to grab a hot shower and check emails. As to food, there are a lot of food choices here.
1. Chongqing Canteen (重庆餐厅)
Another Sichuanese family-run restaurant. It is well known among tourists for its home-made hotpot base, chicken dishes and fish-fragrant sliced pork. The boss is very hospitable and would provide free ginger and brown sugar soup to warm you up. If you have altitude sickness, they would even give you ginseng and altitude sickness medicine, again, for free. But do remember that any medicine you take should be approved by your doctor first.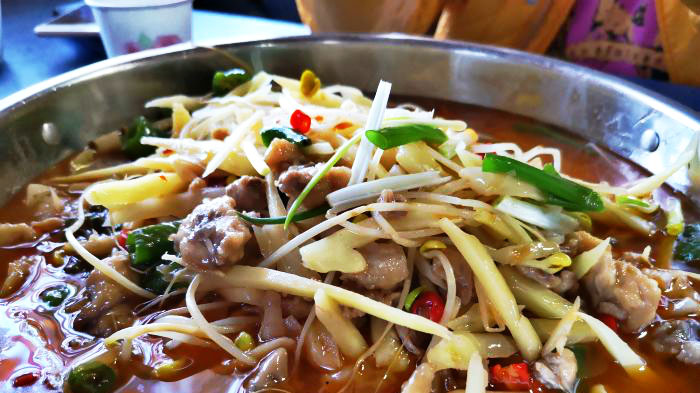 The tasty chicken dish in Chongqing Canteen
2. Chuanxiangyuan Restaurant (川香园)
As mentioned earlier, most of the ingredients for cooking in Ngari are imported from? But for this Sichuanese restaurant, the couple who runs if for 5 years have all the crucial ingredients transported from Sichuan. Their specialities are noodles, dumplings, fresh beef and cucumber and saucy aubergine dishes.
It also has a lot of information about Mt.Kailash Kora as well, for the convenience of tourists. The most amazing thing about this restaurant is that they have packaged home-made hotpot base for sale! So if you like hotpot, bring some - it's gonna be awesome to have some hotpot when it's freezing.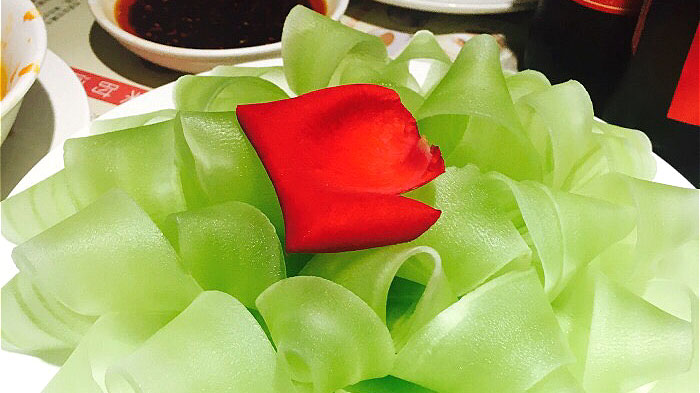 The fresh Chinese lettuce in Chuanxiangyuan Restaurant
Apart from similar Dongbei and Sichuanese restaurants, some exclusive options can be found here.
3. Qinghai Salard Noodle Shop (青海撒拉尔面馆)
This Muslim restaurant provides some of the nicest Qinghai-style noodles and pancake. They also have some very tasty cold dishes life deep stewed beef and cucumber salad. If you are kinda bored with Tibetan food or Sichuanese food, this restaurant is perfect to go to.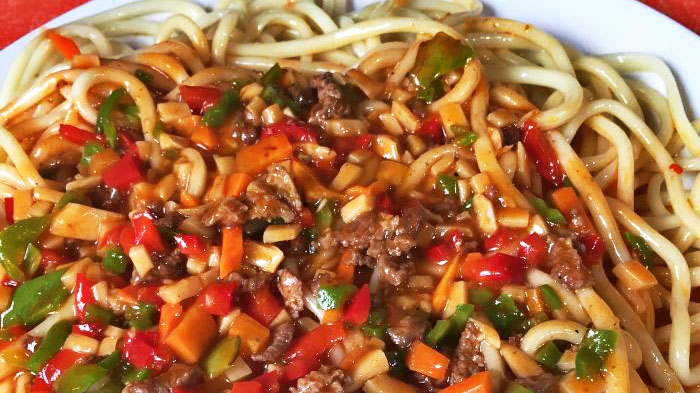 Hand-pulled noodles in Qinghai Salard Noodle Shop
4. Markam Teahouse (马尔康茶馆)
This is a Tibetan teahouse on the upper floor of a shop in the centre of Darchen town. You can sit in their comfortable sofa and have a cup of sweet tea and enjoy some breakfast like omelettes and Tibetan noodles.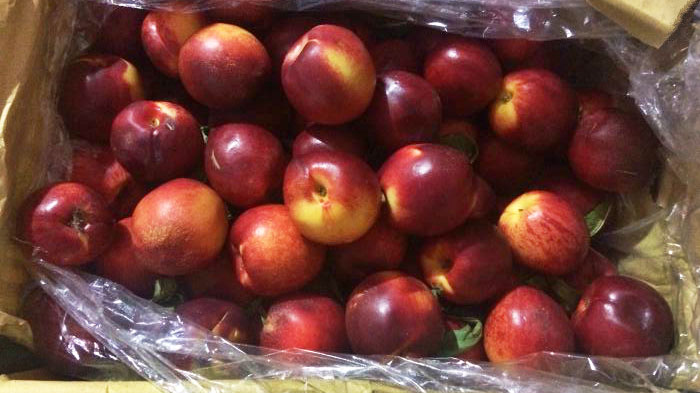 Fresh peaches in the wet market in Darchen
What may surprise you is that Darchen has a wet market selling both fresh vegetables and fruits! You can buy some for the kora for replenishment.
What Food to Expect in Kailash Kora and Trek
On the route of Mt.Kailash Kora, there are some tents and monasteries to eat and rest, but the food varieties are limited. In general, most of what you can get is Tibetan food like tsampa and packaged food are just things like instant noodles. So, it's suggested that you get some packaged food like energy bars before the trek.
Simple Food in Drirapuk Monastery and Zutulpuk Monastery
As the 15 days Kailash and Manasarovar tour shows, the Kailash trek will take three days. And we'll make stops at Drirapuk and Zutulpuk monasteries, along with some tents on the way, before returning to Darchen.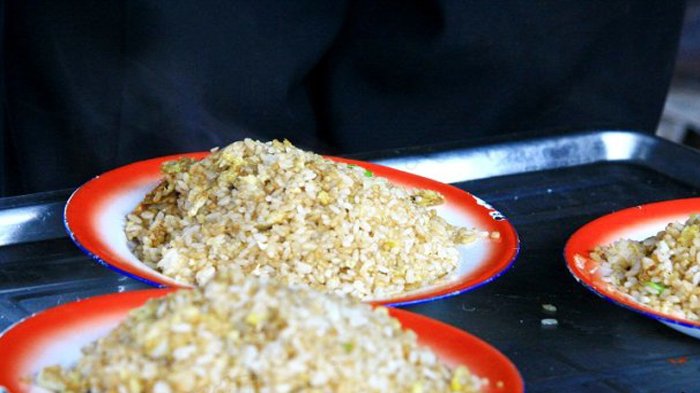 Egg-fried rice in Dirapuk monastery
The food available in the tents en route are mainly packaged instant noodles or Tibetan food like tsampa and yak butter tea, which many travellers are not used to. The food in the two monasteries, however, renders more choices. Apart from the typical Tibetan food, you can also find egg-fried rice and some simple stir-fried dishes.
Recommended Energy Supplement Brought by Yourself
Based on the limited food choices, it's strongly suggested you prepare one day's quota of snacks and high-calorie food in advance, like Snicker bars, chocolate, raisins and fruits, when in bigger counties and towns like Shiquanhe, Purang and Darchen.
Also, bring with you a thermos. Dehydration in Tibet can aggregate the altitude sickness while warm water may help alleviate it.
Conclusion
Dining in Ngari might not be as easy as in Lhasa, but the choices are many as well. Food varieties are also available, from Tibetan and Sichuanese food to Xinjiang, Hunan and Dongbei food.
However, in the Mt.Kailash Kora, you'd better get some packaged high-calorie food beforehand. The monasteries en route offer more choices like stir-fried rice, but the small tents on the way only have Tibetan food and instant noodles. You can find more about our Kailash tour here.