Tidrum Hot Spring
Magic healing power
About Tidrum Hot Spring
At the Tidrum Hot Spring, Tibetans bathe either in swimsuit or birthday suit. Piping-hot water at this altitude can be a shock to the system, and can make foreign visitors feel dizzy. Best to take this in small doses until you get accustomed: take a dip for 10 minutes, get out, rest, and go back in again. Those with high blood pressure or a heart condition should not partake.

That said. These have to be the finest hot springs in central Tibet: the springs are located right near a river, where the water bubbles under a great rock and disappears. There are 3 hot spring pools with attractive stone-- laid enclosures surrounded by wooden fencing. 1 pool is for men, another for women, and the 3rd pool is mixed: it is extra-hot and lies across a small footbridge. You can get a hot stone treatment, of sorts-- there are hot stones below your feet if you step into a pool.

If you stay overnight, you can indulge in a moonlit soak with candles, and -- if skies are clean-- a magnificent canopy of stars overhead.
Hiking above Tidrum Hot Spring is rewarding, in terms of views and photography. You can hike up to several small gompas; there are also nomad tents in the vicinity.
Tips of Tidrum Hot Spring
1. Remember not to soak in within 1 hour before or after meals. Do not soak when you are hungry or drunk.
2. Remember to take off all your metal jewelry or accessories before bathing, preventing them from being eroded by certain minerals.
3. It is not advisable to soak for a long time. You can soak for 15 to 20 minutes at one time and rest for a while before take another bath.
4. Avoid doing active exercises when bathing, especially in highland.
5. Tidrum Nunnery is just near by. You may pay a visit by the way.
6. The Tidrum Hot Spring's infrastructures is not as good as that of Yangpachen Hot Spring, but it's still very popular locally for its naked bath.

Attractions nearby Tidrum Hot Spring
Recommended Tour Itineraries Including Tidrum Hot Spring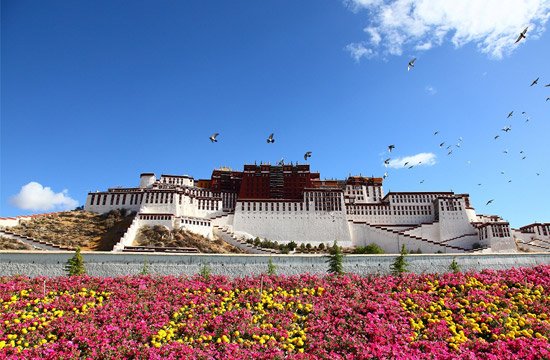 Hot Tibet Tour Packages
It couldn't be better to tour Lhasa famous tourist attractions when travelling in Tibet. Tibet Vista provides more than 10 Lhasa tour packages including these tourist attractions at the best price.
Popular Lhasa Tour Deals
Lhasa Tour Packages
How to get there
Address: Mozugongka County, Lhasa City
Transportation:
1. Car
2. Trek

Best time to visit it
You can actually visit Tidrum Hot Spring all year round.
Opening Hours: All day long

Admission Fee
CNY 30

Read more
Get A Quotation of this Tour