Shigatse Day Tours: how to arrange day trip in Shigatse
Shigatse is a famous prefecture-level city of Tibet which is full of stunning and wonderful travel destinations. Shigatse means "the fertile land" in the Tibetan language and has played an important role in Tibetan tourism. Every year, thousands of travelers come from all over the world to Shigatse to explore the world's highest mountain - Mount Everest, the traditional seat of the Panchen Lama - Tashilhunpo Monastery, "the second Dunhuang" - Sakya Monastery, etc. Its fantastic natural views and ancient holy monasteries offer travelers more options on Shigatse day tours. If you are planning Shigatse day tour, here are some useful tips given by our local Tibetan travel guide.
Recommended Shigatse Day Tour:
Half Day Tour to Visit Tashilunpo Monastery
As an important national cultural relic site, the Tashilhunpo Monastery is located in the southern slope of the Nyiseri Mountain to the west of Shigatse City. It is the largest monastery of the Gelug Sect in Tsang, and the main stage where generations of Panchen Lamas carried out religious and political activities. It is one of the 4 main monasteries in Tibet, with the other 3 (Drepung Monastery, Sera Monastery, and Ganden Monastery) in Lhasa.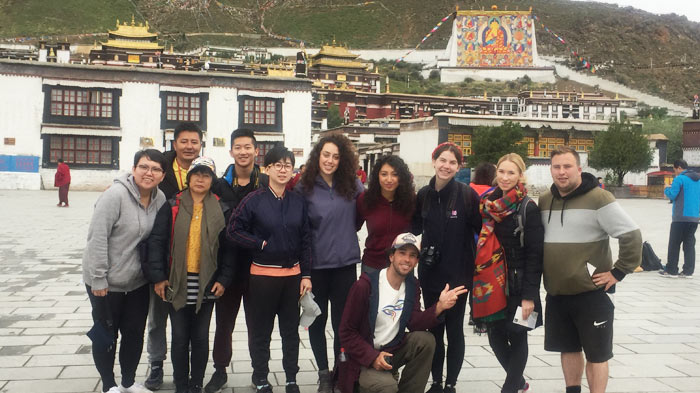 To enjoy the Buddha Unfolding Ceremony and exquisite murals in Tashilunpo Monastery.
There are 4 Zhacangs (room for monks), 64 Kamcuns, and 56 sutra halls. Taking up 300,000 square meters, the whole construction is tightly laid out like a mountainous city. The monastery not only enshrines the world's largest glided Qamba Buddha bronze statue, but also has many precious cultural relics such as the murals that record people's lives.
You can visit Tashilhunpo Monastery anytime. Yet, morning is the best time in a day as more of the chapels are open. After 11 a.m., most tourists start to head out for lunch, leaving a lot of buildings practically empty. If time permits, you can follow the Tashilhunpo Kora and pay a short visit to the Shigatse Dzong (bears a close resemblance to the Potala Palace).
-- What to see in Tashilunpo Kora?
It is well known that pious pilgrims do Kora around scared monasteries in Tibet. And monasteries have formed its own Kora route. As one of the notable monasteries in Shigatse, Tashilunpo has its Kora around the monastery and takes about one hour to complete. From the main gate, follow the monastery walls in a clockwise direction and look out for an alley on the right you can find the Kora path. the Kora climbs into the hills above the monastery and the prayer flags will show you the way. The views of the monastery complex blow are wonderful from the hill. Walking along the Kora you can see some white tower, which is called Chota in Tibetan. A huge Thangka will be displayed during Tashilhunpo Monastery Festival in the hill. The Kora also combine Shigatse Dzong, which is reconstructed in 2003 and you can take a good picture of Shigatse City from the Dzong.
Half Day Tour to Explore Pala Manor around Shigatse
Located in Gyangze County of Shigatse, the well-preserved Pala Manor is opened to the public as the evidence and datum for research into the politics, economy, and culture of Tibet. With over 400 years' history, Pala Manor witnesses the old Tibetan society of privilege and slavery. It is also a place that will give you something of an insight into the lifestyle of the wealthy landowning people who once lived in this area.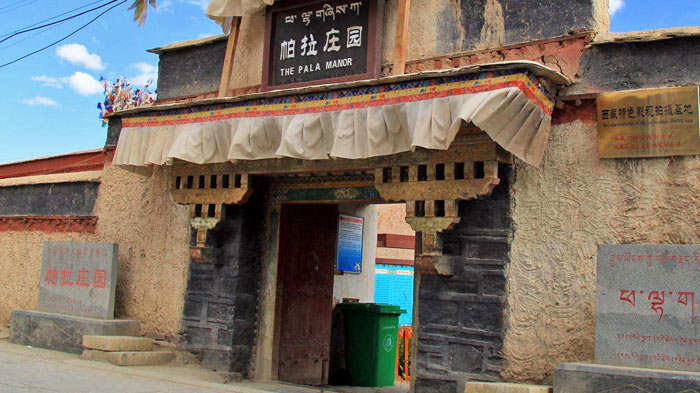 Just spare a half day to visit the well-preserved serf manor - Pala Manor when you travel to Shigatse.
Pala was built in Gyantse Jiangga village. British invaders burned the original Pala Manor in 1904. In 1937, Pala Manor was rebuilt on the other side of the Nianchu River of southwest Kyrgyz city. Belonged to the aristocratic Pala Family, Pala Manor once had a large scale of 37 affiliated small manors and over 100 serfs. It maintains the traditional Tibetan architecture of noble layout with beautiful decorations, exorbitant furniture, and exquisite living supplies. Therefore, it's easy to see the extravagant luxury.
Now, the Pala Manor still has 57 rooms and covers an area of approximately 5000 square meters. The main building is a three-story structure that includes a scripture hall, a reception hall, bedrooms, and a special hall to play the Chinese game of Majiang. In addition, you may be amazed by what can be seen on display here. Because many of the original contents of the reception rooms and bedrooms remain here.
It includes an ox horn that would be filled with the highland barley wine, exquisite porcelain bowls, precious fur clothes, glass cups, tins of biscuits and whiskey imported from Britain. If you do not have enough time to appreciate other scenic spots, please do remember to spare a half day to explore the epitome of Tibet's past - Pala Manor.
Half Day Tour to tour Summer Palace of Panchen Lamas
Summer Palace of Panchen Lamas is only 1 kilometer far from Tashilhunpo Monastery. It's known as the Dechen Kalzang Podrang in Tibetan language. If you have extra time after visiting Tashilhunpo, you can pay a visit to this walled palace complex since they're not far from each other. And it will not disappoint you with its lovely murals and peaceful atmosphere. The original palace was constructed by the Seventh Panchen Lama in 1844, Tenpei Nyima. And then it was expanded by the tenth Panchen Lama in 1955. It is a blend of Buddhist temple and Victorian-era mansion.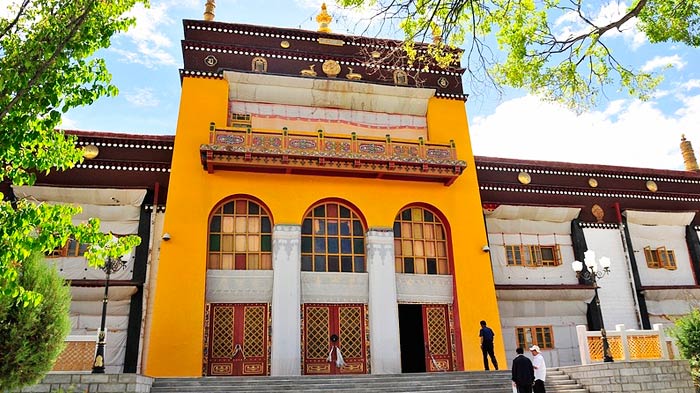 Summer Palace of Panchen Lamas is a traditional building with attractive gardens.
Besides, the murals in the palace are quite lively that combines ancient masterpieces and brand-new works. These murals are covering every surface of the rooms with vibrant colors and vivid images. In this palace, many staircases open to visitors, and you are able to enter some rooms to see the local artists working. In the Summer Palace, you will find the 10th Panchen Lama's sitting rooms. The audience chamber also opens to visitors.
Half Day Tour to visit Shalu Monastery
If you have an interest in architectural style, Shalu Monastery, undoubtedly, is a good place to visit. Shalu Monastery is located in the southeast of Shigatse, which can date back to the 11th century. The portrait of Bodhisattva in the Shalu Monastery is quite different from those of other temples in Tibet. It is a perfect combination of Han and Tibet architectural styles. When you travel to Shigatse, you might as well set aside a half day to have a visit.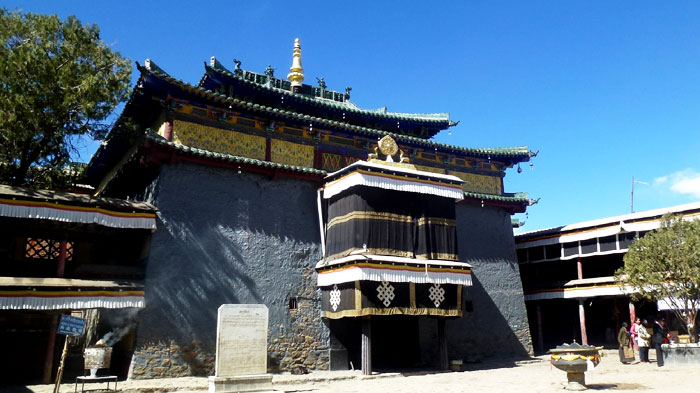 Shalu Monastery shows a special architectural style combining Han with Tibetan style.
Shalu Monastery is one of the oldest monasteries in Tibet, as well as the ancestral temple of Tibetan Buddhism Shalu sect. It was founded by Chetsun Sherab Jungnay in 1040 A.D. Except for the architectural style of the monastery, Shalu stores a large number of precious historical murals. These murals fuse Chinese, Mongol and Newari styles are very popular among international tourists. By the way, you can find inside the chapels and assembly hall. If you want to see them clearly, you can take a flashlight in case of the darkness.
Moreover, Shalu Monastery is also renowned for its four valuable treasures. The first treasure is a 700-year-old sutra board. It was a square made up of 108 pieces of small boards. The second is "Holy Water Urn". There is a brass urn with a diameter of 80 centimeters in the southeast corner. It is covered by a piece of red cloth and sealed. The holy water may clean 108 filth and is changed every 12 years. The third is a stone basin, which was said the washbasin of the founder Chetsun Sherab Jungnay. It can be found in front of the hall. The last is a stone tablet, which was written a mantra which reads "om mani Padme Hum" and has four pagodas carved into it.
One Day Sakya Monastery Tour
Not far away from Shigatse, about 130 kilometers and nearly 3 hours driving, Sakya Monastery is definitely a great place to explore Tibetan art. Buses to Sakya Monastery start every day at Shigatse Bus Station and cost CNY 50-60 per person. Alternatively, you can also rent a car and drive all the way yourself. One day tour would be pretty much enough.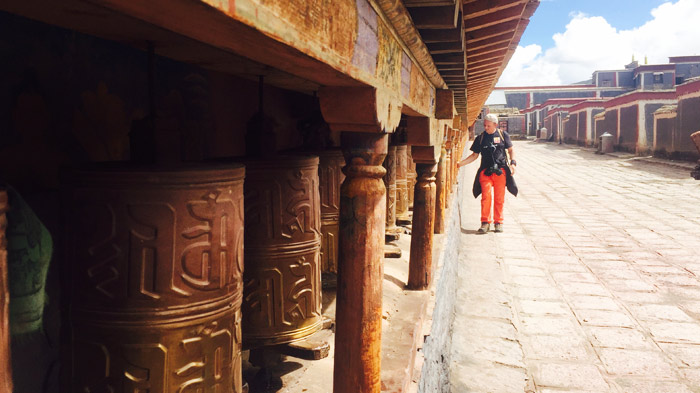 Visiting the ancient holy Sakya Monastery, the second Dunhuang in Tibet.
Sakya Monastery is the center of the Sakya Sect. In Tibetan, the word SaKya means "gray soil", which refers to the weathered gray earth on the Bonbori Hill where the monastery is located. The monastery is divided into 2 parts by the Zhongqu River. The Northern part sits around the Bonbori Hill, while the Southern one lies in the valley. The Northern part was founded in 1073 by Kun Gongjor Gyibo, founder of the Sakya Sect.
Sakya Monastery is often referred to as the 2nd Dunhuang as it boasts many Buddhist scriptures including astronomy, geography, religion, Tibetan culture, etc. But still, no one can tell exactly how many scriptures here. At the rear and both flanks of the Sutra Hall, giant wooden shelves reach up to the ceiling. Most of the classics can date back to the Yuan and Ming dynasties. The hand-written classics were carefully painted with golden, silver and crimson powder. They are bound in scrolls, folders or between boards. One of the scriptures bound in boards weighs a good 500 kilograms, making it the world's hugest scripture. Besides religious content, the classics describe Tibet's history, medicine, philosophy, calendric system, geology, opera, poetry, folklore and the grammar of Tibetan language.
Extended Shigatse Day Tour:
Shigatse town itself does not deserves you to stay for some days unless during Tashilunpo Festival when Tashilunpo Monastery becomes the scene of a three-day celebration and a huge thangka is unveiled here. - Check 8 Days Tashilhunpo Monastery Festival tour. But Shigatse is an important transportation hub of Sino-Nepal Friendship Highway, you can plan some day tours to Everest Base Camp and a short Shalu Nartang trek nearby from Shigatse.
2 Days Tour to Everest Base Camp
Although there are 340 kilometers driving from Shigatse to Everest Base Camp, Shigatse is still the only big city near Mount Everest. A lot of travelers rush to mount Everest from Shigatse every morning and endure a full-day bumpy journey to reach their dream destination. Hence, a two days tour to Everest Base Camp won't disappoint you, through the trip is hard, there are too much to see on the way.
For the full day driving, the first section is from Shigatse to Lhatse, you can stop for some rest in Lhatse. After you arrive at Shegar, if weather permits, you can have a clear view of Mt. Everest from a distance. Another 4 to 6 hours drive will take you to the world's highest Rongbuk Monastery. On the way, you will pass one of Tibet's highest pass - Gawu La Pass (5,198 meters), from which you can view the 4 highest peaks in the world: Mt. Makalu, Mt. Lhotse, Mt. Everest, and Mt. Cho Oyu.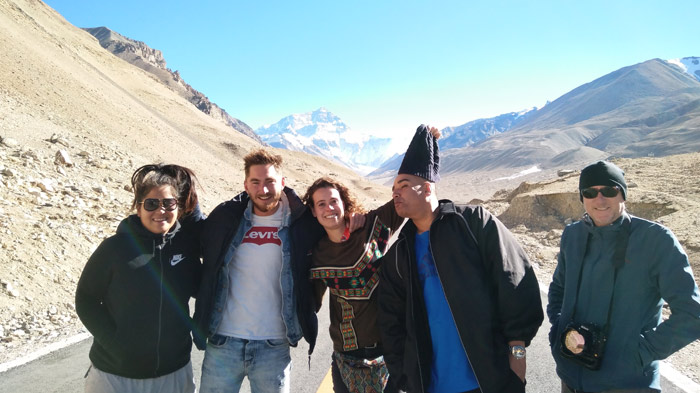 Appreciating the imposing mountains on the way to Everest Base Camp.
If you leave Shigatse in the early morning, you may have chance to see the sunset of Mt. Everest. It's highly recommended to choose our friendly vehicle service. Group or private tour, we can offer Hyundai County with 17 seat, Toyota Coaster with 23 seat, and KingLong bus or Yutong bus with 23 seat for travelers. The comfortable tour vehicle help you against the bumpy road and make your trip faster and safer.
If you want to see the sunrise at Mt.Everest, you have to follow the advice of the local tour guide when to get up for the next day. Mt. Everest is like a pyramid standing in front of you at Rongbuk, which is the vantage point for watching Mt. Everest. After the amazing sunrise, you can walk from Rongbuk Monastery to the tented area of Everest Base Camp. And the breathtaking panorama of North Mt. Everest will come into your view. I believe the short EBC journey would be an excellent experience and memorable trip in Tibet.
2 Days Trek Shalu Monastery to Nartang Monastery
Shalu Monastery is situated 20 kilometers southeast of Shigatse, just a few kilometers off the Shigatse-Gyantse Road and a perfect combination of Chinese and Tibetan architectural styles. Nartang Monastery is about 17 kilometers away from Shigatse city. Nartang was famous for its scriptural teaching and monastic discipline. And it enjoys a high reputation as "Tibetan Library". The trek follows the old trade route between the great Buddhist centers of Shalu Monastery to Nartang Monastery, and you can experience the glorious history of Tibetan Buddhist culture. Here are the details about Shalu Narthang trek.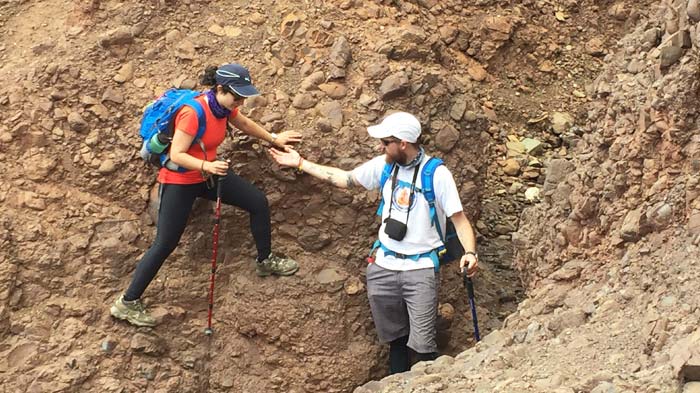 To enjoy the your Shigatse tour with a trekking from Shalu to Nartang Monastery.
Day One - Shalu Monastery(3,980m) - Upper Lungsang(4,060m) , 5-6 hours, 12km
After a simple breakfast, you will start your trek from the campsite to upper Lungsang which is 4060 meters above sea level. The distance between the campsite and upper Lungsang is about 12 kilometers. And it will take you 5 to 6 hours. During today's trek, you will pass the Ripu hermitage, floodplain, Phunup village, and Showa-la pass. In this way, you will experience the Tibetan farmer's countryside life and see how local Tibetan in countryside practise their Buddhist life. Finally, you will stay overnight at upper Lungsang Camp.
Day Two: Upper Lungsang(4,060m) - Ngor Monastery(4,200m) - Nartang Monastery(3,850m), 5-6 hours, 14km
Today, we'll trek through the framing fields to Ngor village. The Ngor Monastery is renowned for its Sanskrit library and Newar-style murals. Once, there were 5 assembly halls, 18 colleges, and 400 monks. But now, there are only 25 monks. Crossing the Char-la pass (4,550m), there was once a trade link between Shalu and Sakya Monastery, but now has disappeared. And you need to trek cross a steep slope of raw expanses of rock. Trekking from Ngor to Nartang, you'll pass several villages, saddles, and one electric utility. After visiting Nartang Monastery, we can drive to Shigatse City or extend your trip to other parts of Shigatse like Everest Base Camp, etc.
Conclusion
In brief, as the second-largest city in Tibet, Shigatse has many tourists attractions to explore. In additional to the holiest monasteries and cultural sites, like Tashilunpo Monastery, Pala Manor, etc., Shigatse is also the gateway to Mt. Everest of Tibet side, you can take a few days to enjoy the amazing view of Mt. Everest.
If you are planning a half day tour to Shigatse, you can visit the traditional seat of Panchen Lamas, appreciate the traditional Tibetan architecture of noble layout in Pala Manor, enjoy lovely murals in Summer Palace of Panchen Lamas, or tour to the ancient Shalu Monastery.
If you only have one day in Shigatse, you are highly recommended to explore Tibetan art in Sakya Monastery.
Of course, extended Shigatse day tours are also available here. A 2-day tour to Everest Base Camp takes you to capture the superb vista of Mt. Everest on Tibetan side. 2-day trek from Shalu to Nartang Monastery offers you an excellent chance to experience the long history of Tibetan Buddhist culture.
Shigatse, undoubtedly, is a wonderful place for you to stay for a few days. If you have any other questions about Shigatse day tour, please feel free to leave your comments in the section below or send us inquiry for more details.