Car Rental in Tibet: How to Rent a Car in Tibet?
Tibet, with its sparse population and vast land, has become a haven for self-driving and travel enthusiasts seeking an authentic and immersive experience. Tourists typically rent cars for a period ranging from one week to two weeks, and their journeys often cover over 1000 kilometers each trip. If you also enjoy this style of travel, let's explore together car rental options in Tibet, and discover how to secure the perfect vehicle for your adventure in this holy land.
How to Rent a Car in Tibet?
There are two ways to rent a car in Tibet. One option is to rent a vehicle from a car rental company for self-driving, which requires the renter to have either a Chinese driver's license or an international driver's license converted to a local Chinese driver's license. The other option is to rent a car from a tour operator, which includes the services of a professional driver.
Pricing of Car Rentals in Tibet
In Tibet, car rental rates are typically calculated by considering both the number of rental days and the total distance traveled. The pricing is based on the rental duration, with additional charges for the actual distance driven. The longer the distance traveled, the higher the cost.
Rental prices also vary according to tourist demand during different seasons. For instance, the peak season of the Tibet tour is in July and August, during China's summer vacation, when car rental rates can be the highest and may exceed 1,000 yuan (150 USD) per day.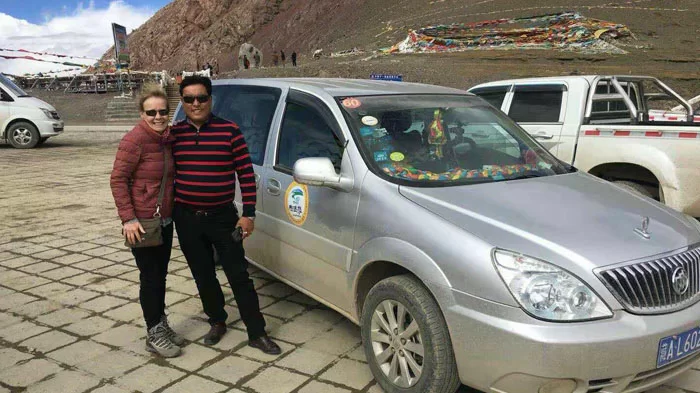 The pricing of car rental in Tibet is based on rental duration.
Recommended Car Rental in Tibet: Tourist Vehicle with Driver Services
The standout advantage of using vehicles with driver services for tour groups is the high level of safety they offer. The drivers are seasoned experts with years of experience providing driving services in Tibet. They are intimately familiar with road conditions and weather, ensuring a comfortable and secure driving experience for tourists.
Another benefit is that the tour operator takes responsibility for vehicle maintenance, safety, and insurance during the journey. In case of breakdowns or minor accidents, the tour operator promptly replaces the vehicle, providing a worry-free experience for tourists.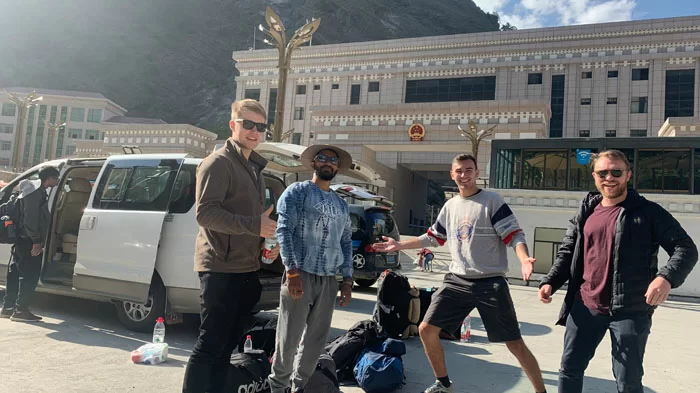 The most recommended service in Tibet is the provision of tourist vehicles with drivers.
Moreover, these vehicles designed for accommodating larger tour groups can comfortably transport a significant number of people. Typically, when the group size exceeds four people, these vehicles with driver services become the standard choice.
However, it's important to note that the cost of such services includes the driver's fee, vehicle insurance, company operating expenses, tolls, and fuel consumption, which are all factored into the rental price. If you desire a hassle-free Tibetan overland trip, we highly recommend utilizing the services of a tour group vehicle.
Types of Tourist Vehicle with Driver Services:
Tourist vehicles with driver services usually have license plates starting with "藏AL". These vehicles can accommodate multiple tourists and are commonly used for larger tour groups. Since this type of tourist vehicle requires government operating authorization, most of them are procured through government channels, resulting in a limited selection of vehicle types. Here, we will show you all the available models.
Top 1: Buick Mini-Va (7 seats) - for Family Group with 3-5 Members
The Buick GL8, with three rows of seating accommodating a total of 7 passengers, features three spacious and comfortable seats with armrests in the first and second rows for passengers. The third row is suitable for three children or adults. It provides exceptional comfort for families with 2-4 passengers when traveling together.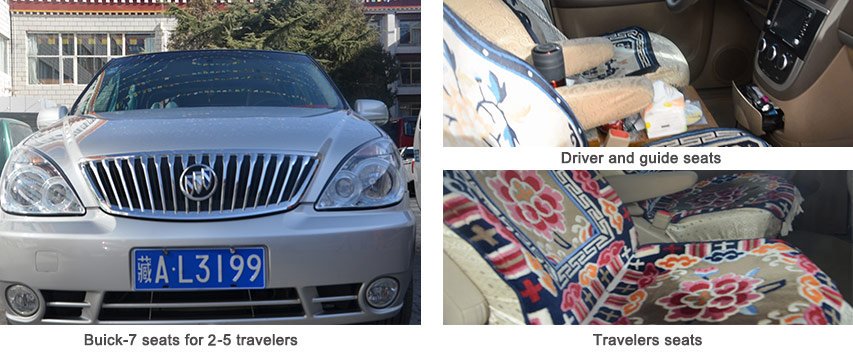 Top 2: Hyundai/JAC Middle-Size Van (9 seats) - for Large Families or Friends Traveling Together
The Hyundai 9-seater and JAC 9-seater vehicles offer three rows with a total of nine seats. If you're traveling with a large group, consider renting this type of vehicle. Compared to the Buick GL8, the comfort level in these vehicles is slightly lower because all three rows have flat seats without independently spacious seats with armrests. We recommend this 9-seater vehicle for private groups of 5-7 passengers.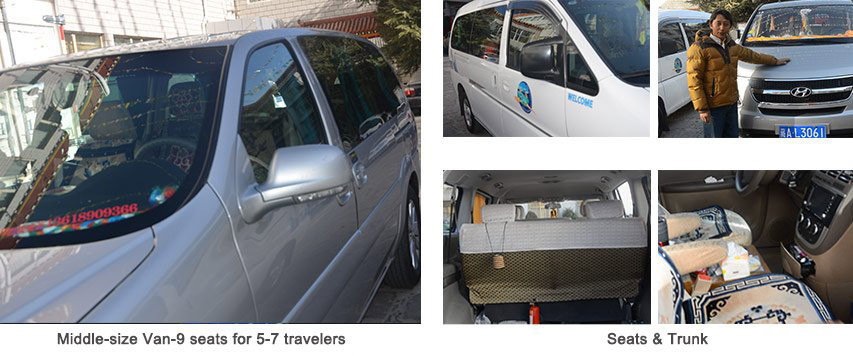 Top 3: SUV - for Passengers Seeking High Comfort, Speed, and Scenic Views
If the popular 7-seater Buick GL8 and 9-seater Hyundai vehicles don't quite fulfill your desire for an enjoyable long-distance journey in Tibet, we suspect you might be interested in the SUV options - the Toyota Land Cruiser and Toyota Land Cruiser Prado.
These two high-end SUVs are custom-designed by local government specifically for long-distance adventure travelers. They boast high-performance capabilities and fall within the price range of $50,000 to $80,000. Compared to regular tourist vehicles, both of these SUVs are considered luxurious choices.
These SUVs not only excel on regular roads but also handle the rugged terrain of western Tibet and wetland areas with ease. Their spacious stature not only provides better visibility compared to other vehicles but also offers superior comfort for passengers.
With ample cargo space, you can carry more photography and camping equipment. These SUVs can take you to even more remote and desolate areas within Tibet, making them the ultimate choice for adventurous journeys. For passengers, while these SUVs come at a higher price, they have no significant drawbacks.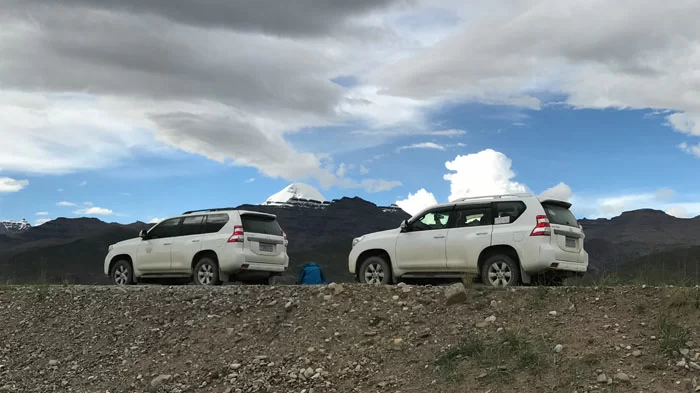 Renting a Toyota Land Cruiser Prado for a trip to Mount Kailash.
Others: Ford Transit Van - for Larger-sized Group
To accommodate larger groups of passengers, the Tibet car rental industry also offers a selection of larger commercial vehicles. For smaller groups, there are options like the 11-seater, 15-seater, and 17-seater Ford Transit Vans. For larger groups, there are the 23-seater and 28-seater Chinese domestic brands like King Long and Yutong.
These vehicles are well-suited to Tibet's mountainous and valley terrain, making them particularly suitable for medium-sized tour groups. Currently, Tibet does not have tourist vehicles with seating capacities exceeding 28 seats available in the market.
1) Ford Transit Van for 8-11 seats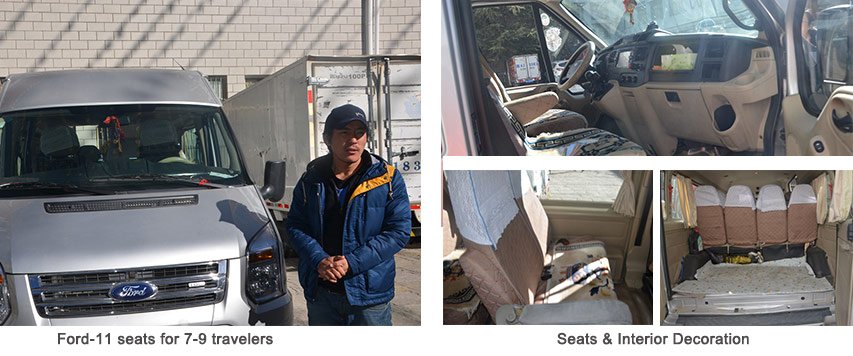 2) A 15-17 seat Ford Transit is suitable for accommodating 10-12 passengers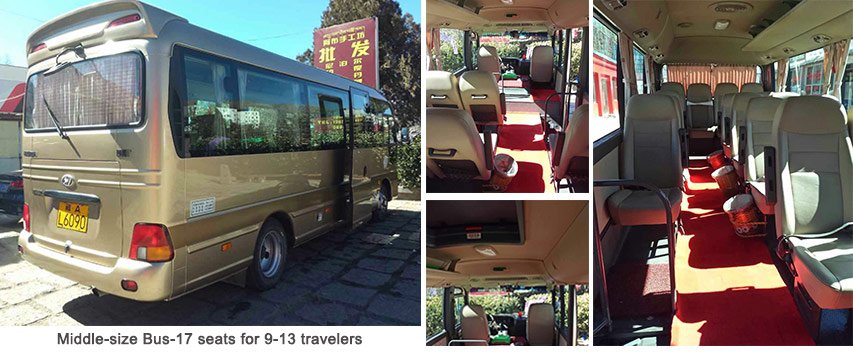 3) A medium-sized tourist bus with 23-28 seats is suitable for accommodating 13 or more passengers.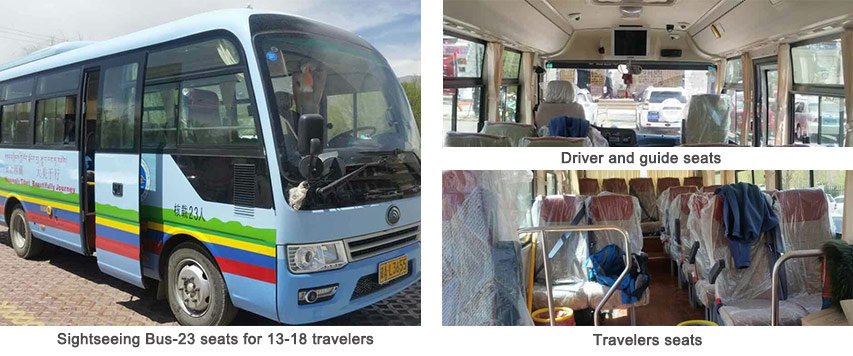 Car Rental for Self-driving in Tibet
Tourists of any nationality can rent cars for self-driving in Tibet as long as they possess a People's Republic of China driver's license. For foreign tourists, you can convert your foreign driver's license into a Chinese driver's license after completing certain declaration procedures in mainland China. To rent a car in Tibet, all tourists must sign a rental contract with the rental company, pay a rental deposit, and return the car as agreed.
Self-driving rentals offer numerous advantages. They are often cost-effective since tourists don't have to cover driver's service fees, and there's a wider range of smaller vehicle types compared to specialized tour vehicles.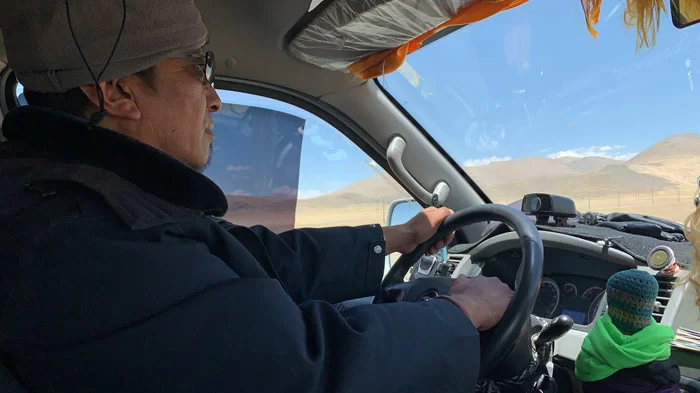 Car rental for self-driving in Tibet is also a choice.
However, there are significant disadvantages for tourists lacking experience in high-altitude driving. Adapting to the road conditions and weather at high altitudes can be challenging. Exceeding speed limits or violating traffic rules can result in fines. Additionally, if the vehicle incurs damages beyond what the insurance covers, tourists are responsible for repair costs.
While self-driving rentals aren't without their challenges, they can provide an enjoyable experience in Tibet and offer a sense of self-fulfillment to tourists.
Vehicle Types for Self-driving Car Rental in Tibet:
5-seater sedans and SUVs are the most economical and practical options. These are suitable for self-driving trips in areas with good road conditions and relatively close to central cities like Lhasa, Nyingchi, Tsedang, and Shigatse.
Recommended models:
Sedans: Volkswagen Passat, Magotan, Audi, and Mercedes-Benz.
SUVs: Toyota Prado, Nissan Patrol, domestic Jeep Wrangler, Toyota Highlander, and domestic Haval H6.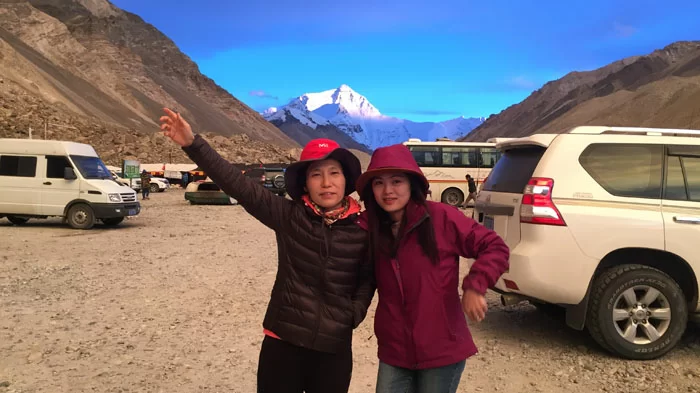 For self-driving car rentals to Tibet's Everest Base Camp, various vehicle types are available.
It's important to note that for self-driving rentals, vehicles with more than 7 seats are not allowed unless the driver holds a government-issued license for larger vehicles. Typically, rental companies only permit customers to rent 5-seater and 7-seater vehicles suitable for a C-class driver's license. If the group size exceeds 7 people, self-driving rental may not be a suitable choice.
Other Rental Options: Bike and Motorcycle Rental in Tibet
Apart from cars, there are also options for sports enthusiasts such as motorcycles, road bicycles, and mountain bicycles. Similarly to car rentals, you must possess a valid Chinese motorcycle driver's license (we can assist you in obtaining one in China), pay a deposit, and purchase insurance.
If you're interested in riding a motorcycle and experiencing the vast wilderness of Tibet while revving your engine, we provide a range of off-road motorcycles:




For road and mountain bike enthusiasts, Tibet can also provide services that cater to your adventurous spirit.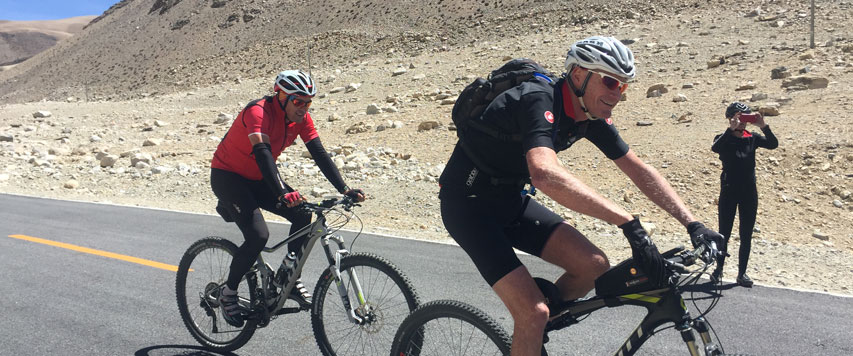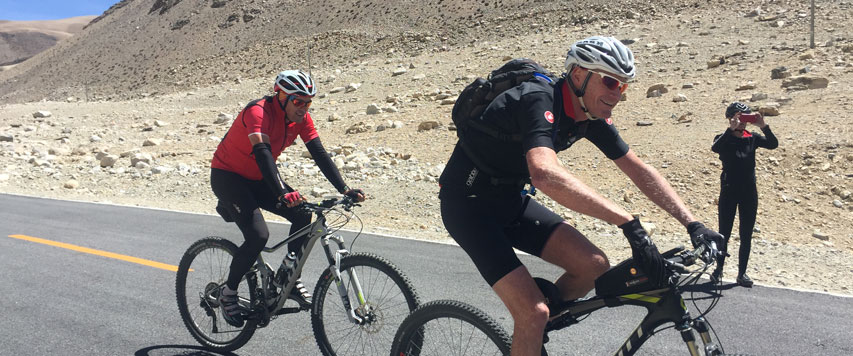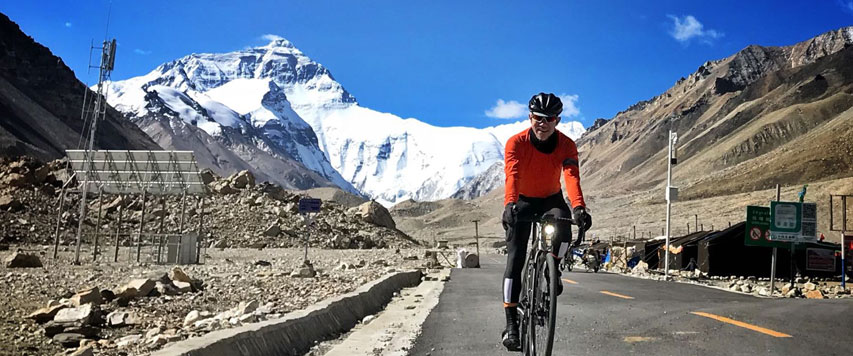 If you're ready to embark on a cycling adventure in regions with an average altitude of over 4,000 meters, we have everything you need prepared for you in Lhasa, including bicycles, helmets, cycling attire, panniers, and other essential accessories. Additionally, we offer full support for your entire journey. We can provide a range of support vehicles, from small pickup trucks to medium-sized trucks, catering to your needs. Whether you require overnight camping or a short ride in a vehicle due to fatigue, we have carefully considered every detail for your convenience.
Conclusion
In Tibet, car rental opens the door to authentic exploration. You have the choice of self-driving for independence or a tourist vehicle for ease and safety. We offer a variety of vehicle options to suit your group size and preferences. For adventurous souls, we also provide motorcycle and bicycle rentals.
No matter your choice, Tibet's captivating landscapes and rich culture are ready to create unforgettable memories in this mystical land. We're dedicated to providing you with tourist-friendly and professional service to ensure a seamless trip in Tibet. If you have any questions, please don't hesitate to contact us. Your journey awaits!
Most Popular Tibet Tour Packages