Barkhor Street Market: the best place to experience the vibes of Lhasa
Tibet has always been the place full of wonders. If you have just restored the peace of mind from the obsession with the magnificence of Potala Palace, then the Barkhor Street Market may make you stumble into another wonderful land that triggers your endless curiosity and imagination.
With a special circled street and a public square, Barkhor Street is located around Jokhang Temple in the old district of Lhasa City, featuring with pure city life pattern and unique architectural style. It is not just a holy ritual walk path for pilgrims to worship and do the kora, rather, it also gains its reputation for the paradise in which delicate Tibetan foods and products are served. Every day, crows of traders and peddlers come to the Street and set up their booths to sell exquisite hand-made commodities and a great number of shops with Tibetan characteristics open for business. Gradually, Barkhor Street has been widely accepted as the most vibrant Barkhor Bazaar in Lhasa or even in Tibet.
Insider Tips: Taking a stroll on Barkhor Street needs you to follow the clockwise direction since "Barkhor" in Tibetan means "Divine Pathway" while "Khor" has a meaning related to circumambulation. In Tibet, it has been a religious custom that follows a clockwise direction to circumambulate a holy place.
What does Barkhor Street look like?
Religiously, Barkhor Street is actually a one-way circled praying road around Jokhang Temple. It is also the well-known kora pilgrimage route in Lhasa. Traditionally, Kora refers to the pilgrimage with meditative practice and is typically performed by practitioners making a circumambulation around a sacred site or object. In Tibet, locals believe doing the Kora can discard all the evil practices or miserable pains and guide the prayers to acquire the boundless virtues as well as the profound knowledge.
Doing Nangkhor Kora in Jokhang Temple by turning the prayer wheels with the four-syllable mantra or the eight-syllable mantra inscribed on them can pull the prayers out of the misery when they suffer Samsara while doing the Kora on Barkhor Street by strolling or even prostrating can have almost the equal effects. With the holy Jokhang Temple as its center, Barkhor Street naturally becomes a popular place for pilgrims and travelers to do the kora.
Doing Barkhor Kora with local Tibetans is a way to expreience Tibetan culture
On the street, four large incense burners (sangkangs) in the four cardinal directions with incense and aromatic plants burning constantly inside are most attractive. Locals and pilgrims burn the incense to please the Buddha protecting Jokhang Temple as well as other creatures in the city. Despite the weather, followers swarm here to do the devotional pilgrimage by crawling along this street with their knees bent and arms stretching forward. You can still find one section of slab-stone paved path available for these pious pilgrims to do this reverent practice. Other pilgrims, together with visitors, choose to do the kora on foot, which typically takes about 30 minutes to accomplish one circle. So Barkhor Street is never in lack of popularity.
How it feels when the first time you meet the vibrant Barkhor Bazaar?
You may be amazed by the formation of the Barkhor Street when you first walk along it since after 30 minutes' walk, you go back to the starting point without any swerving. Moreover, Barkhor Street's amazement is far beyond your recognition. This street has been thriving for almost 1,400 years. Walking on it, the feeling is somewhat different. A mysterious feeling strikes every person setting foot on the street. In the center, there unfolds a gigantic incense burner, flickering with incense and aromatic plants day and night, drifting the fragrant smokes throughout the air and showing all its holiness to all creatures on this land. Barkhor Street has maintained the primitive and original style of Tibet with shops built in line close to each other and Tibetan featured booths set up in order. The whole street paved by hand-crafted stones is interspersed with some old Tibetan houses and exotic buildings.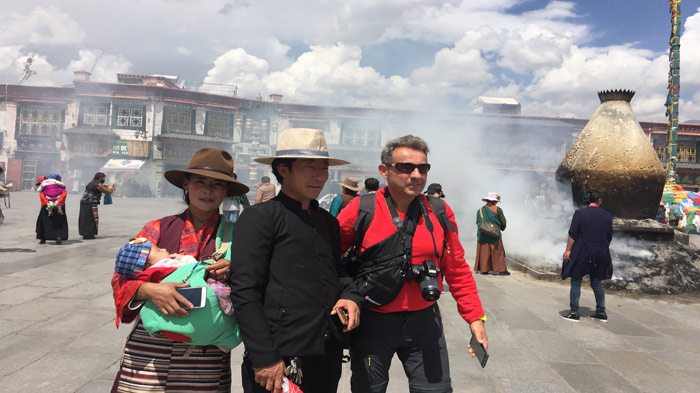 Incense and aromatic plants flickering inside the burner on Barkhor Square
What can we find on peddlers' exhibition booth?
Every corner of the Barkhor Street is filled with vibrancy, especially around the booths set by local peddlers. Shouts of street vendors, haggling bargaining of customers, chatting sounds of visitors and chanting rhymes of pilgrims are haunting around your ears. Prayer wheels, butter lamps, Thangkas, flags, Tibetan incense, Buddha heads, turquoise, local beef, etc. are sold everywhere. Besides, the Tibetan style house ornaments including the cushions, leather bags and handmade art wares can also be found on peddler booths at Barkhor Street, which provides a wide selection for visitors to choose as souvenirs and worldwide merchants to trade. - See what to shop for in Barkhor Bazaar in Lhasa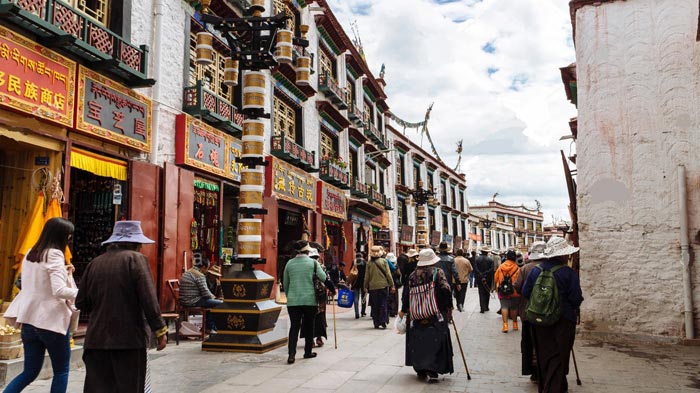 Vendors and pilgrims on Barkhor Street
What can we experience in the shops and restaurants?
Shops on Barkhor Street also grabs our attention. They are basically ethnic characterized small shops with various religious articles and daily necessities. Bronze statues of Buddha, butter lamps, scriptures, prayer beads, and cypress branches are sold in some of these shops. If you want to dress like a Tibetan, then find some boutiques selling Tibetan aprons, robes, leather bags, snuff bottles, Tibetan shoes, hats, etc. Hospitable locals never forget to serve you with their delicate snacks, yummy foods, and classic wines. High-land barley wine, sweet tea, quarks, air-dried meat are on top of the recommendation list. If you do not get used to the food, other food like most-preferred Sichuan cuisine, Cantonese cuisine as well as Hunan Cuisine are served to be your options.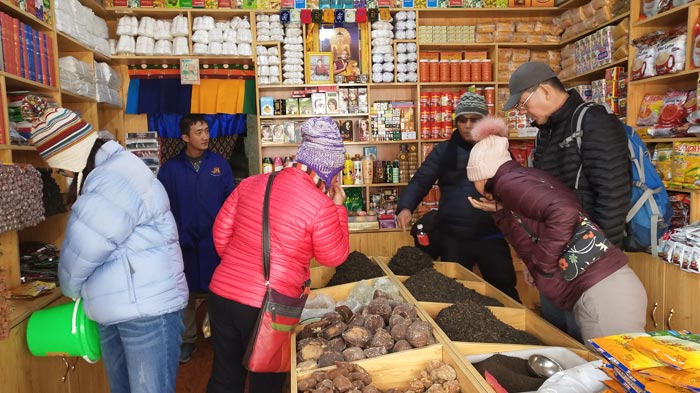 Religious articles and food sold in a shop on Barkhor Street
Do not miss the sweet tea houses on Barkhor Street since drinking tea has been a custom of Tibetan for centuries. Similar to western coffees, sweet tea in Tibet provides a delicate taste with a little bit sweet flavor and milk fragrance, refreshing you totally from the spiritless state at any moment of the day. Enjoying the sweet tea in this tea house with some secretly-made Tibetan noodles and dumplings gradually becomes a comfortable way for residents here to enjoy their leisure life. Among these well-known sweet tea houses, Kampung Sweet Tea House and Tsamkhung Nunnery Tea House are most favored by locals. Situated deep inside of an alley off the Barkhor Street, Tsamkhung Nunnery Tea House is a quiet place for visitors to have a short break and sip sweet teas like the local Tibetan does.
What else can we explore on Barkhor Street?
If you spend a little bit more time on Barkhor Street or just stay a bit longer, you may find many other historical sites hidden behind this boisterous street, which could definitely be other tempting places for you to get acquainted with this street or even this city. These historical sites include block printing house, Shidé Dra-tsang Ruins, Buddhist nunnery, small mosque, Buddhist debate site of Tsongkhapa, founder of Gelugpa in Tibetan Buddhism, the former Public Security Institute of Lhasa city. The Yamen (Government office in feudal China) of the Grand Minister who took up residence in Tibet brings you back to the Qing dynasty. Take a close look at the residence of a Minister sent by the imperial court of China.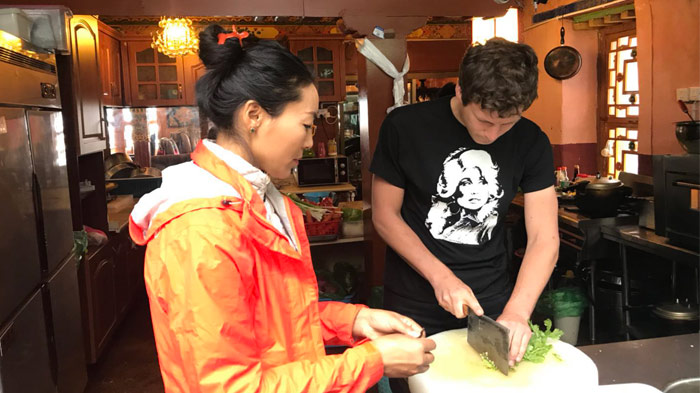 Cook Tibetan food at Tromsikhang Market
In addition, if you plan to take an in-depth exploration to the Tibetan life and customs in Lhasa, go eastward, for the eminent Tromsikhang Market which has been formed for about 400 years is sit between the Barkhor Street and the Beijing East Road. Actually, stopping by any of these places can help you learn more about Lhasa and be content with the experience along the Barkhor Kora.
Insider tips: Private arrangement can be launched for visitors to experience the making of Tibetan food in person. - See how to cook Tibetan Momo in Lhasa tour
Further reading: history of Barkhor Street
When the Tibetan King Songtsen Gampo completed the unification of the Tibetan region during the Emperor of Tai Zong (627 A.D. - 649 A.D.), he presided the construction of the Jokhang Temple to marry his second wife who was generally known as Wen Cheng princess. Both of Songtsen Gampo's wives brought a life-sized image of Buddha as dowries. One is an 8-year-old Buddha which is shined in Ramoche Monastery, while the other 12-year-old Buddha brought by Princess Wen Cheng is now worshiped in Jokhang Temple. So pilgrims gradually take the Temple as a sacred place and began to circumambulate this temple because of this Buddha. With time passing by, a path around Jokhang Temple was stepped out. So this explains how the Barkhor Street comes into being. Today's Barkhor Street is consists of the East Street of Bakhor, the West Street of Bakhor, the South Street of Bakhor and the North Street of Barkhor.
You may wonder how Barkhor Street survives the ups and downs since it has a grant history of more than 1,300 years and becomes a rare place to have witnessed the development of Lhasa or even Tibet. Perhaps its instinct culture individuality outweighs other advantages. Business men from all over the world and kinds of exotic items exchanged here making Barkhor Street an indispensable place for business transformation as well as business concept construction. Another reason worth mentioning probably lies in its orderly administration and proper protection.
Join-in Most Classic Lhasa Tours