Namtso Lake Tour: All You Need to Know for Visiting Namtso Lake
Namtso Lake has been crowned as the largest lake in Tibet for centuries while its formation was absolutely shocking with grandeur. As the product of the extrusion between Eurasian Plate and Indian Plate, Qinghai-Tibet Plateau was formed with its continental crust set on the basement which was shaped about 1 billion years ago. With the unstable rising and sinking of the tectonic movements on Qinghai-Tibet Plateau, Namtso Lake was originally formed at the bowl-shaped sunken area, accompanied by some of the glacial actions.
Located on the snowcapped Nyaiqentanglha mountain range of the Plateau, it covers an area of 1920 sq km and the height reaches 4718 m from the sea level. The average depth of the Lake can reach more than 30 meters. Looking from the satellite image, Namtso Lake is just like a large piece of land towering into the sky, which has verified its name in Tibetan: the "heavenly lake".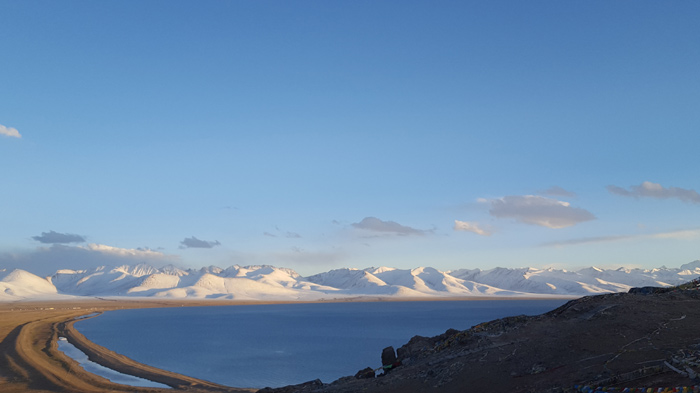 Namtso Lake with Solemn Mountain Peaks
How to get to Namtso Lake?
To visit Namtso Lake, we typically take off from Lhasa City. You are kindly suggested to make a considerate preparation before your trip to Namtso since the altitude ascends about 1,000m as the tourist bus running from Lhasa (3650m) to the Lake Namtso (4718m). After 88km's drive, the bus first arrives at Yangpachen Town (4300m) which is a nationally renowned place for hot springs as well as the pastoral sceneries.
Departing from Yangbajing, tourist bus continues to travel on the asphalt road with a limited speed and begins to approach the Nyenchen Tonglha Mountains with the altitude arising from 4300m to 4500m. During this lap, you have the chance to enjoy the distant view of the Nyainqentanglha Range and choose to stop at the observation deck to shoot these solemn and undulating mountains. Meanwhile, the picturesque views of the nomads' herding life on high-land pastures reveal so harmoniously in front of our eyes. Sheep flocks graze green grasses while yaks dot the holy land.
After 74km's drive, the bus reaches Damxung County (4200m) and then continues to climb up until it reaches Nagena Pass (5190m) for a temporary stop. Nagenla Pass, which is the only route leading to Namtso Lake, now serves as a depot for travelers to do the photo shooting. Distant view of Namtso Lake and Nyenchen Tanglha Mountains can be enjoyed from here. Leaving Nagenla Pass, the bus goes downwardly and eventually arrives at the Namtso Lake (4718m). No shuttle bus is available from Damxung to Namtso Lake, therefore, attending the Lhasa to Namtso tour is highly recommended.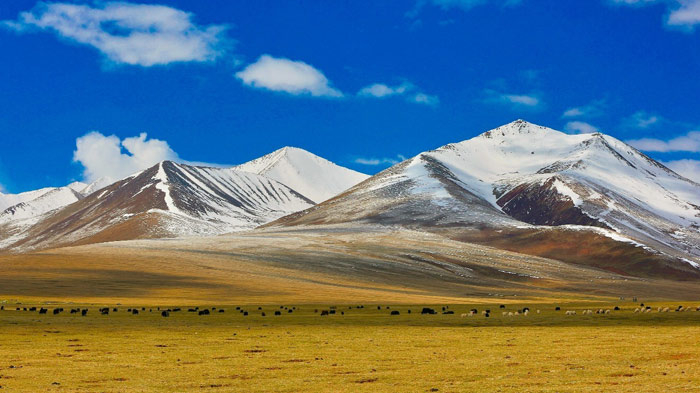 Yak Herds and Sheep Flocks Dotting the Highland Pasture
Insider Tips:
Nagenla Pass, on the only road to Namtso Lake, has the highest altitude along the whole journey. Tourist buses will make a short-time stop here for travelers to take photos. Due to the rapid rise in height and the lack of oxygen content, altitude sickness can be easily caused. Travelers are recommended to follow the instructions below.
* Do not exert yourself like chasing around or jumping when arriving at Nagenla Pass.
* Do not make grand or exaggerated gestures when doing the photo-shooting.
* Relax the body and breathe smoothly.
Nagenla Pass is quite a distance from Lhasa, and more than 1,000 meters higher, so take some altitude medicine and oxygen in case of an emergency.
When to Visit Namtso Lake?
It is generally accepted that the most appropriate time to visit Namtso Lake is from mid-April to October. The road to Namtso is typically sealed from December to next March during which the weather turns to be extremely cold and the Lake surface begins to freeze.
In early April, the melted water in Namtso carries off the heat and the temperature remains to be low while in November, the chilly air from snow mountains creeps out and pervades the Namtso areas, making it hard to approach by travelers. Whirling snowstorms sometimes occur in late October, as a result, the treacherous road condition, cold weather and lower oxygen content usually jeopardize most of the traveler's exploration.
Insider Tips:
Traveling during mid-April to October doesn't mean you cannot enter the Namtso area during its winter. The weather turns to be extremely harsh and the road to Namtso Lake would be probably sealed due to the heavy snow. These unpredictable conditions may, to a great extent, affect your mood during your travel to Namtso. However, if you are lucky enough, the views of Namtso Lake in winter are also spectacular and rarely seen by most of the visitors worldwide.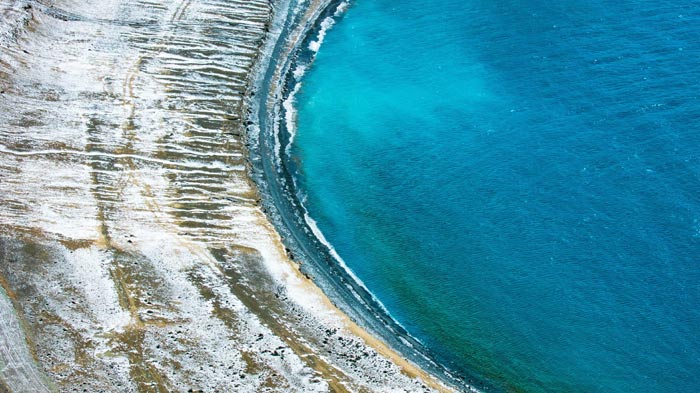 Namtso Lake in Early Winter
Highlights of the Namtso Lake
When in Namtso Lake, one is not just limited to see its turquoise lake surface, rather, a lot of exciting things remains to be explored. The attractions you are going to enjoy all depend on the travel arrangement you make for the Namtso Lake trip.
Typically there are two popular choices. One is a two-day tour to Namtso Lake (One night stay on Tashi Dor Island), while the other is a feasible SUV Namtso Lake kora tour which will also cost you two days but the course and highlights are somewhat different. Here are the highlights you cannot miss during your stay on Tashi Dor Island at Namtso.
* Strolling along the Lake and appreciate the stunning lakeshore lines. Feel its broadness and magnificence.
* Enjoy the heart-touching sunset by ascending a small hill on Tashi Dor Island (7:00 p.m.-9:00 p.m.), with solemn snow-capped Nyenchen Tonglha Mountains lurking behind
* Enjoy the Tibetan food and stay overnight
* Appreciate the sunrise by Namtso Lake on Tashi Dor Island (7:00 a.m.-9:00 a.m.)
* Circumambulate Tashi Dor Island or do a short distance Namtso Lake kora by just walking along the lakeside
* Shoot photos at giant Yinbin Stones with prayer flags, marnyi stones, and yak skulls
* Experience the grottos with Karst land features
If you plan to circumambulate Namtso Lake (Doing the Namtso Lake kora) by SUV (most travelers' choice), Namtso Lake will definitely surprise you in its own way. Tibetan pilgrims believe that circumambulating mountains or doing the lake kora is an efficacious way to release all kinds of sins, misfortunes and evil attacks and can help them pray for boundless merits and immense blessings. So more and more traveler with plenty of time begin to do the Namtso Lake kora by SUV or on foot. No matter what way you choose, you will have the chance to experience other attractions listed below.
* God Bath Gate (One of the four God Bath Gate in Namtso)
* Qiaduo Temple (The largest temple in Namtso areas)
* Shengxiatianmen Attraction (Sight-seeing attraction with a holy elephant-shaped landform)
* Best place to view the awe-inspiring arc-attached Namtso Lake with snow-capped Nyenchen Tanglha mountain peaks behind
* Another fantastic site to shoot Namtso Lake's sunset
* Successfully accomplish the Namtso Lake kora and prey for boundless merits and immense blessings.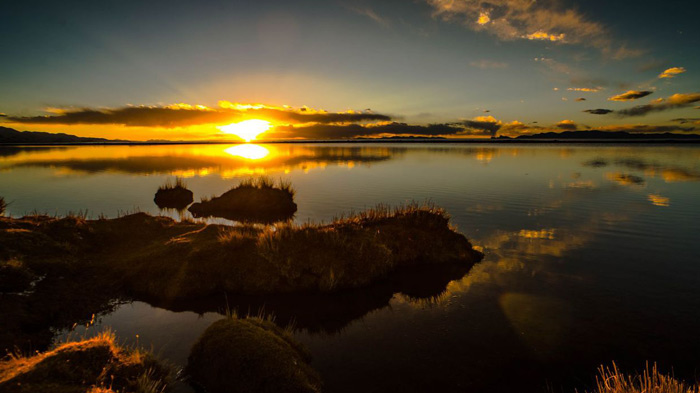 Stunning Sunset by Namtso Lake
Dining and accommodation around Namtso Lake
Due to high altitude and changing weather, no star-rated hotel is available round Namtso Lake but campsite and guest house with limited living resources (Including hot running water, beds with cotton quits and electric blankets, rooms without independent toilets, etc.). All travelers no matter staying overnight on Tashi Dor Island or doing the Namto Lake kora are provided with the same accommodation to stay over.
The food offered at Namtso Lake is special and delicious. On Tashi Dor Island, try some Zanba which is made of fragrant milky tea and highland barley. High-calorie Tibetan food is also popular there. Have more canned meat and drink a lot of water. If you drive around the lake to do the Namtso Lake Kora, why not pack enough foods back in your SUV and enjoy them after you rent tents from the two places.
Insider Tips:
* Accommodations on Tashi Dor Island, Qiaduo temple, and Shengxiangtianmen attraction are basically the same.
* If you plan to do Namtso Lake by trekking, do reserve the yak and the horse in Baingoin County in advance.
Animals and the herding life of nomads on high-land pastures by Namtso Lake
Besides visiting the sacred lake, Namtso is also a place to experience the herding life of nomads on highland pastures. On the way to Namtso Lake or by the Lakeside, large pieces of pastures with harmonious integration of the distant mountains capture every traveler's heart. The enchanted view of yak herds and sheep flocks makes you believe you have entered an earthly paradise. Why not make a halt and feel this quiet and harmonious moment in your life.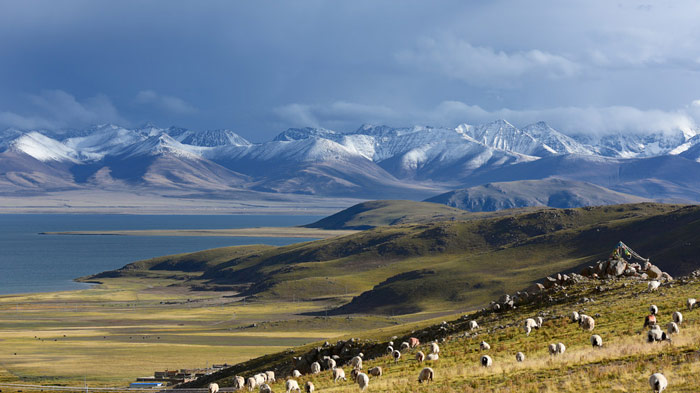 Flock of sheep grazing by Namtso Lake
Tashi Dor Island has become a bird-perched habitat for a long time since the major urban disturbance seldom reaches here (Birds like saker falcons make their nests on this peninsula). Tibetan antelopes, brown bears, snow leopards and wild yaks dotted the pastures.
Other Tips for Visiting Namtso Lake
* Bring sunglasses, travel hat and moisture in case of ultraviolet ray
* Prepare rain gear in advance in case the changing weather
* When you try to capture some on-the-spot details, do watch your steps. Some of the shooting sites around Namtso Lake are steep and dangerous
* Never jump in succession, never try exaggerated postures or rise abruptly from a deep squat. These actions are most likely to suffer an acute mountain sickness, which you must bear in mind
* Take altitude medicine and oxygen with you in case of emergency
* Conduct civilized photo-shooting. Do not make any forced fixation of your photographic equipment to temple poles, protected stones with prayer flags or any other sheltered items in Namtso Lake. Do not scramble for shooting sites