World King Cypress
Gigantic cypress
About King Cypress
Legend has it that the World King Cypress has seen the birth of one of the world's oldest religion- Bon, which predates Buddhism, Christianity, Islam. The cypress is approximately 50 meters high, 5.8 metres in diameter, and has a trunk circumference of about 18.2 meters. This tree may be 2,000 to 2,500 years old, and is seen as a holy tree by pilgrims.
   
The unique cypresses mainly in Nyingchi, grow on a mountain slope with an elevation of 3,040 meters above see level. The World King Cypress is surrounded by at least 0.1 km² of ancient cypress-trees with an average height of 44 m. According to the local anecdotes, this very World King Cypress is connected with a legendary person- Tonpa Shenrab Miwoche, who lives long long agao before Gautama Buddha and founded the Bon religion. This religion is practiced up to this day and is regarded as relict by Tibetan people.
   
Owning to the respected status of the famous cypress, trees about it and itself have been preserved very well.
Tips of King Cypress
The Niyang River is not far away. You can pay a visit by the way.
Attractions nearby King Cypress
Recommended Tour Itineraries Including King Cypress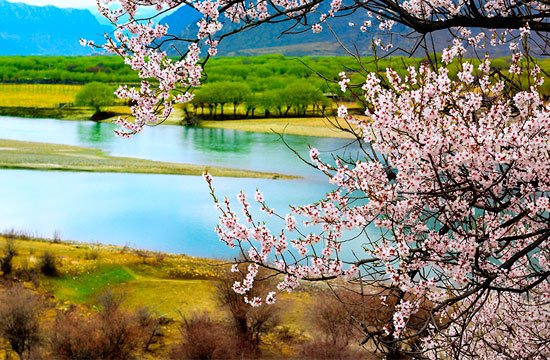 Nyingchi Prefecture is the lowest land in Tibet with breathtaking natural scenery. Every tourist who has come Nyingchi will never forget what they have seen. Tibet Vista provides more than 10 tour packages including these tourist attractions in Nyingchi Prefecture at the best price.
Popular Nyingchi Tour Deals
More Tibet Tour Packages
How to get there
Address: Milin County, Nyingchi Prefecture
Transportation:
1. Minibus-- World King Cyress is just by the road of Milin County of extreme convenience. You can take a minibus on the road.
2. Rental Car-- Since the World King Cyress is situated between Milin County and Bayi County, you can rent a car from Bayi.
3. Trek-- If you go via Niyang River by foot to World King Cyress, it would take about 1 hour's walk.
Best time to visit it
The World King Cypress has various scenery when it comes to different season. You can visit all year round.
Opening Hours: 9:00--17:00
Admission Fee
CNY 15
Read more
Get A Quotation of this Tour