Worst Mistakes for Traveling Alone to Tibet
No matter where you have been before, or what you may have experienced in traveling, as a solo traveler, there are a number of things to take into consideration when traveling to Tibet. So if you want to know how to travel to Tibet the right way, and not end up making the same mistakes others have in the past, then we have some expert advice for you.
Mistakenly Believe You Can Backpack Alone in Tibet
One of the most common misconceptions about Tibet is the misinformed belief that once you have a multiple Chinese entry visa and you can just buy a flight to Tibet and enjoy your travel alone there, just as you can do in other cities of mainland China. However, that is not the case for Tibet travel.
The first thing to always remember is that backpacking or traveling alone in Tibet is forbidden. A number of travelers have attempted in the past to enter Tibet alone, and have had to face the consequences of breaking the laws in China.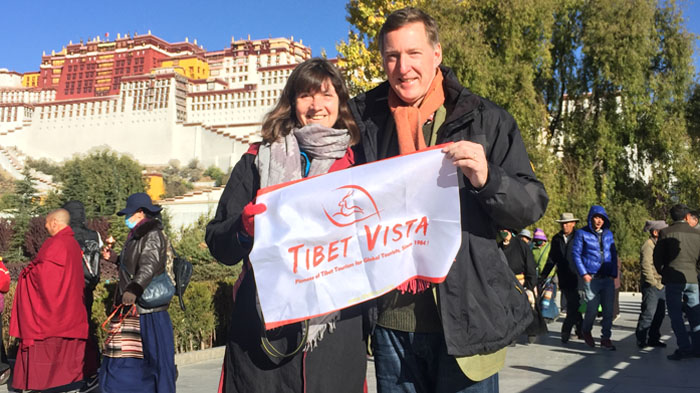 Potala Palace is one of the must-visit attractions in Lhasa, Tibet.
Traveling to Tibet can be done as a solo traveler, but only on an organized and pre-arranged tour with a registered Tibetan tour operator or travel agency. You can have your own customized private tour or join a group tour, the choice is yours. But you cannot travel in Tibet without a tour, tour guide, and private vehicle. In fact, the main permit to get into Tibet, the Tibet Travel Permit, is only issued after application from a registered travel agency. You cannot apply in person.
Start Preparing Your Tibet Tour until the Last Minute
Another mistake that travelers often make, which always leaves them disappointed, is to try and book the trip to Tibet at the last minute. Tibet is not one of the places in Asia where you can travel to at a moment's notice, and impromptu trips to Tibet are impossible. And there are some very good reasons for this.
Firstly, you need to have a wide variety of travel documents to enter Tibet, many of which can take some time to obtain. In the first place, the Chinese visa mentioned above. Then, you need to find a reputable local Tibet travel agency and depend on it to make the application for the Tibet Travel Permit on your behalf, as you are not permitted to make personal applications with the Tibet Tourism Bureau (TTB). This can normally take around 8-9 days now, as the time scale has been reduced.
You then need to have time to book your flights to China and either flight or train tickets to Tibet, and time for the booking of your hotel (unless you allow us to do it as part of the package). Overall, for planning a trip to Tibet, you should book the tour with us at least 25 days in advance, with your Chinese Entry Visa already obtained.
Pin Your Hope on Finding a Travel Companion Online
A common option for solo travelers looking for travel companions is to post messages on forums such as TripAdvisor and such, in the hopes of finding someone who is interested in traveling with you to the same place. This can often be a time-consuming endeavor, and many travelers find themselves unable to find a reliable and safe travel companion this way.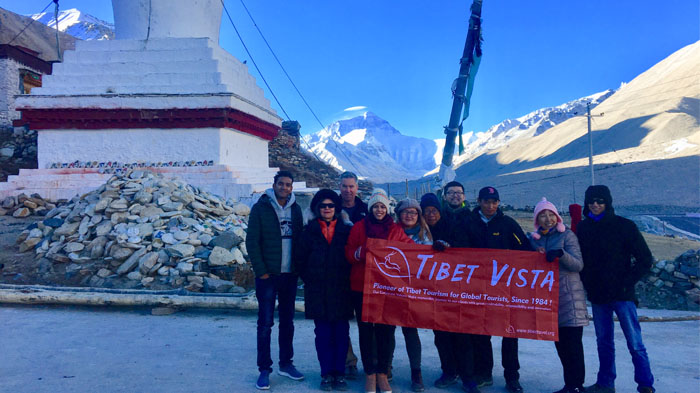 You can join in a small group to enjoy your Tibet tour.
The best option for solo travelers that are looking for travel companions is to look for a reliable travel agency, like us, and opt for one of our amazing Tibet Small Group Tours. These tours have fixed departure dates and pre-set itineraries, and we have a wide range for you to choose from.
And once you are booked, you will travel with other like-minded tourists that are interested in seeing the same things as yourself. This is a reliable and affordable way to travel to Tibet, as there are parts of the cost of the tour that are shared among all members of the party. And we have multiple tours with multiple departure dates throughout the year, many of which are within the travel periods for most tourists wanting to visit the plateau region.
Not Depend on a Local Tibet Travel Agency to Get Tibet Permit
Another common concern with travelers is obtaining the Tibet Travel Permit to get into the TAR from mainland China. Contrary to what you may read on some websites, the Tibet Travel Permit can only be obtained by a travel agency that is registered with the Tibet Tourism Bureau in Lhasa. And it can only be obtained for people that have a pre-booked tour with the travel agency. You cannot get the permit, or any other permits, any other way.
Tibet Travel Permit is a necessary document for your Tibet tour.
Booking with a registered Tibetan travel agency like us guarantees that you will get your Tibet Travel Permit, and be able to travel to the plateau on one of our pre-booked tours. Attempting to obtain a permit through anywhere else, such as websites that promise the permit-only option, is illegal in China. And if you attempt to travel to Tibet alone, without a pre-booked tour, you will be refused entry, and can even face prosecution under Chinese law. So to save yourself the trouble of being arrested and deported forever, it is best to book the tour and have the tour operator arrange the permits.
Underestimate the Time Needed for Acclimatization
The Tibetan plateau lies at an average altitude of around 4,000 meters above sea level. At this altitude, the body needs time to adjust to the difference in oxygen levels in the atmosphere, and acclimatization, once you arrive, can normally take 1-2 days. However, there are some that want a customized tour that will take them straight to Mount Everest or one of the other high-altitude destinations in Tibet. This can prove to be dangerous, as failing to acclimatize properly to the altitude can result in severe altitude sickness.
You can take 1-2 days to relax yourself in Lhasa city.
Altitude sickness can prove to be fatal if left unchecked, so it is recommended to spend a couple of days acclimatizing to the lower altitude of Lhasa, at 3,656 meters, before traveling to areas where the altitudes exceed 5,000 meters. Our customized tour itineraries all include time to acclimatize in the Tibetan capital first, s make the trip safe, even for first-time travelers to Tibet. - Check How to Avoid Altitude Sickness in Tibet
Wander around without the Guide's Company or Knowledge
Travel in Tibet is strictly regulated for tourists, and you are not permitted to travel around the region without your Tibetan guide. And while this may be the policy for international tourists to Tibet, it also has definite advantages. Your Tibetan guide can not only show you the best places to visit, but he can also provide you with the information you may require about Tibet from his own personal knowledge.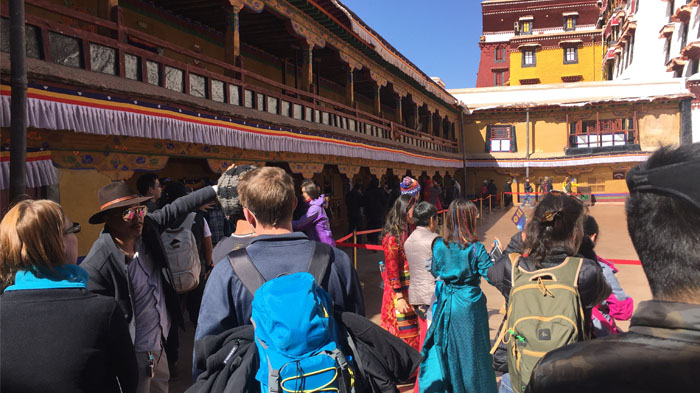 Our Tibetan guide introduce the sacred monastery to our clients.
You can also come up against some difficulties in the language barrier, knowing about certain taboos when visiting religious sites, and even issues with taking random photos of the people in Tibet. All of these issues can be advised by your guide, who will make sure that your trip is perfect, and that you can stay out of any potential trouble.
Forget the Single Supplement Charged by the Hotel
Tibet, much like anywhere else in the world, has a Single Person Supplement in almost all of its hotels. As with many hotels around the globe, single persons staying in rooms are charged a supplement for the room, which is usually a twin or double room, and is based on two people sharing. This supplement is to cover the missing person's payment for the room, sine a lot of hotels charge per person, per night. If you want to avoid the supplement, then you can travel on one of our Small Group Tours and share the room with another traveler of the same gender.
Unaware of the Rules of China Group Visa for Kathmandu Tibet China Tour
When entering Tibet from Nepal, the visa used is the Chinese Group Visa, which is a little different. The visa is a sheet of paper, not an entry stamp, and contains the names of all the members of the party. It can happen that travelers entering Tibet from Nepal on the same Group Visa can find themselves on a different tour itinerary, and find themselves a little stuck when it comes to leaving.
With the Chinese Group Visa, all named members of the visa group must enter and exit Tibet at the same time and at the same port of entry/exit. It is not possible for the group to split up and leave in different ways at different times. If you are traveling to Tibet and want to leave by a different exit (such as the group leaving through Nepal and you continue on to China), then you can ask for a separate Group Visa, which can be obtained independently, since there is no requirement of being in a group to obtain it.
Alternatively, you can fly independently to Chengdu from Nepal, and then use the permit to enter Tibet from there. However, you will need to apply for the Chinese Entry Visa yourself first.
Conclusion
Traveling to Tibet may seem a little complicated, but if you follow the advice of your tour operator or registered travel agency, then you should find that you will have no problems at all. There are a lot of things that can go wrong if you try and handle the tour details on your own, and ignore the advice of the experts. Things that could land you in jail, deported, or seriously ill in hospital. The best way to tour Tibet is to contact a reliable travel agency, and book the whole tour with them. That way, you will be guaranteed to have the time of your life, and a great holiday on the Roof of the World.