Where is Tibet?
If you know the tallest mountain, Mount Everest (the altitude is 8848m), you are also likely to know Tibet, for the Mount Everest is in the southwest of it, but do you know where Tibet is? Here I'd like to share you some basic information about Tibet.
Where is Tibet Plateau Located
Tibet Autonomous Region, often called "the roof of the world," lies in the first highest plateau on earth in Asia, the Qinghai-Tibet Plateau (with an average elevation of 4,900 metres (16,000 ft). Its capital city is Lhasa. Tibet is to the north-east of the Himalayas and the available oxygen in most of it is only half of that at sea level.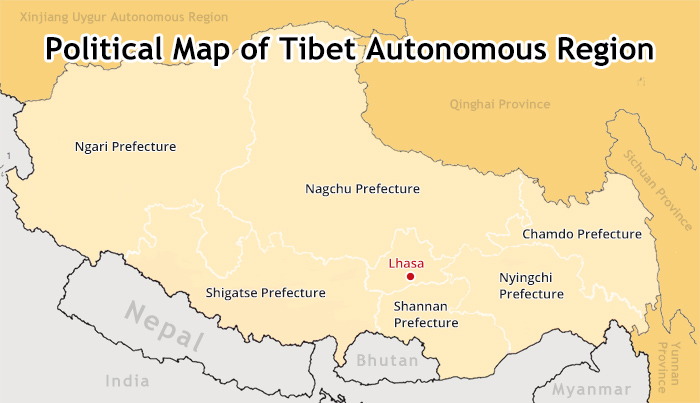 (Simple click to enlarge the map)
Different Prefectures in Tibet
Tibet is divided into three parts according to its topography: the west (known as the North-Tibet Plateau), the south (featured by valleys) and the east (mainly canyons and is marked by a gradual decline in altitude intercepted by small ranges called Henduan Ranges).
The western Tibet is notably centered in Ngari Prefectures. It is a prefecture with an average altitude of 4500m, truly the roof of the roof. The 450,537 square km is only populated by around 77,300 Tibetans. Touring in Ngari brings you the truly divine experience, and you can follow the classic pilgrimage route around Mt. Kailash and Manasarovar and witness the lost ancient Tibetan civilization, etc.
The southern Tibet consist Shigatse and Shannan prefectures. The city of Shigatse is the second-largest city in Tibet and Shigatse is home to world's summit Mt. Everest(8844.43m) and other 7 soaring mountains in the Himalayas. Whereas Shannan is the believed to be the cradle of Tibetan civilization and turquoise Yamdrok Lake and Samye monastery, first Tibetan Monastery can be seen there.
The eastern Tibet is the most fertile land in Tibet. The low altitude (around 3000m in Nyingchi) and pleasing climate resembles idyllic of Switzerland. With Peach Blossom Valley, Midui Glacier, Namcha Barwa Mountain, Basumtso Lake, etc, Nyingchi is fairly popular with Asian tourists.
The northern Tibet features boundless prairie and is the best supplier of farm products like yaks, horses, caterpillar fungus, etc. On the way to visit Namtso, tourists can have a glimpse of Tibetan nomads and the traditional farming scene on the grassland.
Where is Lhasa Tibet on Map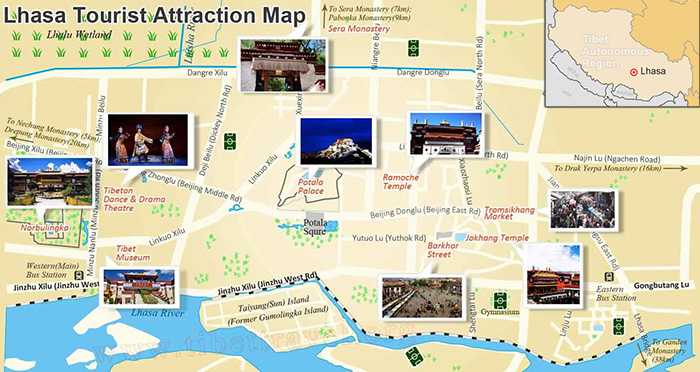 (Simple click to enlarge the map)
Lhasa on Tibet Map
Check the most detailed maps of Tibet location in China, Asia and World
Tibet is divided into six prefectures: Ngari Prefecture, Nagqu Prefecture, Shigatse Prefecture, Shannan Prefecture, Nyingchi Prefecture and Chamdo Prefecture with Lhasa being its capital city. Situated in fertile Kyichu Valley ( or Lhasa River Valley), Lhasa(3658m) covers an area of 30,000 sq km with its urban area of 523 sq km ( mainly in Chengguan district). In addition, it has 7 counties and the total population of Lhasa is around 559,423 with 150,000 living in the urban district. It is the heart of spirituality in Tibet, an exotic city blended with old tradition and modern Tibetan culture.
Travelling in Lhasa, the best place to experience fervent Buddhism pilgrimage and collective worship is at Jokhang Temple and its surrounding Barkhor Street. To any newcomers to Lhasa, you will definitely get amazed by the prostrating pilgrims and deeply religious ambiance on Barkhor Street. Not only is it the center of pilgrimage but still the perfect locale to mingle with locals, and shop exquisite handicrafts and taste traditional Tibetan dishes.
For inquisitive visitors who are keen to learn Tibetan Buddhism, in addition to Potala Palace, Jokhang Temple, and Ramoche Temple inside Lhasa city, three well-known Gelugpa Monasteries around Lhasa are also worth touring, namely Sera Monastery, Ganden Monastery, Drepung Monastery.
The biggest draw of Sera Monastery is the dramatic monk debate in the afternoon. Amid these three monasteries, Ganden Monastery is the closest one to Lhasa city. And it offers the best panoramic view of Kyi Chu River (also known as Lhasa River) and Lhasa Valley. Drepung Monastery is the biggest monasteries of these three and serves as one of the major places for gigantic Buddha Thangka unfolding during traditional festivals like Shoton festival. It's a good place for a bit hiking after all.
Where is Tibet in China
Tibet covers an area of around 1.22 million km2, which accounts for 12.8% of the total of China. You may find that Tibet lies in the southwest of China and it is whole inland. It has four neighboring provinces in China: Xinjiang Uygur Autonomous Region to its northwest and Qinghai province to its north, Sichuan province to its east and Yunnan province to its southeast.
Due to its distinct geography, Tibet, located on Qinghai-Tibetan Plateau, is guarded by a dazzling array of lofty mountain ranges. To its south lies the imposing Himalayan Range that stretches from Tibet to its neighboring country Nepal. It's home to world's highest mountain ranges. To be more exact, the Shigatse region is the most ideal region to enjoy the grandeur of the Himalayan Range and get up-close shots of the north face of Mt. Everest.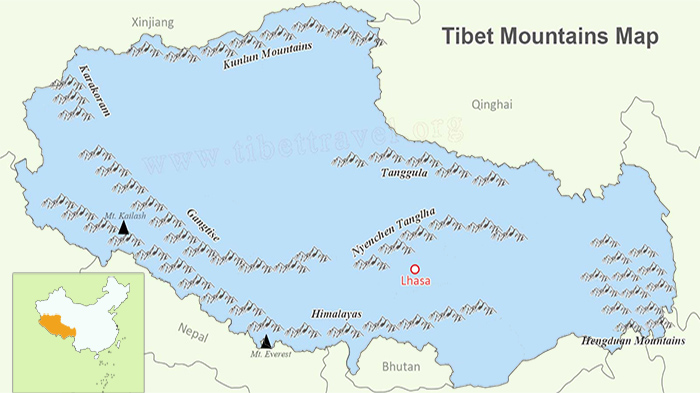 (Simple click to enlarge the map)
Tibet Mountains in China
To the north is Kunlun Range where towering Tanggula Mountain dominates Qinghai-Tibet Railway as the highest point (5231m) it needs to pass. While to the east and southeast stand Hengduan Mountains. Tourists can enjoy the majestic snow-capped Mt. Meili and Nu River and Lancang River, etc.
In the west of Tibet, the curve of the rugged Gangtise Range embraces it. In Ngari, the western Tibet, tourists can follow the ancient pilgrimage route from Lake Manasarovar to circle sacred Mt. Kailash. It is also one of the places in Tibet with few human presences. Visitors can explore some of the ruins of ancient Tibetan civilization, like the Guge Kingdom, ruins of Donggar, etc. Further to the northwest is the Karakoram, linking Pakistan, India, China and Afghanistan.
Where is Tibet in Asia
Tibet borders on Myanmar, the Kingdom of Bhutan, Nepal, and India from its south to west. In fact, the most significant of the existence of Tibet to Asia is its massive glaciers in the Everest Region and rich alpine lakes resource like Lake Manasarovar. All of them make Tibet an irreplaceable "Water Tank" for China and other south Asian countries. Many instantly-recognizable rivers originate from Tibet, such as Yangtze, the Yarlung Tsangpo River (Brahmaputra River), Yellow River, Indus River, Mekong, Ganges, Salween.
In addition, the adjacency to Nepal and jointly shared Himalayan range make Tibet and Nepal tour package an established travel route for many. As tourists finish their travel in Tibet, later they can either take a flight to Kathmandu, Nepal or take the bus via Gyirong Port. The utterly different scenery and exotic culture and customs on both sides of Himalayas would never let you down.
How to Get to Tibet
a.Firstly, you should first apply for a Tibet Visa (also known as Tibet Travel Permit) in advance through Tibet Vista. And this is essential and necessary.
b.Secondly, as to the way to Tibet, it is flexible for there are three main ways to get there: by plane, by train or by bus. You can first come to China and then choose one way or a combined way of the three to get there.
Tips: If you want to enjoy the scenery along the way, the Qinghai-Lhasa train is highly recommended. You can take the train at Beijing, Shanghai, Chengdu, Chongqing, Guangzhou, Xining and Lanzhou. If you want to drive there, you may start from Xinjiang, Qinghai, Sichuan or Yunnan.