How to Get to Tibet in Different Ways - by flight, train, overland and more
Feel pretty exhilarated when planning your coming Tibet tour?
The journey from your hometown to holy Tibet could be both long and arduous.
Where to start? How to change a connecting flight or train? How many days and how much money are needed? Figuring out details like these could be overwhelmingly frustrating.
However, don't panic! Let's our Tibet travel gurus put you back on track.
They will offer you loads of handy suggestions and help you map out an exciting travel route, equally money-saving and eye-pleasing.
How to Get to Tibet by Train, Flight or Overland
As the leading expert on Tibet tours, each year we assist thousands of international tourists in planning their way to Tibet. We help them book flight and train tickets, and organize day tours in connecting cities, etc.
1. Take Non-stop Flights to Tibet from These Cities (with Flight Ticket Prices)
The top 5 best entry cities to Tibet where you can take a non-stop flight to Lhasa are Kathmandu (Nepal), Chengdu, Chongqing, Shangri-La, and Xi'an.
Flying from any of these cities only takes around 2-3 hours to Lhasa. And the flight ticket costs between 270USD-350USD.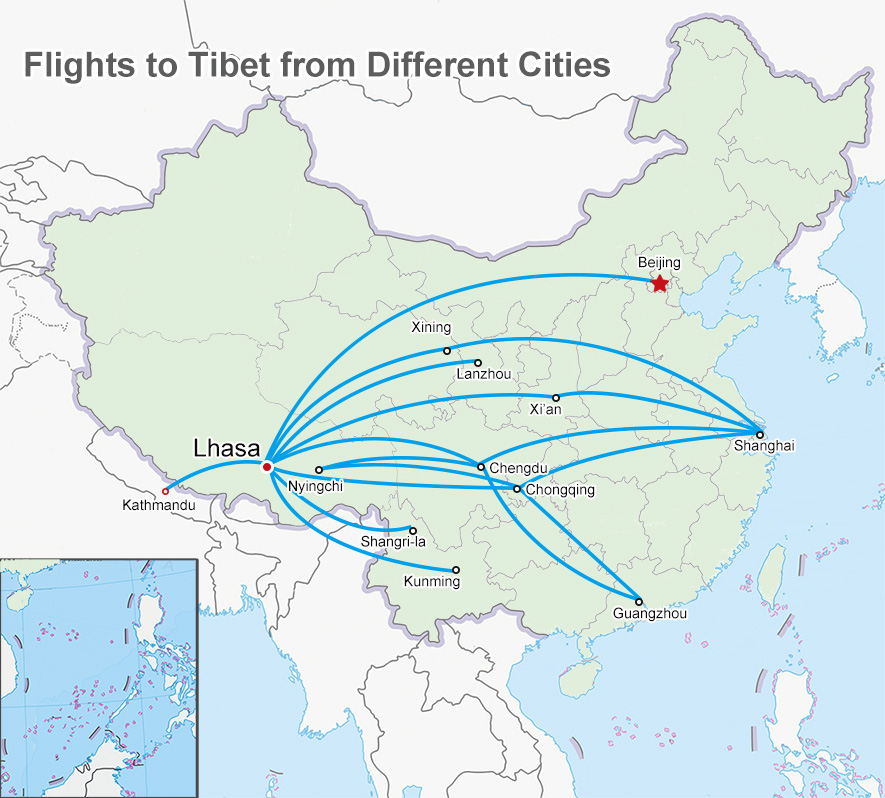 Flights to Lhasa from different cities
These cities are also the stops for flights to Tibet from Beijing, Shanghai, Guangzhou, and some other flights from other far away parts of China.
If you travel to Tibet from overseas, it is also suggested to fly to one of these top 5 cities first, since they have most of the international flights connecting to the world.
2. Fly from Chengdu to Lhasa: the Cheapest and Most Convenient Way to Tibet
Indisputably, flying to Tibet is the most efficient way to reach Tibet, situated on the towering Qinghai-Tibet Plateau. As you check the international flights online, it's advisable to see if there is a flight between your city and Chengdu. If there is, things would be much easier.
After you land in Chengdu and get your Tibet Travel Permit, you can take Chengdu-Lhasa flight to Tibet, cost-effective and time-saving.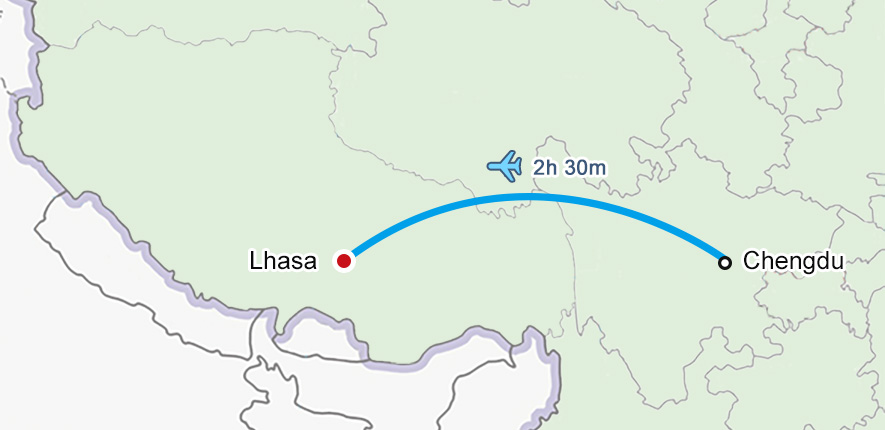 Chengdu-Lhasa flight is the most efficient way to Tibet
There are over 10 planes travelling between Chengdu-Lhasa on a daily basis. You can easily use them to fly to Tibet.
Besides, as the vital gateway city to Tibet, and hometown of adorable giant panda, Chengdu boasts a string of world-class natural heritages and historic relics.
With time permitting, you can visit our Chengdu-based office and chat with your travel consultant before flying to Lhasa. Or you can even spend a couple of days touring the highlighted attractions in Chengdu, like Giant Panda Research and Breeding Center, Wide and Narrow Alley, etc.
Overall, the Chengdu-Lhasa flight is the cheapest flight to Tibet with many discount opportunities.
3. Take a Train to Tibet: The Best Way to Enjoy the Sublime Views of Qinghai-Tibet Plateau
The Qinghai-Tibet Railway, also known as the Tibet train, is the preferred transportation for international tourists to Tibet. Departing from Xining on the Qinghai-Tibet Plateau, it connects to major railway systems heading to cities like Beijing, Shanghai, Chengdu, and Guangzhou. This high-altitude journey offers breathtaking views, including snow-peaked Yuzhu Mountain, Kekexili nature reserve, Tuotuo River's radiant sunset, Tanggula Mountain's majesty, and the vast Changtang prairie with Tibetan yaks.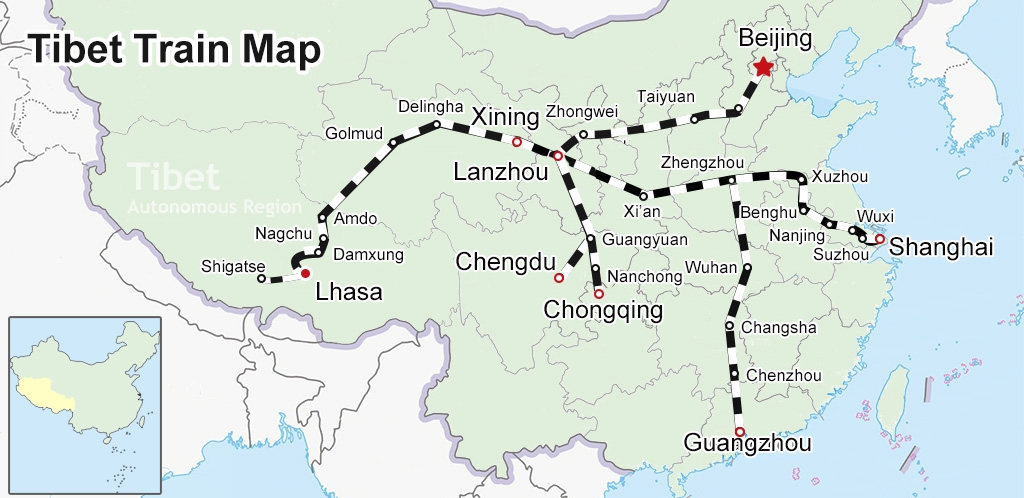 Major train routes to Lhasa
The Xining-Lhasa route takes 21-22 hours, while Tibet train tours from other cities take about 2 days. So if you don't want to stay too long on the train, you can choose to take the shortest train journey to Tibet from Xining.
Over 50% of our clients choose to start their Tibet tour with this train journey. However, securing train tickets can be challenging, especially during the high season (April to Oct.). Tibet Vista is one of the few operators guaranteeing tickets for a hassle-free China and Tibet tour.
4. Get to Tibet from Kathmandu by Air: the Only International Flight to Tibet
There are two direct flights flying from Kathmandu to Lhasa on a daily basis. It only takes about 1:35 hours and costs around 300-400 USD for the one-way flight.
Short as the flight is, the extraordinary aerial journey gives tourists a rare chance to fly over the awestruck Himalayan Range and enjoy the entire view of the Qinghai-Tibet Plateau.
It is recommended you get the window seat on the left side of the plane. You will be treated with the jaw-dropping view of lofty mountain peaks averaging 8000m above the sea level, esp. the towering Mt. Everest, the third pole of our planet.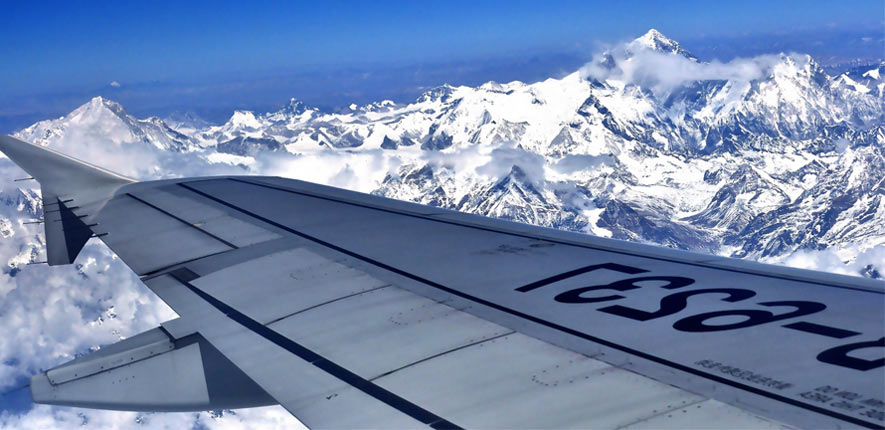 Enjoy the birds-eye view of majestic Himalayas from Kathmandu-Lhasa flight
5. Get to Tibet from Kathmandu by Overland: the Epic overland journey through the Himalayas
Situated to the opposite Himalayas, Tibet (TAR) and Nepal are great neighbors. To enter Tibet from Nepal, you need to pass the Gyirong port.
What makes this journey so special is that by following the winding road along vibrant ravines on the edge of the magnificent Himalayan Range, you gradually ascend from Kathmandu Valley (1400m) to soaring Qinghai-Tibet Plateau (above 4000m).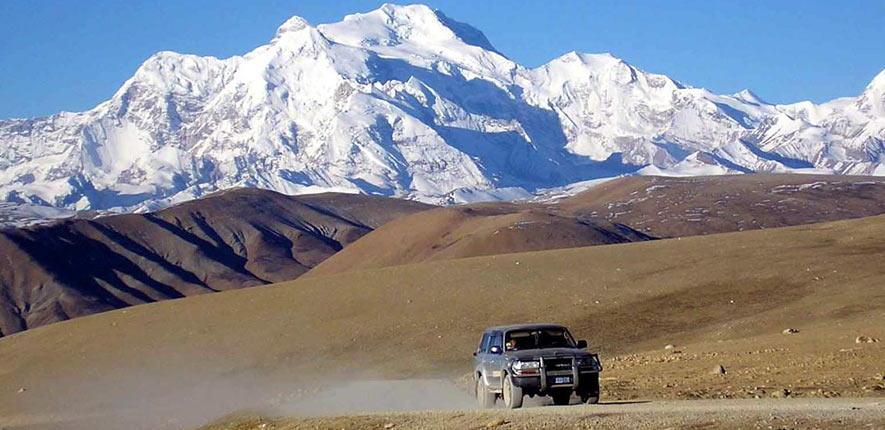 Having the Kathmandu to Lhasa overland trip
With so many steep gorges, primeval forests, and gushing waterfalls filled along the way, there are few overland journeys in the world that reward exploration as exciting as the overland trip from Kathmandu to Lhasa via Sino-Nepal Friendship Highway (800km).
On top of that, the overland trip wisely weaves the highlights of epic Himalayan scenery together with sacred Tibetan lakes. You can experience the distinct beauty and culture in three historical Tibetan cities, such as Shigatse, Gyantse, and Lhasa. 8 days are needed to enjoy this once-in-a-lifetime experience.
Travel Documents for Entering Tibet from Nepal
To enter Tibet from Kathmandu, international tourists need to have Group Tourist Visa and Tibet Travel Permit.
You need to fly to Kathmandu at least 5 working days before your intended departure date and apply for the visa with your original passport during this time.
As a vital gateway city to Tibet, Kathmandu will accommodate a great number of international tourists travelling to Tibet. To facilitate these tourists, we have a Kathmandu-based office, providing a one-stop service for the application of Group Tourist Visa and Tibet Travel Permit.
6. Sichuan-Tibet Highway: The Most Attractive Overland Route to Tibet
If you are a fearless adventurer who prefers an in-depth tour to explore the breathtaking view of Qinghai-Tibet Plateau, then overland from Chengdu to Lhasa via Sichuan-Tibet Highway (2149km, southern route) shall be your top choice.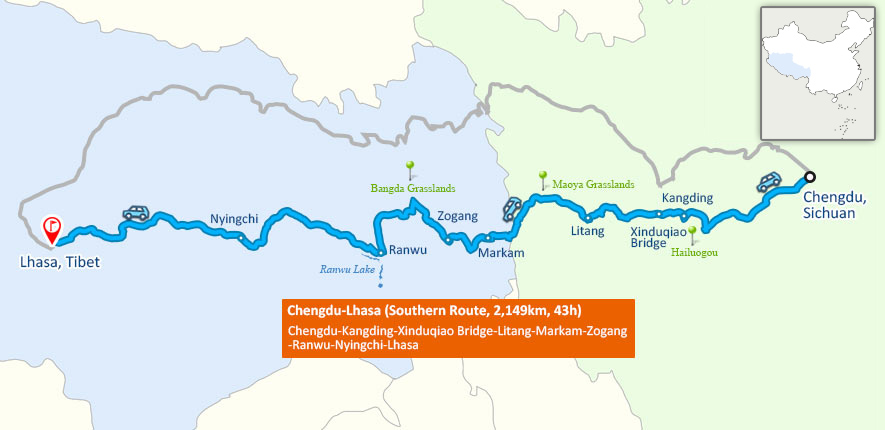 travel from Chengdu to Lhasa via Sichuan-Tibet Highway (southern route)
The notoriously challenging road takes you to venture into mountainous regions of the Hengduan Mountains and Tibetan Plateau.
Flanked by towering rugged mountains and luxuriant pristine forest, you travel beside the raging torrent of the Jinsha River, Lancang River, and Nu River. The grazing Tibetan yaks on the pasture and fluttering colorful Tibetan prayer flags on the snow-capped mountain passes, running young shepherds, exotic village houses, etc. make the Sichuan-Tibet Highway a heaven for photographers.
So far, the entire Sichuan-Tibet Highway has been built with quality asphalt roads. It remains one of the most popular self-drive routes with most favorable reviews worldwide.
Now: Have some ideas to travel to Tibet? Let's work it out together!
Hopefully, having read our recommendation above, you will find an appropriate way to enter Tibet that suits your time, budget, and hobby.
If you need more detailed information, consultancy, or other help, please do not hesitate to consult our travel consultants. They will be willing to help you out.
Whether you choose our service or not, the consultancy is For Free.
One More Thing - Tibet Vista gives an incentive policy to anyone who successfully gets other tourists to join a small tour group. The organizer gets a discount for his or her payment or wins a free tour!
If you have some special interests or preferences, hopefully, you will find the following travel guide useful.
Most Popular Tibet Tour Packages