Volunteer in Tibet: How and Where I can Volunteer in Tibet?
Tibet is a region with more than six million people, with a history that is as rich as it is ancient, a unique culture, and a strong religious fervor. An autonomous region of China, Tibet still stands as China's least developed province, and there are no shortages of volunteering opportunities on the high-altitude plateau.
Exploring Tibet is the dream of many young people as they learn of its people and its history in their western schools. The knowledge that this beautiful land is under-developed and that majority of the people face a daily struggle to survive is often enough to spur someone into offering their services as a volunteer in Tibet. It is also a great opportunity to explore this wonderful and strange land and its unique people while making a major contribution to the welfare of the region.
Insider Tips: According to the Tibet travel policy, currently, volunteering work in Tibet is not fully open to international tourists. The viable way to help local Tibetan community is by offering charitable deeds like helping farm work while visiting a local community or using Tibetan restaurants or promoting Tibet Tourism.
Types of Volunteering Work in Tibet
Majority of the volunteering work in Tibet centers around teaching and education. Tibet is a mainly agricultural region, and in the outlying areas of Tibet, there are few schools and fewer qualified teachers. Working in schools as a teacher of English is a common cause for volunteers, and there are even positions for teachers of other subjects, sometimes with translators from the volunteer organization within Tibet. Literacy rates in the remote areas of Tibet outside the major cities is low, and there is no requirement to be a professional teacher to teach English as a foreign language. As long as English is your first language, then you can be a teacher in Tibet. However, if you have some training in the informal TEFL and TESL qualification, it is even better.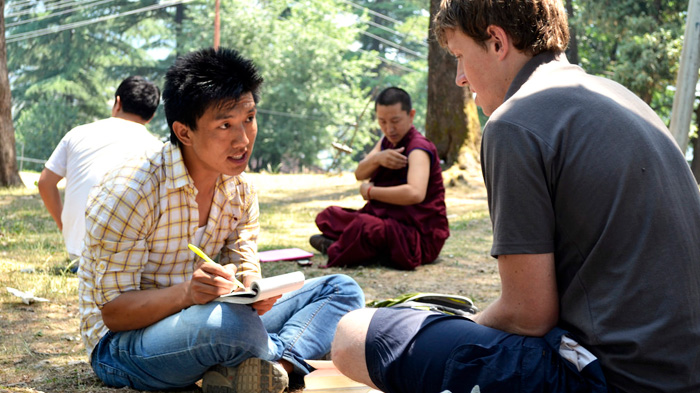 Most volunteers work in Tibet schools as a teacher of Enghlish
Working in orphanages and assisting with the various community projects for the local communities that are supported by the various charities are other options for visiting Tibet as a volunteer, if teaching is not something you feel you can manage. Orphanages are poorly staffed in Tibet, and even more poorly funded, so giving something to the children of the plateau is a fulfilling ideal. Many of the communities outside the major cities are also poor and unable to build new buildings that will help in their daily lives.
The advantage of volunteering in Tibet is that many of the organizations that arrange the volunteer placements also organize activities for the volunteers in their spare time. The variety of outdoor activities often include trekking and kayaking adventures in remote areas of the region. This gives you a great opportunity to explore more of the Tibetan plateau and the people, discovering the beauty of this land on the roof of the world whilst leaving a positive impact on the people that you encounter and help in local communities.
When to Go to Tibet as a Volunteer
Most placements for volunteers in Tibet are offered in the spring, summer, and autumn months, since the winter in the outlying regions can be harsh and cold. Most programs of volunteering last for up to three months, but can be as short as two weeks, depending on your commitment, available time, and how much you can afford. It is normally up to the volunteer to decide how long they want to stay, but placements are rarely for more than three months at a time for temporary volunteers.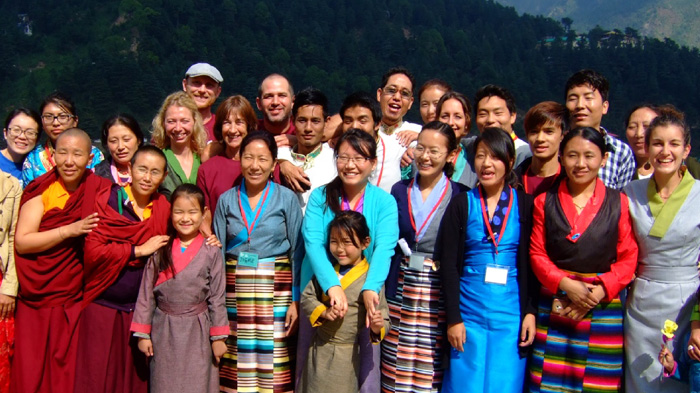 Spend summer vacation in Tibet as a volunteer assisting with the various community projects
Tips on Volunteering in Tibet
Tibet is a very rural region of China, and in the outlying areas, there are few one-star hotels, so do not expect your accommodations to be anything more than basic. You will mostly be living among the locals of the village in which you are placed, but will always be treated as a respected guest by the villagers, who will look to your hospitality with concern and enthusiasm. Tibetans are a friendly and reliable people that take great care in treating their guests like kings.
You may experience a little culture shock in the first few days in Tibetan villages, as they are nothing like the villages you will find at home. Many of the smaller places have no running water and still use wells dug into the ground or water fed from the nearest river or lake. The people are also devout Buddhists, so you may find the customs a little strange at first, but you should get used to them in time, and maybe even join in. The exuberant festivals of the plateau and the stunning monasteries and landscapes make volunteering in Tibet an awesome experience.
Costs, Accommodations, and Visas
While the accommodations are normally pretty basic, your volunteer organization will ensure that you are not living in a barn with straw for a bed. Most of the placements in Tibet are in the rural areas, and you will live with the locals as part of the volunteering experience. After a few days, you will soon come to realize that the luxuries you are used to are not really necessities.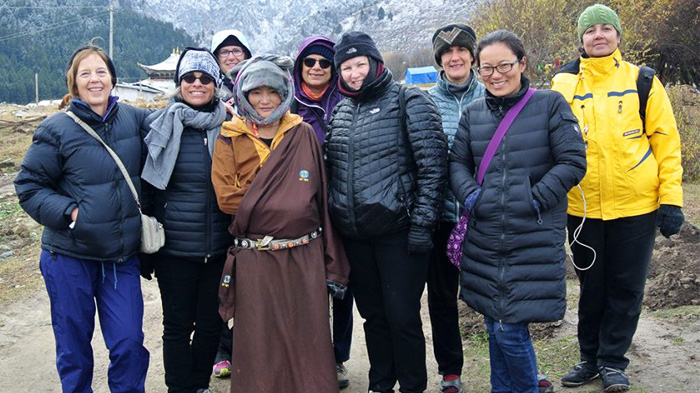 It's common to living in a Tibetan village under the most volunteering programs.
While the idea of volunteering is one that many people have, there is a cost involved, and most volunteering programs can be rather expensive. However, they are well worth your investment, as you will get to experience Tibet more as a local than as a tourist, with a guide and car and driver to take you everywhere you go. Travel in the region will be limited, and you will still not be able to board a local bus and travel by yourself. But out in the rural areas of Tibet, the stunning beauty of the landscape and the plateau lies just outside your door, and you need do little more than take a few steps to get some of the best views in the world, at no extra cost.
Most of the costs are covered in the program expenses, such as accommodation, meals, excursions outside the village where your placement is, etc., so you will find that you have very few other expenses. However, the prices are higher around the tourist attractions, so you should be careful of what you are spending outside your placement village.
In order to volunteer in Tibet, you will need to have your own Chinese Entry Visa, as this is not provided by the program provider. Chinese Entry Visas can be obtained from the Embassy of the People's Republic of China in your home country, and you should make sure that your application is for a volunteer visa, not a tourist visa. The volunteer visa type comes under the Visit Visa, or Type D Visa, which is issued for those traveling to China for exchanges, visits, study tours, and other activities.
You will also need the Tibet Travel Permit to get to Tibet and other permits that will be needed to travel and stay outside Lhasa. These are normally arranged by the program provider on your behalf, often through tour operators that work with the volunteer organizations to facilitate the arrangement of the permits. For more information on obtaining the permits for Tibet, you will need to speak to the program provider themselves. However, without the Tibet Travel Permit, you will not be able to enter Tibet, so it is advisable to ensure that it is arranged properly.