How about a Tour to Tibet in October
October is the last month among the best months to visit Tibet in a year as the weather continues to cool down. Then how about a tour to Tibet in October? The answer is that a Tibet tour in October is very comfortable. Tibet in October is not hot as in summer, and also not cold as in winter. October in Tibet is a colorfuland harvest season, and also a great travel time to Tibet. So why not go to this holy place to breathe fresh air, release the pressure in city and relax yourself?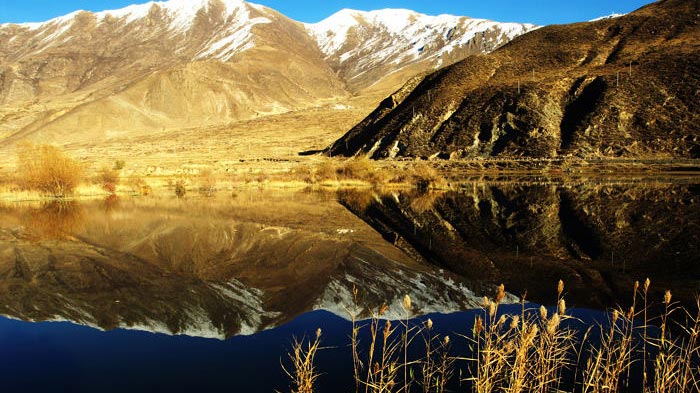 Breathtaking veiw of Lhasa River in October.
Tibet Weather in October
The average temperature of Tibet in October is 8.8 °C, with minimum temperature around -1°C and maximum temperature around 23 °C. In addition, Tibet in October has come out from the rainy season. Days are sunny in Tibet during October, with clear blue-sky, pale clouds, fresh air and comfortable temperature. The oxygen content in the air is the highest; the climate is very pleasant. It is said to be the time when the high altitude sickness less happen.However, there is dramatic temperature difference between day and night. The average temperature in Lhasa is 15°C in the daytime while the temperature drops to around minus 5°C in the night. Wearing the lightweight down jacket is preferable, and do keep warm at night and in the early morning.
Scenic Spots of Tibet Tour in October
Mt. Everest
Early October is regarded as one of the best time to visit Mt. Everest. Due to the clear weather, you have great chance to see Mt. Everest's true face. From December to next February, it is a very cold at the Everest area.Mt. Everest, as the world famous peak, attracts millions of travelers each year.It is important to select a great time to make an Everest Base Camp tour, otherwise you might not be able to see the world's highest peak at its best state.The less foggy weather in Mt. Everest Nature Reserve in winter makes it a perfect season for photographing.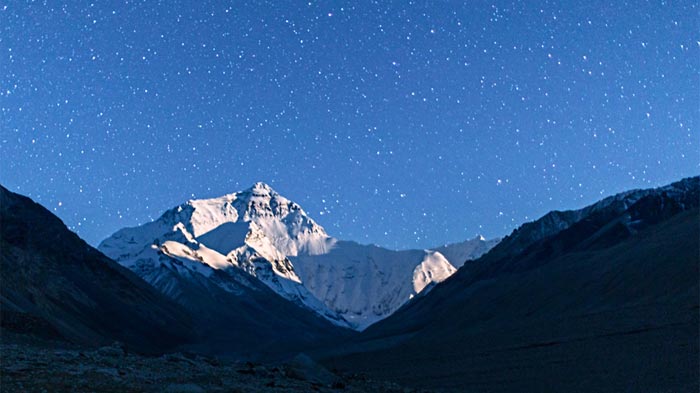 Stunning Starry Sky of Mt. Everest in October.
Holy Lake Yamdrok
Yamdrok Lake is one of the most three famous holy lakes in Tibet, along with Lake Namtso and Lake Manasarovar. In October, especially in late October, the Namtso Lake and Manasarovar may not be accessible if the roads are blocked by heavy snow. But the Yamdrok Lake is different. It is reachable all year around. The Yamdrok Lake also comes to its most beautiful time in October.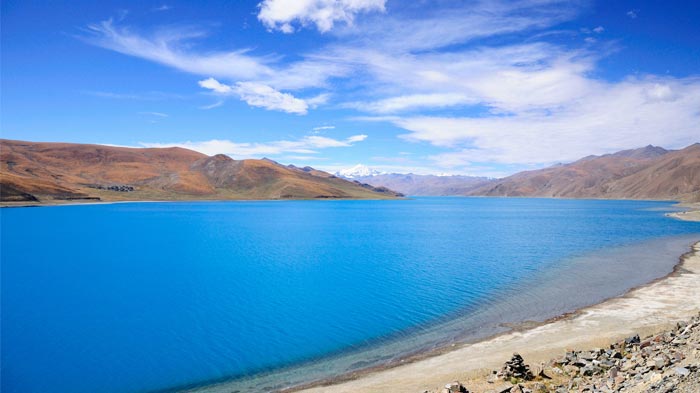 Beautiful Landscape of Yamdrok Lake in October.
Lhasa City and Surrounding Scenic Spots
October is also the best time to travel Lhasa and surrounding scenic spots, such as Dedrom hot spring, Drak Yerpa Monastery, Drigung Til Monastery and so on.It's a good time to visit these places and have interesting tourist activities.
Extra Winter Tour Tips
Though most of the attractions inside and around Lhasa remain available in winter, due to the heavy snowfall and subsequent freezing temperature and road closure in places like Namtso Lake and Mt. Kailash which are not appropriate for travel. There are a few things you need to pay attention.
a. Lake Namtso, Mt.Kailash and River Brahmaputra are not suitable for winter travel
The lake Namtso and Mt. Kailash are affected by bitter cold and icy road condition. Besides, as the flow of River Brahmaputra shrinks in winter, its grand scenery is much compromised compared with its scenery in summer.
b. Lodging in EBC is forbidden in winter
As the tents in Everest Base Camp are removed in winter travel seasons, tourists may not be able to stay overnight in EBC as they do in summer.
c. Concerns for altitude sickness
It's advisable to buy some medicine to ease the so-called altitude symptoms like dizziness, shortness of breath, restlessness, headache by having some medicines at local pharmacies.
d. Skin care and high caloric snacks to make up for the energy loss
The climate of winter in Tibet is extremely dry with strong ultraviolet radiation. Wearing sunglasses and applying sun cream, lip balm can effectively avoid the undesirable troubles. Besides,it would be useful to bring useful medicines for cold relief, diarrhea, and some antibiotics.