Why Should You Combine 2021 Tokyo Olympics with A Trip to Tibet?
As Tokyo 2020 Olympics have been postponed to 2021, waves of sports fans are expected to visit Japan for this exciting summer games. If you happen to be an outdoors enthusiast who would like to combine the summer Olympics with a thrilling side trip to another destination for outdoor adventure, highland sightseeing, or exploration of Buddhist culture, Tibet is a great option to be considered. Here is why and how to plan the combined journey.
What to Expect for Tibet during the Tokyo Summer Olympics?
Tibet is a land of high altitude landscapes, vast mountain ranges that stretch as far as the eye can see, high alpine lakes filled with pristine clear blue waters, and one of the most unique Buddhist cultures on the planet. After a trip to the summer Olympics in Tokyo, a tour of the high Tibetan plateau is an awesome option to continue your travels to the best spots in Asia this summer.
Amazing Highland Landscape for Sightseeing and Outdoor Adventures
Sitting on the highest plateau on the planet and ringed by the world's every and longest mountain range, the landscapes of Tibet are wholly unique. Stretching from Pakistan in the west to Sichuan in the east, the Himalayas stretches around the western and southern edges of Tibet, isolating the region from its mountain-rim neighbors. The vast open plateau of Tibet is interspersed with mountains and grassy plains, the smaller Transhimalaya ranges dotted across the region, with the huge open prairies of the Tibetan nomads set in between.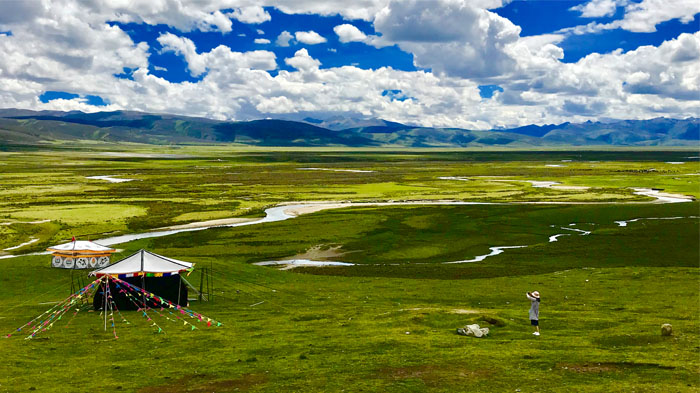 Prairies are green and verdant in summer Tibet
In summer, these grasslands are green and verdant, covered with yaks and nomadic campsites, their yak-hair tents dotted across the plains as they spend the summer month tending their herds on the region's finest grasslands.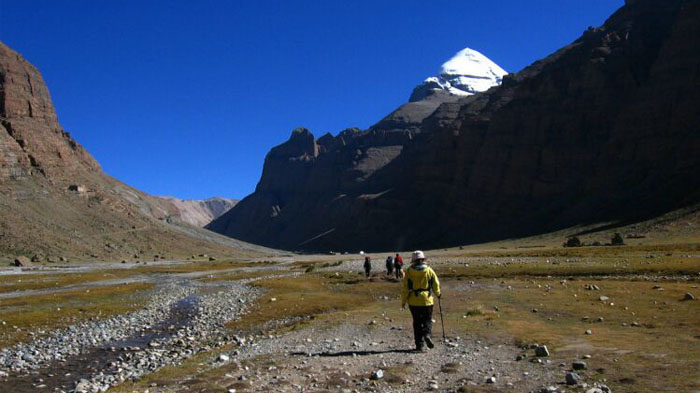 Tibet Kailash Kora is one of the most classic trekking routes in Tibet.
Tibet is also a unique place for trekking and hiking, with many trekking trails spreading out from the capital and to be found as far away as the far northwest of Tibet. From the short nunnery treks around Lhasa to the longer Gama Valley Treks and the arduous and tough Kailash Kora trek, the hardest in Tibet, there are hikes to suit every level of experience and fitness.
For those with a real sense of adventure, you can take a trip across the plateau region by motorcycle or bicycle, experiencing the freedom of travel these modes of transport allow you. The ability to stop when and where you want, as long as you reach your daily destination, and the chance to take some of the greatest snapshots of the perfect Tibetan landscapes at their lushest and best. Travel from the Tibetan capital of Lhasa all the way to the famous Everest Base Camp (EBC), or all the way down to Kathmandu in Nepal, just across the western border. - Check the classic tours to EBC in Tibet.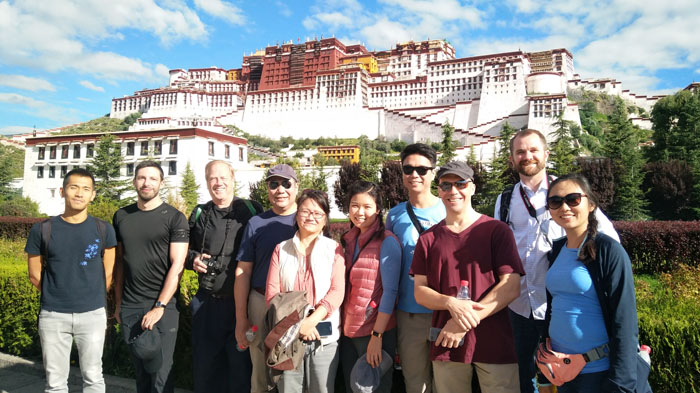 Explore the iconic building Potala Palace of Lhasa in summer
Explore the Mystery of Tibetan Buddhism and Religious Festivities in Summer
If the countryside is not your thing, try a city tour, and explore the beauty of the Tibetan City of Sunshine, Lhasa. The Tibetan capital is one of the most stunning cities on the planet. Filled with temples, and palaces and monasteries, this ancient imperial Tibetan capital is an amazing experience that can give you a unique vacation in the highest capital city in the world. Sightseeing in Lhasa gives you access to the iconic Potala Palace and the Sacred Jokhang Temple. As well as many other famous sights.
Tibetan Buddhism is the main religion in Tibet, and has been the largest religion since its second-coming in the 8th century. A major influence on the traditional Tibetan culture, it is hard to tell where religion ends and culture begins, they are so intertwined. Buddhism exists in the daily lives of all Tibetan Buddhists. A tour of the plateau in the summer is one of the best ways to understand the religious lives of the Tibetan people, and the secular lives of the Tibetan Buddhist monks. You can spend time exploring the mysticism of Tibetan Buddhism, as well as trying your hand at meditation in some of the most beautiful locations on the planet.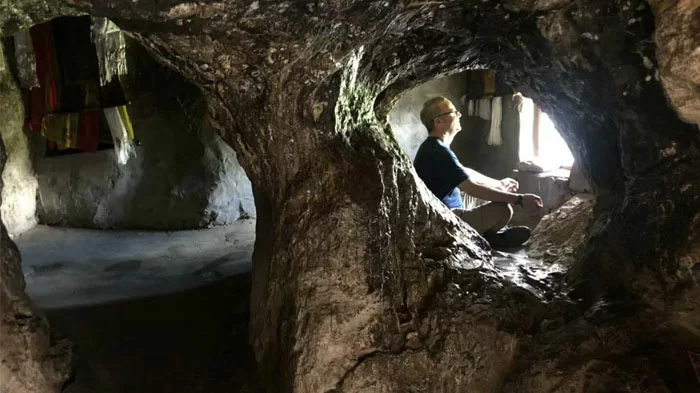 You can make meditation at Drak Yerpa.
This unique religion is one of the main reasons many people travel to Tibet, and the unique Tibetan festivals are a great way to learn more about both religion and culture together. From the amazing Saga Dawa (fourth month) festival below the slopes of Mount Kailash to the delicious Shoton (yogurt) festival in the grounds of Drepung Monastery and Norbulingka Palace. And the awesome horse racing events of the Nagqu Horse Racing Festival. Summer is the best time for festivals in Tibet, and the weather is perfect for these spectacular and colorful events. - Discover the festival tours in Tibet in summer.
Favorable Weather for Traveling in Tibet in Summer
Summer is the monsoon season in Tibet. However, do not let that fact put you off, as there is actually very little in the way of rain across the plateau in the summer. And the further west you go, the less there is. Most of the monsoon rains that do fall tend to come in the late evenings and overnight, with the odd afternoon shower. This leaves the days clear and bright for touring and sightseeing across the plateau while more moisture makes you feel more comfortable physically for travel on arid Tibetan Plateau.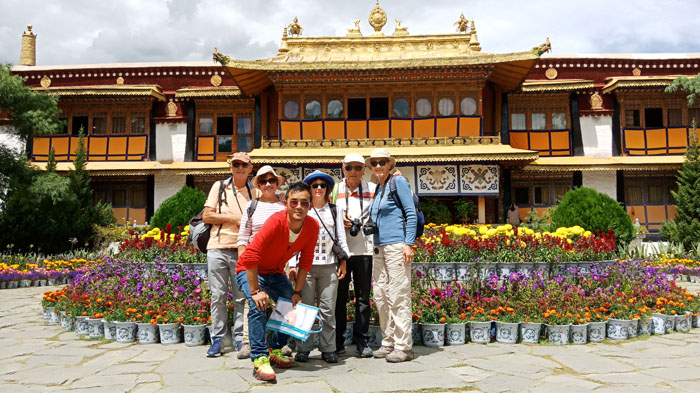 Visit Norbulingka Monastery in summer
The temperatures are warm to hot, and with the thinner atmosphere, the bright sunlight beats down making you feel hotter than it actually is. So much so that you should bring along a hat and some sunblock. This beautiful summer weather is a great reason to come to Tibet in the summer of 2021.
Enjoy the Easy Transport Connecting Tokyo with Lhasa
Getting to Lhasa from Tokyo is actually relatively easy, and the location of China to Japan is close enough to make it easily feasible for an additional trip after the 2021 Olympics.
One of the easiest ways to get to Lhasa from Tokyo is by arriving at Chengdu first, and then either take Tibet train or flight to Lhasa directly.
Fly from Tokyo to Chengdu and Switch to Tibet Train to Lhasa
Flights from Tokyo to Chengdu run daily from the Tokyo Narita International Airport, arriving in the Chengdu Shuangliu International Airport after a flight of just 5 hours 20 minutes. There are three daily direct flights to Chengdu from Tokyo, departing at 8:50am, 5:25pm, and 8:20pm, from Sichuan Airlines, Air China, and ANA Air Japan. Prices for the flights range from around US$ 355 per person for an economy one-way flight, and if you want to reduce that a little, you can get cheaper connecting flights for around 300 dollars flying via Shanghai or Macau.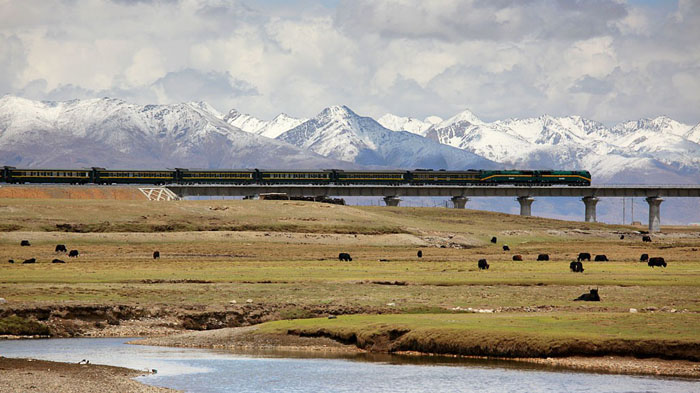 Travelers can enjoy the amazing scenery along Qinghai Tibet Railway.
Once you arrive in Chengdu, you can take the fascinating Tibet Train to Lhasa, traveling in a comfortable soft sleeper along the Qinghai Tibet Railway all the way to the Tibetan capital. The trains from Chengdu cost from around 100 US dollars per person for a second class ticket, and take around 41 hours 11 minutes to reach the Tibetan capital. And the views from the huge windows of the trains of the vast open grasslands, with their summer lushness and splendid blooms, is one of the wondrous delights this unique train journey has to offer.
Fly from Tokyo to Chengdu and Keep Flying to Lhasa
If you want to get to Lhasa a little faster than 41 hours, you can always take a direct flight from Chengdu to the region's Lhasa Gonggar International Airport. Flights depart from Chengdu 14 times a day and arrive in Lhasa after a flight of just 2 hours 15 minutes. These direct flights only run in the daytime, as it is not possible to land in Tibet at night. And at a cost of just US$ 155 per person for a one-way economy flight, it is worth it for the speed of arrival.
For both routes, train and flight, you will need to spend a couple of days acclimatizing in the capital before heading off onto the main plateau. Altitude sickness caused by the increase in altitude and decrease in air pressure affects almost everyone when they arrive, and the train does not help you to acclimatize gradually, despite the myths you will find on the internet. So be prepared to spend some time adjusting to the altitude before you go out trekking. - Find out how to avoid altitude sickness in Tibet for the firstcomer.
Other Tokyo to Tibet Travel Tips to Remember
You Need to Book Your Tour via a Local Tibet Travel Agency
All international travelers to Tibet are required to book their trips with a registered travel agency before traveling. The unique travel policies of Tibet do not allow for independent travel for international tourists, and a pre-arranged tour must be booked to allow tourists to travel in the plateau region.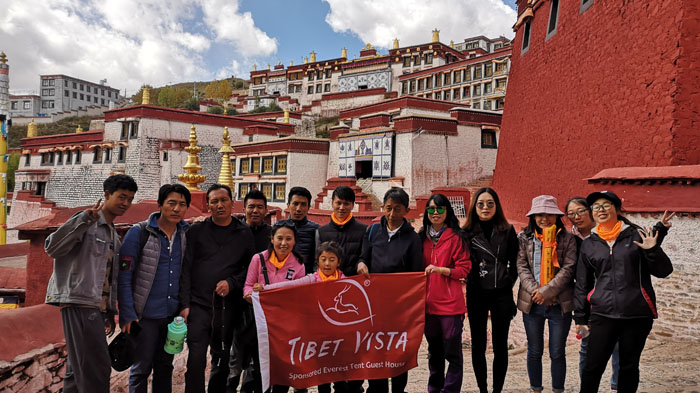 Tibet Vista, a professional local Tibet travel agency, can help you have a memorable Tibet journey.
With several decades of experience in taking tours to Tibet, we can offer some great tours to meet all your needs, from customized private tours with personal guide to diverse Tibet small group tours that you can join for budget travelers or those who love traveling with like-minded global travelers. And with our head office in Lhasa, as well as branch offices in both Kathmandu in Nepal and Chengdu in Sichuan Province, we can provide you with one-stop services not just for your Tibet tour, but also for travel to both mainland China and Nepal as well.
Do Set aside Enough Time to Get Tibet Travel Permit
The Tibet Travel Permit, which is issued to all international tourists from the Tibet Tourism Bureau in Lhasa, is the required permit for all travelers wishing to visit Tibet. The permit is only available for application through a registered local Tibet travel agency, like us, and cannot be obtained without first booking a pre-arranged tour.
Tibet Travel Permit, a necessary document for your Tibet tour.
The permit can, however, take some time to process. Normally, it can take anywhere from 8-9 business days to process in Lhasa, depending on the time of year, and then requires time to be forwarded to your hotel in China or Kathmandu. This means that you need to book your tour well in advance (20 days) of your expected departure date, to ensure that your permit is ready by the time you travel.
Besides, once you have booked your tour, you need to get Chinese Visa yourself, and later its scanned copy will be used for making the Tibet Permit application on your behalf.
Suggested Packing List in Summer
Summer temperatures in Tibet are a lot warmer than many people realize. While this may be the monsoon season in Tibet, it is also the warmest time of year, and temperatures can sometimes reach as high as 24-25 degrees in some areas of the plateau. There is still a high drop in temperature at night or when you travel at high mountain passes and or places with extreme altitude like EBC or Mt.Kailash, etc.
This means that you still need to take warm clothes like a down jacket even in summer. And preferably, wear in multiple layers, along with T-shirts and long-sleeved tops, etc. So, you can change your clothes according to the dramatic temperature between day and night.
However, shorts are not recommended due to the need to be covered against the harsh UV rays of the sun. And long pants are always better for visiting monasteries and temples.
For women, it should be known that skimpy and revealing tops and short skirts or short shorts are not recommended, due to this being a reserved society. Also, women with arms, legs, and shoulders showing will not be permitted to enter the temples and monasteries.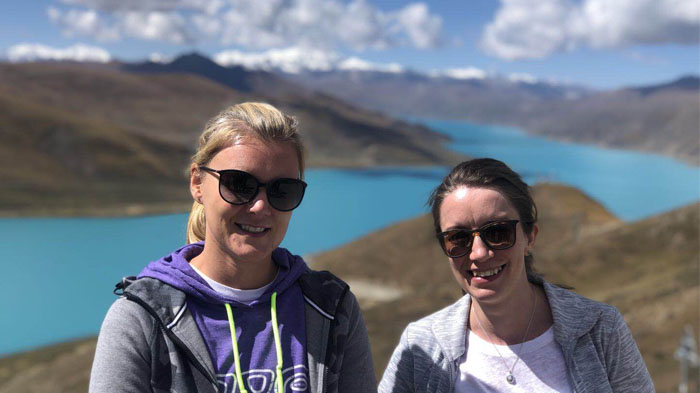 You should pay attention to sun protection when traveling to Tibet in summer.
You should bring with you plenty of sunblocks, as the harsh UV rays can easily burn your skin, and a good wide-brimmed hat to protect your head. Moisturizers are also useful, as is lip balm, as the winds can still be a little chilly. And a raincoat is a useful addition to your packing, as it can sometimes rain at short notice during the day, though most rains fall in the late afternoon and evening in the monsoon season.
For anyone that has any pre-existing medical conditions, you are advised to consult your own doctor before traveling. You should also make sure that you have enough medications for your entire trip, and then some. Many medications that are easily available in the west are impossible to find in Tibet without a local prescription, so you may not be able to obtain medications if you run out.
You may also want to bring some mild analgesics for headaches and other symptoms of altitude sickness, to help make it easier to acclimatize. And before taking some of the anti-altitude drugs that are available in Asia, you should discuss the option with your doctor, as there may be unfortunate side effects. The best way to get over altitude sickness is still to ascend gradually and acclimatize properly along the way.
Conclusion
After the amazing features of the Tokyo Summer Olympics this year, there is nowhere better to go than taking a trip to the highest plateau on the planet. Not only can you extend the wondrous experience of the Olympics with an outstanding tour across the stunning Tibetan landscapes, but you can also enjoy the different religions of Buddhism, which is also one of the main religions in Japan.
And with more monasteries devoted to Buddhism than anywhere else, you are sure to find what you are looking for in Tibet. The ultimate serene destination, this amazing high-altitude plateau is the perfect end to your Asian adventure. And if you have any other questions about touring to Tokyo and Tibet this summer, feel free to get in touch with our professional travel consultants, who will be more than happy to advise you and give you a free travel consultation.