Manasarovar or Namtso Lake, Which One Should You Visit?
Revered as the two of the Great Three Sacred Lakes of Tibet, Lake Manasarovar and Lake Namtso lie at opposite ends of the Tibetan plateau and are both well worth visiting for different lake views and religious ambiance. However, if you only have limited time and budget to cover only one lake, it can be a tough choice. Yet, no worries! Our Tibetan travel gurus stand ready to help you out. Just follow our experts' advice below and make the right choice for your upcoming Tibet tour.
Get a Glimpse of These Two Lakes
| | Lake Manasarovar | Lake Namtso |
| --- | --- | --- |
| Altitude | 4,590m | 4,718m |
| Location | Burang County, Ngari Prefecture | Damxung County, Lhasa Prefecture |
| Days for visit | 10-15 days | 6 days |
| Religious Significance | Hinduism, Tibetan Buddhism, Bon, Jainism | Tibetan Buddhism, Bon |
| Accommodation | Camping, local & monastery guesthouses | Local guesthouse at Damxung |
| Tour Highlights | Temples, kora hike, local culture | Tibetan Nomads, Tashi Dor Island, kora hike |
| Best Travel Season | May to October | June to September |
While both of these sacred lakes are worth visiting, there are some differences between the two experiences. Altitudes do not differ as much as you might think, but the cultural and religious aspects of the two lakes are very different. While Lake Namtso is a predominantly Buddhist site, with some affiliations to the ancient Bon religion, Lake Manasarovar is held sacred in four religions, the main ones being Buddhism and Hinduism.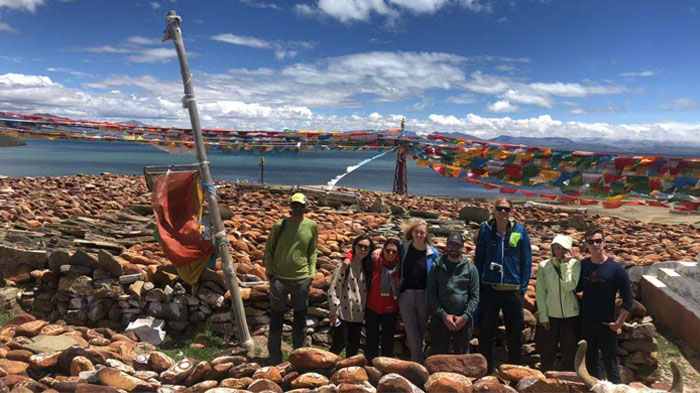 Lake Manasarovar is one of the holiest Buddhist sites in Tibet.
Both lakes are set with Buddhist monasteries, though there are five at Lake Manasarovar, with only one at Lake Namtso. And the options for accommodation differ as well, for safety concerns, you can't camp beside Lake Namtso and no guesthouse is available nearby, Instead, you may stay at Damxung Town (60km southwest to Namtso) for the better lodging with lower altitude after you visit Lake Namtso. While at Lake Manasarovar, you can camp right beside the lake or find local guesthouse nearby.
You also have the opportunity to visit some of the local Tibetan nomads on the way to Lake Namtso, who graze their herds along the shores of the lake on the famed Changtang Grasslands. Lake Namtso also has a shorter visiting season than Manasarovar, as it lies to the north of Lhasa, in a higher and remote area of Tibet that can get colder earlier in the year.
To the First-timers to Tibet with Tight Schedule, Go for Namtso Lake
Best Highlights for Namtso Lake Tour
If it is your first time to visit Tibet, then Lake Namtso in Damxung County is one of the best options for taking a tour of one of the two lakes. Closer to Lhasa than Lake Manasarovar, it can be visited on a shorter tour as you can travel there and back, and experience the lake, in just two days. This means that the lake can be done properly as part of a six-day tour of Tibet, including Lhasa. Check the classic 6-day Lhasa to Namtso tour.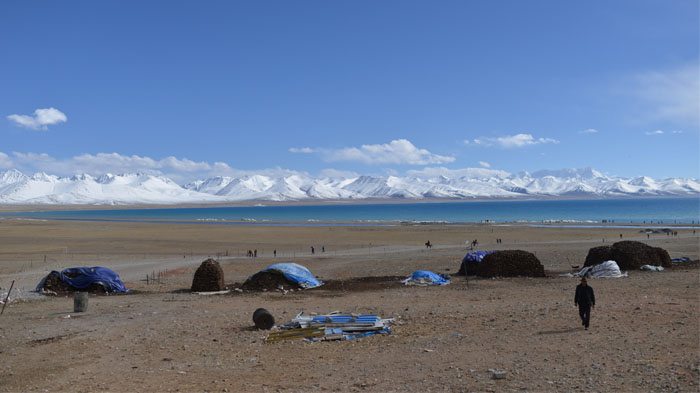 Lake Namtso Lying on the northwestern edge of the Nyenchen Tanglha Mountains
The 2-day trip to Lake Namtso is one of the amazing experiences with outstanding scenery. Lying on the northwestern edge of the Nyenchen Tanglha Mountains, bordering the famous Changtang Grasslands, the scenery of this lakeshore is absolutely stunning throughout the year. An ideal place for photographers, the beauty of the "Heavenly Lake" as it is known is legendary. You also have the opportunity to visit the Tashi Dor Island, home of the Tashi Dor Monastery, one of the more remote temples in Lhasa Prefecture.
Side Trips You Should Never Miss
The drive to Lake Namtso is not the only attraction in this region of Tibet. As well as being able to stop and view the yak tents and herds of the Tibetan nomads that live around the shores. At your request, we may arrange the visit to local Tibetan nomads' tent and be their guests. The hospitable nomads will greet you with tasty home-made yak meat, lambs and, butter tea, and heaps of warm smiles.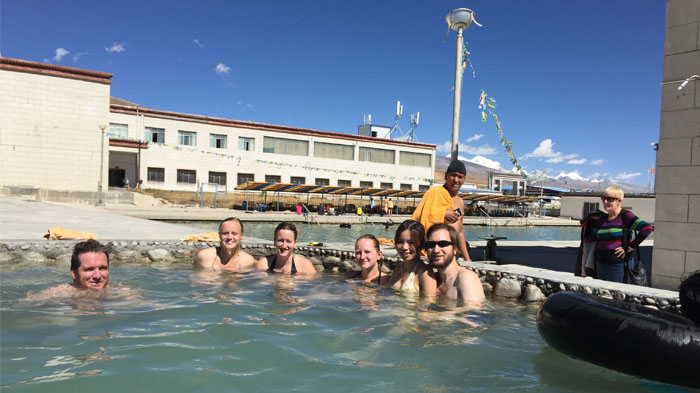 You are able to enjoy the hot springs at famous Yangpachen.
You also have several options for stops on the route from Lhasa to Damxung. On the return journey from Lake Namtso, you can stop to visit and relax in the calming hot springs at Yangpachen, and stop at the Chimelong Nunnery, a small and peaceful nunnery to see how the nuns study Tibetan Buddhism.
How to Book the Namtso Tour from Lhasa
If you are interested in visiting Lake Namtso as part of a tour of Lhasa, then we have the perfect tour for you. A classic 6-day tour of Namtso from Lhasa that includes two days for the overnight stay at Lake Namtso is the perfect opportunity to enjoy the delights of the Tibetan capital along with the beauty of the Lake Namtso scenery. The best option for most solo travelers is to join in on one of our amazing Group Tours, where you will be traveling with other like-minded tourists. If you prefer a little privacy, we can offer a customized private tour, which you can choose when and where to go in Tibet.
For Indians and Enjoying Western Tibetan Landscape, Manasarovar Lake Shall Be Your First Priority
Best Highlights for Manasarovar Lake Tour
For devout Indian pilgrims that are looking to visit Lake Manasarovar as part of their annual pilgrimage, a trip to this beautiful and sacred lake is the trip of a lifetime. Believed to have been created in the mind of Lord Shiva and manifested on earth, the lake has long been a site of pilgrimage from India for Hindu devotees.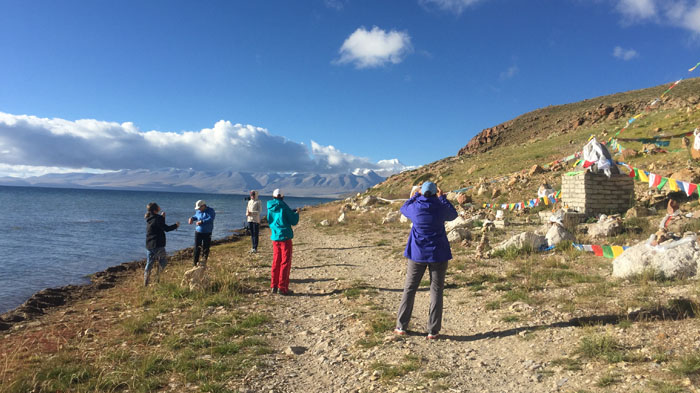 Manasarovar Lake attracts tourists from all over the world to Tibet every year.
Surrounded by the mountains of the Gangdise Range of Transhimalaya, Lake Manasarovar is set in one of the most unusual scenic locations in Tibet. All around the lake, prayer flags flutter in the breeze, and travelers can visit the famous Chiu Monastery on the northwest corner of the lake. A little further into Burang County, you can stop to view the awesome "peacock" costumes of the local inhabitants and learn their traditions. Or you can go and take a dip in the lake to wash away all your lifetime's sins.
Even if you are not for a pilgrimage, the breathtaking view of serene Lake Manasarovar with lofty snow-tipped Mt.Kailash as its background offers you stunning photo opportunities to capture the landscape of western Tibet in all its glory.
Side Trips That Are Worth a Visit
As part of a larger tour of Tibet, you can also stop to visit Lake Manasarovar's darker twin, Lake Rakshastal. Lying a short distance to the west of Manasarovar, and joined by a narrow channel that only flows one way, this crescent lake is the yang to Manasarovar's Yin. In Buddhism, Lake Rakshastal has no place at all, as if it did not exist, even in infamy. However, in Hinduism, the lake is believed to have been created by Ravana in his quest for powers as an offering to Lord Shiva, who resides on the nearby Mount Kailash.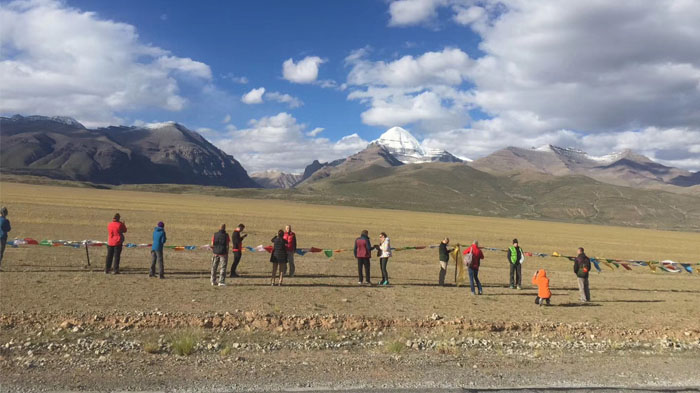 Far view the sacred Mount Kailash in Ngari, Tibet
To the north, lies Mount Kailash, the sacred mountain in Hinduism, Buddhism, Bonism, and Jainism. Held to be sacred in these four religions, the mountain is the destination of both Buddhist and Hindu pilgrims, and the kora route around the sacred mountain is the toughest trek in Tibet. For anyone stopping at Lake Manasarovar, a trip to Mount Kailash should be in the running. If you decide to do so, you need budget extra 3-4 days for the Mt. Kailash kora.
How to Book the Tour to Manasarovar Lake
If you are planning a trip to visit Lake Manasarovar, we have the ideal tour for you. Our 15-day tour of Mt. Kailash and Manasarovar via EBC gives you the unique chance to visit much of the plateau and many of the amazing sights that this delightful land has to offer. The tour takes 15 days from start to finish and gives you chances to visit some of Tibet's most famous and popular sites, including the Potala Palace and Jokhang Temple in Lhasa, Gyantse, and Shigatse, and Mount Everest, much more.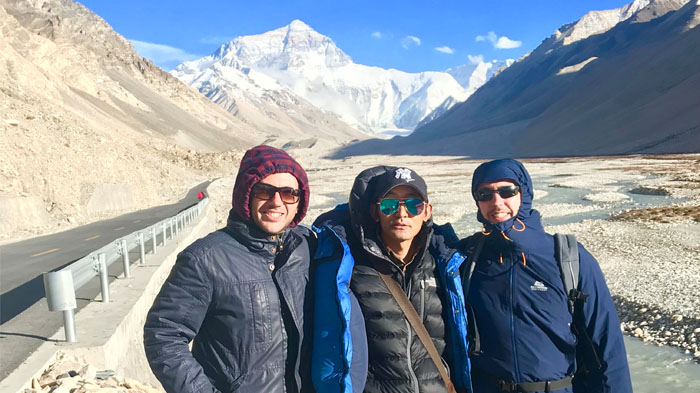 Enjoy our 15-day tour of Mt. Kailash and Manasarovar via the renowned Everest Base Camp
Starting in Lhasa, the Tibetan capital, you will travel overland, stopping first at the famous Everest Base Camp (EBC) to camp overnight and get some amazing photos of the world's highest mountain. And then traveling on to visit Lake Manasarovar, you will continue after to Darchen, the small village at the southern foot of the sacred mountain. Then you will begin tackling the three-day trek around Mount Kailash. Best done as part of a group tour, with other individuals joining in, you can also book this as a private tour, if you prefer to travel solo.
Conclusion
Two very different lakes in many aspects, these are two of the most amazing places to visit in Tibet, and well worth taking the time to tour properly. For Lake Namtso, it is the easier of the two to get to, and ideal for first-timers to Tibet or those with little time spare. Lake Manasarovar is further from Lhasa, and does require more time to visit, but the lake itself, and its surrounding attractions make the longer journey worthwhile. And if you really cannot decide on which you want to visit, so long as the time permits, why not include Lake Namtso in your Lake Manasarovar and Mount Kailash tour, with our amazing 19-day tour from Lhasa to EBC and Kailash, and then on to Lake Namtso, taking a different route across northern Tibet.