Tibet Travel Tips for Vegetarian Tourists to Tibet
Basically, Tibetans eat more meat and fewer vegetables. Yak, mutton, and goat meat are the main sources of protein and energy for them. Vegetables are not the regular guests at their tables.
So is Tibet a right place for vegans? Is there any vegetarian choice in Tibet? The following travel tips for Tibet vegetarians should help you to survive in Tibet. Let's check them out!
1. Tibet was considered not a good destination for Vegetarian tourists
The fact is, Tibet was considered not an ideal destination for vegetarian visitors. Vegetables are not easy to obtain because the harsh environment of Tibet is bad for their growth. To retrieve the nutrition loss due to little intake of vegetables, the brilliant Tibetans develop the habit of tea drinking. They mix tea with yak milk and yak butter, then Tibetan butter tea is ready.
Yak, goat, or mutton is the ingredient to make dairy products. Their meat is as well as important access to gain protein and energy for Tibetans.
They eat barley as a staple food. Tsampa made of barley is the perfect match for Tibetan butter tea.
Overall, the daily diets of Tibetans are mainly barley, meat, and dairy products, containing very few vegetables. That doesn't seem to be good news for vegans. But actually, you can find vegan food in Tibet.
2. However, More Vegan Food in Tibet to choose Now
Now, there are more diet options in Tibet, including some vegetarian food. Spicy potato curry introduced to Tibet from India is one of the favorite vegan food. Momo is popular, which is a Tibetan dumpling filling with meat or vegetables or both. The Tibetan noodle soup called thukpa is a mix of noodles and meat or vegetables or both. For vegetarians, you can easily get vegetable-filling momos or vegetarian noodles. Fried rice or noodle with no meat added also is a good choice for vegetarians.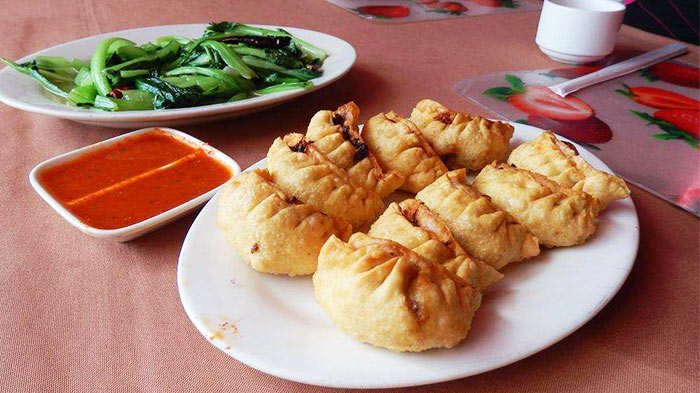 Tibetan dumpling filling with vegetables
3. Easy to find Vegetarian Restaurants in Lhasa
Lhasa is the largest city in Tibet and vegetarian restaurants are easy to find here.
The House of Shambhala Restaurant has a nice blend of western, Tibetan, Nepalese and Indian cuisines under one roof. Their vegan menu provides dishes like King's Ethereal Greens, The King's Dried and Fried Tofu, Mismas Trkari, Dal Jhanekol, Kashmiri Pulao, Elephant Lotus, etc.
Tibetan Family Kitchen offers vegan food, as well as authentic Tibetan cuisines. Some of the nice vegetarian options include momo, tsampa, noodle, and more. They also offer dishes that are low in fat for those highly concerned about their diet. A cooking class is available for you to learn more about the Tibetan food culture.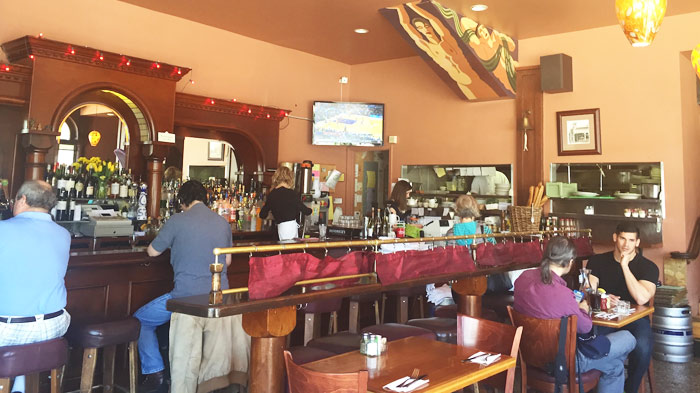 Dunya Restaurant is one of the popular vegetarian restaurants in Lhasa.
Dunya Restaurant has vegan food like vegetarian soup, momo, fruit with yogurt, noodle, and more to offer. Some relaxing activities are available as well. Here you can meet other people, listen to good music, play darts as well as have some drinks.
More Tibetan vegetarian restaurants in Tibet include The Nomad, Lhasa Kitchen, Wonderful Vegetarian, Holy Land Vegetarian Restaurant, Tibetan Vegetarian Food, Namaste Restaurant, etc.
4. How to arrange your vegan food outside Lhasa
There are fewer vegetarian restaurants in cities outside Lhasa. However, you can still find some vegetarian dishes. As the food Tibetans eat as a daily basis, momos and tsampa are very common to see outside Lhasa as well. Some small restaurants also offer soups, fried rice, and fried noodles. Tell the cook that you are a vegetarian, and they will understand easily.
5. Let us know your food requirement in advance
For any special food requirement, please feel free to tell us in advance. We are willing to recommend restaurants based on every tourist's need. If you are a veggie, we can arrange vegetarian restaurants for you. Outside Lhasa when there is no vegetarian restaurant, our local guide always can find some delicious vegan cuisines.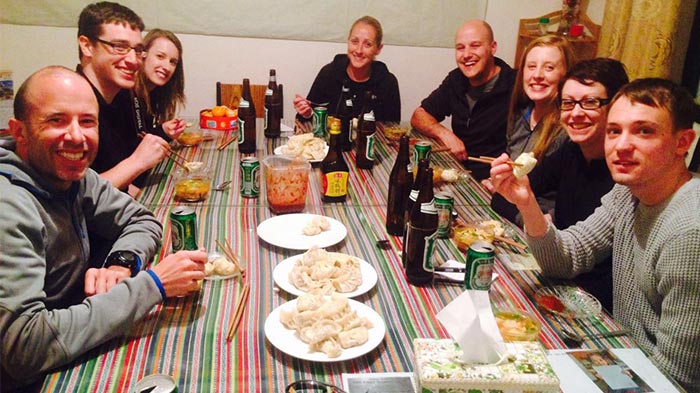 We can arrange vegetarian restaurants for you.
Even if you are a Muslim, we can find a place for you to eat. In Tibet, Muslim dishes are most available in halal restaurants, which gather around Mosques. There are four Mosques in Tibet, scattered in Lhasa, Shigatse, and Qamdo. Our local guides know every corner of Tibet and they can take you to enjoy the most authentic Muslim food.
6. Don't forget to arrange your vegan food on the flight/train to Tibet
Just a reminder, you need to arrange your own vegan food for the flight or train to Tibet.
Many flights to Tibet offer the vegan option. Just give them a call to ask for the vegetarian in-flight meal before you take off. Alternatively, you can pack some vegan snacks. Lightweight snacks like cut fruit or vegetables, dried fruit, nuts, vegan bars, chocolate, etc., are good choices.
For visitors who take a train to Tibet, we advise you to pack enough vegan snacks. Barrel instant noodles, self-heated bento, and bread can fill you up. Nuts, dried fruit, chocolate, etc., are nice complements. You can also take some fruit. Grapefruit, oranges, or tangerines are good options as they help relieve carsickness and refresh the mind.
Dining on the train is possible as well. Tibetan trains offer three meals a day, and all are Chinese food. For breakfast, you can ask for vegetable-filling steamed buns, soy milk, pickles, and porridge. For lunch and dinner, there will be fresh cooked stir-fried dishes with a Sichuan flavor. You can order vegetarian food and don't forget to ask for less spicy flavors.
Conclusion
Obviously, vegetarians can survive in Tibet. And you can find lots of vegan food in Tibet. Tsampa and Tibetan butter tea is a perfect match. Momos with vegetable fillings are not to be missed. Spicy potato curry is a popular vegan dish with an Indian flavor. Some delicious vegetarian restaurants offer new ideas for vegetarian food. Come on and have a Tibet tour as soon as possible!