Tibet Travel Tips for Vegetarian Tourists to Tibet
Tibet has its unique food style shaped by its ethnic customs, highland climate and religious beliefs. For example butter tea is something which is very exclusive and found only in Tibet. The place offers nice and tasty food options to all its guests no matter whether they are veggie or non-vegetarian.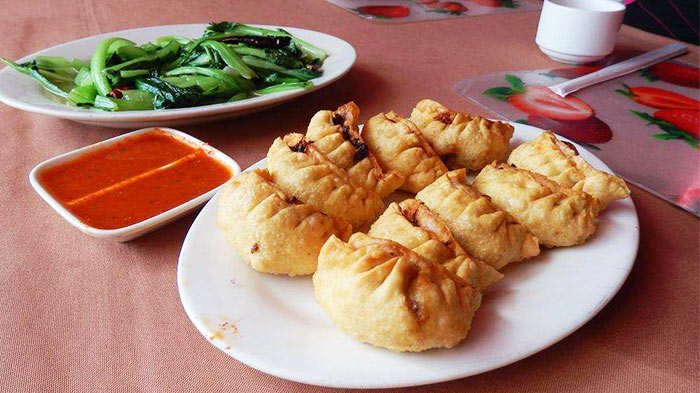 Authentic Vegetarian Restaurants in Tibet
If you are a complete vegetarian and planning a tour to Tibet you don't need to be bothered about your foods as there are numerous restaurants in Tibet meant for the vegetarians. You will have to just specify your preferences as a vegetarian and rests will be taken care of by them. You can easily find a veg. restaurant in Tibet by noticing its sign on the road. In this article we will provide you detailed information on some of the authentic vegetarian restaurants in Tibet which will probably be of considerable help to all our vegetarian friends travelling to Tibet.
1. Tibetan Family Kitchen
The restaurant is situated a few steps ahead of Tibet Highland Tours Office and really offers some of the authentic Tibetan foods in Lhasa. It is interesting to mention that the head cook in this restaurant is considerably famous in Lhasa for preparing some of the best food items in Himalayas. All the staffs in Tibetan Family Kitchen speak English, Chinese and Tibetan and hence you will not face any communication problem in this restaurant.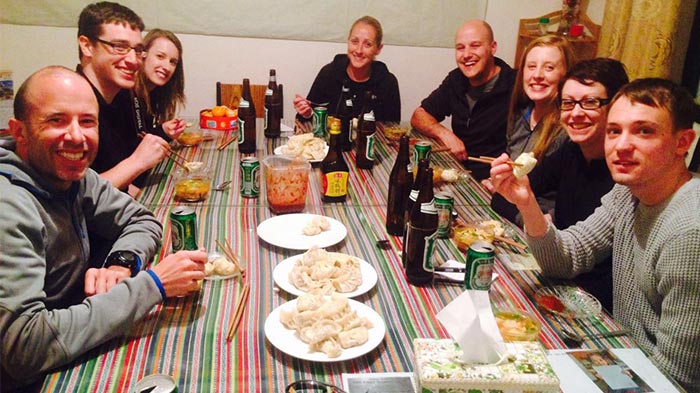 Tibetan Family Kitchen
Some of the nice vegetarian options include momo dumplings, sweet rice, tsampa, noodles and more. While cooking they use the best available ingredients to ensure delicious and health efficient foods. In addition to a number of vegetarian dishes they also offer foods that are low in fat for those highly concerned about their diet. So come and enjoy a warm Tibetan hospitality along with some mouth watering Tibetan dishes.
Address: 1, Danjielin Road, Lhasa – 850000, China. Tel: +86 138 8901 5053.
2. House of Shambhala Restaurant
This unique restaurant offers you one of the nicest dining experiences in Lhasa. The interior of the place is having an aesthetic appeal of its own with its antique styled paintings and a pleasant fireplace. In the restaurant you will find a nice blend of western, Tibetan, Nepalese and Indian cuisines under one roof.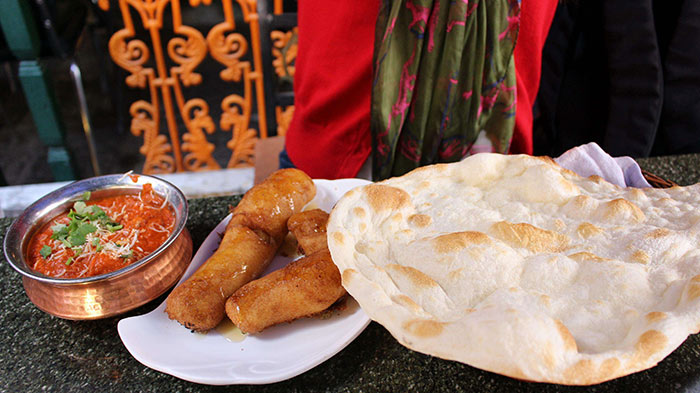 House of Shambhala Restaurant
Among the numerous vegetarian dishes mention can be made of The King's Ethereal Greens, The King's Dried and Fried Tofu, Mismas Trkari, Dal Jhanekol, Kashmiri Pulao, Elephant Lotus etc. all of which are made with finest ingredients. Being a rooftop restaurant the place offers a grand view of the surroundings along with the old town which you can really enjoy in addition to the food served there.
Address: 7, Kirey 2nd Alley, across Muru Monastery Alleyway, Lhasa, China. Tel: +86 8916326533.
3. Dunya Restaurant
Dunya is located at the center of Lhasa near the Jokhang Temple. It is a great place not only for having delicious foods but also for other relaxing activities as well. Here you can meet with other people, listen to good music, play darts as well as have some drinks.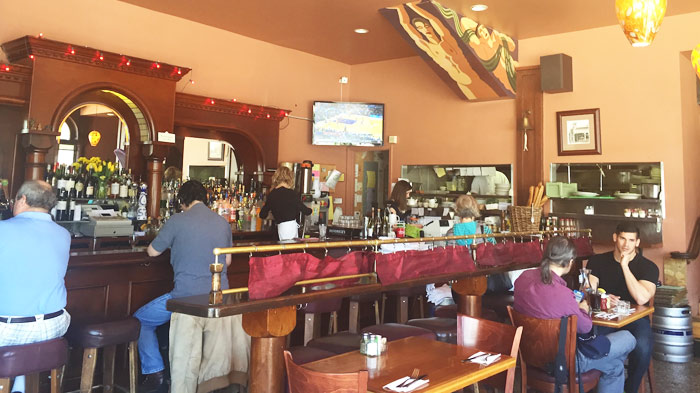 Dunya Restaurant
The restaurant can offer a number of vegetarian items to its guests. Some of them could be different veg. soups, French fried momo, Fruit with yoghurt, Thukpa, Fried snacks and many more. All the vegetables are washed with purified water and quality sunflower oil is used as the medium of cooking. As for the surrounding attraction the famous Ramoche Monastery is quite close to this restaurant and you can easily visit it after enjoying a lunch.
Address: 100 Beijing Dong Lu, China. Tel: +86 891 633 3374.
4. The Nomad
This is also another good option for the vegetarians. It is located at Mentsikhang Lu, Lhasa (at small alley, North of Snowlands Restaurant). This vegetarian restaurant in Lhasa is opened by a westerner in August of 2007. It is very easy to find this vegetarian restaurant in Lhasa. You can see its sign on main road. Although a bit expensive it always serves foods that are of best quality and taste without any exception and therefore the expense incurred is worth its value. Initially the restaurant served only veg. foods but later on it added non-veg. items to their menu.
The Nomad
As for the vegetarian foods you can have the veggie burger along with a coffee which really makes a great combination. The foods are prepared in a clean and hygienic way and you will have no scope for complaint regarding this.
Address: Mentsikhang Road, Lhasa, Tibet, China. Tel: Not Available.
5. LaSa ChuFang
This is also a nice and vegetarian friendly restaurant in Lhasa where you can have both your lunch and dinner. You can easily bring your children along because it is also child-friendly at the same time. It offers options for reservation as well.
LaSa ChuFang
As for the vegetarian items you can try Nun Bread which is really very tasty here. You can also taste the Steamed Potato Momo. And don't forget to order the Dali Soup as it is said to have the ability to fight altitude sickness as believed by the locals. Close to the restaurant you will find several places of interest such as Jokhang Temple, Ramoche Monastery, Barkhor Street, etc. So visit all these places and come to LaSa ChuFang to satiate your hunger.
Address: 3, Menchi Khang Easet Road, Lhasa, China. Tel: +86 891 634 8855.
6. Wonderful Vegetarian
You will find this vegetarian restaurant at Jiangsu Lu, close to the west gateway of the Tibet University. This is a nice and well decorated place with a soothing ambience. Unlike the other restaurants the options for drinking and smoking are not available here. And perhaps this makes the place even more pleasant and desirable at least to some travelers who don't prefer these.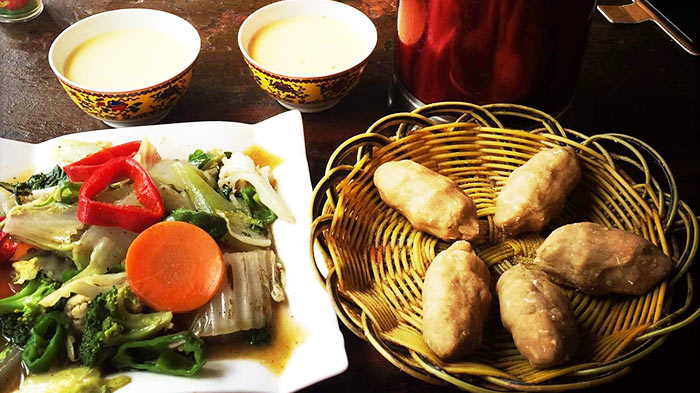 Wonderful Vegetarian
This vegetarian restaurant in Lhasa offers an English menu that features a wide variety of hot dishes and opens daily 10am-10pm. You can enjoy a number of veg. dishes such as mushrooms, mock-meat, tofu and veggie soups many more. You can also have different snacks along with soft drinks. No egg or any kind of dairy product is used in their foods. The foods are all simple and devoid of superfluous spices. So far as the surrounding things are concerned you will not get any as such except for the Tibet University.
Address: Jiangshu Lu, Lhasa, Tibet. Tel: Not available.
7. Holy Land Vegetarian Restaurant
This is certainly one of the best vegetarian restaurants in Lhasa which offers a very worm and pleasant ambience. The place is ideal for romantic couples. Holy Land Vegetarian Restaurant is located on Linkuo Bei Lu in Lhasa (at northern end of Ramoche Road) and opens daily 9:30am-9:30pm. The place is considerably large comprising two dinning floors nicely decorated. The wooden tables and Buddhist images on the wall give the place a simple Zen-like atmosphere. The English and picture menus help things along. Extensive English menu with photos features elaborate dishes. The quantity of the food is also quite sufficient and so you don't have to order too much.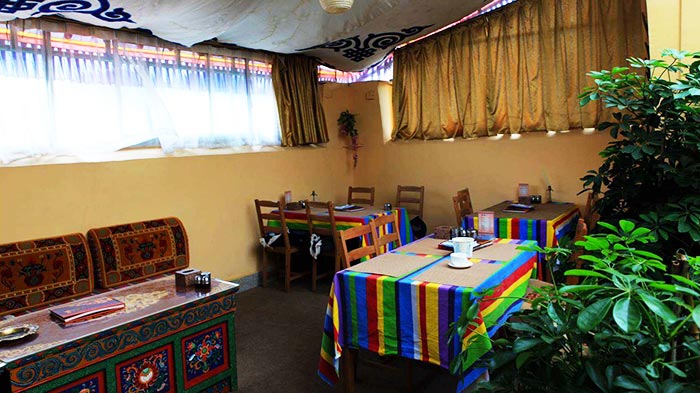 Holy Land Vegetarian Restaurant
Some of their notable veg. items include vegetarian Bouilli, Vegetarian slices, shredded vegetarian dishes and many others. You can also order for dishes like Soy Chicken Feet and Soy Fish but don't worry they are not non veg. items as suggested by their names. They are actually pure vegetarian dishes made to resemble non-veg. items in appearance.
Address: 20-22, Commodity Apartment, Foreign Affairs Office, Linkuobeilu Area, Lhasa, Tibet. Tel: 0891 6363851.
8. Tibetan Vegetarian Food
This vegetarian restaurant is to be found at Linkor East Avenue, Lhasa (at south of Beijing East Road) and it always serves quality veg. items. You can visit it at any time between 9am and 9pm. It is actually the part of a guest house and includes breakfast.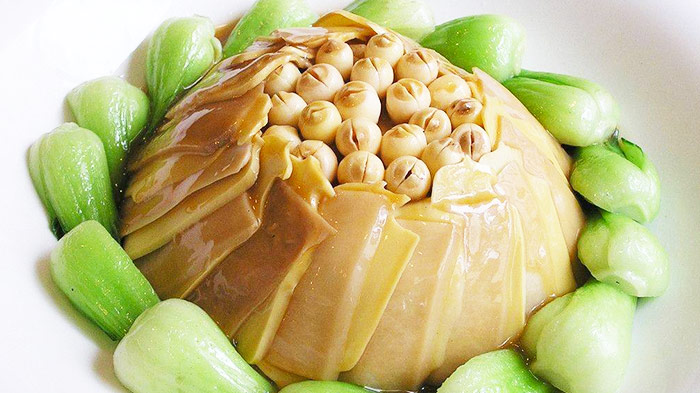 Tibetan Vegetarian Food
Among its several well made veg. dishes mention can be made of special fried rice, veg. momo, noodles, tofu, pickled vegetables and different soups. The foods are not only tasty but also simple and hygienic at the same time.
Address: Linkor East Avenue, Lhasa, Tibet. Tel: Not Available.
9. Namaste Restaurant
Although the place is not very big but the foods in this restaurant are extremely tasty as confirmed by numerous people who have eaten here. The service is also truly appreciable. The place is quite affordable and ideal for both lunch and dinner. The portions are also more than adequate. There are also options for reservations.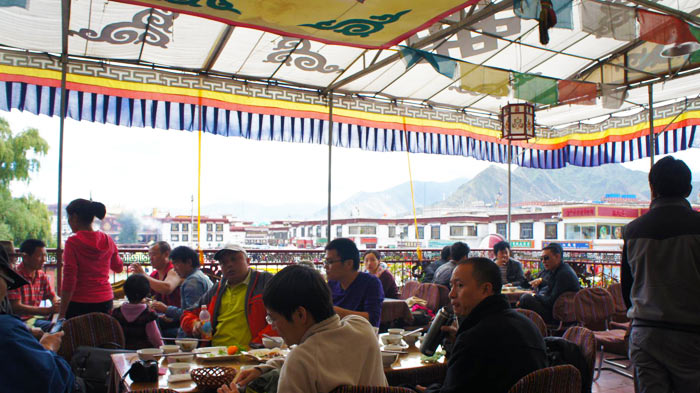 Namaste Restaurant
You will get a wide variety of food options such as Indian, Tibetan, Nepalese, Chinese etc. Aloo paratha, Nun, Noodles, Cheese Cake, Masala Paneer, vegetarian momo are just some of the mentionable veg. items in this restaurant. The nun is truly a special attraction of this place so don't forget to give it a try. The nearest place of attraction from this restaurant is the Barkhor Street.
Address: Lupug 5th Lane Gate 11, Lhasa, Tibet. Tel: 0891 6303399.
Why Normally Tibetans are Not Vegetarian?
Although some of the Tibetans follow the vegetarian path but a large number of people in Tibet are non-vegetarian and resort to meat as a main food item. In fact a prominent branch of Buddhism called Tibetan Buddhism allows its followers to eat "clean meat." That is why many monks in Tibet are found to consume meat on a regular basis and Dalai Lama himself is a great example in this regard.
Moreover there are specific geographical reasons behind it as well. In the unyielding natural conditions of the Tibetan plateau it is scarcely possible for any vegetable to grow and flourish. Even whichever is found is not at all sufficient. So the people of this land cannot help turning to meat as a means of sustenance because without it will be extremely difficult for them to gather the energy required for performing their daily activities. Therefore it is more like a compulsion rather than a choice.
Further Reading about: Top 10 Distinctive Western Restaurants in Barkhor Street