Best 7 Tibetan Destinations that You Can Travel for Sure in 2022
Tibet, specifically the Tibet Autonomous Region, is the holy land of the Himalayas. While the whole world is suffered from the COVID-19, Tibet is a pure land without any pollution. Since the strict registration for visiting Tibet, there are still some Tibetan destinations that you can travel to for sure in 2022. All of these destinations are located on the eastern edge of the Tibet Plateau, on the border with Gansu Province, Qinghai Province, Sichuan Province, and Yunnan Province.
Is Tibet Travel Permit require to visit these Tibetan Destinations?
No Tibet Travel Permit is required for entering the Tibetan inhabitants outside TAR. Also, you can travel to these Tibetan destinations alone without a local guide. However, for safety reasons, it is recommended that you choose a proper travel vehicle and a professional travel guide to accompany you. Because most of the Tibetan areas are relatively backward, the traffic conditions are poor, and the locals speak less English, making communication more difficult.
If you want to visit the Tibetan destination outside TAR, such as the Kham Tibet tour in west Sichuan, the only travel restriction for a 2022 tour is the local policy for Novel Coronavirus Disease. You may need to prepare the 14-Day Dynamic Trip Record, Green Health Coad, and a negative test result for COVID-19.
Due to the unpredictable epidemic situation, please contact us for more current and accurate proof of required documents for visiting the following Tibetan destinations outside Tibet.
1. Jiuzhaigou and Huanglong National Park (Sonpan, Sichuan)
Jiuzhaigou, the UNESCO World Heritage Site, is one of the world-famous attractions in WestChina. It is located in Songpan County, Aba Tibetan Prefecture in northern Sichuan province, which is about 424 km from Chengdu Downtown. Together with the nearby Huanglong Nature Reserve, Jiuzhaigou Valley is the top attraction in Sichuan Province. The local Tibetans, most of them are Jiarong Tibetans and some are Baima Tibetans, make your Jiuzhaigou and Huanglong tour not only a journey to the land of natural beauty, but also a cultual experience in Aba Tibetan Prefecture in northern Sichuan.
Tops Things to Do in Jiuzhaigou Valley and Huanglong
Enjoy the Majestic Ponds and Lakes
Jiuzhaigou is a fantasy world of water, where there are lakes, waterfalls, streams, and so on. The water in Jiuzhaigou is also in different colors. In different light and seasons, the lakes in Jiuzhaigou show different shades of yellow, green, red, and brown.
The calcified pools in Huanglong are also top things to see in a Jiuzhai Huanglong Tour. There are more than 500 colorful pools in the whole Huanglong scenic area. Depending on the altitude and depth of these pools, the colors reflected are also different, like the color of the water in the multi-colored Pond is blue-green, and some parts of the Zhengyan Colored Pond are yellow-green because they are shallow.
Appreciate the Colorful Forest in Autumn
As the seasons change, the forests in Jiuzhaigou take on a variety of wonderful appearances. Especially in autumn, when the leaves of different kinds of trees turn different yellow and red, the Jiuzhaigou Valley takes on a gorgeous color like a painting. The best time to enjoy the colorful forests in Jiuzhaigou is from October to November.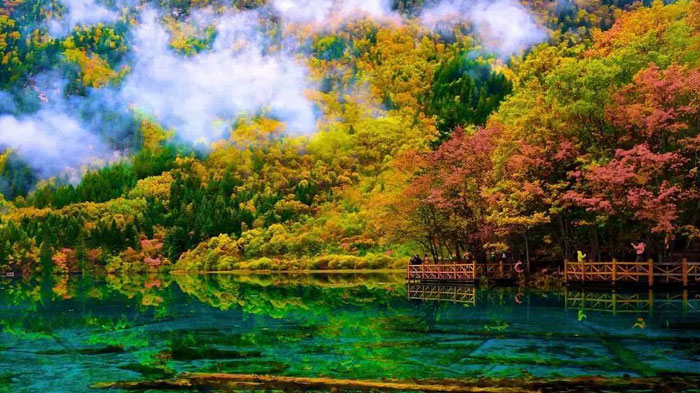 You can enjoy the colorful Forest in Jiuzhaigou
Take a Leisure Hiking and Trekking
Jiuzhaigou is also a good destination for leisure hiking and trekking. You can take a classic 2-day hiking in Jiuzhaigou Valley, with one-day hiking in Shuzheng Valley and Zechanwang Valley and the other day hiking in Rize Valley. For each day, the hiking length is about 6 to 7 hours. It is suggested to bring some food and snacks with you while hiking in Jiuzhaigou Valley.
In Huanglong National Park, it is suggested to take the cable car up to the hill and hiking down the valley, so that you won't walk the same route again. The hiking in Huanglong generally takes half a day.
How to Get to Jiuzhaigou and Huanglong
The most convenient way to get to Jiuzhaigou and Huanglong is to travel by air from Chengdu. It takes about 40 minutes from Chengdu Shuangliu International Airport to Jiuzhai Huanglong Airport. In peak seasons, there are nearly 20 flights a day. Also, you can take a flight to Jiuzhaigou from Chongqing, Beijing, Shanghai, Guangzhou, and Xi'an.
Once you arrive at Jiuzhai Huanglong Airport, you still need to take a car to the nature reserve. The airport is 88 kilometers from the entrance of Jiuzhaigou Valley, which takes 1.5 hours by car, and 50 kilometers from Huanglong Nature Reserve, which takes about 1 hour.
However, most travelers choose to travel to Jiuzhaigou from Chengdu by land. The distance between Chengdu and Jiuzhaigou is around 440 kilometers, which takes about 10 hours to finish.
Both Chadianzi Bus Station and Xinnanmen Bus Station have daily tourist buses from Chengdu to Jiuzhaigou. When you take the bus, please make sure the destination is the entrance of Jiuzhaigou Valley, or Jiuzhaigou County (The two places are 20 km apart).
Best Time to Visit Jiuzhaigou and Hunglong
The best season to visit Jiuzhaigou is from September to October, followed by July to August. In summer, Jiuzhaigou has plenty of water, which can well present the beauty of the water in Jiuzhaigou valley. And in autumn, when the maple leaves in the surrounding forests turn red, the red and golden leaves with colorful lakes and ponds make the most beautiful scenery in Jiuzhaigou. Due to the high altitude, there will be snowfall in winter, and the pure white Jiuzhaigou will give you a more tranquil and pure feeling.
2. Daocheng Yading Nature Reserve (Daocheng, Sichuan)
Daocheng and Yading are actually two places but tourists always put them together as one destination in their travel plan. The Yading Nature Reserve is located in the eastern part of the Tibetan Plateau, in Daocheng County in the southern part of Ganzi Tibetan Autonomous Prefecture, Sichuan Province. It is known as the last Shangri-La, with three sacred mountains and sacred lakes, bringing together snow-capped mountains, glaciers, lakes, grasslands, waterfalls, and other magnificent landscapes.
Top Things to Do in Daocheng Yading Nature Reserve
Go Sightseeing in Yading Nature Reserve
Hidden in the remote mountain area in southwest Sichuan Province, the three sacred mountains and the holy lakes in Yading Nature Reserve makes it "the last pure land on this blue star". Everyone visits Yading to see the real face of the holy mountains, namely Mount Chianrezig (6,032m), Mount Jambeyang (5,959m), and Mount Chenadorje (5,958m).
At the foot of these sacred mountains, there are also some beautiful holy lakes, among which the most famous ones are Milk Lake, Five-color Lake, and Pearl Lake.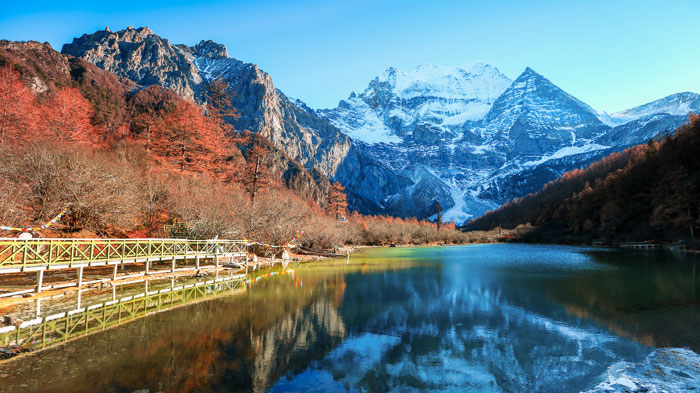 Daocheng Yading Nature Reserve
These snow-capped mountains, crystal lakes, and vast highland meadows form a beautiful landscape of highland valleys. It is an ideal place for a trek in beautiful nature. But please pay attention to the high altitude sickness since the average altitude of Yading Nature Reserve is above 4,000m.
Do the Kora Trek around the Holy Mountains
In addition to the regular sightseeing tours, Yading also has kora routes, such as Yading Middle Kora trek and Yading Small kora trek.
The middle kora trek in Yading is a difficult trek from the eastern part of Yading Reserve to the center of the area. It is difficult and takes several days to retrace the footsteps of Joseph Rock and to explore the most breathtaking views in the scenic area. The small Kora trek, on the other hand, is a local Tibetan circuit trek around the holy Mount Chenrezig.
Experience Local Tibetan Culture and Buddhism
Located in Ganze Tibetan Autonomous Prefecture in Sichuan Province, Daocheng Yading is one of the Tibetan settlements in west Sichuan. The Tibetans here are mostly Kangba Tibetans. The local food is also based on Tibetan food, such as butter tea, yak meat are the main food here. So traveling Daocheng Yading, you can experience the life of the Tibetan people.
Also, there are many century-old temples and monasteries here, which record the history and changes of local Tibetan Buddhism. Some of the famous Monasteries there include Chonggu Monastery at the foot of Mount Chianrezig (Xiannairi) within Yading Nature Reserve and Benpo Monastery in Daocheng County. It is a good idea to travel with a local guide, who can tell you the long story of these ancient monasteries.
How to Get to Daocheng Yading
There is one flight from Chengdu to Daocheng Yading Airport every day, which makes it convenient to get to Daocheng within 65 minutes. After you arrive at Daocheng Yading Airport, you need to take the shuttle bus or hire a private transfer to Yading Nature Reserve. It takes about 1 hour from the airport to the scenic spot.
Many tourists still choose to travel by land from Chengdu to Daocheng Yading. There are tourist buses from Chengdu Xinnanmen Bus Station to Daocheng Yading with a one-night stop in Kangding city. Or, you can have a private overland tour from Chengdu to Daocheng Yading through the G318 Sichuan Tibet highway with day trips in Ya'an, Kangding, and Xinduqiao.
Since Daocheng Yading is close to Yunnan province, you can also get to Yading Nature Reserve from Yunnan by land. There are scheduled tourist buses from Shangri-La in Yunan to Daocheng County every day, which takes about 11 hours.
Best Time to Visit Daocheng Yading Nature Reserve
The best time to visit Daocheng Yading is September and October, during which the Nature Reserve looks extremely colorful because of the red grassland and yellow and golden leaves. At this time with the blue sky and white clouds, Yading Nature Reserve looks surprisingly fantastic.
In addition, April and May is also a good time to visit Yading Nature Reserve, because, in these two months, there are full of wildflowers. You can feel the vibrancy of nature.
In winter, Yading Nature Reserve is covered with snow and looks like a silver world. It is a good time to enjoy the snow. However, you should be aware that the road to the Nature Reserve may be closed due to heavy snowfall. Likewise, in summer, the roads may be close due to heavy rainfall. Be sure to check the weather forecast before traveling in these two seasons and have a Plan-B for any unexpected situation.
3. Shangri-La (Diqing, Yunnan)
Shangri-La, the hidden heaven in the novel 'Lost Horizon' by British author James Hilton, is a popular destination for both domestic and international tourists to experience the alpine landscape and Tibetan culture.
Tops Things to Do in Shangri-La
Songtsamlin Monastery
Known as "Small Potala Palace", Songtsamlin Monastery imitates the layout of the Potala Palace in Lhasa, built according to the mountain. The main hall frescoes in bright colors, delicate brushwork, to describe the historical allusions, to promote Buddhist teachings. The two main temples in the center of the monastery are with Chinese architecture style. Here you can understand Tibetan Buddhism without goring to Tibet and appreciate the local Buddhist culture heritages.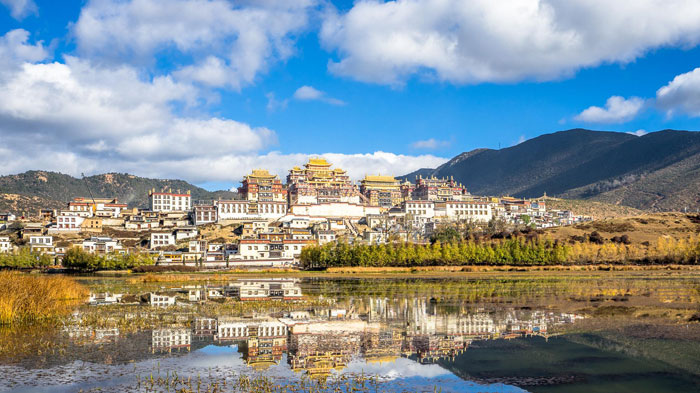 Songtsamlin Monastery, a Tibetan Buddhist monastery in Shangri-la
Dukezong Ancient Town
Dukezong Ancient Town is the largest and best-preserved Tibetan city among the 147 Tibetan counties in China. With a history of over 1,300 years, it was an important stop on the ancient tea horse route and a center of the Sino-Tibetan exchange. Dukezong Ancient Town
Tibetan Festivals in Shangri-La
Shangri-la Horse Race Festival is a traditional Tibetan folk festival held on the 5th Chinese Lunar month and lasting for 3 days. During the horse race festival. Dengba Festival, held on the 15th day of the seventh month of the lunar calendar every year, is one of the traditional festivals of the local Niru Tibetan people in Shangri-La. Local Tibetans will wear the festive dress and take traditional ceremonies to pray for a good harvest and good health. The local Tibetans will also hold some entertainment activities like horse racing, dancing, etc.
How to Get to Shangri-La
Recently, Shangri-la can be only reached by land or by air. Most travelers choose to start their land journey to Shangri-la from Lijiang, which is about 175 kilometers away from Shangri-La. It takes about 3.5 hours by land. En route, you can visit the famous Tiger Leaping Gorge.
The closest airport to Shangri-La is the Diqing Shangri-La Airport, which is only 5 km from Shangri-La city. There are scheduled flights to Shangri-La from Kunming, Chengdu, Chongqing, Lhasa, Shanghai, Beijing, Guangzhou, etc.
Best Time to Visit Shangri-La
The best time to visit Shangri-La is from May to October, especially in spring and autumn. The summertime from July to August is the rainy season in Shangri-La. The road to Shangri-la may be in bad condition after the rainfall. But it is a good time to experience local festivals.
4. Ruoergai Grassland (Aba, Sichuan)
Ruoergai Grassland, or Zoige Grassland, is located in the northwest of Aba Tibetan Prefecture in Sichuan Province. Here you can experience Tibetan nomads' life and enjoy the stunning view of the grassland in northern Sichuan and the First Bend of the Yellow River.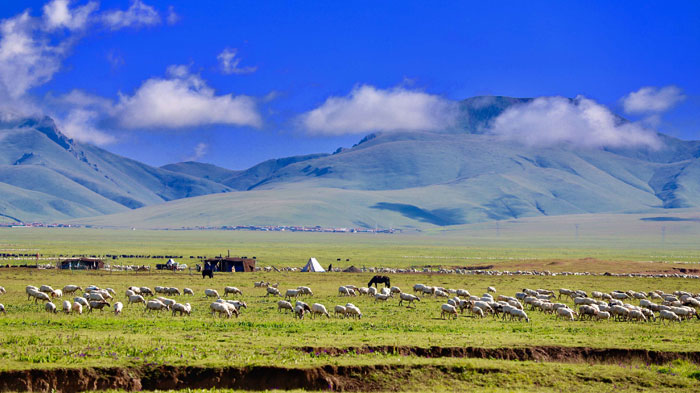 Ruoergai Grassland, a best place to experience Tibetan nomads' life
Top Things to Do in Ruoergai
Zoige Grassland is one of the five grasslands in China, which is mainly inhabited by Tibetan people. Here you can not only enjoy the beauty of the vast grassland, but also experience the life of the local Tibetan herdsmen and better understand their ancient traditional way of life.
In the central area of Ruoergai grassland is the Flower Lake, the famous natural wetland. It is suggested to visit here in July and August, when you can see the charming view of wildflowers everywhere.
You can also go further to the First Bend of the Yellow River, which is 68 km away from Zoige County. You can enjoy the magic view of the Yellow River that turns 180 degrees there.
How to Get to Ruoergai
Since Ruoergai grassland is located at the junction of Sichuan, Gansu, and Qinghai province, it can be reached from either of these provinces by land. If you want to reach Ruoergei by plane, you can choose to go to Hongyuan Airport or Jiuzhaigou Airport. Ruoergei is located in the middle of these two airports, 115 km from Aba Hongyuan Airport and 230 km from Jiuzhaigou Huanglong Airport. When you land, you still need to take a car to the scenic spot. Due to limited local transportation resources, please book your transfer in advance.
Best Time to Visit Ruoergai
Summer is the best time to travel in Ruoergai, because it is located on the plateau, so the temperature is not very high, suitable for outdoor activities, the most important is that this period, the grassland is full of wildflowers, the famous flower lake in the shadows of flowers, is the most beautiful time of the year it.
In addition, more Tibetans' greatest festivals are concentrated in winter (December-April), although the climate is harsh and tourists are scarce, if you are not afraid of the cold climate, this is also the best season to experience the real ethnic customs.
5. Langmusi (Sichuan & Gansu)
Langmusi is a small town located at the border of Sichuan and Gansu. The White Dragon River divides the town into two halves, north, and south. On the north bank, there is Sertri Gompa in Gansu, while on the south bank there is Kirti Gompa in Sichuan. The town's inhabitants are mostly Tibetans, who are mostly Amdo Tibetans, in addition to Han Chinese and Hui Muslims. Here you can experience the fusion of different ethnic cultures and enjoy the beauty of the river valley town during an Amdo Tibetan Tour.
Tops Things to Do in Langmusi
Visit Sertri Gompa and Kirti Gompa
Located on the side of Gansu Province, Sertri Gompa was built in 1748 and is one of the most important Gelugpa monasteries of Tibetan Buddhism in the Amdo Tibetan area. The sky burial platform at the back of Sertri Gompa is the only one in southern Gansu that is open to tourists.
Kirti Gompa, on the side of Sichuan Province, with a history of over 600 years, is the most influential Gelugpa temple in the Aba region and the only one in Tibetan Buddhism the body relics of a living Buddha. If you have enough time in Langmusi, you can visit both monasteries at the same time.
Experience Langmusi Horse Trekking
Horseback riding is the best way to enjoy the natural beauty of Langmusi. Unlike horseback riding on the plains, the terrain of Langmusi is mountainous and plain, with both gentle and sharp terrain, making it a very interesting experience for horseback riders. You can also have a rest in the tent of a Tibetan nomad family, taste authentic buttered tea, and feel the life of local Tibetan nomads.
Attend the Buddha Thangka Display Festival
Every year, on the 13th day of the first month of the lunar calendar, the local Buddha Display Festival is held. This is the grandest and most important festival of Langmuji On this day, a huge and exquisite Buddha Thangka, about 10 meters wide and 20 meters long, is unfolded on the exhibition platform. As the Thangka unfolds, people and monks will chant sutras and pray for happiness and well-being.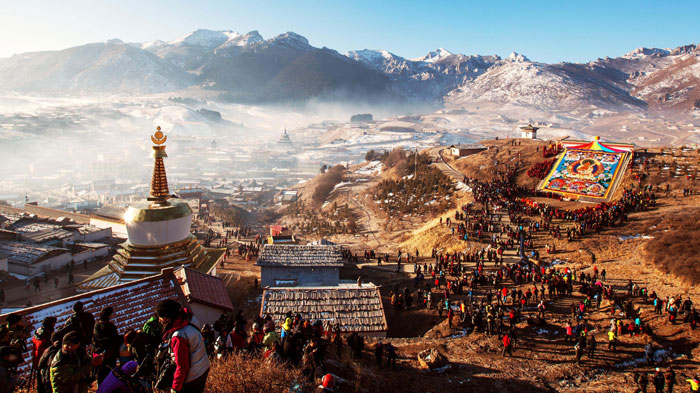 Langmusi Buddha Thangka Display
How to Get to Langmusi
Langmuji Temple is located at the border of Sichuan and Gansu Provinces. Since there is no train and flight to Langmusi, the only way to get to Langmusi is to travel by land.
From Sichuan, you can take a flight from Chengdu to Hongyuan or Jiuzhaigou airport, and then take a bus from there to Langmusi. Or you can go directly from Chengdu to Langmusi via Jiuzhaigou and Ruoerge.
From Gansu, you can take a flight or land to Xiahe, and then go to Langmusi from Xiahe. Xiahe is about 400 kilometers away from Langmusi, and it takes about 6.5 hours to travel.
Whether from Chengdu, Lanzhou, or Xiahe, most of the roads are national and provincial highways and are in good condition. However, you need to pay special attention to slow down when going over mountainous areas, especially on rainy or snowy days.
Best Time to Visit Langmusi
Langmusi is 3,300 meters above sea level, with pleasant weather in summer and colder in winter. The best travel season is from May to September, when the local average temperature is 10-20℃, the warmest time of the year, with green grass, wildflowers all over, lush pastures, and colorful scenery, and the best view of the plateau. In addition, although the weather is cold in the first month of the lunar year, there are a variety of Tibetan festivals, which is a good time not to be missed for those who are interested in Tibetan culture and folklore.
No matter when you travel, please note that the altitude here is high and the temperature difference between day and night is large, so pay attention to the cold and keep warm and do a good job of sun protection in the daytime.
6. Kumbum Monastery (Xining, Qinghai)
Located in Huanzhong District of Xining City, Tar Monastery was founded in 1379 and is the center of Tibetan Buddhism in Northwest China. It is one of the six major monasteries of the Gelugpa school of Tibetan Buddhism and is one of the must-see attractions for tourists in Xining.
Tops Things to Do in Kumbum Monastery
Kumbum Monastery is a complex of buildings with a perfect combination of Chinese and Tibetan art styles, with its staggering heights of temples. Here you can see not only traditional Chinese architecture, but also unique Tibetan architecture. In addition, the tree artistic treasures are not to be missed, including butter sculptures, mural paintings, and barbola.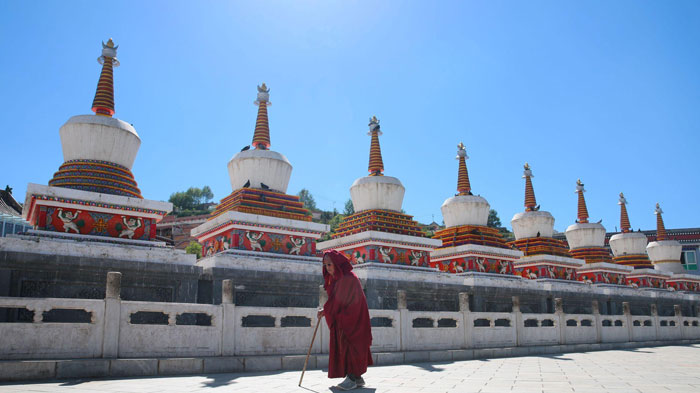 Kumbum Monastery, the center of Tibetan Buddhism in Northwest China
You can appreciate the traditional mural paintings on the walls and the various shapes of butter sculptures placed on the shrine platform when you visit the temple. Of course the most unique is the pile embroidery, which is one of the unique Tibetan artworks in Tar Temple. The most special is the pile embroidery artwork such as the eighteen Luohan hanging in the Great Hall of Meditation.
How to Get to Kumbum Monastery
Kumbum Monastery is 26km southwest of Xining downtown. There are local public buses from downtown to Kumbum Monastery, which cost 3 RMB and takes about 1 hour 40 minutes. Also, you can charter a car with a local driver to take you to the monastery.
Best Time to Visit Kumbum Monastery
You can visit Kumbum Monastery any time during the year. And there are some important festivals held in Kumbum Monastery, during which you can experience the local Tibetan Buddhist culture more vividly.
7. Qinghai Lake (Xining, Qinghai)
Qinghai Lake is located in the northeastern part of the Qinghai-Tibet Plateau, in Qinghai Province, and is the largest inland lake in China.
When Princess Wencheng married Songtsen Gampo of Tubo, she passed through the lake. It is now also one of the settlements of the Ando Tibetan people.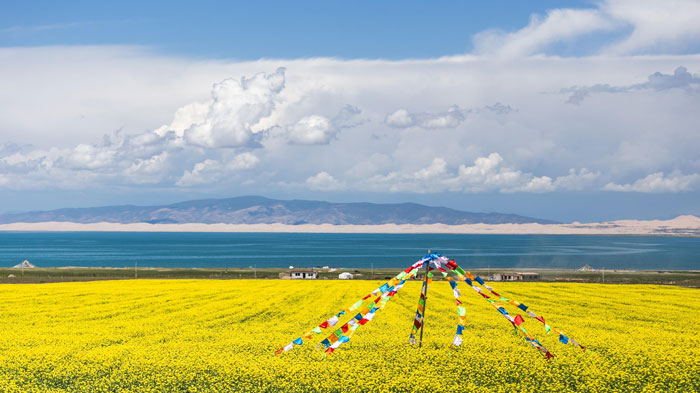 Qinghai Lake, the largest inland lake in China
When you take a Xining Qinghai Lake tour, you can not only appreciate the beauty of the lake on the Tibetan plateau and experience the local Tibetan customs, but also race around the lake and watch birds to experience a different Qinghai Lake.
Top Things to Do in Qinghai Lake
Kora around the holy Qinghai Lake
Qinghai Lake is considered a sacred lake by the local Tibetan people, who have the custom of doing the circuit around Qinghai Lake. When you travel to Qinghai Lake, besides taking beautiful photos, you can also follow the Tibetan people's pace to experience a Qinghai Lake Kora.
No matter what season you come, you can enjoy the different beauty of Qinghai Lake. It is also a good experience to experience the local Tibetan culture while enjoying the beautiful scenery.
Cycle around Qinghai Lake
Qinghai Lake is also a famous cycling destination. Every year, the Qinghai Lake International Road Cycling Race is held, attracting a large number of cycling enthusiasts from home and abroad.
Qinghai Lake is about 360 kilometers around the lake, along the way you can enjoy the rich landscape of grasslands, lakes, and deserts. The equipment rental and accommodation for cycling around the lake are also getting better and better, and the cycling experience is getting better and better.
It is suitable for riding from May to October, but be aware that in summer, rainfall increases from July to August.
Bird Watching in Bird Island
Due to the good ecological environment and protection measures, Qinghai Lake is a natural habitat for local birds and a paradise for migratory birds. Especially, Bird Island is a sacred place for bird watching in Qinghai Lake. Late October is the best time for migratory bird watching in Qinghai Lake, with more than 100,000 migratory birds gathering in the lake.
How to Get to Qinghai Lake
Qinghai Lake is about 150 kilometers from Xining city, which takes about 3 hours from Xining to Qinghai Lake by car. There are many local tour buses to Qinghai Lake from Xining, and you can also charter a car to get to Qinghai Lake.
As one of the major gateway cities to Tibet, Xining also has convenient transportation links to other cities on the mainland. You can take a flight from most major cities to Xining Caojiabao International Airport. Alternatively, you can also travel to Xining via the Lanzhou-Xining Railway or the Lanzhou-Xinjiang High-Speed Railway.
Best Time to Visit Qinghai Lake
The best time to see Qinghai Lake is from July to August, when the rape flowers are in full bloom along the lake, and the blue sky and white clouds and lush grasslands are very beautiful. Due to its high altitude, the summer temperature of Qinghai Lake is not too high, around 28 degrees, which is perfect for outdoor activities.
If you are a birdwatcher, the best time to watch birds is from May to July every year. During this period, you can see all kinds of birds and waterfowl on the bird island. If you are looking for swans, then the best time is from November to February.
How to Arrange a Trip to the Tibetan Destinations
Decide Where You Want to Go
Apart from the Tibet Autonomous Region, other Tibetan settlements are mainly concentrated in western Sichuan Province, southern Gansu Province, western Yunnan Province, and Qinghai Province.
When you want to plan a trip to the Tibetan areas, you need to choose your destination first. Although all of these places are inhabited by Tibetans, there are still some differences. Different Tibetan areas have slightly different languages, customs, and religious beliefs. If you don't know the Tibetan culture that well, you can also choose the appropriate route according to your favorite scenery or itinerary.
Choose a Proper Transfer
Most of the Tibetan attractions are only accessible by land and are mostly located in mountainous areas or plateaus with complicated road conditions. Therefore when you choose to travel by land, make sure to take a regular local tour bus or arrange a vehicle through a reliable local travel agency. Experienced local drivers are very important for the safety and security of Tibetan travel.
Some famous scenic spots, such as Jiuzhaigou and Tao Cheng Yading, have nearby airports to choose from. The existing airports in Tibet include Jiuzhaigou Huanglong Airport (Sichuan), Aba Hongyuan Airport (Sichuan), Daocheng Yading Airport (Sichuan), and Diqing Shangri-la Airport (Yunnan), with flights departing from Chengdu, Chongqing, Xi'an, etc. Since flights to the plateau are affected by the weather, it is recommended to check the weather before traveling and prepare alternative travel plans.
Travel with Reliable Agency
The choice of a good travel agency is also important for your trip to Tibetan destinations. Although you don't need an entry letter to visit the above Tibetan destinations and are allowed to travel freely, it is suggested to travel with a reliable local travel agency. Because Tibetan areas are mostly located in remote places, with poor local transportation, as well as the cultural level and development of the local people is low and cannot be compared with inland cities, an experienced local travel guide can take you to better experience the local customs and avoid embarrassment and trouble caused by cultural differences.
More Travel Tips for Visiting Tibetan Destination in 2022
Pay Attention to Local Altitude and Climate
Tibetan areas generally have high altitude. Please pay attention to the high altitude sickness when you visit any of these Tibetan destinations.
Be careful not to do strenuous exercise and pay attention to your diet. Bottles of oxygen can be prepared for emergencies. It is better to travel with a group of people accompanied by a professional guide. If you feel any discomfort, please seek help from the professional travel guide and evacuate to a low altitude area quickly.
And at high altitudes, the climate is variable, so pay attention to the temperature difference between morning and evening. It is best to protect yourself from the sun when you go out to play during the day.
Respect Local Religion
The Tibetan areas outside the Tibet Autonomous Region are mainly divided into Kham and Amdo. Although they are all Tibetans, the language and religion of the local Tibetans may be different depending on where they live. In some Tibetan areas, local Tibetans believe in the Bon religion. When visiting these areas, it is important to remember to do the kora or turn the prayer wheels counterclockwise.
Get Ready for Long Distance Drive
These Tibetan areas are mostly located on the eastern edge of the Tibetan Plateau, with complex terrain and large ups and downs. Usually, when you travel in the Tibetan destinations outside TAR, especially in the west Sichuan, the distance between sights and sights is very long, and it takes a long time because of the winding and undulating mountain roads and poor road conditions, so please prepare in advance if you are prone to motion sickness.
Conclusion
The Tibet Autonomous Region is not the only place where you can experience Tibetan culture and customs. On the eastern edge of the Tibetan Plateau, there are still Tibetan people living in Sichuan Province, Yunnan Province, Qinghai Province, and Gansu Province for generations.
It is much easier to travel to these Tibetan destinations without the need for a Tibet Travel Permit. When Tibet is still not open to the public because of the COVID-19 epidemic control, for you who are quite eager for a trip to Tibet, we hope these best Tibetan destinations we recommend can bring you some inspiration for your travel planning.