Tour Mount Everest in Winter: An Unexpected Bonus
"Bitterly cold, and potentially hazardous" and if that is your conception of what Mt. Everest feels like in winter, and feel intimidated to visit Mt. Everest in winter, think again!
Indeed, it is freezing in most of Mt. Everest region. Yet, the temperature is much more tolerable than what the majority of tourists expect. Although winter is not the best time to travel to Everest Base Camp, it can bring you unexpected bonuses beyond your imagination.
The Weather of Mount Everest in Winter is Not That Unbearable
In winter, the highest temperature at Everest Base Camp in Tibet is around 6 Celsius while the lowest temperature can go down to minus 20 Celsius. To some extent, it is even warmer than some other parts of China. However, there is a dramatic temperature change between day and night and strong ultraviolet rays.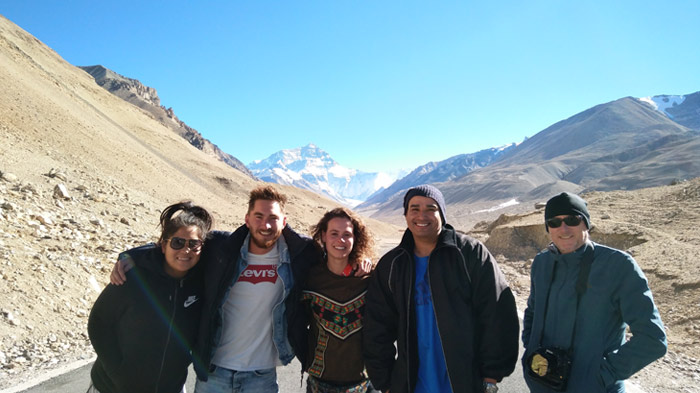 Temperature of Mount Everest in Winter is not so unbearable as you imagine
Day temperatures are comfortable and sunny skies generally prevail although it can get well below freezing at night. Winter weather in Mount Everest has high winds, cold temperatures and on occasion heavy snowfalls, dominated by the southward migration of the northern hemisphere jet stream.
In addition, different from the sporadic interference of dense clouds hovering over Mt. Everest summit in summer, the visibility of Mt. Everest in winter is far superior to other seasons. In fact, it's the best season for landscape photography and a great chance to appreciate the miraculously ever-changing ambient light cast on the summit of Mt. Everest.
Benefits of Touring Mount Everest in Winter
1. Unparalleled Landscape of Mount Everest
Due to the unique weather conditions, Mount Everest in winter presents itself in an unparalleled beautiful way. The mysterious veil of this holy mountain will be easier to uncover, and you will be more likely to appreciate the clear view of the snowy peak. Besides, with fewer tourists crowded in this high land, the whole region of Mount Everest returns to its tranquility.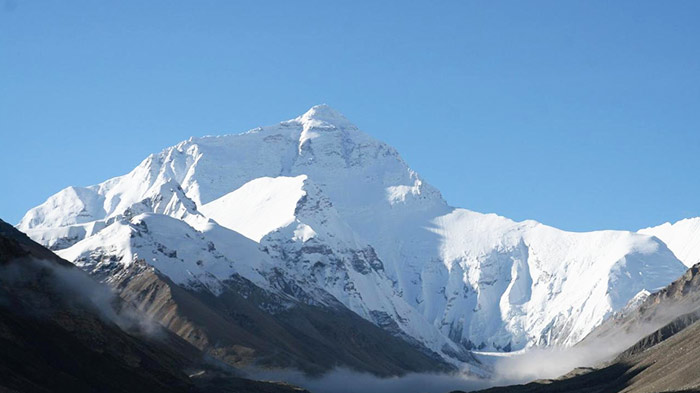 Stunning peak view of Mount Everest in winter
On a sunny day of winter, milk-white fleeting clouds shaped as banners can be seen on Mount Everest peak. This kind of clouds is called the banner cloud of Mt. Everest and has gained the title of "the highest wind indicator in the world". Therefore, it can be a "supreme" pleasure for one to enjoy sunbathing at the foot of Mt. Everest while appreciating the gorgeous view of banner clouds at the summit.
Also, the temple at the foot of Mt. Everest, Rongbuk Monastery, is widely recognized as the best spot to enjoy the sight of Mt. Everest. At 5,800m high above sea level, Rongbuk Monastery is the highest temple in the world. From Rongbuk Monastery, you can see the spectacular view of Mt. Everest, with dazzling snow peak and floating white clouds under the blue sky.
Besides, there is another perfect viewing platform, Gawula Pass. When traveling from Lhasa to Everest Base Camp, Gawula Pass is vital to pass through. With an altitude of 5,210 meters, Gawula Pass offers incredible sights of Mount Everest you will ever see. You can take in the breathtaking panorama of Everest, tighter with other rolling mountains along the Himalayas.
2. Sufficient Hotels and Guesthouses near Mount Everest
Many doubt that there will no places for staying overnight at Mount Everest in winter, even if they are desperate to see the spectacular scenery at once. To tell the truth, this is an unnecessary worry. Although the tents at Everest Base Camp will be dismantled from October to March every year, you can stay in the Rongbuk Monastery and the guesthouse nearby.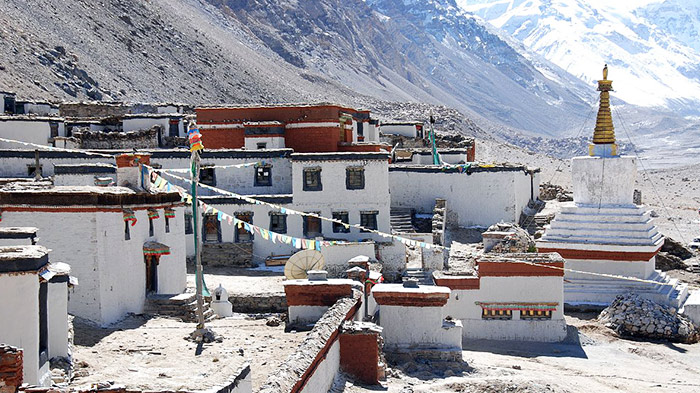 Rongbuk Monastery at the foot of Mount Everest
Also, you can head back to the Tingri Country, which is the nearest one to Mount Everest. With good-quality hotels, guesthouses, family inns to choose from, you can enjoy a good stay here. Compared to high seasons with exceeding demands, the accommodation in winter may turn out to be relatively adequate.
3. Lower Travel Cost for Everest Tour in Winter
Travelling to Tibet during the low season could save a lot of bucks for tourists since there are always plenty of promotional discounts. In winter, the ticket of Everest Base Camp is usually half-price than that of the peak season. Some popular sites along the route to Mount Everest, like Potala Palace, Pelkor Monastery, also offer half-price or discounts on admission fees. Besides, you will cost less on hotels, tourist vehicles, as well as flights etc, in winter.
4. Diverse Celebration Activities in Winter Mount Everest
In winter, Tibetan nomads living at the bottom of Mt. Everest would have a less busy life. It's a season of leisure and celebration. Tourists can find themselves exposed to varied celebrations filled with exotic dancing and singing. More locals will involve themselves in Kora (religious circling or pilgrimage around sacred mountains, lakes and holy Buddhist monasteries, etc.) or simply enjoy a cozy chat with friends in a local sweet tea house.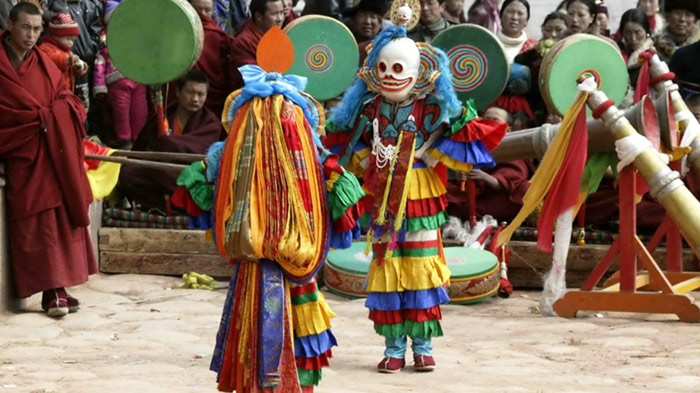 Tibetan New Year celebration in winter
It is also the season of Tibetan New Year, the most important festival on Tibetan calendar. Lasting 2 weeks from December 29, the New Year celebration will be a great opportunity for tourists to experience the lively festival with local Tibetans. Tourists can also enjoy the hot spring and other folk art performances in Tingri County.
Necessities for Touring Mount Everest in Winter
1. Indispensable Travel Documents
As most people have known, some basic documents are required for foreign tourists to visit Mount Everest. Apart from your Chinese Visa, you need to apply for Tibet Travel Permit and Alien's Travel Permit, for your Mount Everest tour in Tibet.
Please contact our travel consultant to make sure you have all the necessary travel documents before you head toward Mt. Everest region. With years of application experience, Tibet Vista can help you to handle all the formalities for free, as long as you book your Tibet tour from us.
2. Necessary Gears
Warm clothing, like thermal underwear, down jacket, down vest, should be prepared, since the temperature in high-altitude Tibet is always very low, no matter in winter or summer. With strong sunshine and dry air in winter Tibet, it is necessary to bring sunglasses, sunhat, sun cream, lip balm, skullcap and other sun protection.
Also, it is suggested to wear trekking boots for you may walk through some mountain roads which are rough and rocky. When necessary, you can also bring a sleeping bag in case of need.
3. First Aid and Food
Medicines for altitude sickness (such as Diamox, anti-nausea) are necessary, especially for those first visitors to Tibet, considering its high altitude of this plateau. Cold relief capsules, eye-drops, Imodium for diarrhea, and other medicines can also be packed in your carry-on bag. It will be a good idea to bring some snacks or instant food, like chocolate bars or other candies, in case you may need to replenish energy on the way or at Mount Everest.
Conclusion
In a word, travelling to Tibet in winter is an advisable choice for tourists, and taking the Everest tour in winter could allow you to experience a different trip with unexpected scenery you may miss during other seasons. The temperature will be not so cold to bear as you imagine, thus why not take a try right now?
Recommended Everest Base Camp Tour Packages