Lhasa Trekking: Top 5 Treks You Should Do around Lhasa
Situated on lofty Tibetan Plateau, Tibet abounds with majestic landscapes for trekking. Trekking in Tibet is a bucket-list goal for avid hikers and nature enthusiasts alike. Curious travelers want to unravel the mystical beauty of Tibet and at the same time attain nirvana. This is why trekking in and around Lhasa has become extremely popular over the years. If you happen to visit Lhasa, then the following treks are worth a try. Have a look:
Day Treks within Lhasa
1. Follow the Kora around Drepung Monastery
Among the largest of all Tibetan monasteries, the Drepung Monastery is located about five kilometers from the western suburb of Lhasa. It can house more than 7,700 permanent monks, and accommodate another 3,000 visiting monks. After its construction, the monastery became the seat of the first Dalai Lama, until the 5th Dalai Lama moved to the Potala Palace in the 17th century. The kora around Drepung Monastery is a circumambulation route that people follow to show respect to Tibetan culture. Some people undertake it as a meditation practice as well. The view from the top of the kora is enchanting and will offer you a panoramic view of the entire Lhasa valley.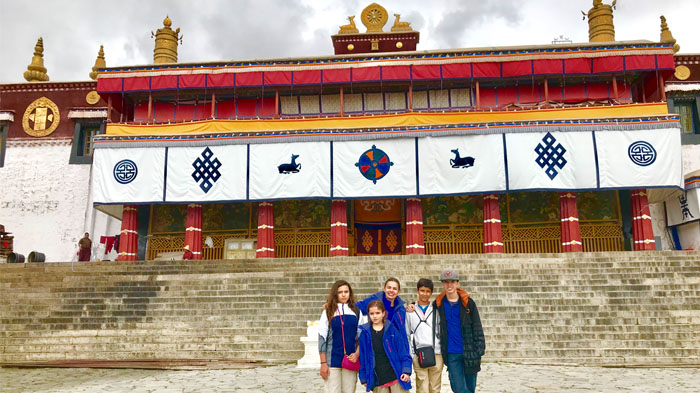 Drepung Monastery, one of the Great Three Monasteries of Lhasa.
Duration: Can be completed within 2 hours
Starting point: Main parking lot at Drepung Monastery
Finishing point: Main gate of the Drepung Monastery
Highest point: Kora route at 3900m
Best time for the trek: April to October is the best time to visit Lhasa
Trek difficulty: Easy
2. Trek from Pabonka Monastery to Sera Utsé Monastery
For those of you who cannot undertake longer treks during their Tibet visit, the trek from Pabonka Monastery to Sera Utsé Monastery is the perfect option. This thrilling excursion will help you discover Tibetan culture and nature. You will visit ancient Buddhist monasteries and a small hidden nunnery that most people can easily miss out on, as a part of this day trek. The Takten (Daten) Nunnery is hidden under a rock, and not many people can easily spot it. The trek will also offer a sweeping view of Lhasa city. Enjoy a charming view of the Potala Palace as you watch the sun go down from hilltop and end your day-long tour.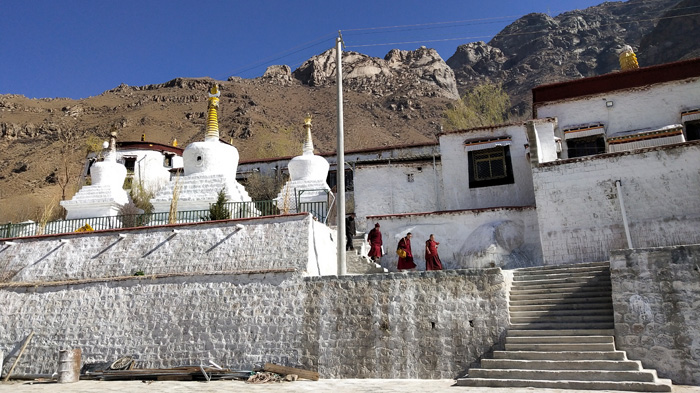 The short trek takes you to explore the ancient small Pabonka Monastery.
Duration: 10 hours approximately
Distance: 11km approximately
Starting point: Pabonka Monastery
Finishing point: Duodi village
Best time for the trek: April to October is the best time to visit Lhasa
Trek difficulty: Easy
Scenic Treks around Lhasa
1. 4-day Trek from Ganden Monastery to Samye Monastery
The trek from Ganden to Samye is amongst the best hikes in the world. Known as a legendary pilgrimage route, the trek offers you high snowy passes, lush alpine meadows, and crystal clear lakes, sacred sites, herders' camps, etc., making you familiar with nature in its purest form. Even though it is a rigorous trek, it is highly recommended. The two monasteries where the trek begins and culminates hold historical significance. The Ganden Monastery is the very first Gelugpa Monastery while the Samye Monastery is regarded as the first Buddhist Temple in Tibet. This trek will surely make you push your limits and help you attain inner peace.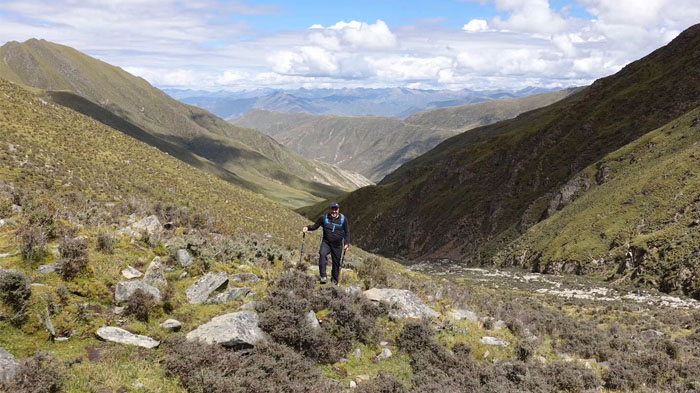 Enjoying the wonderful experience from Ganden to Samye trek
Duration: 4 days
Distance: 80km approximately
Starting point: Ganden Monastery
Finishing point: Samye Monastery
Highest point: Shogu-La Pass (5250m)
Best time for the trek: mid-May to mid-October
Trek difficulty: Difficult
2. 4-day Trek from Tsurphu Monastery to Yangpachen Valley
The trek from Tsurphu Monastery to Yangpachen is ideal for those who want to know more about the lives of drokpas (herders) and nomads, and for a few days want to try to live like them. Witness firsthand the essence of true Tibetan culture, along with scintillating scenery when you undertake this trek. Visit the ancient monasteries of Tsurphu and Yangpachen and know more about the traditions of Tibet. Cross several rugged terrains and alpine valleys to culminate your 4-day journey in Yangachen. Yangachen is famous for its hot springs, and every year, they emit heat equal to 4.7 million tons of standard coal.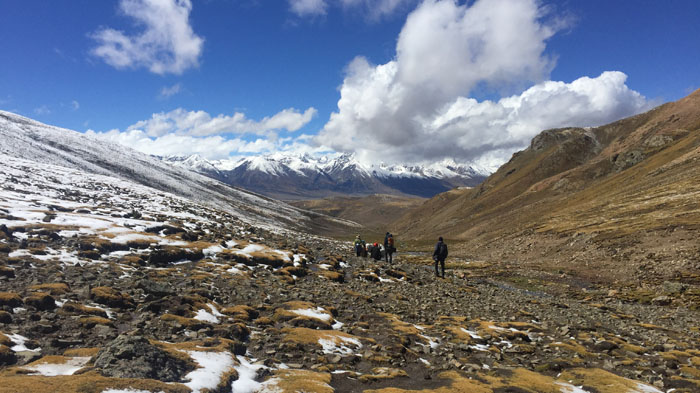 Tsurphu to Yangpachen trek route is an excellent trek for those who want to get a close contact with Tibetan nomads.
Duration: 4 days
Distance: 60km approximately
Starting point: Tsurphu Monastery
Finishing point: Yangachen Valley
Highest point: Lasar-la (5400m)
Best time for the trek: April to October
Trek difficulty: Moderate to Strenuous
3. 4-day Trek from Damxung to Tashi Dor Island
This trek is ideal for those who want to explore the ecological diversity and nomads' culture of Tibet. The trek begins on the main roads in Damxung and over the course of the next few days, you will go uphill to Kyang-la, which at 5,330 meters is the highest point of the trek, and also stop by at the surreal Namtso Lake. Widely accepted as the largest saltwater lake in Tibet, the Namtso Lake is pure blue-water beauty. The water is crystal clear, and the snow-capped mountains surrounding the lake make it a sight to behold. You will also come across goats and yaks while hiking to the Namtso Lake. The trek to Lake Namtso will culminate at Tashi Dor, after which you can boast about completing one of the most beautiful treks in Tibet. .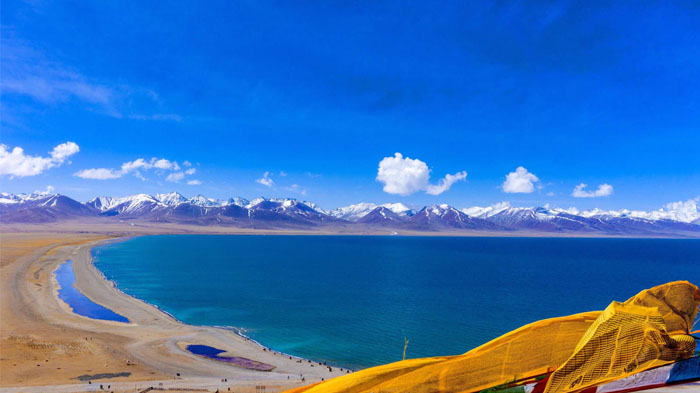 The trek will bring you to view the stunning beauty of Namtso Lake.
Duration: 4 days
Distance: 60km approximately
Starting point: Damxung
Finishing point: Tashi Dor
Highest point: Kyang-la (5330m)
Best time for the trek: May to October
Trek difficulty: Moderate to Demanding
Trekking Gear You Need
In Tibet, the weather can be quite unpredictable. It varies with the latitude and altitude. It is important that you pack appropriately as you will be trekking through divergent temperatures. But do remember to pack light. Here is a list of essentials that you will need:
1. Layered clothing: Whether it is warm, cold, or rainy, you will always be prepared if you pack a layer of clothes. Pack highly breathable and quick-drying fabrics as your base layer. You can team it with fleece pullovers and a shell jacket.
2. Trekking pants: You need to pack pants that are specifically designed for backpacking. Remember that these trousers should be light, quick-drying, and have several pockets. Also, keep a pair of knee-length shorts handy.
3. Woolen as well as cotton socks along with strong hiking boots. Waterproof boots should be preferred.
4. A hat/woolen cap, depending on the weather. It will also protect you from the glaring sun. Do remember to keep sunglasses with UV protection.
5. Pack a light scarf or neckerchief as well as a pair of gloves. Keep an umbrella, just in case.
6. You also need a good light-weight sleeping bag along with walking poles.
7. Carry a water bottle and a torch. Keep extra batteries.
8. Pack a kit with toiletries. Also, keep a first-aid box and any other medicines you need.
9. Gaiters: They are particularly helpful during winter treks and wet conditions.
10. And finally, don't forget to pack your camera along with some spare batteries.
Other Kind Reminders for Trekking around Lhasa
1. All international travelers need a Tibet Travel Permit to enter Tibet. You should first apply for a valid Chinese visa on your own and then apply for a Tibet Permit through a local Tibet travel agency like us before entering Lhasa and traveling around the region. Just remember, backpacking or solo travel is not available in Tibet to overseas tourists.
2. To get acclimated and avoid altitude sickness, stay hydrated, and get enough sleep. Give your body time to adapt and take it easy. Don't exert yourself at any time. - Learn more for Tibet travel experts to avoid acute altitude sickness.
3. Taking photos of Buddha statues is not allowed in the majority of Tibetan monasteries. When in doubt, always seek permission from your guide.
4. Dress modestly while visiting monasteries or nunneries. Women should avoid wearing low-cut tops, mini skirts, and short dresses. Remove your shoes, cap, and sunglasses before entering a monastery.
5. Modern currency in Tibet is the Chinese Yuan. It is important to keep enough cash with you before traveling to Tibet. It is not easy to find a lot of ATMs outside Lhasa. Before traveling around the region, it is a good idea to estimate the amount of cash you will need and keep it handy.
Conclusion
Trekking is a real test of one's endurance, and Lhasa trekking is no different. Witness the natural beauty of the holy Tibet, seek solace in the beautiful monasteries, and explore the uniqueness of Tibetan customs when you book a Lhasa trekking tour with us. Are you ready to challenge yourself? Book now and get away from the grind of daily life.