Top 5 Inspirational Tibetan Movies for Tibet Tour 2023
Although Tibet is exempt from the impact of the novel coronavirus, to minimize the chance of people to people transmission, a tempory suspension of Tibet tour is currently thought to be fairly necessary and understandable.
So, let's just be more patient and wait a bit more for the early resumption of the 2022 Tibet tour. To that end, we kindly prepared the top 5 riveting movies featuring compelling stories and adventures in Tibet. Hopefully, it will bring you a flash of inspiration for your upcoming Tibet travel in 2023.
No.1: Kang Rinpoche - Ultimate Pilgrimage to Holy Mt. Kailash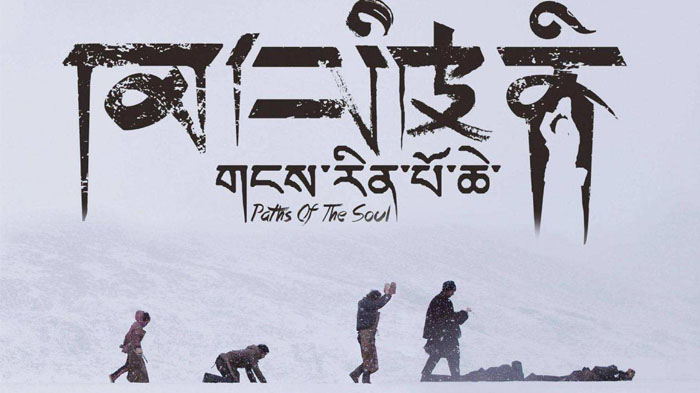 Movie poster of Kang Rinpoche (Mt. Kailash)
- Premiere: 20, June 2017, China
- Rating: IMDb (7.5); Metascore (90); Douban (7.7)
- 1h55min, Drama
- Director: Yang Zhang
- Movie Locations: G318 Hwy, Lhasa, Mt. Kailash
- Storyline:
After the death of his father, Nima, a villager in Pula village, decided to fulfill his father's last wish by taking his uncle to Lhasa and Kang Rinpoche (or known as Mt. Kailash) through a pilgrimage or kora.
It was the year of the Horse, which happened to be the 100th birthday of holy Mt. Kailash and was deemed to be extremely auspicious religiously. Many people in the village wanted to join the pilgrimage procession of Nyima. There are pregnant women in this team, poor butchers, and children with disabilities since childhood. Everyone has different stories and hopes. In order to go to Mt.Kailash, this team made up of 11 people, embarked on a challenging pilgrimage that covered over 2,000kms.
How to Experience Movie Scene in Real Life
For most travelers, you certainly won't need to wait for the Year of Horse to witness the pilgrimage of Tibetans to sacred Mt. Kailash. The easiest way is to join our 15-day Mt.Kailash and Manasarovar small group tour and travel all the way from Lhasa to Mt.Kalish to enjoy the divine experience yourself there. With fixed and multiple departures each month, you can easily choose your favorite dates for the spiritual journey.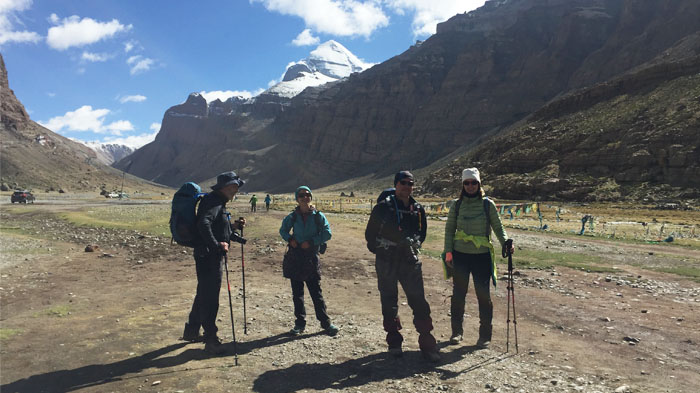 Our clients trekking to the sacred Mount Kailash in Tibet.
Of course, the best time to visit Mt.Kailash is believed to be during Saga Dawa Festival for local Tibetans believe that on this very occasion the blessings one can get by kora or pilgrimage would multiply than any other time. By then, you can travel with our best local leaders to explore the grand celebration of Mt.Kailash yourself. highly recommended.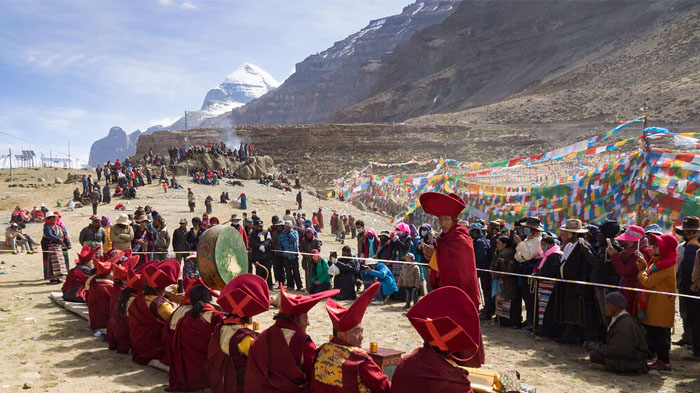 Locals are celebrating the grand Kailash Saga Dawa Festival.
No. 2: Seventy-Seven Days - Adventure in Uninhabited Regions of Qiangtang Grassland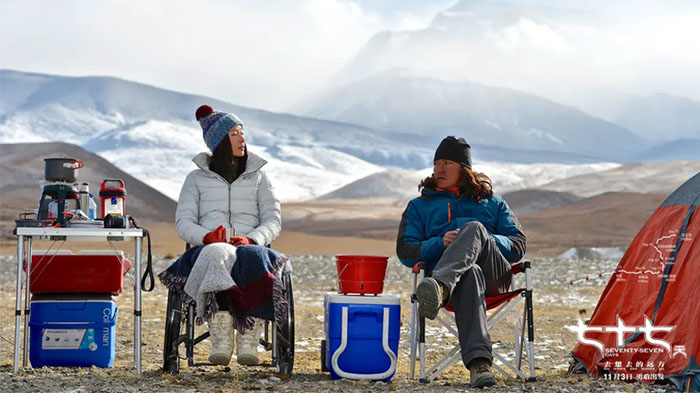 Movie poster of Seventy-seven Days
- Premiere: 3, Nov 2017, China
- Rating: IMDb (6.4), Douban (6.4)
- 1h55min, Adventure, Drama
- Director: Hangtang Zhao
- Movie Locations: Lhasa, Mt.Kailash, Uninhabited Areas of Qiangtang Grassland
- Storyline:
The movie is based on the real story of adventure written by Yang Liusong who crossed the uninhabited area of Qiantang alone in 77 days. In the movie, the protagonist who lost himself in life determined to challenge himself by crossing the uninhabited regions on snowy Tibetan Plateau.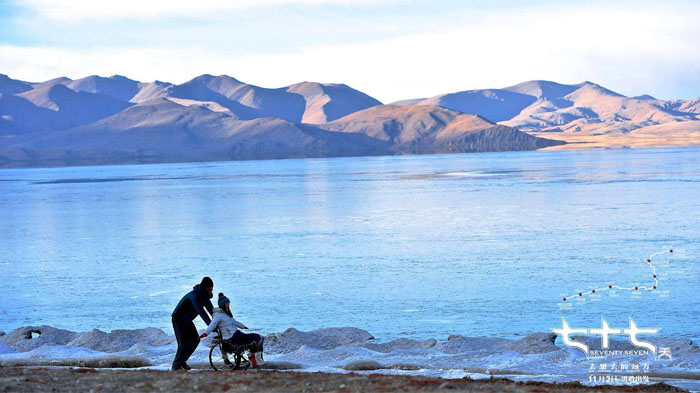 The movie heroine remains optimistic towards life
While the heroine, though physically disabled, remains optimistic towards life. She encouraged the man to finish his challenge that ordinary people won't dare to do. Then, the unparalleled adventure to unknown regions in northwestern Tibet just begins…
How to Experience Movie Scene in Real Life
To explore the virgin land and distinctive wildlife like Tibetan wild asses, wild yaks and Tibetan antelopes, vultures, highland wolves, etc. in western Tibet, the best choice is to enjoy the 20-Day Exploration of the Big Circuit of Wild Western Tibet.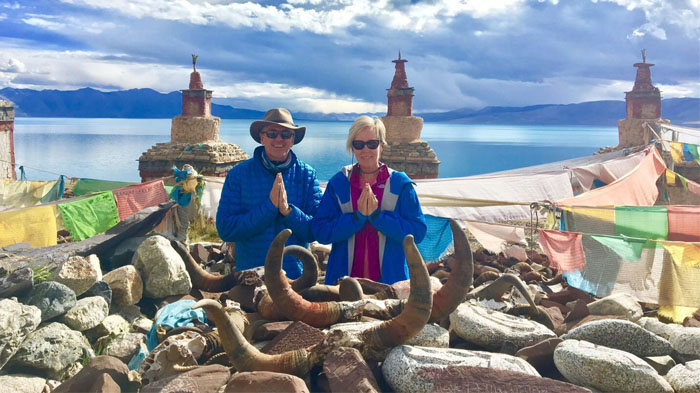 What a wonderful time to visit the sacred Lake Manasarovar in Ngari, Tibet.
The epic journey itself is like a highland safari in untouched Changthang Grassland of northwestern Tibet combined with an adventure to Everest Base Camp and holy Mt.Kailash and serene sacred lakes like Lake Namtso and picture-postcard villages unknown to outsiders, etc. Such a pure fantasy to all explorers.
No. 3: Kora - Special Cycling Journey to Fulfill Late Brother's Final Wish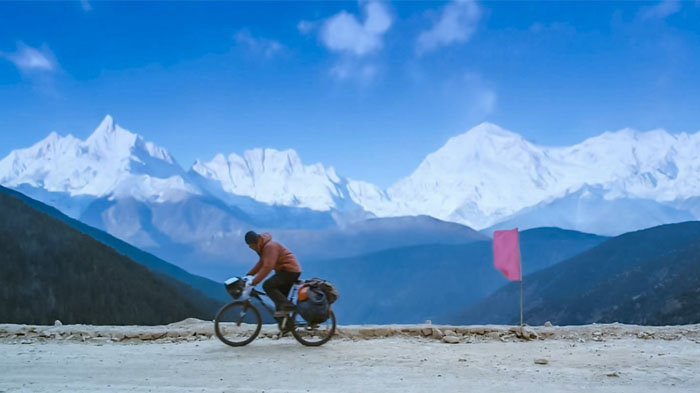 Movie poster of Kora
- Premiere: 3, Nov 2011, China
- Rating: IMDb (6.7); Douban (7.9)
- 1h30min, Adventure, Drama
- Director: Jiayi Du
- Movie Locations: Lijiang, Kunming-Lhasa Hwy, G318 Hwy, Lake Ranwu, Lhasa
- Storyline:
Zhang Shuhao, a Taiwanese young man, encountered the death of his brother when he graduated from the university. While he was in limbo and by chance he found his late brother's cycling log.
All of a sudden, the man who never cycles made up his mind to fulfill his elder brother's unfinished task---cycling from Yunan to Lhasa. After many twists and turns, he, against all the odds, successfully made it to Lhasa with his bike. Then realistic depiction of the stunning view along G318 Hwy and that of in Yunnan and cyclists' resolve are some of the highlights of the movie.
How to Experience Movie Scene in Real Life
In reality, cycling either from Kunming or Chengdu to Lhasa has long been a highly popular route for Tibet travel. You may either enjoy our cycling tour from Chengdu to Lhasa via renowned G318 Hwy and later cycle back to Shangrila, Yunnan from Lhasa to enjoy the totally different scenery along these two famous overland route.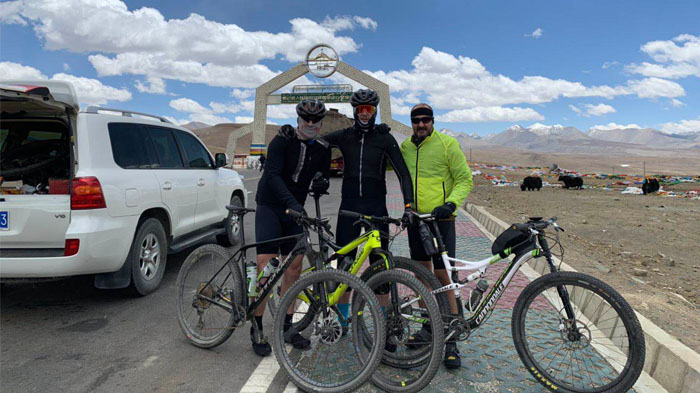 Cycling in Tibet can offer you the different view.
With a professional team, we will help you deal with travel documents and provide you with an extra back-up truck and cycling experts and logistic and medical supplies to ensure your travel safety for the epic ride. - Check for more cycling tours available in Tibet.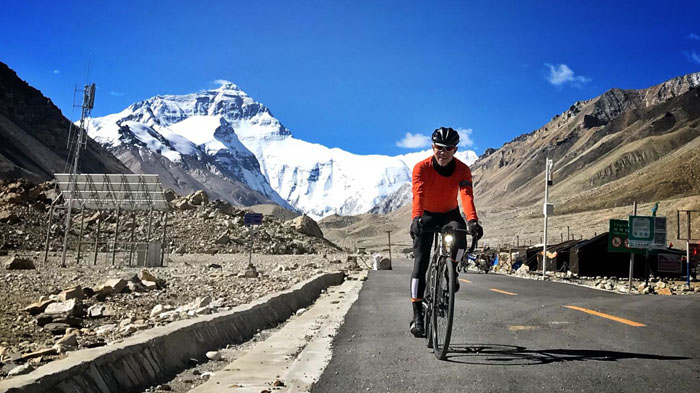 Our client enjoyed the amazing cycling tour from Lhasa to EBC.
Meanwhile, if you find it too challenging for the cycling, tour vehicles are also available for overland tour to Tibet from both Chengdu and Kunming. All you need to do is contact our travel experts for advice and later customize your ideal journey.
No. 4: Kekexili - Mountain Patrol for the Protection of Tibetan Antelopes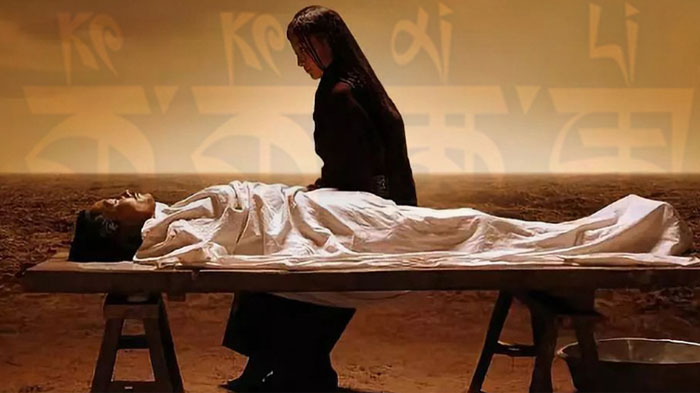 Poster of Kekexili
- Premiere: 1, Otc 2004, China
- Rating: IMDb (7.6), Metascore (77); Douban (8.8)
- 1h25min, Action, Drama
- Director: Chuan Lu
- Movie Locations: Kekexili National Nature Reserve, Qinghai Province
- Storyline:
The whole story is adapted from a true story. An undercover police officer Xi Yu went to the Kkexili nature reserve, one of the largest wildlife reserves on Tibetan Plateau, to find out the truth of the massive poaching of Tibetan antelopes.
Completely dumbfounded by ruthless poachers and decreasing No.of Tibetan antelopes, the Tibetan policeman and rangers managed to bring the killers to justice and defend the homeland of endangered Tibetan antelopes while facing the hostile plateau environment.
How to Experience Movie Scene in Real Life
Currently, only a limited number of tour groups were allowed to visit Kekexili Nature Reserve, Qinghai Province. You have to book a customized self-drive tour in Xining and travel from Golmud to Kekexili (around 2hrs' drive). Since Kekexili is an uninhabited region where only wildlife can be found, do bring enough supplies for the travel. However, the unspoiled landscape and biodiversity will leave you in awe.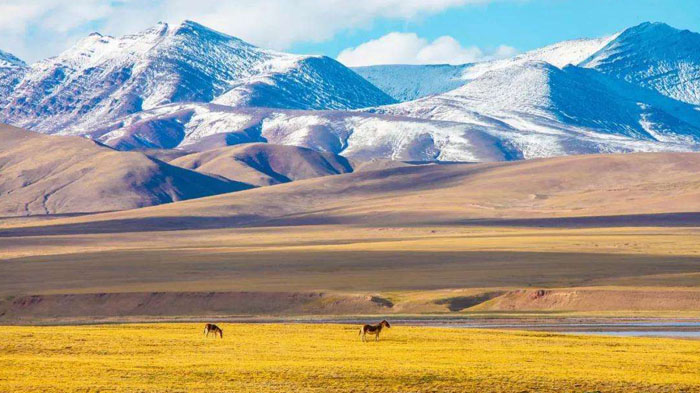 The breathtaking view of Kekexili Nature Reserve
No. 5: Red River Valley ( Hong He Gu) - Tibetans' Resistance against British Invasion in1904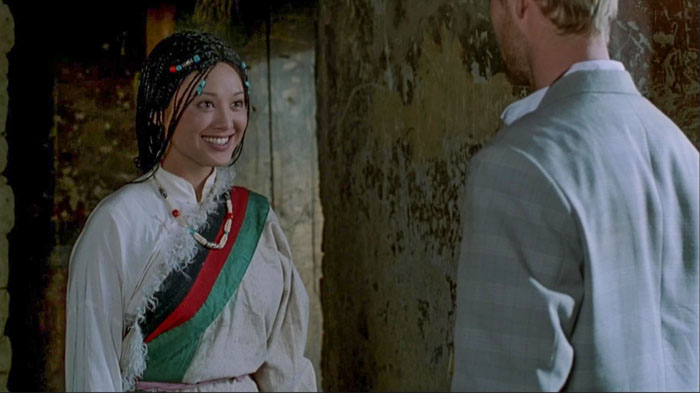 Movie poster of Red River Valley
- Premiere: 1,Oct 1999, USA
- Rating: IMDb (6.7); Douban (7.7)
- 1h55min, Drama, Romance, History
- Director: Xiaoning Feng
- Movie Locations: Karola Glaciers, Lake Yamdrok, Gyantse County
- Storyline:
The movie was set against the exquisite backdrop of the turn of the 20th century on Tibetan Plateau. A kind Tibetan man saved a young Chinese girl who was cast into a raging river as a sacrificed to gods. The two fled to a Tibetan tribe and began their new life.
However, the peaceful life was brought to an end as a rich Tibetan princess happened to fall in love with the Tibetan man. As the love triangle gets more complex, a British expedition team came for the invasion of Tibet. Ironically, the captain of British troops was once saved by this Tibetan man from an avalanche years ago. Facing great danger, the three people set aside disputes and joined the local Tibetans for the protection of their motherland.
How to Experience Movie Scene in Real Life
Well, most of the iconic scenes in this movie were shot in and around Gyantse County, a vital trade hub connecting Lhasa and Shigatse. To make a visit to them, a highly recommended visit is via our 8-day Lhasa to EBC tour, in which you can closely admire the Karola Glaciers where the Red River Valley was shot and explore the magnificent Gyantse Fortress which now serves as the memorial to real Tibetans' heroic resistance against British's invasion in 1904.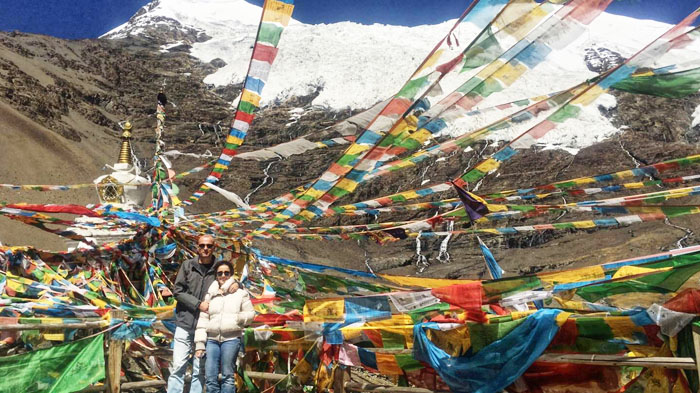 Closely admire the Karola Glaciers and take a photo
Hopefully, you will enjoy the movies above and get you more inspirations for your upcoming Tibet tour in 2022. Meanwhile, please feel free to email us if you have any questions as to your Tibet tour planning, our helpful travel consultants will offer you professional travel solutions within 12hrs.