Best Guide to Travelling to Tibet in July
Sitting in between the tail end of spring and the start of summer, July is widely regarded as one of the prime months for tourism to Tibet. Though it marks the start of the monsoon season in Tibet, the higher oxygen content, warmer climate and verdant grassland and stunning lake views make traveling in July much more comfortable and pleasant. It is important to plan well in advance for July, as this is one of the busiest times of the year.
Tibet Climate and Weather in July
July is one of the warmest months of the whole year and marks the beginning of the summer monsoon season in Tibet, but it usually rains at night and is sunny during the daytime. Owing to the high altitude, you won't endure the hot weather you have in plain cities in the same latitude during summer. The temperature is mild in July and would not surpass 30°C even on the hottest day. No sweltering you will feel except the pleasant warmth in the daytime. It is pleasant and even warm in most areas. There is little need to worry about altitude sickness on account of high oxygen contents.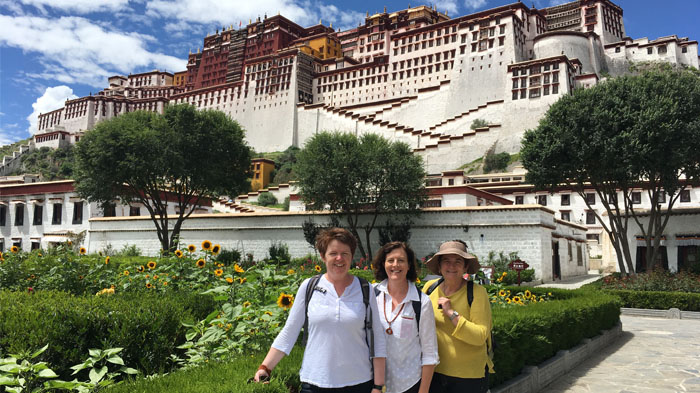 Discovering Tibet's breathtaking palace in the clouds in July
However, there are vast differences in temperature between day and night. The temperature drops largely at night in all Tibet areas, down to degrees below zero. A down jacket needs to be prepared even in July. In Lhasa, the minimum temperature is 10°C, while the maximum temperature is 22°C and the ultraviolet radiation on the Tibetan plateau is very strong. It would be better to dress in layers.
With the increase of an altitude of 1000 meters above sea level, the temperature drops 6°C. Tourists are able to visit most attractions during this period since frozen lakes melt, days are becoming warmer than spring. Meanwhile, most of the rains fall from July and August, causing many natural disasters, like debris flow, landslide in remote areas not recommended to go. - Check the monthly weather of Tibet.
Packing List of Travelling to Tibet in July
When planning a trip to Tibet, it is important to make sure that you bring the right things with you. In July, you are unlikely to need thick sweaters and long underwear, but you will not want to travel without your sunglasses and other summer items.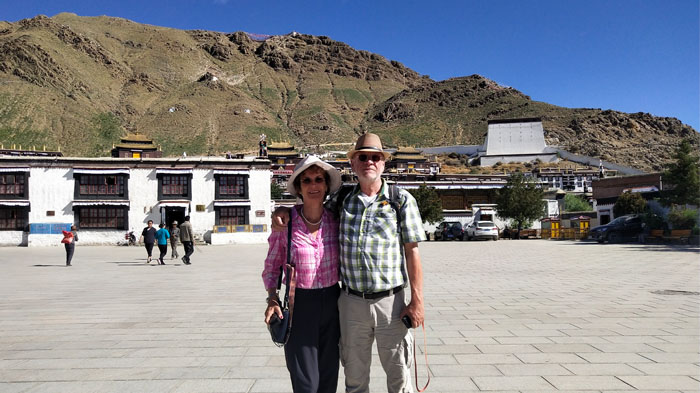 Remember to wear sunglasses when you travel to Tibet in July
Identification: Your valid passport, Chinese Visa, and Tibet Travel Permit are the main documents you will need. If you are planning to head out to Mount Everest or Mount Kailash, you will need other permits and passes, which will be properly handled by your local guide. You should make sure your permits and documents are all stored securely, but easy to access when you stop at checkpoints.
Clothes: July is already the monsoon season, but you will not exactly need a wet suit to travel. You do need to pack plenty of summer and autumn clothing, including long pants and some long-sleeved shirts. A down jacket is still a necessity, especially if you are planning to head west to the more remote areas of Tibet. It can still get a little chilly at night, and the further west you go, the colder the weather, even in summer. Also, you should bring an outdoor jacket, waterproof jacket and shoes, decent socks, and some good strong hiking boots. Dress in multiple layers and change your clothes according to the temperature change.
Articles: It is summer, so of course, you will need an umbrella at some point. The rains can come unexpectedly, though they do mostly fall in the late afternoon and evening. You should also bring sunblock for the harsh UV rays, a sunhat and a warm you're your sunglasses, Chapstick for your lips, and moisturizers for your skin.
Others: If you are bringing a digital camera, make sure you have enough data cards for longer trips out west, and replacement batteries. Dollars are not easy to spend, so do exchange your currency for Chinese Yuan before you land in China. And don't forget to bring toiletries, personal medicines, etc.
Popular Destinations for Tibet Tour in July
July is a good month to go sightseeing in Tibet for the bright sky and moderate temperature, you can enjoy stunning natural and cultural views of Lhasa, Nyingchi, Gyantse, and Shigatse. The unique plateau landscape and unique Tibetan Culture mean some recommended attractions are more than worth visiting.
Lake Yamdrok
As one of the three largest sacred lakes in Tibet, Yamdrok Lake is a significant Tibetan scenic spot that tourists must visit. Surrounded by many majestic mountains, on a clear day, the peaks rise one after another as far as the eye can see. In July, on a clear day, the peaks rise one after another as far as the human eye can see, the lake shimmers beneath the blue sky, blotted with stationary, white clouds.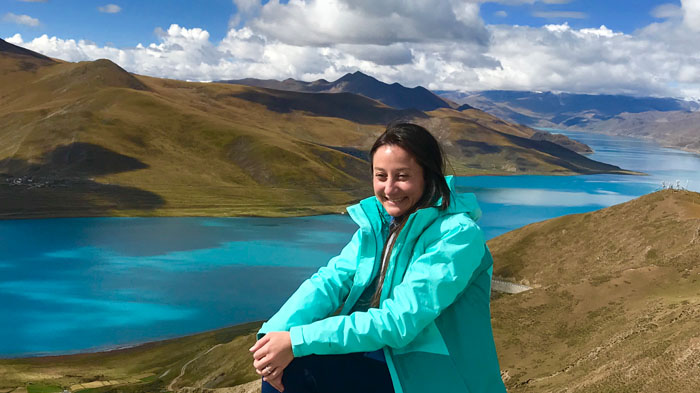 The sacred Yamdrok Lake is quiet and beautiful in July.
Normally, a classic visit to Lake Yamdrok from Lhasa takes one day. The highlights involve the stroll along turquoise lake Yamdrok and chances to pet tamed Tibetan mastiffs at Gampala pass (4790m) and photograph the panorama of the lake. With more time to spend, you may enjoy the scenic trek around Lake Yamdrok for an in-depth tour.
Mt. Everest
July may not be the best time to travel to Mt. Everest, as this is the rainy season in Tibet. Dense clouds and rain can sometimes hinder the trip to see the peak of Mt. Everest. If you are lucky enough, good weather could provide an amazing view of Mt. Everest. However, while you may be unlucky enough to arrive when the clouds cover the summit, this is not a daily hindrance, and you might see the peak clear in the morning.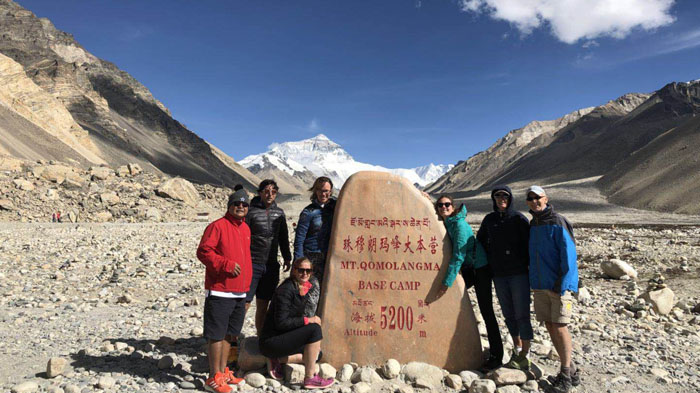 July is one of the best time to visit Everest Base Camp since the warm temperature.
Mt. Kailash and Lake Manasarovar
With an altitude of 6,656 meters above sea level, Mount Kailash is one of the most beautiful and sacred mountains in the world. The holy mountain is regarded as the center of the universe, and is sacred in Hinduism, Tibetan Buddhism, Bonism and Jainism. July is a good time to travel to Mt. Kailash and Lake Manasarovar due to the milder climate at this time of year.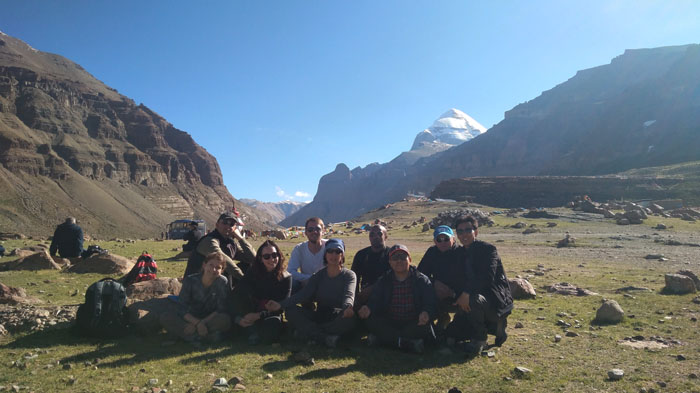 Mount Kailash is one of the most highlighted attractions in western Tibet.
However, it is necessary to bring an umbrella or raincoat and warm clothes, as the weather can be changeable this far out into the Tibetan hinterlands, esp. on lofty mountain passes. Though, it's the monsoon season, the Ngari Prefecture where Mt.Kailash and Lake Manasarovar lie sees less rainfall than what you may expect.
Lake Namtso
Known as the "Heavenly Lake", Lake Namtso is another of the most sacred lakes of Tibet. The grassland of northern Tibet is filled with thousands of flowers in bloom in July, and Namtso sits like a blue pearl on the Tibetan plateau. Dotted with yak herds and local nomads, July is an excellent time of the year to visit Lake Namtso. You may also take photos with the well-adorned Tibetan yak beside the lakeshore and walk to explore the caves of Tashi Dor Island nearby. The serene lake at sunset brings you epic shot. - Check the classic 6-day tour to Lake Namtso.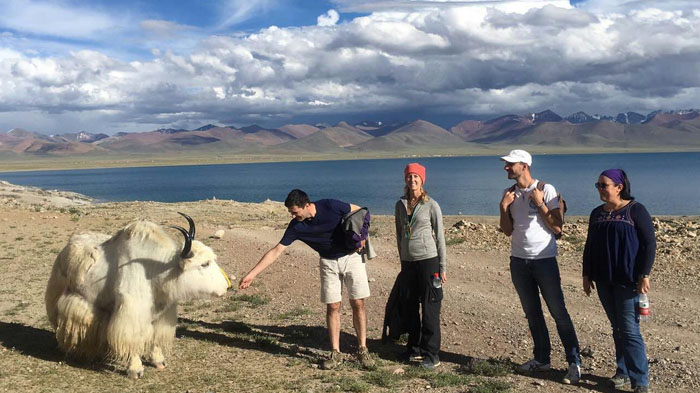 July is an excellent time of the year to visit Lake Namtso
Tibetan Festivals in July
Three grand and religious Tibetan festivals - Tashilhunpo Thangka Festival, World Incense Festival and Chökhor Düchen Festival will be held in July. For travelers, it is an excellent experience to witness the devotion of Buddhist pilgrims, the lively and welcoming monasteries, and the intricate patterns of colorful Tibetan art. Also, travelers can have a close contact with the local Tibetans, which may contribute to comprehending Tibetan Culture.
Tashilhunpo Thangka Festival
Tashilhunpo Monastery Festival is one of the most important festivals, also known as the Buddha Exhibition Festival in Tashilhunpo Monastery, which is possessed of a history of over 500 years and enjoys high popularity among local Tibetans and tourists. The Tashilhunpo Thangka Festival usually displays Buddha Amitabha (infinite light), Sakyamuni and Maitreya (the future Buddha) in turn for three days in the middle of the fifth lunar Tibetan month, from May 14th-16th in Tibetan Calendar every year(on 8th, July 2018). Meanwhile, reciting scriptures also is a significant part to pray that there is no natural disaster in Tibet. In actual fact, it is not only a religious celebration, also a feast of Buddhist art. 3-day exhibition will win people's admiration and respect for craftsmanship.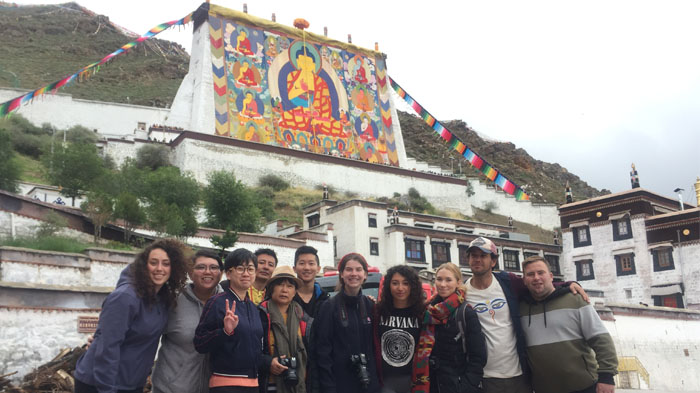 Enjoying the Buddha Exhibition Festival in Tashilhunpo Monastery
World Incense Festival
World Incense Festival, also called Universal Prayer Day or Dzam Ling Chi Sang which is a Tibetan Buddhist festival celebrated on the 15th day of the fifth month in Tibetan Calendar(on July 9 in 2018). It is a time for spiritual cleansing. On the Universal Prayer Day, Tibetan people who are good at singing and dancing dress in traditional gorgeous costumes, go to the tops of local mountains to burn incense and hang prayer flags. And then pitch tents, the locals sing and dance with music, immerse themselves in natural beauty.
Chökhor Düchen Festival
Chökhor means "Prayer Wheel" or "Dharma Wheel", the common religious objects in Tibet, and Düchen means "great occasion" in Tibetan. This festival held in Lhasa on June 4th in Tibetan calendar, that is July 16th, 2018 in Chinese calendar, which celebrates Sakyamuni's first sermon at Sarnath near Varanasi in India. Therefore, people all dress in new clothes to make a pilgrimage in local monasteries with their tributes on Chökhor Düchen Festival. Many pilgrims climb the Mt. Gambo Utse, the peak behind Drepung Monastery, and also the ridge from Pabonka to the Dodi Valley, to burn the incense and hang prayer flags. It is believed that pious attitude has a great influence on your prayer.
Different Transport Options to Tibet in July
Travelling by Tibet Train is the Best Way to Get to Tibet in July
Taking train to Tibet should not be missed and is also the best option for tourists. As we all know, the Qinghai-Tibet railway is the highest railway in the world, reputed as the railway in the cloud. Turned out to this railway, from its debut attracted a whole world's attention. However, it is more important to book the ticket in advance when planning a trip in July, as tickets can sell out on the same day they are released. Using our reputable booking service, we can usually guarantee tickets for the trains, as long as you book well ahead of time.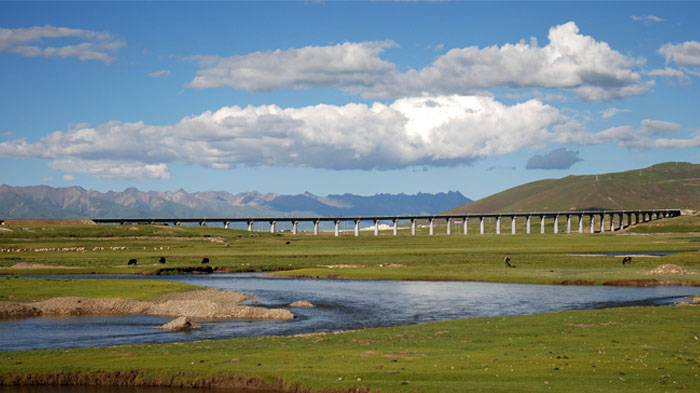 The breathtaking view along the famous Qinghai-Tibet Railway
One of the reasons why people visit Tibet by train is the scenery on the way to Lhasa from Xining. If you travel Tibet by train, not only can you appreciate the clear blue sky and a flock of sheep ranging over the grassland, the village houses speckled on the plateau, but also some famous attractions along the railway. Especially in July, you must be astonished by Lake Qinghai and the beauty of Delingha landscape.
Qinghai Lake
Shaped like an ellipse, Qinghai Lake lies northwest of the imposing Qinghai Altiplano, and is the largest inland and saltwater lake in China. It takes about an hour to approach the lake from Xining Railway Station, and the train will follow the lake's northern shore. Out of the window, what jumps into your view is the endless surface of lake.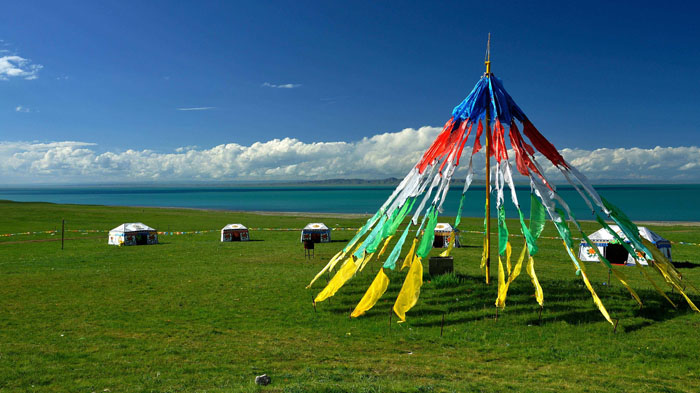 Qinghai Lake, the largest lake in China
It is worth mentioning that tourists can enjoy inviting views in July. At this time, the lakeside was covered with a grass and rape flower and the distant snowy mountains loom in ethereal cloud and mist. Golden blossoms, blue sky and snowy peaks are reflected in the Qinghai Lake, which is mesmerizing. All these seemed to constitute a landscape painting, tourists always speak about how beautiful it is, traveling in a picturesque world.
Delingha
Located in Qinghai province, Delingha is a city on the plateau that rebuilt after implementing the great reform and opening-up policy. There are two vastly different lakes, named Tuotuo Lake and Keluke Lake, which surrounded by vast grassland. It is said the aliens had visited Mount Baigong near to these two lakes, and the shape of mountain resembles pyramid, which makes Mount Baigong shrouded in mystery.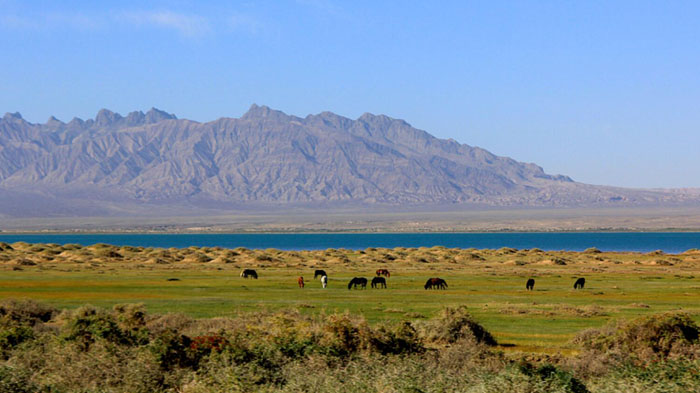 You are able to see the wild animals from the train window.
Delingha is Mongol, which means "golden field". As long as the train draws near vast and fertile farmland, luxuriant vegetation, a few sheep grazing by the lakeside, you will understand what golden field means and why people are keen on travel Tibet by train. Also, tourists swarm into Delingha in July, therefore, it is difficult to book tickets and accommodations. It is a golden opportunity of a feast to the eye when the train passes by.
Is It Safe to Travel Overland to Tibet in July?
While the long roads to Tibet from Yunnan, Sichuan, and Qinghai, as well as the long road from the Nepali border, have improved over the years, there are still some risks involved in traveling overland in Tibet in the rainy season.
Heavy rains often lead to landslides that cripple the mountain roads, esp. parts of the G318 Highway from Chengdu and border regions from Kyirong Port to Kathmandu. There is quite challenging even for professional drivers. So, it's very likely that your trip may affected by the bad road condition or consequent traffic jams. Then, a great solution is to take flights into Tibet, which can avoid the potential dangers posed by overland travel.
Other Tips for Travelling to Tibet in July
1. You must get Tibet Travel Permit and other relative permits when you are planning to travel in Tibet.
2. With high altitude and thin air, there is extremely strong the ultraviolet ray in Tibet plateau, you need to pay much attention to protecting your skin under the strong ultraviolet radiation.
3. Umbrella and waterproof clothing are necessary goods when you are traveling to Tibet in July. Due to rainy season and large temperature change between day and night, it's better to bring long-sleeved clothes, down jacket, outdoor jacket, wet suit and waterproof shoes.
4. As it is the peak season of Tibet tour, you'd better book train tickets two months ahead of your schedule to ensure your travel to Tibet in desired time. If you want to cut down the cost, taking part in a Tibet small group tour is a good option.
5. Oxygen content is high in July, therefore, it has less worry about altitude stress. Just treat altitude stress positively. Taking trains also can help you to acclimatize.
6. Respect local customs and Buddhist Culture when you are in Tibet. You'd better not touch Buddha statues and the head of Tibetan people or take pictures inside of the temples.
Conclusion
July is generally a good month to travel to Tibet for a tour, and the rainy monsoon is easily offset by the better weather you will get and the warmer climate of the summer months. While it may be a little wetter and may mean you miss the view of the peak of Everest, there are more benefits to travel in July than downsides. So if you are thinking of a good month to try and visit Tibet when it is warmer, July is the perfect option. And please feel free to reach us for more consultation.