Visit Tibet in October: best travel expert's tips for travel
Is October a good month to travel in Tibet? The answer is absolute YES in all respects, which includes a milder climate and temperature, fantastic natural landscapes, characteristic religious activities, and festivals, etc. In October, you can enjoy yourself totally in the holy Buddhist land. However, in the first week of October, Chinese people are celebrating the National Day Holiday and Tibet always receives over 100,000 tourists daily this week. And the prices of hotels and air tickets are usually higher than most other times of the year. Therefore, it is best to travel to Tibet after the tourists rush. Here, we can help you plan your October visit to Tibet to make the most of the last of the autumn months before the winter weather sets in.
Weather and Temperature of Tibet in October
October marks the beginning of dry seasons of Tibet, when there are little rain and dry air. While the temperature is turning cold, it is not too chilly for most people. In October, the temperature ranges from 23 degrees in the daytime to minus 1 degree at night. While you may worry about it being too cold to go to Tibet, it is a bit cold in October, but not cold as you imagine.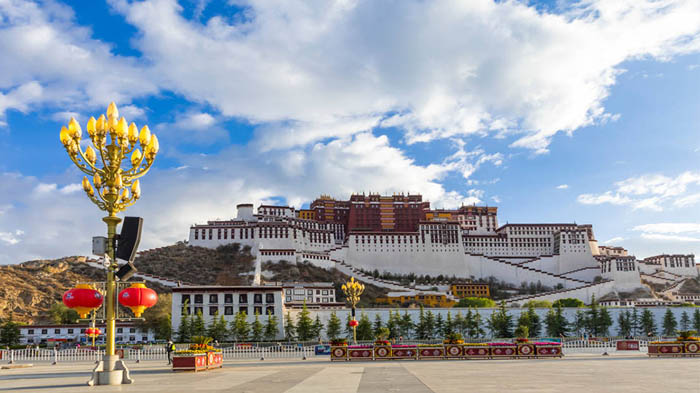 Warm sunshine and crisp air in Lhasa in October
The average temperature of Tibet in October is 8.8 °C, with minimum temperatures of around -1°C and maximum temperatures of around 23 °C. In addition, Tibet in October has just come out of the rainy monsoon season. Days are sunny in Tibet during October, with clear blue skies, pale wispy clouds, fresh plateau air, and comfortable temperatures. - Find the monthly weather of other popular destinations across Tibet.
The oxygen content in the air is still in the higher range and the climate is very pleasant. It is said to be the time when altitude sickness happens less, due to the higher oxygen content in the atmosphere. However, there is a dramatic temperature difference between day and night. The average temperature in Lhasa is 15°C in the daytime while the temperature drops to around -5°C at night. Wearing a lightweight down jacket is preferable, and you need to keep warm at night and in the early morning.
In Lhasa, Nyingchi, and Shannan, the minimum temperature is about 4 degrees, which is a little higher than in Ngari and Nagqu, in the north and northwest. It's brilliantly sunny in the daytime, giving you a comfortable warm feeling. However, a down coat is still recommended for traveling in Tibet, especially in the cooler areas, and the stronger ultraviolet rays act on skin, so it is better to use sun cream to avoid sunburn.
Top-Rated Tibet Tours in October
Early October is regarded as one of the best times to visit Mt.Everest. Due to the clear weather, you have a great chance to see Mt. Everest's true face, free from the summer cloud cover. From December to the following February, it is very cold at the Everest Base Camp. Mt. Everest, as the world-famous peak, attracts millions of travelers each year. It is important to select a good time to make an Everest Base Camp tour; otherwise, you might not be able to see the world's highest peak at its best state. The less foggy weather in the Mount Everest Nature Reserve in October makes it a perfect time for photographing the mountain and its high summit.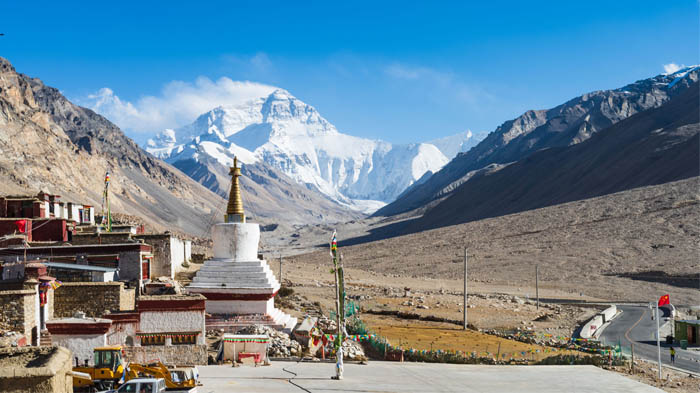 October is one of the perfect seasons for EBC tour in Tibet.
Due to high altitude, when traveling to Lake Namtso in October, it is possible to encounter heavy snow, which can block the mountain passes. While it is still warm in most of the southern area around Lhasa, Lake Namtso is already starting to get very cold, as it lies on the boundary with Nagqu, more than 100 kilometers to the north of the Tibetan capital. However, there is no guarantee that the passes will be closed, and if you keep an eye on the weather, you will soon know if you will be able to get to the lake for the stunning landscape and scenery.
If you take one of the amazing Lhasa to Kathmandu overland tours, then you will pass by Lake Yamdrok along the way. Yamdrok Tso is one of the famous Great Three Sacred Lakes of Tibet, along with Lake Namtso and Lake Manasarovar. In October, especially in late October, the Namtso Lake and Manasarovar may not be accessible if the roads are blocked by heavy snow. But Yamdrok Lake is different. It is easily reachable all year round and comes to its most beautiful in October. The tour to Kathmandu also takes you to Mount Everest, which is at one of its clearest times in October, making it easier to see and photograph the mountain.
While it is a good time to travel in Tibet in October, it is not always the best time to take a cycling tour, as the weather can get colder in the northern areas of the region. Lake Namtso is not an ideal place for a cycling tour in October, although it is still possible to take the cycling tours to Mount Everest and on to Kathmandu, as the high passes are not yet covered in snow.
Different Means to Get to Tibet in October
How to get to Tibet is the first thing that needs to be taken into consideration when travelling to the plateau region. When you travel to Tibet in October, you can go by train or by flight, or you can travel overland to the Tibetan capital from Kathmandu. Flights run from several major cities across China, as well as from Nepal, though while flying is the fastest way to get to Tibet, it is not always the best, and is never the cheapest. Flying is an expensive option, especially from distant cities such as Kathmandu and Beijing. Flying is not much use for acclimatization either, as you are traveling in a pressurized aircraft, and the level of air on the flight is the same as the departure location. Once in Lhasa, you will need to acclimatize for a couple of days before you are ready to travel outside the capital.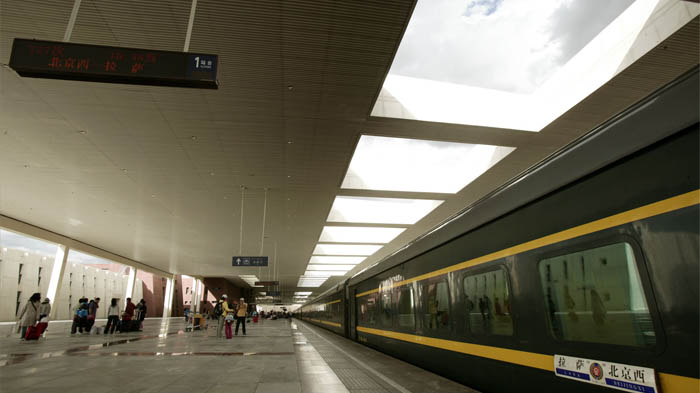 Taking the famous Qinghai-Tibet Railway to Lhasa is favored by international friends.
Trains are another option for travel to Tibet, and depart from seven gateway cities across china, including Guangzhou, Beijing, Shanghai, Chengdu, Chongqing, Lanzhou, and Xining. The trains do take a long time to get to Lhasa, ranging from 22 hours to around 55 hours, but are one of the cheaper options for travel, often costing less than half of the cost of the flights from the same city. For those traveling on a budget, this is the best option. However, trains do not help you to acclimatize, despite the information given on many other Tibet travel websites. The cabins of the trains are pumped with oxygen once you reach the plateau level, to help prevent altitude sickness on board. So you will still need to acclimatize properly once you reach Lhasa.
Travel from Kathmandu can be done by flight, but if you are feeling adventurous, then you can travel overland, taking local transport to the border at Gyirong Port, and then traveling with your guide across the plateau to Lhasa, doing the classic Lhasa-Kathmandu tour in reverse. You will still need to acclimatize, as Kathmandu is only 1,400 meters above sea level. However, this is easily done for a day or two once you reach the plateau, and you will not have the heavier altitude of Lhasa as you ascend to the border and Gyirong Town.
How to Plan Hotel and go for Dining in Tibet in October
There are many kinds of hotels in Lhasa for your choice, including guesthouses, budget hotels, boutique hotels, 4-star hotels, and 5-star hotels. You can choose different levels of accommodation from cheap hotels to luxury hotels based on your own needs and desires. In general, the hotels in Lhasa are very tidy and safe, and can offer hot water, showers and baths, warm comfortable rooms, Wi-Fi, and a host of other facilities.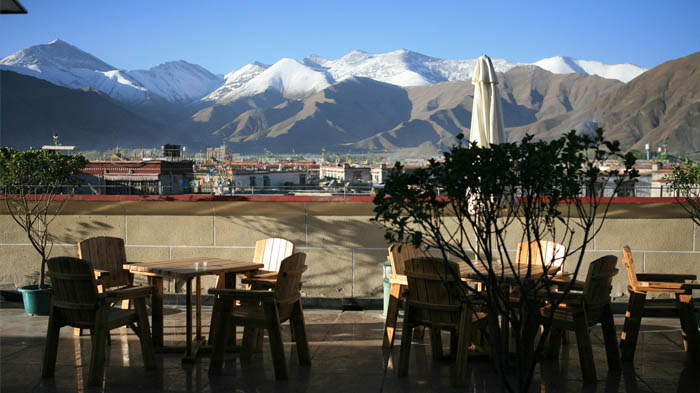 Pause for a cup of sweet tea on the patio of the rooftop of Yak Hotel in Lhasa.
As you travel outside Lhasa, however, in most cases you will find that there are fewer high-end hotels available, and in some areas, only local guesthouses and lodges are available for accommodation. These are normally fairly basic, without shower facilities, hot running water, or Wi-Fi, but are interesting places to stay, as you can get a better experience of what it is like to live in Tibet, the way Tibetans do. - Check more hotels and accommodations in Tibet.
Traveling in October can be a little touch and go, especially if you are traveling in the first week. It is best to try and go later in October, as many hotels, hostels, and guesthouses will be fully booked in the first week, due to the National Day holiday in China. If you are traveling in the first week, make sure that you book well in advance, or you may find that there is nowhere to stay in Lhasa.
Food in Tibet is mainly made up of Tibetan Cuisine and Chinese/Sichuan Cuisine. If you travel to Tibet in October, you should not miss the local traditional Tibetan food; special dried beef and mutton, butter tea, tsampa, and barley wine, which are the most popular foods in Tibet. If you want to eat in a local Tibetan restaurant, the price of food in Tibet costs around 16 dollars, on average. If you like eating fast food, the price of food is much cheaper, only about 5 dollars. However, trying the local Tibetan food will enrich your Tibet tour and give you a better insight into the daily lives of the Tibetan people and how they eat. And despite what you may have heard, Tibetan food is very tasty, with high levels of proteins for the survival of the Tibetan people on this inhospitable plateau.
How to Travel Wisely in Tibet in October
If you are planning your trip to Tibet in the first week of October, then it is probably best to steer clear of the most popular attractions for the Chinese tourists. Most Chinese taking a trip to Tibet in the first week of October will be traveling to the capital and heading to Shigatse and Mount Everest. This route is often crowded with tourists for this Chinese holiday, and you can guarantee that Lhasa will be filled to overflowing with Chinese tourist, making it hard to properly explore many of the stunning attractions.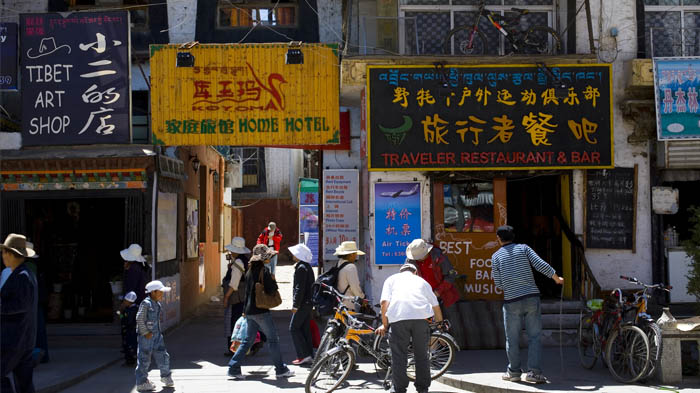 Roaming over the lively Barkhor Street in Lhasa is an excellent experience.
Instead, you can opt for a trip that takes you to some of the more outlying and out of the way locations, which are actually even more interesting and exciting than the classic tours. For those that love to trek, the route from Ganden Monastery in Lhasa to Samye Monastery in Lhoka is an ideal hike for October. Covering only around 80 kilometers and taking four days, this trek is not popular with Chinese tourists, but is one of the best ways to avoid the crowds and enjoy the open countryside of the plateau.
There are also plenty of other places to visit that are not crammed with Chinese tourists in the first week of October, such as the trek to Nartang Monastery from Shalu and the site of the Drak Yerpa Monastery to the east of Lhasa. Alternatively, you can travel to the area of Tsedang in Lhoka, the cradle of Tibetan civilization and the location of the famous Yumbulakang Palace, the first royal palace in Tibet. There you will also find the first Tibetan Buddhist Monastery, Samye, and be able to see where Tibetan civilization first started.
Conclusion
Tibet is one of the most amazing places in the world, not just because it is on the world's highest plateau. This stunning land is filled with mystery and mysticism, and has the world's most unique landscape and culture. October is definitely one of the best times of year to visit the plateau, with comfortable weather and clear skies, if a little chilly at night, but not too cold to leave you frozen stiff. If you can avoid the crowds of Chinese tourists in the first week, you will find that there are few times of year that can match the month of October for beauty and climate. And with it being autumn o the plateau, the falling leaves make the ground a multi-colored carpet of gold, red, and brown, which can renew those old autumn feelings you had as a child.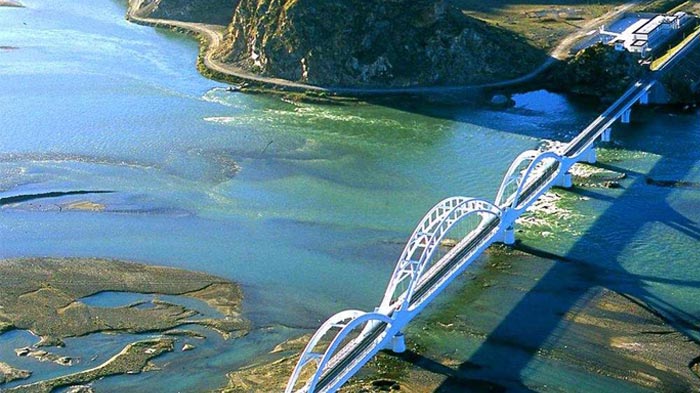 Beautiful Landscape along Tibetan Railway.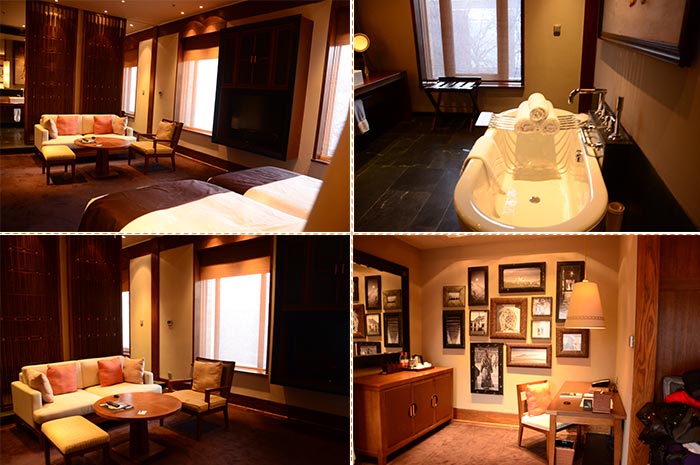 Double Room of Five-star Hotel in Tibet.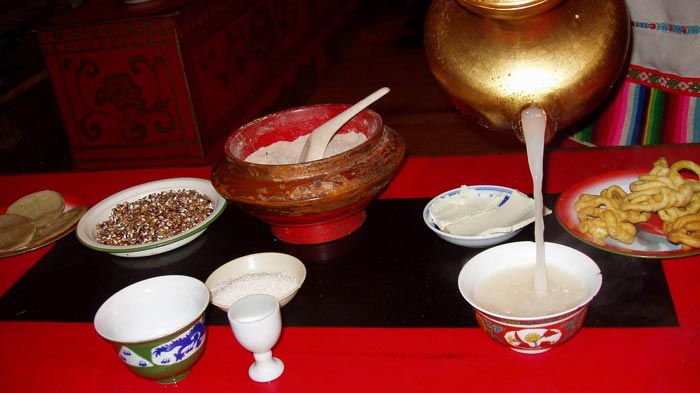 Buttered tea is peculiar to the Tibetan.