Tibetan Mastiff Photography
Known as one of the rarest breeds in history, Tibetan mastiff is believed to be the ancestor of many fierce dogs on the European continent. Grown up in Tibet and Qinghai province, China, Tibetan mastiff features long and dense hair, robust body, and he is extremely loyal to his owner while is ready to launch an instant attack to the enemy, often quite deadly.
For years, Tibetan mastiff has long been used as the handy assistant to herdsmen, protecting the safety of its owner and property. It is said that the best Tibetan mastiff can be found in Nagqu County, Tibet. To dog lovers, you may go to the Tibetan mastiff breeding base to appreciate the mighty power of Tibetan mastiff.
Where to See Mastiff in Tibet Tour
When you tour Tibet, you are most likely to see Tibetan Mastiffs gathering along the top three holy lakes for tourists to take snaps, namely, Lake Yamdrok, Lake Namtso and Lake Manasarovar.
Yamdrok Lake
Located at the Nangartse County of Shannan Prefecture, Yamdrok Lake is the largest inland lake in the northern foot of the Himalayas, which is highly reputed as one of the three sacred lakes in Tibet. It stretches 130km from west to east and 70km from north to south. Lying at an altitude of 4441 meters above the sea level, Lake Yamdrok covers an area of 638 square kilometers and has a 250-kilometers-long shoreline.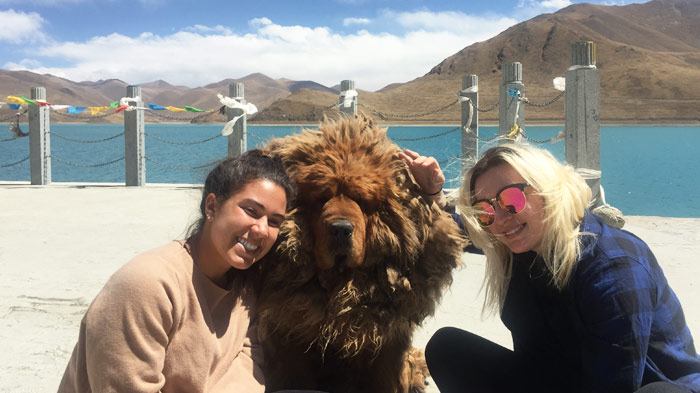 Took photo with Tibetan mastiff at Yamdork Lake
Looking down from Gangbala Mountain Pass, you can take a panoramic view of Lake Yamdrok. It's also the best place to take a photo with Tibetan Mastiffs. Besides, tourists can also see lots of Tibetan Yaks and Antelopes grazing around the lakeshore for the fresh water and the thriving grass. And you can also get closer contact with local Tibetans who selling unique souvenirs along the way to Shigatse.
If the schedule is tight, 5 Days Lhasa and Yamdrok Lake small group tour will be the best choice for you to make the most of time and take great photographs of Tibetan Mastiff!
Namtso Lake
Namtoso Lake, also known as Heavenly Lake, is a classic pilgrimage site for Tibetan Buddhists and Beasts. Lying in the central part of Tibet, Lake Namtso is the second largest lake in Tibet as well as the third largest saltwater lake in China. Covering an area of 1920 square kilometers, Namtso Lake has a shape of the rectangle, spanning 70km from east to west and 30km from north to south.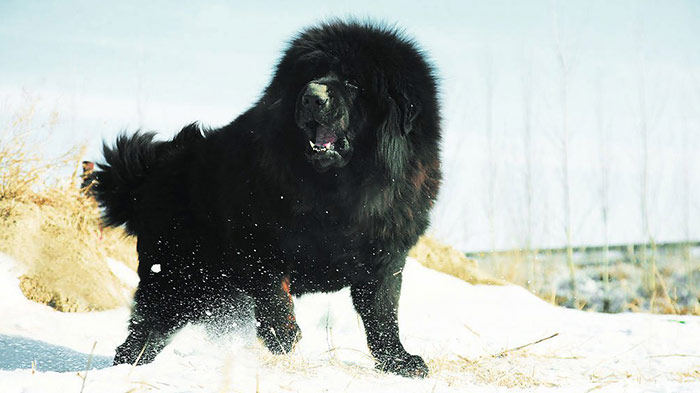 Tibetan mastiff in black color playing in the snow
Walking around Lake Namtso, you' ll find that local Tibetans and their Mastiffs scatter along the shoreline while waiting for the tourists to take shots. It's common to see some yaks enjoying the brilliant sunshine at the bank and horses carrying the goods for the pilgrims in Namtso Kora. Tourists can also pay a visit to the Tashi Dor Peninsula, explore the Tashi Monastery, squeeze through the good-evil cave, etc.
If interested, you can also join in 6 Days Lhasa and Lake Namtso small group tour to capture the awesome photos of Tibetan Mastiffs with the Nyenchen Tangla Mountain in the background.
Manasarovar Lake
Together with Yamdrok Lake and Namtso Lake, Manasarovar Lake is another holy Lake in western Tibet. Situated at 35 kilometers east of Pulan County, Ngari Prefecture, Lake Manasarovar with the elevation of 4583m, is the highest fresh-water lake in the world.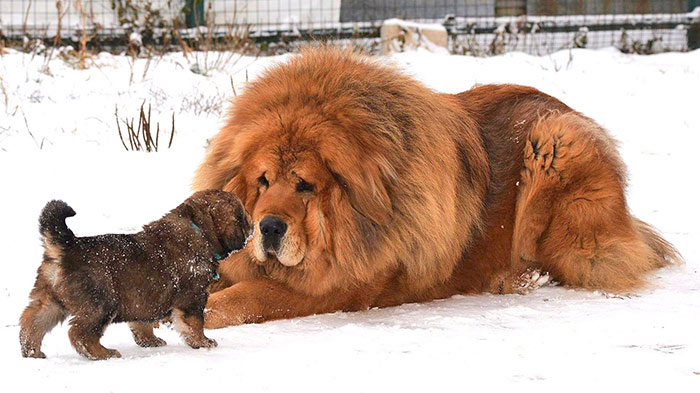 Tibetan mastiff and the little puppy
Facing to Mount Kailash in the north, Manasarovar Lake is the source of four great rivers in Asia, namely, the Sutlej River, the Brahmaputra River, the Indus River, and the Ganges River. Its surrounding natural scenery is very beautiful. Tourists can see Tibetan mastiff sparsely roaming at the shore and pilgrims following the ancient pilgrimage kora route around Manasarovar Lake. Since it's so close to Gang Rinpoche, you can continue your journey to Mt.Kailash and Guge Kingdom.
Insider tips:
Most locals would charge you some money for photographing Tibetan Mastiffs, so please ask for their permission and fees before action.
Tibetan Mastiff Photographic Tips
Tibetan mastiff is extremely ferocious to strangers, you'd better use a telephoto lens like 85mm or 70-200mm to shoot without enraging it, and do not use flash. When you compose your image, try to lower your body and shoot from a lower angle. In this way, you can better present the sturdy frame of the mastiff. Some close-up shot of mastiff's shoulder, menacing eyes will also be a great option.