The Best Restaurants in Lhasa for Authentic Tibetan Food
Having a taste Tibetan food can make your tour to Tibet more interesting, but where to enjoy authentic Tibetan food in Lhasa. While Lhasa may be small compared to many capital cities around the world, you will never have a problem finding somewhere to eat, and the city has a wide range of restaurants that offer all kinds of cuisines, from authentic Tibetan and Chinese to Nepali and Indian dishes.
Most of the restaurants in Lhasa are clustered around the area of the Jokhang Temple and around Barkhor Street and the surrounding side streets. And while most of the restaurants offering western-style foods can be found along the Beijing Road, the popular dining places for the locals can usually be found on Lhasa's Deji Road.
What are the characteristics and features of authentic Tibetan food?
Tibetan cuisine is usually characterized by its use of barley and rich meats, as well as the local influences of the plateau environment and climate, which have a lot to do with what ingredients can be found for cooking. The unique climate and the high-altitude topography of the Tibetan plateau have not only influenced the culture of Tibet, but that of the cuisine as well. It is this that gives Tibetan dishes their unique flavors and characters, and which make it one of the most unique cuisines on the planet.
Cooking ingredients for the traditional Tibetan food
Rice is not part of the staple diet of Tibetans, as it is not widely grown across the plateau due to the severe altitude. Instead, the grain crops, mostly barley, rule the plateau ingredients list, with more emphasis put on the common plateau meats such as yak and sheep than on chicken, pork, and many of the common lowland vegetables. Tibetans were traditionally nomadic, so dairy products from yak milk have also been a common ingredient in Tibetan cooking.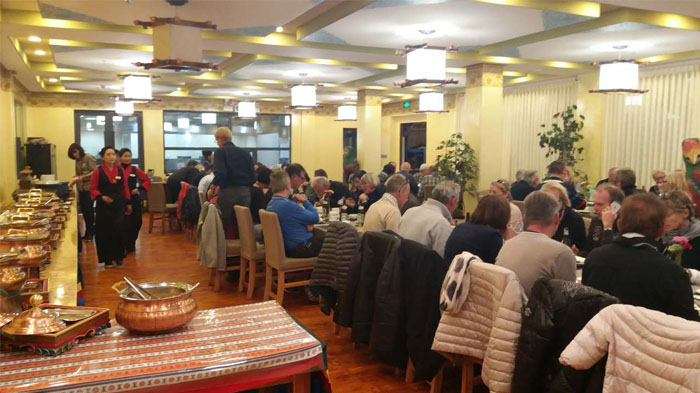 Friends from afar to taste authentic Tibetan food in Lhasa
Noodles are widely used in Tibetan cooking these days, and while they are reminiscent of Chinese cuisines, the unique flavors make them taste very different. Butter, cheese, and yogurt also play a huge part in the style of Tibetan cuisine, and dried yak, goat, and mutton meats are common across the plateau, especially in the winter months.
Cooking methods of authentic Tibetan food
With a lot of meat being eaten on the plateau, specific methods of cooking have become predominant in Tibet. Most meats, to make them more tender and easier to eat and digest, is either stewed, simmered, braised, fried, steamed, or roasted, all of which bring out the flavor of the dish that is being prepared. Stock from boiled or broiled meats is used as the soup for that particular dish, while roasted and fried meats have the drained fats turned into sauces and gravy for dipping the meat into.
Steaming is another type of cooking method that is widely used on the plateau, and the most popular steamed food is the momo. These particularly tasty dumplings are a staple of Tibetan cuisine, and are filled with a selection of meats or vegetables, and a few spices. Other steamed dishes include some noodles and some of the softer vegetables such as cabbage, when available.
What are the most popular Tibetan foods in Lhasa?
Everywhere you go in Lhasa you can see people taking a handful of roasted barley flour and making the Tibetan staple dish, tsampa. Created from the barley flour and a little leftover sweet tea from your Tibetan tea bowl, these delicious little balls of raw dough are made by kneading the barley into the tea with your fingers, then shaping it into a ball and popping it into your mouth. Get another tea, and do it all over again. Perfect for a great teahouse snack.
Momos, those delicious little steamed dumplings made from meat or vegetables, are undoubtedly one of the most popular foods on the plateau, let along in Lhasa. Made constantly and eaten as often as possible, momos are the ideal snack dishes for anyone with a good appetite.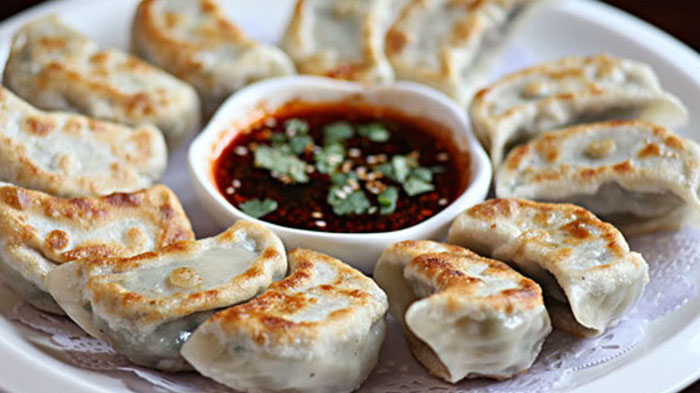 Fried beef momos with dipping sauce
Tibetan Noodle Soup, also known as Thukpa, is one of the most typical foods served in restaurants and cafes around Lhasa, and is eaten for any meal from breakfast to dinner. Made from either vegetables or meat, or even both, this is a tasty dish that is often eaten by pilgrims once they have finished their pilgrimage to Jokhang Temple.
Yaks are the most popular meat animals in Tibet, and in Lhasa, yak meat is part of the staple diet of all Tibetans, as well as being one of the most popular dishes in Tibetan restaurants. Chewy yet nutritious meat, it is normally shredded and air-dried with salt, and added to many of the local Tibetan dishes, or just eaten as it is.
Insider Tips:
Tibetan food is extensive and profound. Check the webpage link to see more about the Tibetan food which are popular and widely served in Lhasa.
How about the general environment and service of authentic Tibetan food restaurants in Lhasa?
There are many Tibetan restaurants in Lhasa, and over the years they have hosted meals for a wide range of both local and international diners. On average, the food service that is provided in Lhasa is generally good, with plenty of attention given to the diners, especially those on tours to the plateau from other countries. Tibetans are a generally happy and friendly people, and this shows through in the foodservice industry in Lhasa, with service in most restaurants ranging from good to excellent, according to the reviews on the acclaimed website.
Many of the authentic Tibetan cuisine restaurants also have a unique Tibetan décor, styled around the traditional Tibetan houses and other buildings, which gives the dining room in the restaurants a nice and friendly, yet somewhat exotic atmosphere. Dining in this style of restaurant, the walls are usually adorned with Buddhist images and small thangka paintings, as well as old photos from the earliest days of Tibet being open to foreign travelers in the early part of the 20th century. Tibetan restaurant décor is unique and beautiful, and adds more traditional Tibetan chic to the whole dining experience.
Are there any recommendations where we can enjoy the tastes of authentic Tibetan food in Lhasa?
Lhasa has a wide range of authentic Tibetan restaurants, from small local cafes to high-end Tibetan restaurants. The following restaurants in Lhasa are listed as the best restaurants in Lhasa for authentic Tibetan food.
Tibetan food restaurant for large tourist groups
Tashi I and Tashi II offer Tibetan food including Tibetan momos, tsampa, thukpa, and fried yak meat, as well as spaghetti, mashed potatoes and fries. The staff there speak English very well and an English menu is offered. Their larger restaurant areas are also better for catering to larger parties.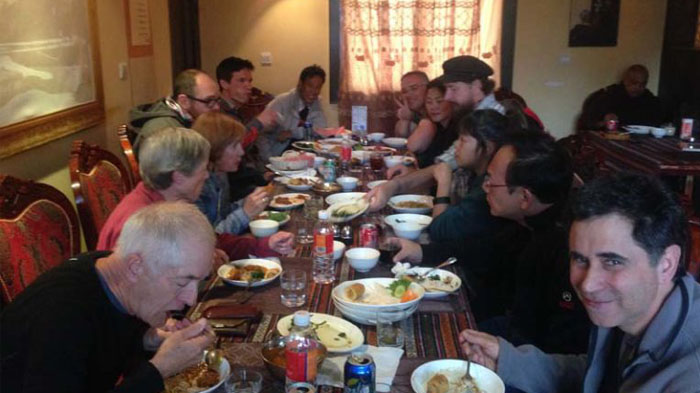 Our clients were enjoying authentic Tibetan food in Tashi
The Crazy Yak Saloon is a large restaurant next door to the Kirey Hotel on Beijing East Road. The restaurant is one of the largest Tibetan restaurants in Lhasa and has a unique Tibetan-style décor and furnishings, providing Tibetan food with a good reputation. The yak meat is strongly recommended. The restaurant serves some of the more unusual dishes, such as aweto chicken and aweto beef, as well as some common dishes.
Tibetan food restaurant for individual tourists or small families.
Snow-Deity Palace Tibetan Style Restaurant is another slap-up Tibetan Style Restaurant located right west of the Potala Palace Plaza. It offers authentic Tibetan food, for example, freshly fried mutton chops and Tibetan steamed stuffed buns.
Tibetan Cafeteria located west of Middle Beijing Road is also a Tibetan style restaurant and offers Tibetan food such as fried mutton chops, radish stew, yak meat and potato buns.
Kagui Nongmo Sakhang, also a Tibetan-style restaurant, you could go there with your Tibetan friends and enjoy the local food. From curried potatoes to sweet-and-sour ribs, Tibetan and Chinese dishes could be found easily. Tibetan staff are very friendly and helpful.
Pentoc Tibetan Restaurant is a good place to try homemade Tibetan food, such as momos, thugpa, and shemdre, plus butter tea and chang. It is located in an alley off Beijing East Road. The English menu is helpful for international diners.
Insider tips:
To best guide your dining trip in Lhasa, we have selected other food and restaurant in Lhasa which also have high reputations and worth trying.
Are there any Dos or Don'ts in any Tibetan food restaurant in Lhasa?
As with most societies, especially those where religion is a major part of the local culture, Tibetan dining does have its taboos and restrictions on what and how to eat. While the local Tibetan people may be Buddhist, meat is eaten three meals a day. Buddhism does discourage the killing of animals, but due to the high altitude meaning few other food sources are available, eating meat is a major necessity on the plateau. Low arable agriculture on the plateau leaves little else to eat, and it is only in the lower altitudes where vegetable and grains grow more easily that they are consumed more.
However, while much meat is eaten, normal Tibetans do not slaughter the animals themselves. Most of the slaughter of animals for meat is done in the northern areas, where the Makhep people are known to be the "butchers of Tibet". Larger animals are also slaughtered in preference to many small animals, as there is only one soul to slaughter to feed many people, instead of lots. Prayers are offered to the animal that is slaughtered in a ritual before the slaughter, as a way of thanking the animal for its selfless sacrifice.
There are, however, certain taboos on what to eat, and Tibetans do not eat all meats. Fish are not consumed from the rivers and lakes of the plateau, as it is widely believed that they are incarnations of the water deity, and consume the bodies of those that undergo water burials. Fish are also known to not have tongues, so cannot gossip, and are rewarded for not gossiping by not getting eaten.
Dog meat, donkey meat, and horse meat are also major taboos in the plateau lands of Tibet. Birds are mostly not eaten either, with the exception of chicken, as many birds also take part in the consumption of the corpses in the traditional sky burials.
Conclusion
Lhasa has a wide range of restaurant, with an even wider range of authentic Tibetan dishes. From the delicious little momos to the air-dried yak meat used in many Tibetan dishes, there is nowhere on the planet that can tickle your taste buds in such a unique way as in Lhasa. Tibetan cuisine is unique in the world, and on the basis of Chinese traditional cuisine, it does have influences from India and Nepal. The dishes are well worth trying when you travel to Lhasa.