Tibet Safety: Is It Safe to Travel Tibet This Year?
Tibet is a beautiful, incredible destination, and it's not hard to see why. The place is full of so many different things and experiences, all of which help to expand your mind and view of the world. It's also an amazingly welcoming place. The locals are incredibly curious about outsiders, especially outside of Lhasa, and will try to help you whenever possible.
However, staying safe and keeping aware of anything which might be a potential danger is a good idea especially when travelling on a foreign soil. And Tibet is no exception. Whilst step one might be making sure you maintain good local manners, and treat the locals with respect, there are a few other things which also merit your attention.
In order to help you navigate potential problems in Tibet for your trip, here are a few things to watch out for and ways to stay safe in Tibet.
Crime rate in Tibet
When it comes to crime in Tibet, it's practically a paradise for outsiders. Since 99% of Tibetans are pious Buddhists, the religious belief plays a big part in guiding their social behaviors and morals. The reports of pickpocketing and similar acts rarely happen in Lhasa city . Violent crimes are almost unheard of. In fact, they are unheard of in relation to visitors. For the locals, foreigners can be rare, especially outside of Lhasa. So, they're more likely to be curious and inquisitive, than want to do anything bad to you.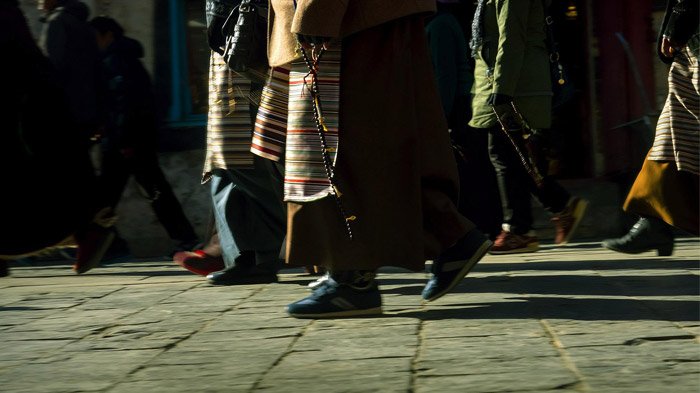 Streets of Lhasa
That being said, there are a few things you should be careful about. One of them is pickpocketing. This can be a problem in the cities and crowded places. It's very rare that locals will assault you for your things.
More recently, ATM scams have started to spring up. Fake ATM's are sometimes set up by criminal gangs, which snatch your bank card and won't return it. It's much safer to stick to ATM machines located in banks, not ones which you find on the streets.
Money, Money, Money
On the subject of money, make sure that you are prepared in case the worst happens. Ensure that you have multiple routes through which you can access your money. If your card gets snatched in an ATM, make sure you have some spare cash tucked away for emergencies. If you're thinking of taking just cash with you, you'll need to declare anything over $6,000 to Chinese authorities. Although this doesn't necessarily mean anything other than increased paperwork, make sure you keep the declaration paper for when you depart through.
Also make sure to bring at least one photocopy of your passport with you. With pickpocketing a problem in the cities, having a photocopy incase the unthinkable happens could give you huge peace of mind. This also counts for any other important documentation you'll need. Photocopies aren't as good as the originals, but they're better than nothing.
Political problems
Tibet suffered some political turmoil in the past. Disagreements have meant that Tibet has sometimes been portrayed in popular media as a hotbed for civil revolt and disagreement. For the most part, however, political strife and problems are generally rare. If you follow the rules.
It's important to remember that Tibet is heavily controlled. You cannot bring in images or material which contradicts or disturbs the public peace. Pictures of the Dali Lama, Tibetan flags, or pro-Tibetan material will be taken away from you. Also be careful about what you say in the country and to whom. Whilst it's generally ok to talk to your friends in a small group about any topic you want, don't start trying to rile up the public, or engage them in a line of questioning about the political situation there. Basically, be smart and responsible.
Whilst Tibet is generally very safe, there are times where political problems have escalated and led to issues for tourists. Whilst rare, if this does happen whilst you're visiting the region, it's much safer to stay in your hotel and wait until everything blows over.
Photographers beware
You've probably seen the incredible shots of Tibet's unique vistas plastered all over the internet. In fact, it's probably one of the reasons you wanted to go. Not just because you want to see those views with your own two eyes, but because you want to capture them with your own camera. Well, the sights in Tibet are unbelievable, and they are worth the trip, but make sure you're careful where and when you decide to point your camera.
Make sure to ask your tour guide about what it is ok to take pictures of. Some local Tibetan's won't want their picture taken and will become upset if you do it without asking. Other places you should be careful at are religious sites, where photography isn't allowed because it disrespects their deities.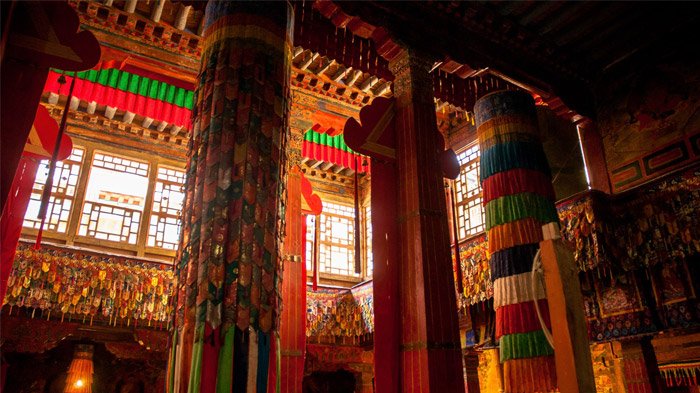 Inside of Tibetan monastery
Other than this, there are also some military sites which should be avoided with a camera lens. Government buildings can also be off limits. Make sure to check with your tour guide about this as well. Some strategic points will be seen as sensitive, whilst you might think they're just a road, or a bridge. Be careful about taking provocative images of Tibetans and Tibet, which might cause public unrest. Authorities will not like it.
Camping
Besides follow the standard camping procedures, such as packing the right stuff, you'll need to make sure that you know the environment you're staying in. Tibet still requires travel permits in 2017, so ensure you have the right permits. A travel guide can help you with this in most cases. Really, make sure that you have the right permits. Nothing is worse than finding yourself lost and without the right documentation allowing you to be there.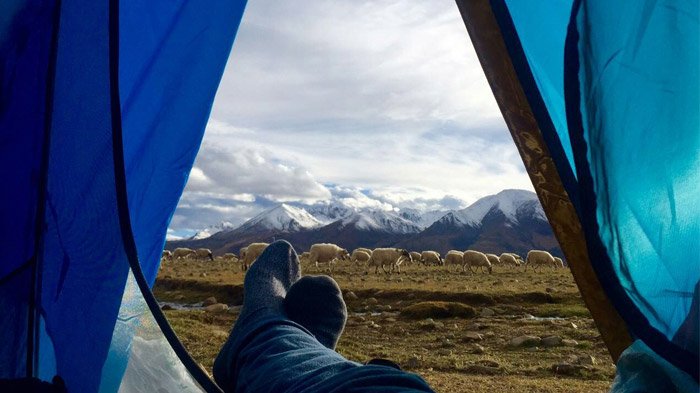 Tibet camp tour
There is, however, nothing wrong with camping if you have these permits, nor any rules against it. Whilst it might be more advisable to avoid camping during the winter, it's still perfectly safe if you figure out the warmth problem. Ensure that you keep track how the temperature changes during the night. Some areas become much colder during the night than during the day.
Also, be careful of lake water. Don't drink it. It can lead to more than a temporary stomach upset, and actually induce long-term problems which won't go away.
Animal attacks
Animal attacks aren't going to be much of a problem in Lhasa, but if you're headed out towards the countryside, and less built up areas, then they might become one. The best way to avoid any problems with this is just to avoid any wild animals you see. Especially big ones. In the years before 2017, animal attacks have been becoming more common, or at least are being reported on more. This could be either a good thing, or a bad thing, depending on if it's because the animals are becoming braver, or if it's just that they're being reported more.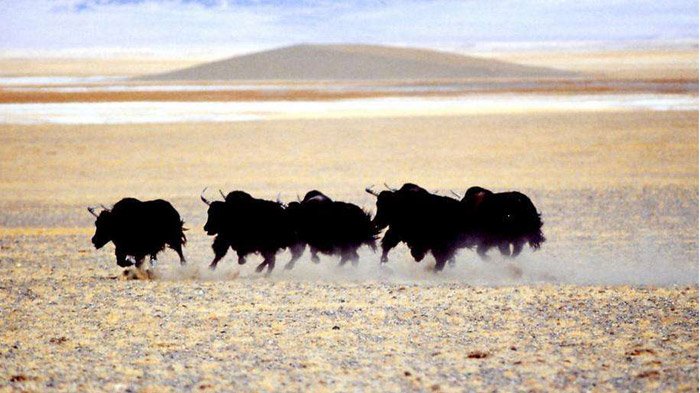 Wild animals in Tibet
Regardless, the locals in the north have reported being attacked by wild brown bears and Yaks for a long time. In more central areas, Snow Leopards and wolves are a little more common. The government has not made it a priority to ensure safety from natural wildlife in these areas. If you're thinking about trekking back into the Tibetan wilderness (it does offer some incredible landscapes), make sure you're safe about it and hire a tour guide.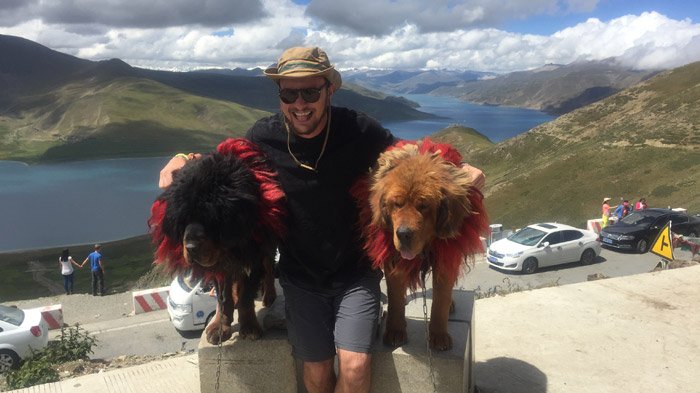 Take photo with Tibetan Mastiff
It's not just wild animals you should be careful with though. In smaller villages, large Mastiff dogs tend to roam the streets, helping the villagers with daily chores and housekeeping. Make sure that you keep a wide berth. Locals won't believe themselves responsible if their dog attacks you. Don't play with them, they aren't domesticated in the same way as dogs back home. They might just mistake you for dinner. However, only those tamed Mastiff dogs are purely harmless to tourists. Locals will take their well-adorned mastiffs or yaks to take photos with you. All you need to do is just pay a few bucks for those iconic photos, esp at turquoise Yamdrok Lake or holy Namtso Lake.