Attracted by Tibet's Mountains? Check Out These Top Picks
If you've ever found yourself curious about Tibet's staggering snow-capped peaks, you're in for a treat. Here, we've rounded up the most spiritually and culturally significant mountains with the most interesting histories. So when you're ready to embark on your travels, you'll know exactly which peaks to hit up for your most epic expedition.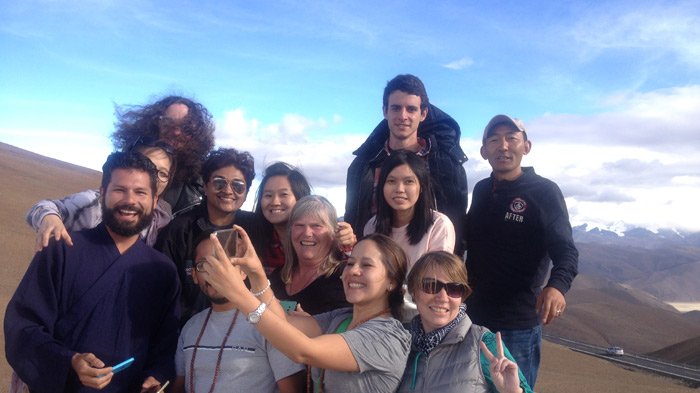 Appreciating Tibet mountain peaks at Gawula Pass
Makalu
The fifth highest mountain in the world, reaching nearly 28 000 feet, can be found on the border between Nepal and China. The first ascent was successfully made by frenchmen Lionel Terray and Jean Couzy in 1955. They established at this time what we call now the "standard route" for climbing the mountain. Take note: trek up the north face and the northeastern ridge, through the saddle between Makalu and Kangchungtse.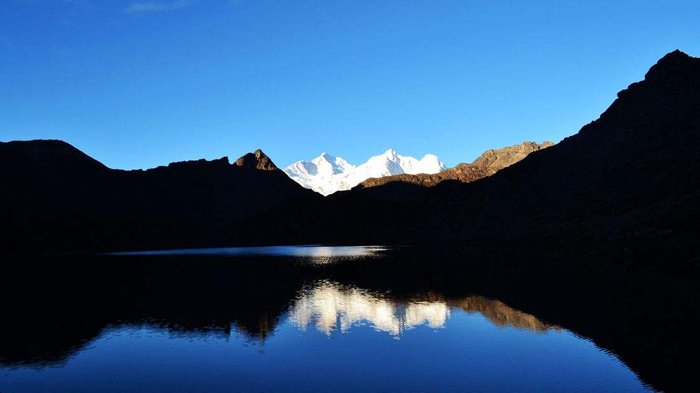 Makalu, the third highest mountain in Tibet
At the base of the mountain, in the Sankhuwasabha region of Nepal you'll find the Makalu-Barun National Park that has a breathtaking valley, complete with waterfalls, luscious forests, and colourful vegetation. Zones range here from tropical to subalpine. With such a varied climate comes a vast array of vegetation and animal life. Rare fauna that can be discovered? Eagles, raptors, storks, sunbirds, sultan tits, and white-napes yuhina. Significant plants include juniper and dwarf rhododendron, the latter of which is used in Tibetan Medicine to promote longevity, as well as cure phlegm and gonorrhoea. With its tropical plants sitting in the foreground, and the mountains in the background, the valley's an astounding display of the great contrasts that can be found in nature. This is definitely a destination you want to include in your visit to Mount Makalu.
Recommended EBC Tour for a View of Mount Makalu: 8 Days Lhasa to Everest Base Camp Small Group Tour
Mount Kailash
Considered a sacred fixture for not only Buddhists, but Hindus, Jains, and Bön sect practitioners as well, this is perhaps the most well-traversed mountain of the bunch. What it represents varies from religion to religion, with over all consensus being that trekking up and around this holy land manifests good luck. For this reason, thousands make a pilgrimage to Kailash every year.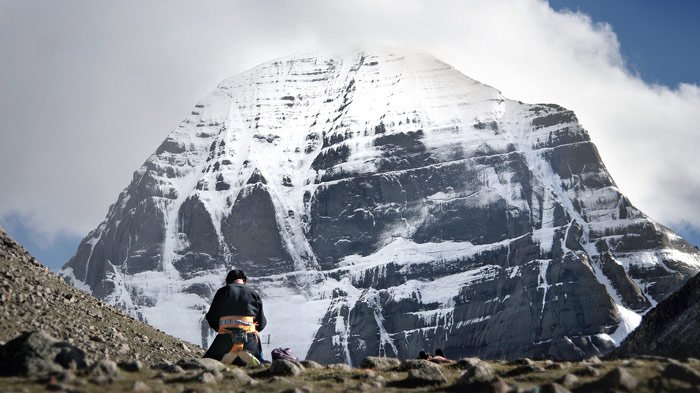 Prostrating in front of Mt.Kailash
Jains believe the mountain is the centre of the physical, metaphysical and spiritual worlds, and that as such there is another moon, sun and set of stars that revolve around it. According to this ancient Indian religion, the mountain that is found directly beside it is the holy site where the very first teacher, founder Rishabhanatha attained Nirvana, the blissful state of salvation that they also call moksha.
For Buddhists, this is the home of Demchok, the spiritual leader that represents ultimate bliss. It is also the site where leaders of the Bön and Buddhist faith challenged each other, stating that who ever made it to the peak of the mountain first would be the winner. In the end, the Buddhist leader Milarepa allegedly became the victor by roding the rays of the Sun to the summit.
In Hinduism, there have been legends indicating this mountain, with its great height, is the shortcut to heaven. According to these legends, those who have tried to make their way to paradise in this way were punished for this—all were brought to their death, except Yudhishthira, the humble war hero who was allowed through the gates of heaven. Hindus also believe this is the home of the Lord of Yoga, Shiva, and his wife Parvati, who lived here according to Sannyasa, which calls for a steady state of meditation, study, self-discipline, and minimal—if any—possessions. The ancient text Vishnu Purana also indicates that the four sides of the mountain are made of crystal, ruby, gold and lapis lazuli; these lavish materials reflect its significance. Like the Jains, the Hindus too believe Kailash is the centre of the world.
Finally, according to the Bön sect, this mountain is understood to be the seat of all spiritual power, the location of the spiritual realm Beyul, which can only be entered by those who have managed to achieve a state of non-dualism. To do this, you must follow the faith's discipline, as well as purify your mind and body. Before reaching this state, you may only appreciate Mount Kailash in its non-spiritual, physical realm.
Ready to hike Kailash? It's about a three day trip that will take you 15,000 feet up. That's no small feat; so, know that while you have the option to go on foot, you can also take a pony or yak for assistance.
Recommended Kailash Trekking Tour: 15 Days Kailash and Manasarova Small Group Tour
Nyainqêntanglha
Otherwise known as the Nyenchen Tanglha, these mountains span around 600 miles in length and can be found northwest of Lhasa. The highest peak, Nyainqêntanglha Feng, is over 23 000 feet high.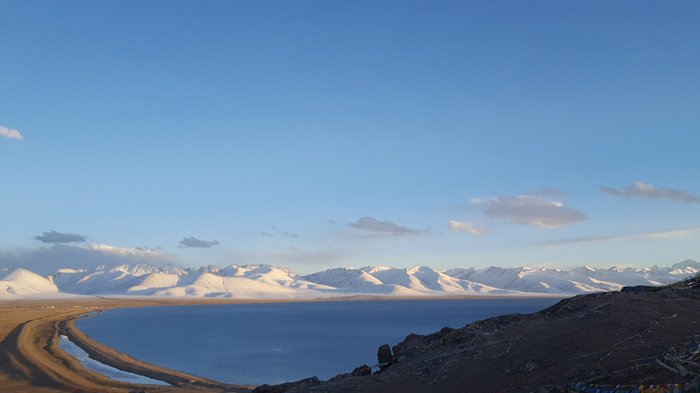 Nyainqêntanglha and Namtso Lake in winter
The name of these mountains is shared with the ancient mythological figure, Nyenchen Tanglha, who was the most influential, popular god, found in plenty of fairy- and folk tales. He was a protector of the Nyingma tradition, which is one of the earliest forms of Buddhism, incorporating shamanism and the worship of local deities. In addition, he was also a bodhisattva: one who wishes to become Buddha so he may help others. Because of the tie to this figure, the mountains have become a popular site of pilgrimage for Buddhists.
If you choose to visit, make sure to also head to the most sacred body of water nearby: Lake Nam Co/Namtso. It is also popular with Buddhists because of the shrine of the Buddha found there, as well as the belief that the lake can boost your happiness, and comfort you if you are sad. Even if you're not religious though, you're sure to marvel at this lake, found over 15 000 feet above sea level, and coloured by an array of shades of blue, ranging from light, dreamy, and greyish, to inky, deep and intense.
Recommended Namtso Lake Tour for a View of Nyainqutanglha Mountain: 6 Days Lhasa & Namtso Lake Small Group Tour
Namcha Barwa
Located in the Great Bend of the Yarlung Tsangpo River, this mountain is fairly isolated and thus rarely visited by tourists or climbers. It wasn't, in fact, climbed until 1992. The successful mountaineers were a joint Chinese-Japanese force, led by Tsuneo Shigehiro of Japan and Sanz Zhu of China.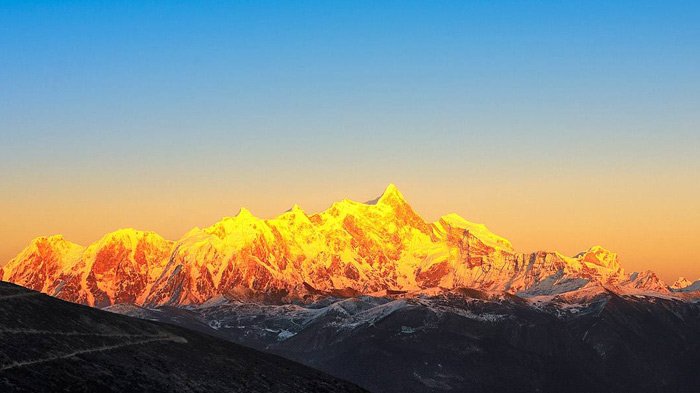 The stunning sunset over Namcha Barwa
Namcha Barwa holds the title of third highest peak in the Himalayas and the very highest peak in the eastern Himalayas, nearing 25 000 feet tall. Resting between these mountains and its twin mountain, Gyalha Peri, lies the deepest canyon in the world. The exact depth is not known for sure, but it's been estimated to be over 17 000 feet.
Recommended Nyingchi Tour for a View of Namcha Barwa: 10 Days Eastern Tibet Tour to Explore the Natural Beauty
Mount Nojin Kangsang
Titled one of the most picturesque peaks in Tibet, you can find this beauty between Zhangmu and Lhasa. It takes approximately nine days to reach the top, but the hike is a joy in and of itself. You can stop along the way, engage with locals and their animals; apparently, many natives like to hold up their pets so you can take a picture with them.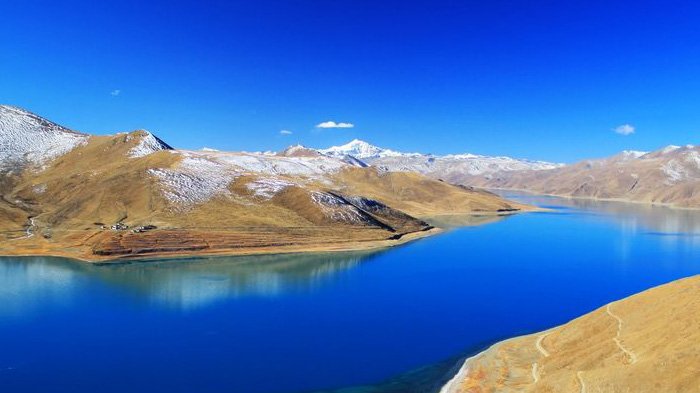 Mount Nojin Kangsang
As we've found to be the case with most, this mountain is more than a spot for tourists and climbers. It's viewed as a spiritual spot. Locals burn incense and arrange prayer flags along the summit, specifically an area called Karo La.
Recommended Yamdrok Lake Tour for a View of Mount Nojin Kangsang: 5 Days Lhasa and Yamdrok Lake Small Group Tour
So, if you've had your time to roam the streets of China and are ready for a change, we suggest you try your hand at mountain climbing. It may take some time to work up the strength needed to make the hike, but remember you are not obligated to climb to the top, in fact most don't. But if climbing really isn't your thing, try visiting some of the nearby natural wonderlands, like the aforementioned Lake Namtso, or Makalu-Barun National Park. You can soak up the sacred history of these spots without changing your level of elevation!
No matter what you choose, engage with the people you meet, ask them questions, and use every day as a learning opportunity, a chance to grow and become better acquainted with a culture as rich as Tibet's.