Top 5 Things to Know Before You Travel to Tibet
If Tibet is on your bucket list, you're in the right place! The rooftop of the world is a place you can't miss, akin to a rare treasure chest laden with crown jewels! Monasteries with elaborate decoration, viewpoints offering amazing views and marvels of nature spread throughout Tibet are only a few of them. However, there are a few important points you need to keep in mind before taking this incredible journey of a lifetime.
Tibet lies at a high altitude where oxygen levels are much lower than where the majority of travelers spend time. Spending a few days at altitudes between 2,200 and 2,500 meters to accommodate yourself to the difference prevents uncomfortable manifestations of the altitude sickness. Furthermore, you can visit Tibet only by arranging a tour via the local travel agency since individual travels aren't an option. Finally, most vacationers need to obtain the Tibet Travel Permit and the China Visa to visit the autonomous province of Tibet.
When is the best time to travel to Tibet?
Generally speaking, the best time to visit Tibet is from April to early June and from September to October. If you travel to Tibet during any of these seasons, you benefit from clear views of Mount Everest and the best balance between precipitation and air temperatures. Also, you avoid tourist crowds in summer and sub-zero temperatures in winter. Trekking and exploring the countryside are most rewarding during these months, while the Saga Dawa Festival, the central religious celebration among the Tibetans, takes place in May.
How to get to Tibet?
The most common means of getting to Lhasa, Tibet, from Chinese cities are the train and the airplane. Holiday-makers entering the autonomous province via Nepal typically take a flight from Kathmandu or join an overland tour.
Travel to Tibet from Mainland China
Traveling to the capital of Tibet by train offers many benefits compared to traveling by airplane. While Tibet trains connects Lhasa to the majority of large cities, direct flights are available only from a handful of them. Furthermore, train fares are significantly lower and the options for adapting to the higher altitude incomparably better.
Unless you fly from Chengdu, Chongqing or Beijing (from April to October), and several inland cities, you need to take connecting flights to reach Lhasa. Such a practice may result in unforeseen delays, even cancellations, and long layovers. Moreover, you won't be able to adjust yourself to the altitude difference and will pay at least double the price of the train, even quadruple.
Most experts recommend you to arrive in Tibet's capital Lhasa by train, and fly out from there, to help you prevent altitude sickness and acclimatize more slowly. It's also a great way to see some spectacular scenery! You can catch a train from many of the main cities in China like Beijing, Shanghai, Guangzhou, Chongqing, Chengdu, and Xi'an and then travel on the world's highest altitude railway from Qinghai to Lhasa.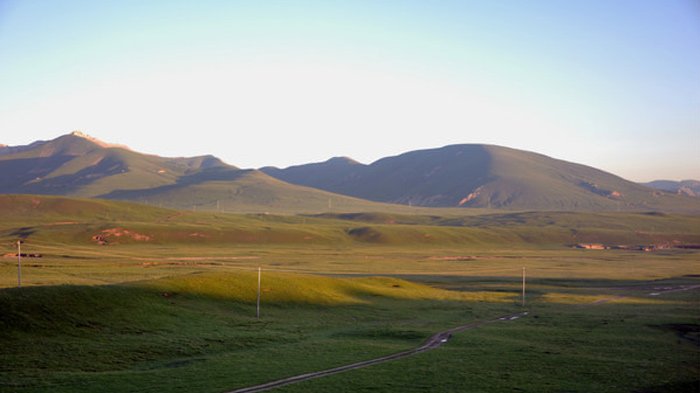 The beautiful scenery outside the Tibet train window
Labeled an engineering wonder due to its construction despite economic and geographic concerns, a 960-kilometer section is more than 4,000 meters above sea level while 550 kilometers is permafrost (soil, rock or sediment frozen for more than two consecutive years). The 2,000-kilometer journey along the snow-covered plateau known as "Sky Road" is legendary for its stunning natural landscapes.
Albeit trains travel to Lhasa longer than airplanes, between 35 and 55 hours depending on the outbound destination (Beijing, Chongqing, Xi'an…), they are far more reliable and offer a pleasant journey. Along the way, you will pass by scenic landscapes consisting of valleys, forests and mountains. More so, the oxygen supply prevents you from experiencing symptoms of altitude sickness.
Train fares for departures from Beijing, Shanghai, and Chengdu are usually around $110 for hard-sleepers and $180 for soft-sleepers. Train tickets from Guangzhou will set you back around $130 for hard- and $220 for soft-sleepers most often. Along the way, Xining is an ideal destination for you to acclimatize to lower oxygen.
Travel to Tibet from Nepal
You can fly directly to Lhasa, Tibet, from Kathmandu, Nepal, by Air China or Sichuan Airlines every day. Airplanes take off around noon and need around 1:30 hours to cover the distance. Prices of one-way tickets typically fluctuate between $300 and $500, with the average price being somewhat less than $400. Since Lhasa and Kathmandu lie in different time zones, you will land at the airport of the Tibetan capital between 3 pm and 4 pm.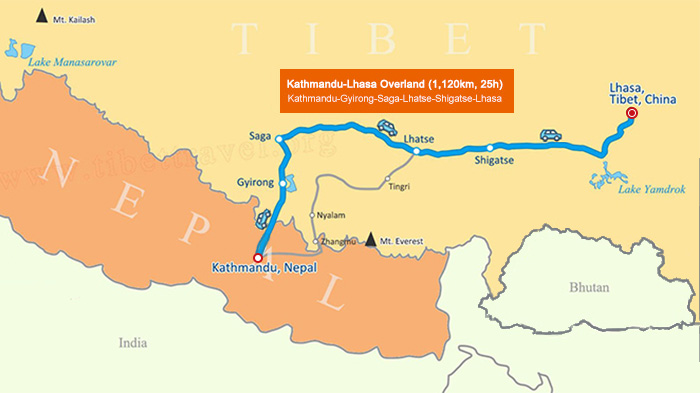 Kathmandu Lhasa Road Map
If you are not coming via mainland China, time permitting, traveling overland from Nepal to Tibet by car is another excellent option. Following the 2015 earthquake, which permanently damaged the Zhangmu Border, the government opened Gyirong Port as the official gateway for commuters from Kathmandu to Lhasa. The route is 1,000 kilometers long and you can cover the distance in 12 hours by car.
Still, we recommend you to take a week to get there along the Friendship Highway and enjoy the amazing scenery, including the majestic Himalayan Ranges and a spectacular roller-coaster ride down into the Kathmandu valley. Along the way, experience exotic Tibetan culture and spectacular lakes and mountains.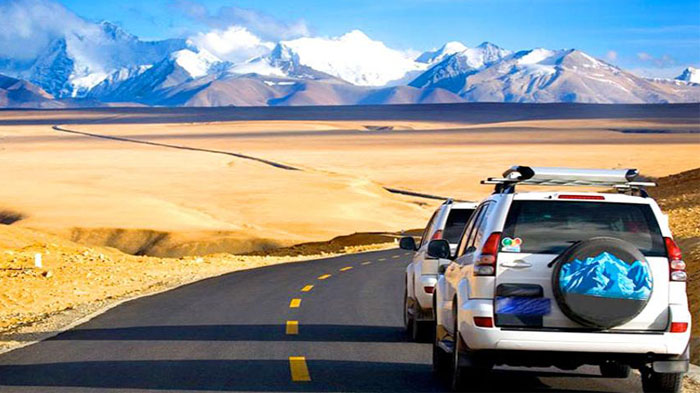 Travelling overland from Kathmandu to Lhasa
The first stop in Tibet is Gyirong, a town set amid high mountains and verdant forests. Afterward, you travel to Everest Base Camp to see the world's highest mountain and Rongbuk, one of the two world's highest monasteries. Shigatse, the second largest city of Tibet, boasts the Tashilunpo Monastery, founded by the first Dalai Lama.
The large monastic complex prides on the largest statue of Future (Maitreya) Buddha in the world. Before arriving in Lhasa, you will stop in Gyantse, a charming Heritage Town whose highlight is a multi-storied stupa, and see Yamdrok Lake surrounded with mountains and the Korola Glacier. The tour concludes in Lhasa, leaving you two days to explore the Potala Palace, Jokhang Temple and other highlights in the area. Check out our incredible Tibet Nepal tours here!
What travel documents to prepare?
To be eligible to travel to Tibet, you need to obtain the Tibet Travel Permit and the China Visa. Depending on your itinerary, you might need to apply for some optional permits, too.
Tibet Travel Permit
To travel to Tibet as a foreigner (or a Chinese citizen living overseas without a Chinese passport) you need a Tibet Travel Permit to make the trip possible. Tibet travel agency you choose can apply on your behalf for the document. To do so, they need a copy of your Chinese visa, which you can apply for at your local embassy or consulate. (Tibet is officially a province of China and a valid China visa is required to travel to Tibet, except if you enter Tibet from Nepal.)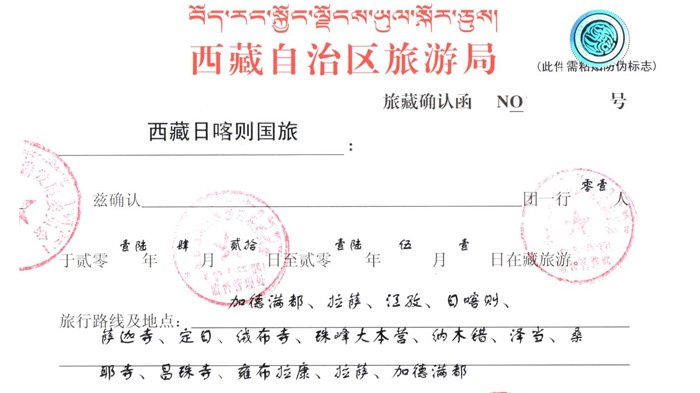 Tibet Travel Permit
The travel agency also needs your confirmed tour itinerary and travel guide, plus six months validity on your passport. Allow at least 20 days for the Tibet Travel Permit approval. The travel permit is free, but the visa isn't. You can choose to travel either with a tour group or as an individual traveler (with a guide).
Aliens' Travel Permit and Military Permit
If you want to visit Mt. Everest, you will also need to have the Aliens' Travel Permit, which you can get with your passport once you enter Tibet. Also, you may need to present the document any time during your trip. Besides going to Mount Everest, travelers need the Aliens' Travel Permit (PSB Permit) to visit the Samye Monastery, Changdruk Temple and Basumtso Lake among some other closed areas. To obtain the document, give your Tibet Travel Permit and the passport to the employee of the travel agency, who applies at your behalf to the Local Public Security Bureau. In general, the bureau issues the document on the same day. The cost of the Aliens' Permit is around $7.5.
On certain occasions, you may need the Military Permit to tour areas of military significance, such as Mount Kailash and Lake Manasarovar. To obtain this permit, apply through your Tibet travel agency at least three weeks before the trip. Documents you need to provide the tour operator with for them to apply for the Military Permit are the scanned copy of the passport and the visa.
Most importantly, travel permits are not available from late February until March 31st, with everything getting back to normal from April 1st. Thus, if you're planning to visit Tibet in winter, I strongly recommend you to contact us as soon as possible to make an early booking. Tibet Vista is always available to apply for the Tibet travel permit for you for free!
What to see and do in Tibet?
The Tibet province features many great places and attractions for exploring. For various reasons, Lhasa, Mount Everest, and Mount Kailash are among the most interesting destinations among travelers.
Tour Lhasa and its surroundings
Lhasa, the capital of Tibet, is the cultural and religious center of the autonomous region. Potala Palace, a fortress-like residence of Dalai Lama, dominates the city skyline featuring monumental stairways, stupas and contrasting red and white buildings. Jokhang Temple, the most sacred Tibetan religious structure, features a combination of architectural styles, such as Tibetan, Nepali and Indian, and displays exquisite murals. Old houses and shops selling souvenirs and religious items line Barkhor Street, which surrounds the Jokhang. This is one of the best places in the city for appreciating the religious spirit of the Tibetans.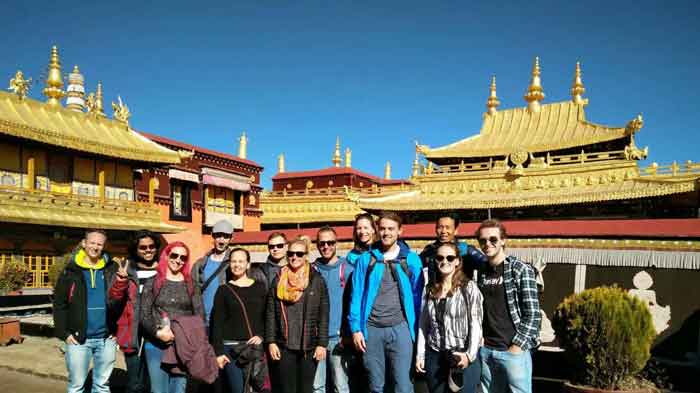 Our clients are visiting the grand Jokhang Temple in Lhasa.
Drepung, Sera, and Ganden are the "Three Great Tibetan Monasteries," lying on the outskirts of Lhasa. Drepung is a complex of many temples and prayer halls, while Sera is famous for debates among monks. Ganden, located on an elevated ground, makes for a great hike. There, you are more likely to see the vultures, the sacred birds of Tibet, than elsewhere around Lhasa. Surreal and holy Namtso Lake, known as "Heavenly Lake" and featuring mountainous surroundings and calm waters, makes for a great day trip from Lhasa.
Visit Everest Base Camp on the Tibetan Side
Witnessing towering Mount Everest, an 8,848 meters high giant that separates Tibet from Nepal, is an unforgettable experience. Depending on available time, interests and needs, you may book a tour to the Everest Base Camp that lasts between several days and three weeks. Some tours you may find interesting are bike, motorbike and photography expeditions. The best times for benefiting of favorable weather conditions and clear views of Mount Everest are from April to May and between September and November.
Do Mount Kailash Kora
Mt. Kailash, whose name means "precious jewel of eternal snow," is a giant mass of black rock that remains shrouded in mystery and legend, and the world's most venerated holy place. The world's least visited sacred site due to its location in western Tibet, the mountain represents the axis of the world or the stairway to heaven. Because of its height and isolation, only a few thousand pilgrims are lucky enough to see it every year.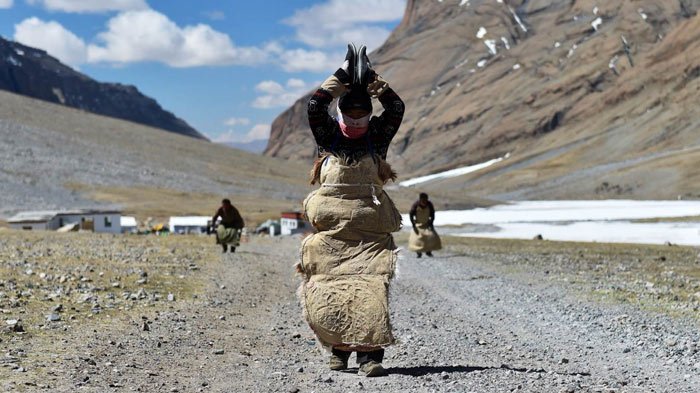 Trekking towards Mount Kailash with sincere pilgrims
Kora to Mount Kailash is the spiritual experience of the lifetime. To join a kora to the snow-covered pyramid standing at the 6,683-meter altitude, you need to be well physically prepared and adapted to high elevation. Most worshipers take the outer kora, which is 58 kilometers long, lined with several monasteries. Travelers usually take the inner kora and cover 30 kilometers in a day.
As the biggest tour operator in Tibet, we are renowned as one of the most reliable to take travelers to Mount Kailash. Choose from our small group Kailash tours or a private service based on your personal interests and budget. Along the way, you may visit Everest Base Camp, Lake Yamdrok and Shigatse among other highlights of Tibet.
How much does a Tibet tour cost?
The cost of a Tibet tour varies depending on many things. However, the choice of individual or group tour influences the final price the most. Individual tours allow you to adapt the holiday to your wishes, while small-group tours ensure personalized attention of your guides and the best value for money ratio. As a tour participant, you are eligible for many benefits and services, including the travel permit application, quality diet, functional and comfortable accommodation and assistance of a certified guide.
If you join one of our Tibet small group tours, we offer the classic Tibetan itinerary that includes all of the top sights such as the Potala Palace, Jokhang Temple, Barkhor Street and the Summer Palace at the very least. If you're on a budget, you won't miss a thing on these packed tours at the lowest possible price. Travel in a group of around ten travelers with all the benefits of a hand-picked hotel, tour route, and fixed departure date. With four- to fifteen-day guided tours, we have something for everyone.
Conclusion
Equipped with useful insights and knowledge about Tibet, you are ready for a memorable Tibet tour. Whether you are a fan of history, nature lover or art & culture devotee, you have plentiful options to enjoy visiting the Tibetan plateau. Just allow enough time to acclimatize yourself to the altitude, and you will have a holiday of your dreams.