25 Things to Do in Tibet: 15 Must-Dos & 10 Optional Ones
Covering 22 million square km, Tibet abounds with enigmatic places and exotic cultures for exploration. From holy Buddhist temples, pious Tibetan monks, and awestruck Mt. Everest, to grand festivities, and superbly-made frescoes...you name it.
Faced with so many choices, you may be at a loss to decide where to go and how to plan your Tibet tour.
No worries! Here, we have handpicked the Top 25 things to do in Tibet. No matter you are the first-timers to Tibet, or with a hectic schedule, these will make your time in Tibet worthwhile.
1. (Must) Climb Up to the Potala Palace
To Tibetans, Potala Palace is indisputably the most revered palace and pride of the region. For first-time visitors to Tibet, it's an absolute must to explore the highest and grandest Palace in the world.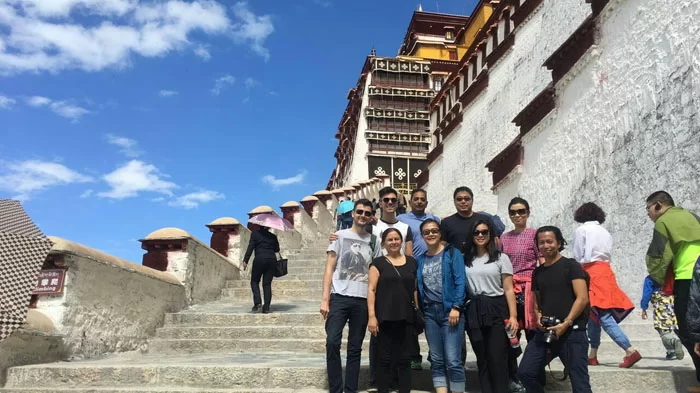 Climb up to the Potala Palace.
Perched atop Red Hill, Potala Palace juxtaposes the architectural features of a palace, castle, and Buddhist monastery. It is the best-preserved and largest religious complex in Tibet. A variety of Buddhist frescoes, Thangka paintings, and other cultural treasures can be seen inside, and from atop its vantage point, it offers breathtaking views of Lhasa City.
2. (Must) Visit the Jokhang Temple
Among all the monasteries and temples in Tibet, the Jokhang Temple is the most important. Revered as the Spiritual heart of Tibet, the Jokhang Temple is located at the center of old Lhasa town. Built by Tibetan King Songtsen Gampo, the Jokhang Temple holds a life-size statue of 12-year-old Sakyamuni Buddha, which is a precious heritage for Tibetan Buddhism.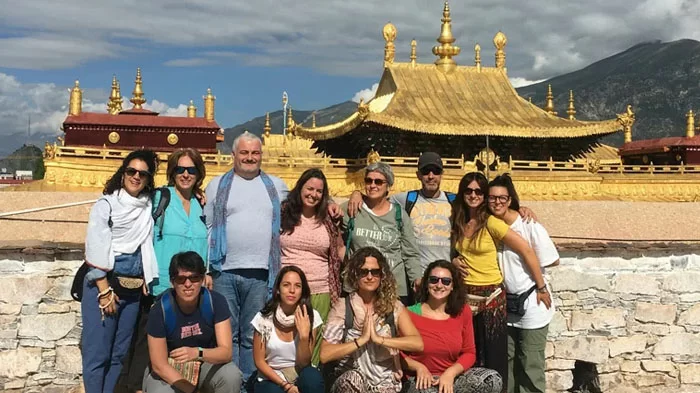 Once you visit the Jokhang Temple, don't forget to get to the Golden Roof.
Your Tibet tour will not be complete if you have not visited the Jokhang Temple. Here you can see the precious Sakyamuni Buddha statue, admire the exquisite Buddhist murals, and learn more about the history and essence of Tibetan Buddhism. And don't forget the golden roof of the Jokhang Temple. From there, you will see the Potala Palace towering on the Red Hill, and take in views of the temple square where local pilgrims devoutly worship.
3. (Must) Kora around Barkhor Street
Taking part in a Barkhor Street Kora is a great way to experience the ancient tradition of circumambulating important spiritual locations. Barkhor Street, a historic street in the heart of Lhasa encircles the Jokhang Temple. The kora around Barkor Street is an essential aspect of local Buddhist practice.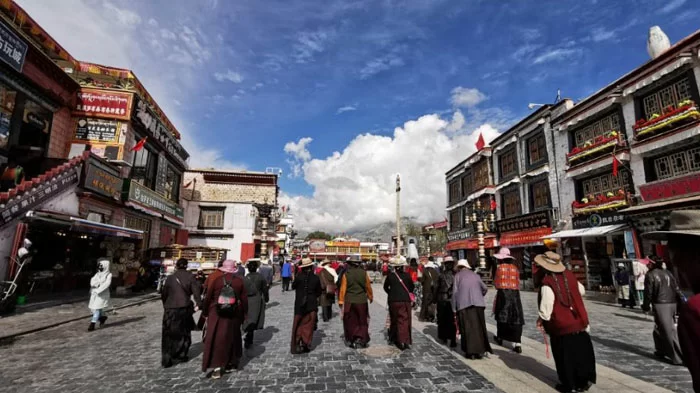 Along the Barkhor Street kora route, you'll see local pilgrims undertaking their own spiritual journey.
Along the kora route, you'll encounter prayer flags, incense burners, and see local pilgrims undertaking their own spiritual journey. The route can be completed in 30 minutes to an hour, but you can take your time and soak in the atmosphere of the surroundings.
4. (Must) Have a Cup of Sweet Tea in a Tibetan Teahouse
A Tibet tour is not only about seeing popular tourist attractions and monasteries. On your days in Lhasa, it is highly recommended to have a cup of sweet tea in a Tibetan Teahouse.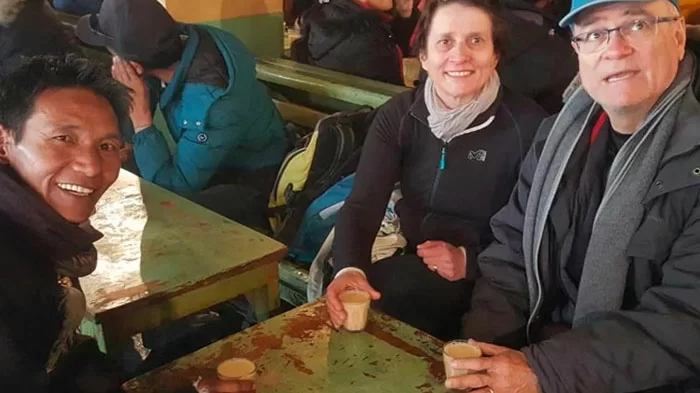 Have a cup of sweet tea in a Tibetan teahouse.
You can easily find one near the Potala Palace or the Jokhang Temple in the old town of Lhasa. The local tea houses are to Tibetans what cafes are to Westerners. Local Tibetans love to come here to meet and chat with friends while sipping traditional Tibetan sweet tea. This is a good place to experience daily life in Tibet and the best choice for you to integrate into the local area.
5. (Must) Enjoy the Authentic Tibetan Food in a Local Restaurant
A visit to Tibet would not be fully experienced without sampling the flavors of authentic Tibetan cuisine at a local restaurant. Local eateries in Lhasa and other towns serve the full array of hearty and delicious food that keeps Tibetans warm and healthy in the demanding climate.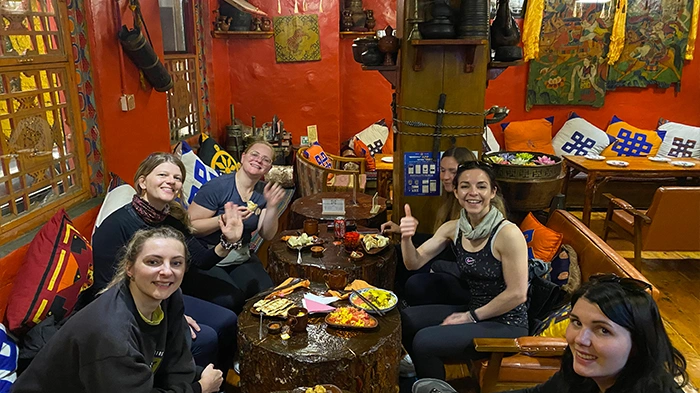 Enjoy the authentic Tibetan food in a local restaurant.
Head to a local restaurant or eatery in Lhasa or other Tibetan towns and try traditional dishes like momo (dumplings filled with meat or vegetables), thukpa (noodle soup with vegetables or meat), yak butter tea, tsampa (roasted barley flour), and yak meat dishes. Exploring the local culinary scene is an essential part of immersing yourself in Tibet's rich culture and traditions.
6. (Must) Face the Top of the World at Everest Base Camp
Staying one night at Everest Base Camp at 5200m above sea level and facing the top of the world could be the coolest thing to do in Tibet. You can trek to the foot of Mount Everest, the world's highest summit, and take in its full grandeur. If you long for the best mountain vistas, you shouldn't miss an Everest Base Camp Tour in Tibet. The Great Himalayas would grant you the ultimate visual ecstasy.
The great Himalayas, the spine of the world, consists of over 110 lofty mountains, each with an average altitude of above 7300m. You can enjoy the panorama of the Himalayas at Gawula Pass (5198m) on the way to Everest Base Camp.
7. (Must) See the Holy Lakes - Namtso or Yamdrok
Seeing one of the most sacred lakes, Lake Namsto or Lake Yamdrok, is a must on any tour of Tibet. What makes Tibetan lakes so special is their unbelievable hues of the water, dazzling with turquoise and sapphire colors, surrounded by snow-capped towering mountains.
Yamdrok Lake is located in Nagarze County 150 kilometers away from Lhasa. It can usually be visited in a 1-day round trip, or on the way to Shigatse or Mount Everest. The famous Namtso Lake is 220 kilometers north of Lhasa. A classic Lhasa and Lake Namtso tour takes 6 days.
8. (Must) Take a Kailash Kora for a True Adventure
Revered as the center of the world by Tibetan Buddhists, Hinduists, Bonists, and Jainists, the sacred Mt. Kailash is taken as the holiest mountain in the world. For centuries, Mt. Kailash has been the ultimate destination for pilgrims and adventures.
It is a 3-day trek around Mount Kailash, the main peak of the Gangdis Mountain in western Tibet. The average elevation of the kora around Mount Kailash is about 5,000m, with the highest point of Drolma La at 5,630m.
However, a Mount Kailash tour is not only a physical challenge but also a way to experience the power of religion in Tibet. You will meet devout pilgrims doing prostration along the trekking trails around Mount Kailash.
9. (Must) Experience Tibet Train Experience along the Qinghai-Tibet Railway
Tibet train, known as the Qinghai-Tibet Railway, stretches almost 2000km and it bridges inland China with the Tibet Autonomous Region. Running along the plateau at an extreme altitude (4000m-5000m), the Tibet train is crowned as the "Celestial Road", one of the greatest man-made wonders of all time.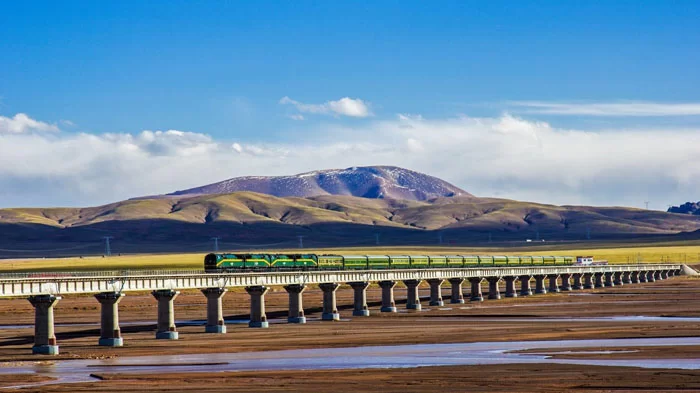 Qinghai-Tibet Railway train to Lhasa.
The train ride gives you a rare chance to grasp the unparalleled Tibetan Plateau scenery along the way: snowy craggy peaks, vast prairies and steppes, alpine lakes, and grazing Tibetan yaks. Ever since the opening of the Tibet train, it has never failed to attract tourists and has been one of the top things to do in Tibet for both domestic and global tourists.
10. (Must) Witness the Monk Debating in Sera Monastery
Although there will be more than one monastery in your Tibet tour, you cannot travel to Tibet without seeing the monks debating in Sera Monastery, which is a unique cultural event in Tibet.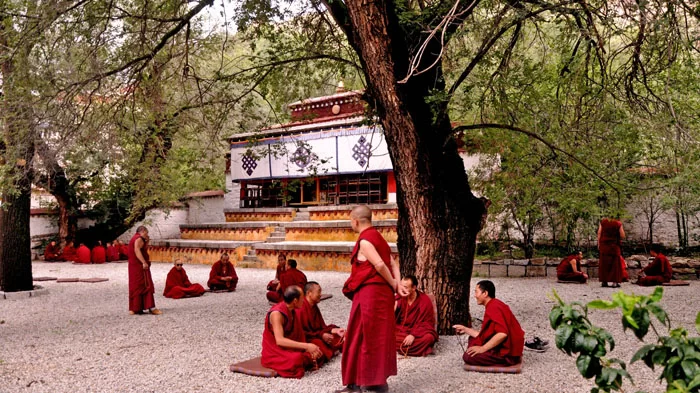 Visit Monk Debating in Sera Monastery.
As one of the 'Great Three' Gelug monasteries in Tibet, Sera Monastery is famous for monks debating, which is a form of discussion of Buddhist knowledge and a kind method for monks to learn.
Please Note:
The monks' debates take place every Monday through Saturday from 3:00 to 5:00 p.m. in the backyard of Sera Monastery.
11. (Must) Visit a Tibetan Local Family in a Village
For a deeply authentic experience in Tibet, nothing tops spending time with real Tibetans. Near downtown Lhasa, there are several local villages where you can have a home visit with a local Tibetan family. It's as close as you can get to the real life of Tibetans and will you develop a better understanding of the family relationships of Tibetans.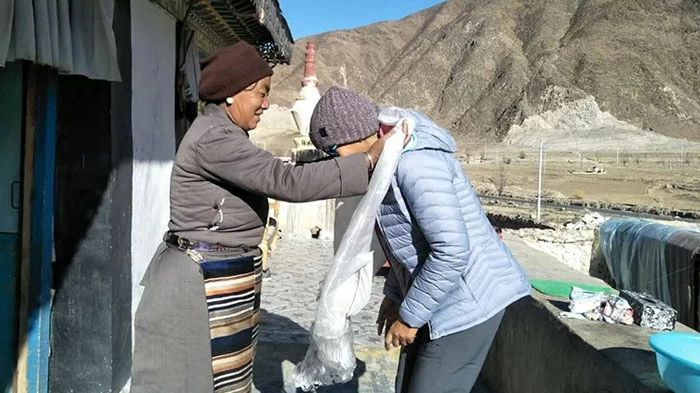 Visit Tibetan local family.
You can enjoy the family food made by the locals and do some farm work with them. It is one of the best things to do for Tibet family tour with kids.
12. (Must) Visit the Stunning Glacier on the Tibet Plateau
The Tibet Plateau boasts an array of magnificent glaciers, each with its unique charm and character. A visit to these glaciers is a journey into a world of ice and snow, where you'll witness the surreal blue hues, towering ice cliffs, and surreal ice formations.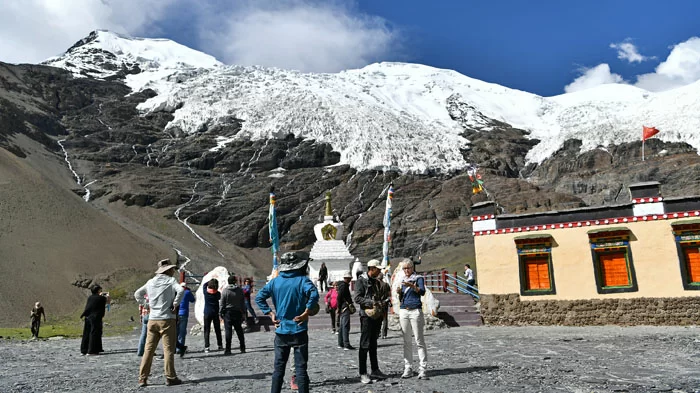 Visit Karola Glacier.
One of the most renowned glaciers is the Rangbuk Glacier, situated near Mount Everest. Standing in the shadow of the world's highest peak, the glacier presents a humbling spectacle. The Karola Glacier is another famous glacier in Tibet. Located in the region of Gyantse, it is known for its stunning scenery can accessibility on the route from Yamdrok Lake to Shigatse.
13. (Must) Get a Panoramic View of the Himalayas' Tallest Mountain Peaks
Witnessing the panorama of the Himalayas is a humbling and must-do experience for visitors to Tibet. The sheer size and majesty of these peaks is an unforgettable sight that can be taken in at various vantage points in the region.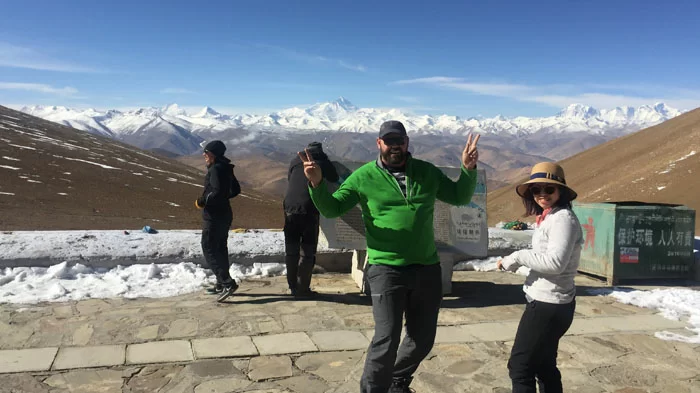 Visit Himalayan range in Tibet Gawula Pass.
Premier among those sites is Everest Base Camp to see the crown jewel of the Himalayas. Along the way there, a stop in the town of Tingri offers a chance to see sweeping views of the Himalayan range. Some of the other Himalayan giants such as Hotse, Makalu, and Cho Oyu, each over 8,000 meters can be seen when crossing high mountain passes like Gyatso La, Pang La, and Gawula Pass.
14. (Must) Take a Photo with Tibetan Yaks and Tibetan Mastiffs
One of the iconic and must-do experiences in Tibet is to capture a memorable photograph with Tibetan yaks and Tibetan Mastiffs. These animals are not only emblematic of Tibetan culture but also embody the rugged beauty of the Tibetan plateau.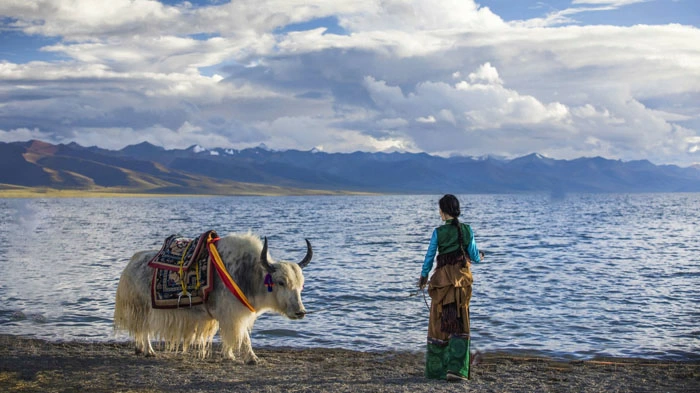 Take a photo with Tibetan Yaks in Namtso Lake.
These giant animals are photogenic at some tourists sites, like Yamdrok Lake and Namtso Lake. With the companionship of their owners, these big fellows are very gentle. They not only provide unique photo opportunities for tourists but also increase income for their onwers.
15. (Must) Combine Nepal or Bhutan with Tibet Together for Himalayan Discovery
A Tibet Nepal Bhutan tour is a must for travelers seeking a comprehensive Himalayan adventure. These three Himalayan destinations together offer an extraordinary journey exploring the stunning and diverse Himalayan landscapes.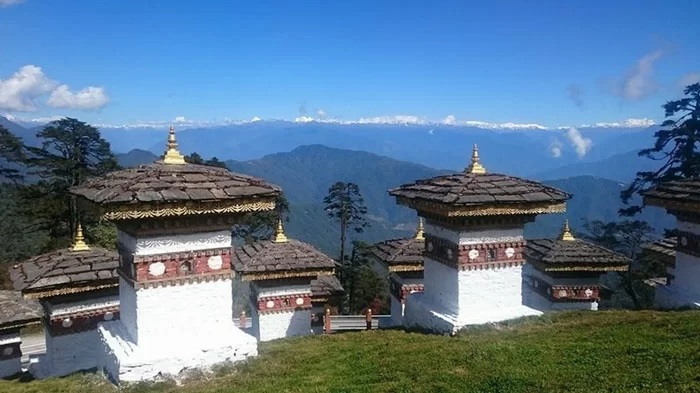 Visit Himalaya range in Bhutan Dochula Pass.
Travel between these places can be done by air through Katmandu or overland through a border crossing such as Gyirong Port. In Nepal or Bhutan, you can see the transition from Tibet's high-altitude plateau to lush lowland valleys, and go on to explore the surrounding wonders.
16. Optional: Join in a Tibet Festival
Throughout the year many rich local festivals take place in various parts of Tibet, not only ceremonies to worship Buddha and Buddhist masters, but also a series of historical festivals related to religious life and agricultural production.
Visit Drepung Monastery Shoton Festival.
Timing your visit to Tibet to coincide with a local Tibetan festival will let you not only visit the attractions but also experience some of the customs of local Tibetan people.
Popular festivals for travelers to attend include the Shoton Festival, the Saga Dawa Festival, the Tashilunpo Tangkar Festival, and the Horse Racing Festival. You can contact us for the latest festival calendar and we'll help you arrange the best time to visit.
17. Optional: Arrange One or Two Days Lhasa Side Trip - to Shannan or Ganden monastery, etc.
While Lhasa already has many must-see places, the nearby region also has destinations worth a side trip.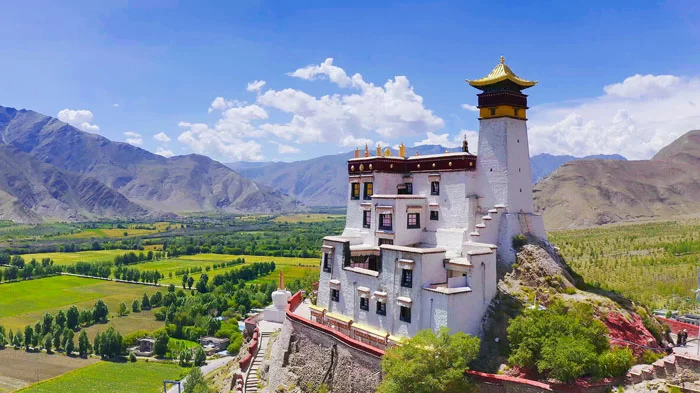 Visit Yumbulagang Palace.
Shannan, also known as Lhoka, is considered the cradle of Tibetan civilization and boasts a rich historical and cultural heritage. A side trip to Sahnnan can include visits to ancient Tibetan monasteries like Samye Monastery, the first Buddhist monastery in Tibet, and Yumbulagang Palace, an ancient royal residence.
Ganden Monastery is one of the most important monastic institutions in Tibet and is located a short drive from Lhasa. A day trip to Ganden allows you to explore this historic monastery, enjoy panoramic views of the surrounding mountains, and possibly hike to the nearby hills for stunning vistas.
18. Optional: Visit a Tibetan Nomad Family and Camp with them
With the assistance of our local guide , you can arrange a visit to a Tibetan nomad family's tent or settlement. Nomadic herders have inhabited the Tibetan plateau for centuries, and still maintain their traditional lifestyle today.
The experience of camping with a nomadic family allows you to participate in activities like herding animals, milking yaks, and helping with daily chores. You'll also have the chance to enjoy traditional Tibetan meals cooked over an open fire and share stories with your hosts under the starry Tibetan skies.
19. Optional: Select a Hiking Tour - long to EBC or short around the temple
Tibet has a wide range of hiking opportunities that can be catered to different fitness levels and interests. A serious trek is an Everest Base Camp Trek. It's a multi-day journey that passes through some of the world's most spectacular landscapes. You'll pass through Tibetan villages, traverse high mountain passes, and ultimately arrive at the North Base Camp of Mount Everest.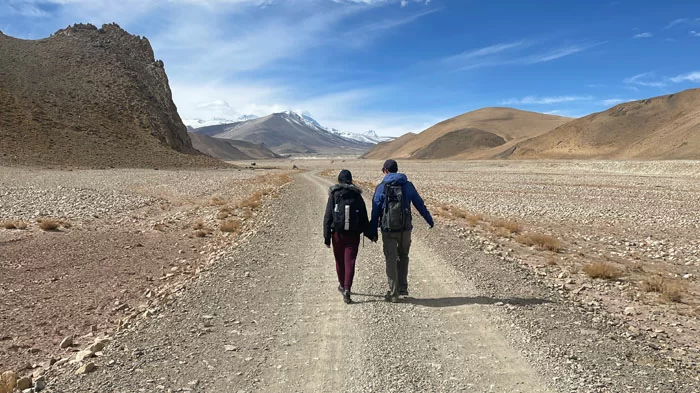 Join Tibet Old tingri to Everest Base Camp trekking tour.
For a more relaxed hiking experience, you can explore the trails around nearby temples and monasteries for panoramic views of Lhasa valley. These shorter hikes allow you to immerse yourself in the spiritual and cultural aspects of Tibet without the physical demands of a long trek.
20. Optional: Enjoy a Hot Spring as the Locals Do
Tibetan hot springs are an amazing way to unwind and relax after a long day of exploring the wonders of Tibet. Some of the local hot springs have been used for centuries for their therapeutic properties and relaxation benefits.
Some of the popular local hot springs around Lhasa include Dezong hot spring and Qiusang hot spring. The famous Yangbajin hot spring in Nagqu is no longer opened for tourists.
21. Optional: Explore the Natural Beauty of Nyingchi and Namcha Barwa
The pristine beauty of Nyingchi and the towering Namcha Barwa peak are perfect for nature lovers. The eastern Tibet region offers a picturesque landscape where you can trek, camp, or just enjoy the tranquility of the untouched natural beauty.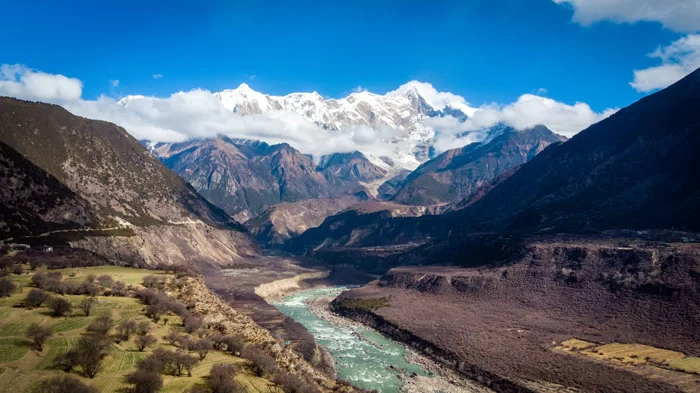 Visit Mount Namcha Barwa in Nyingchi.
Nyingchi is known for its lush green valleys, dense forests, and stunning alpine scenery. There you can hike along trails and witness the diverse flora and fauna that call this region home.
The majestic peak of Namcha Barwa stands at over 7,700 meters and is one of the most photogenic mountains in the world. The awe-inspiring views of the rugged landscape and the towering peak make it a dream destination for trekkers and mountaineers.
22. Optional: Discover Tibet by Self-Driving, Biking or Motorbiking
Renting a car or motorcycle to explore Tibet can be a rewarding experience. It allows the chance to visit places off the beaten path, stop for photos whenever you like, and immerse yourself in the stunning scenery. The vast Tibetan plateaus are perfect for long scenic drives where you can interact more intimately with the natural beauty and culture of the region.
Biking is another great way to experience the landscape. There are various biking tours in Tibet to choose from, ranging in difficulty and duration. Whether you prefer mountain biking through rugged terrain or leisurely rides along scenic roads, biking in Tibet allows an up-close view of the region's natural beauty.
23. Optional: Practice Tibetan Meditation in a Local Monastery
The importance of meditation in Tibetan culture is well known around the world and joining in on this rich tradition is a great way to immerse yourself in the local culture. Many monasteries offer opportunities for visitors to engage in this ancient practice.
You can join guided meditation sessions led by experienced monks or meditation instructors. These sessions often take place in serene temple halls or open courtyards within monasteries, creating an atmosphere conducive to deep introspection.
Whether you are an experienced meditator or a beginner, you can book a Tibet Meditation tour with us to enjoy the best local services.
24. Optional: Experience Tibetan Incense Making or other Handicrafts
The skill of local artisans in the making of traditional Tibetan crafts is well-renowned. Consider taking the opportunity to connect with local artisans, gain a deeper appreciation for Tibetan artistry, and perhaps even create your unique keepsake to cherish as a reminder of your time in Tibet by joining a workshop for making incense of other handicrafts.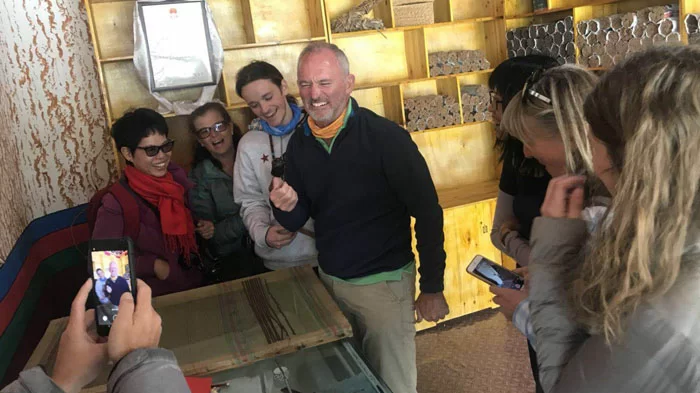 Experience Tibetan Incense Making.
You can witness the blending of natural ingredients, such as herbs, spices, and flowers, to create Tibetan incense. Or, try your hand at painting, weaving, or jewelry making while learning about the symbolism and history behind these traditional crafts.
Please Notice:
We offer a range of optional activities that can be incorporated into your Tibet tour. If you're interested in any of these experiences, please inform your travel consultant when planning your itinerary. This way, we can seamlessly include them in your schedule and make early preparations.
25. Optional: Enjoy Linka (Tibetan Picnic) in Norbulingka
For a delightful and leisurely experience in Lhasa, consider indulging in a Linka, a traditional Tibetan picnic, within the beautiful Norbulingka Palace grounds. Norbulingka, often referred to as the "Jewel Park," is a lush oasis of gardens, ponds, and open spaces.
Enjoy the opportunity to appreciate the park's serene beauty while relishing a variety of Tibetan snacks like the locals do. It's a unique way to connect with the local culture and enjoy a peaceful afternoon in a setting that reflects the historical and cultural significance of Tibet.
Conclusion
You will never run out of stuff to do and see in Tibet, but this guide should help you to hit the important highlights during your visit. From spectacular natural scenery to immersive cultural and spiritual experiences, the must-dos on a visit to Tibet will ensure an unforgettable trip. Contact us for more information, and start planning your trip to Tibet.
Most Popular Tibet Tour Packages