The Best Way to Kathmandu from Lhasa - By Flight, Train or Bus
No other destination like Tibet provides so many unforgettable memories, and more than half of travelers combine Tibet with Nepal together for a trip of a lifetime. The tour route from Lhasa to Kathmandu is the most popular tour after visiting Lhasa. But many traverlers don't know how to get from Lhasa to Kathmandu,especially after the catastrophic Nepal earthquake in April 2015. We would like to offer you the most comprehensive guide to how to travel from Lhasa to Nepal.
Lhasa to Kathmandu Distance
The linear distance between Lhasa (3,658m) and Kathmandu ((1,400m) is 609km.
Lhasa to Kathmandu road distance is around 1300km.
Lhasa to Kathmandu Railway
In fact, Lhasa to Kathmandu train does not exist at present. Currently, the first extension of the Qinghai-Tibet Railway from Lhasa to Shigatse is opened. It is said that the famous Qinghai-Tibet Railway will be extended from Lhasa to Kathmandu. So far, it is unclear. However, it's very likely that in the near future, tourists can take a train from Beijing or other big cities of mainland China to Lhasa and then to Kathmandu.
The famous Qinghai-Tibet Railway has been linked to Tibet and the mainland of China, and Chinese government plans to extend it to Nepal at Nepal's request. The extended railway will become a key channel of huge market between China and India. According to Nepal, it is the Chinese Foreign Minister Wang Yi who raised the project when he visited Kathmandu last December.
Many people think that there is no railway in Nepal, but they are wrong. A narrow-gauge railway with only 59 km long, serving round from Janakpur to Jaynagar, the border town of India, is the only passenger railway in Nepal. The slow and shabby train full of passengers rumbled on east Terai plain, passing through rustic village and vast rice fields. However, due to the slow speed and stopping at every station, it will take three hours to finish the whole journey.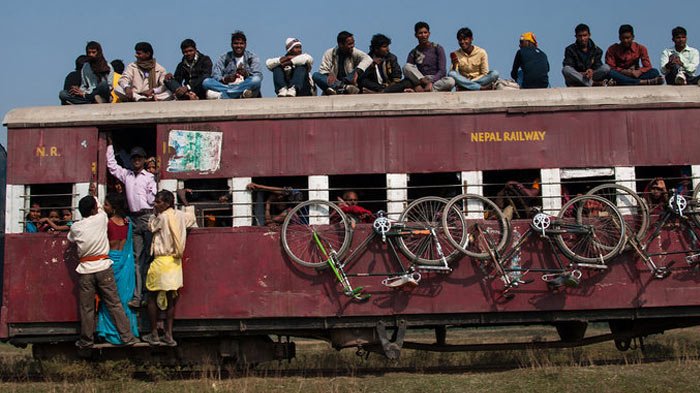 The only passenger railway in Nepal
Lhasa to Kathmandu Flight
Due to the Nepal earthquake in 2015, flying from Lhasa to Kathmandu now is the only way to travel from Tibet to Nepal. Only Air China has the direct flight, and it flies on each Tuesday, Thursday and Saturday, taking only 1.5 hours and costing about USD 400-800. But there is no discount for this route.
Since April 1st , 2015, Sichuan Airlines also has a flight starting from Chengdu, then to Kathmandu with a stopover in Lhasa. It flies every day, taking about 1.5 hours and costing about USD 450-530.
As the number of seats is limited in airplane, so the price is relatively high and even higher during Chinese National Holiday (Oct 1st-7th) and Chinese Spring Festival( Jan to mid Feb).The rest are all the non-direct flights with stopover in Chengdu, taking almost 20 and more hours to arrive and costing much more.
Direct Lhasa to Kathmandu Flight Timetable
| Flight | Lhasa to Kathmandu | Lhasa to Kathmandu |
| --- | --- | --- |
| Airline | Air China | Sichuan Airlines |
| Departure Dates | Every Tuesday, Thursday&Saturday | Every Day |
| Departure Time | 11:25 (Chinese Time)09:10 (Nepal Time) | 10:55 (Chinese Time)08:40 (Nepal Time) |
| Arrival Time | 12:55 (Chinese Time)10:40 (Nepal Time) | 12:25 (Chinese Time)10:10 (Nepal Time) |
| Airports | Gongga Airport (Lhasa)Tribhuvan Airport (Kathmandu) | Gongga Airport (Lhasa)Tribhuvan Airport (Kathmandu) |
| Travel Time | 1.5 hours | 1.5 hours |

(Note: China is 2 hours and 15 minutes ahead of Nepal time.The above flight information is for reference only. According to the Nepalese authorities, there may be some adjustment. Please pay attention to the latest news of the airlines to make clear relevant information.)
Lhasa to Kathmandu by Car
Travelling from Lhasa to Kathmandu via overland is the most interesting way, but takes more time, normally for three days. The 1300km Friendship Highway is a scenic route connecting Lhasa with the capital city of Nepal, Kathmandu. This route has become very popular with foreign tourists. It allows excellent tour to central Tibet's most important monasteries, plus views of the world's highest peak, and it is paved all the way, which makes the trip a moving experience.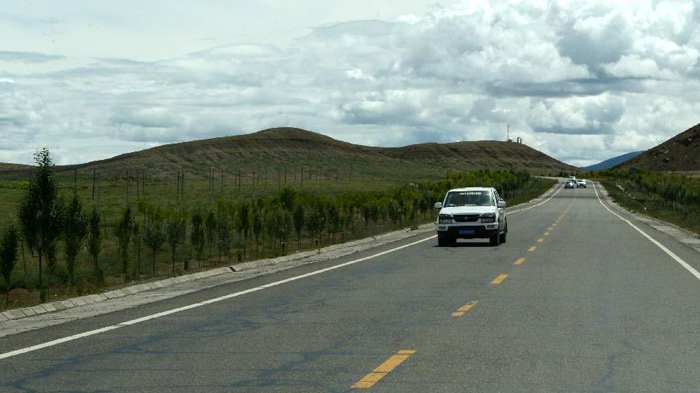 The scenic Friendship Highway
From Lhasa, the Friendship Highway follows the Yarlung Tsangpo River up to Shigatse, Tibet's second largest city, and then we pass by the Yamdrok Lake, one of the three holy lakes in Tibet. From Shigatse, continuing west parallel to the Yarlung Tsangpo valley, the road passes Lhatse and then forks. The next main stop is the Mt. Everest, and then heading to Gyirong port, another gateway from Tibet to Nepal, is opened in October 13 of this year.
New Overland Gateway after Nepal Earthquake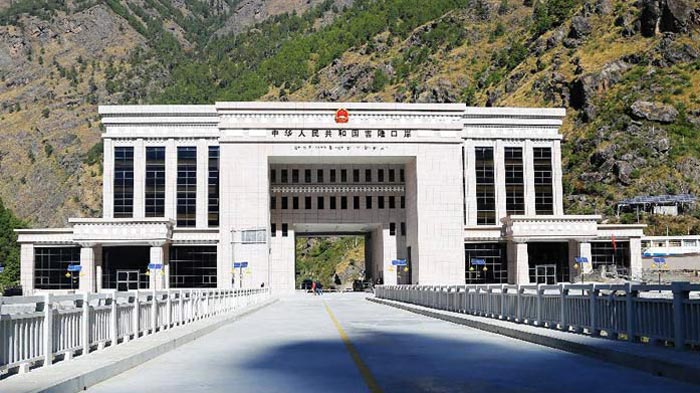 Gyirong Port is a new port for Tibet and Nepal overland tours
Since the Zhangmu border was greatly damaged in tragic Nepalese earthquake on April 25th, 2015, the overland route from Tibet to Nepal was cut off. The full recovery of Zhangmu border was expected to come in two years. Before that, Gyirong Port, located in Gyirong county, becomes a new port for Tibet and Nepal overland tours. However, tourists are not allowed to pass at present.
Lhasa to Kathmandu Bus
There is a direct bus runs twice a week in peak season( every Tuesday and Friday) and once a week in off season ( every Friday) from Lhasa's Liuwu Bus Station to Kathmandu and back, taking two and a half days and costing RMB580.
Unfortunately, the bus is now closed after Nepalese earthquake. Currently, there is no direct bus to Nepal from Lhasa. Another way is to take a bus to Zhangmu from Liuwu Bus Station in Lhasa, and then take a bus to Kathmandu after going through customs.
In conclusion, the recent best way to Kathmandu from Lhasa is still by flight.
Recommended Lhasa to Kathmandu Tour
7 Days Lhasa to Kathmandu Overland Small Group Tour
15 Days Tibet and Nepal Culture Tour
17 Days Scenic Tour of Tibet and Nepal
For the detailed Lhasa to Kathmandu Tour Price and more Lhasa to Kathmandu Itinerary, please feel free to contact our travel consultant.