Top Ten Trekking Regions in Nepal
Nepal is a magical land packed with the beautiful and rugged hills, grand mountains, virgin forests , isolated villages and many more. Thus, Nepal can offer some of the most rewarding and wonderful treks in the world, as there are many unexplored and off the beaten trekking trails. Trekking in Nepal, you can enjoy a scenic walk along mountain trails absorbing all the sights and sounds of a foreign land. Let's explore top ten popular trekking regions in Nepal and the best time to trek.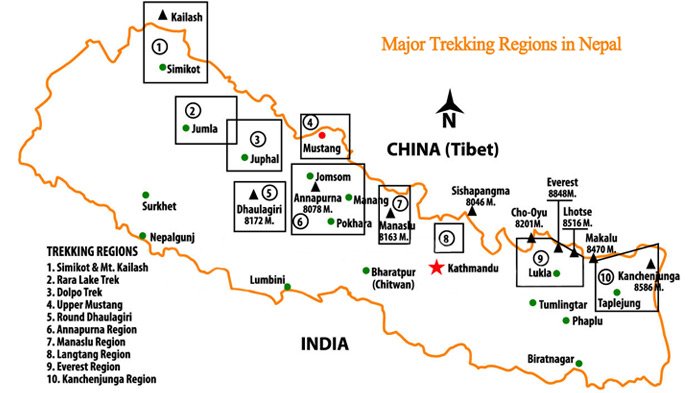 The map of major trekking regions in Nepal
1. Simikot & Mt. Kailash
Known as the center of the world among the four great religions of Hinduism, Buddhism, Bönpo and Jain, Mt. Kailash is the holiest mountain in the Himalayas.
A pilgrimage trekking tour to Mt. Kailash via Simikot in Nepal gives the adventurous travelers an opportunity to enjoy the mysterious culture and landscape of both Nepal and Tibet. Starting from Simikot, situated at an elevation of 2910 meters, trekkers need to climb up to Nara La pass (4530 meters) before reaching the desolate Tibetan Plateau.
A kora of the mountain is a great opportunity to learn about the rich culture of the Tibetans, unique traditional lifestyle, and making it the most unforgettable trekking experience.
If you are traveling to Kailash in June, you can have the chance to see the Saga Dawa Festival, the most important festival in western Tibet. At that time, Tibetans from all over the country flock to Mt. Kailash for the ritual raising a prayer flagpole.
Recommended Season: April- November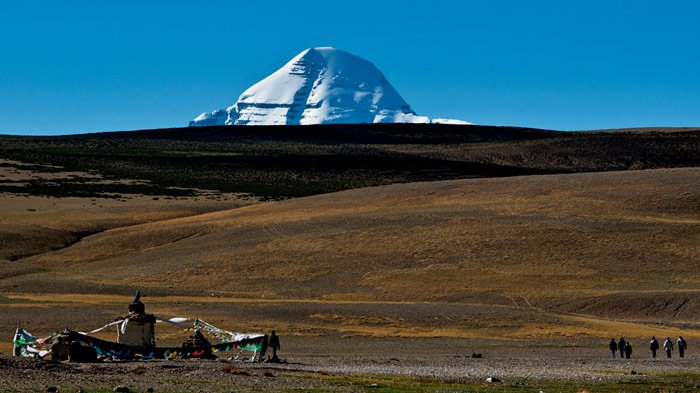 A distant view of Holy Mt. Kailash
2. Rara Lake Trek
Pristine Rara Lake, known as the Queen of Lakes, is the largest lake in Nepal. The lake is surrounded by Rara National Park, the smallest park in Nepal, with pine, spruce and juniper forest.
Rara is a good destination with a hidden treasure route in Western Nepal for trekkers. The trail is very much off the beaten and involves a great deal of up-and-down walking through forests and isolated villages.
Along mountain paths and a series of picturesque villages, you will reach the magnificent banks of Rara lake. The glimpses of culture and scenery on the way are quite different from those in the rest of the country. You may also meet followers of Hinduism as well as immigrant Tibetan families.
Recommended Season : April-October(Spring, Summer, Autumn)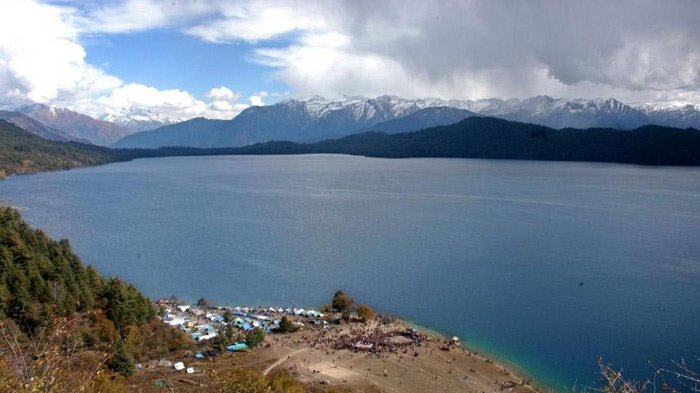 Stunning view of Rara Lake
3. Dolpo Trek
Dolpo region is a remote district in Nepal and is situated in the Himalayan region of mid-western Nepal. In Dolpa, the nature seems to have remained exactly the same as it was first created- unexplored and unaltered. So it is an eco-friendly trek destination as well. The inhabitants of Dolpo region are mainly Tibetans, therefore the region is rich in ethnic Tibetan culture and tradition.
Dolpo region trekking contains upper Dolpo trekking and lower Dolpo trekking. The upper Dolpo trekking begins at the northwestern region behind the Dhaulagiri Massif, towards the Tibetan plateau. It is a thrilling path trekking to the divine mountain region and is famous for deepest Lake Phoksundo in the entire Himalayan Region.
The Lower Dolpo is located in the northwestern part of Nepal and it is less touristic but naturally rich. Lower Dolpo trekking gives you a wonderful opportunity to explore the spectacular landscape, rich culture and tradition, which is attractive both scenically and culturally.
Lower Dolpo is a government- controlled trekking destinations in Nepal, so trekking in group is recommended and special trekking permit which you can obtain from Nepalese government is also required.
Recommended Season : March-May and October-November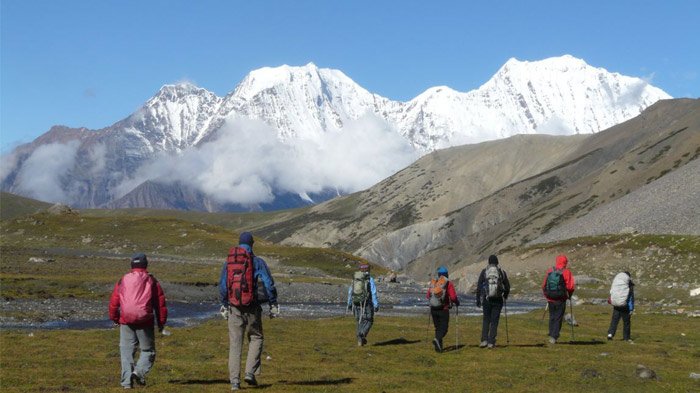 Trekking in Dolpo region
4. Upper Mustang Trek
Upper Mustang, the last forbidden Himalayan kingdom of Nepal, is known as a mysterious valley and considered as a 'Mini Tibet of Nepal'. The high desert region, Kaligandaki, from the Tibetan border south to Kagbeni is generally referred to as Upper Mustang.
Hidden behind the majestic Himalayan ranges, Mustang is filled with beautiful trekking zones. The high desert of Himalayas receives very little rainfall making this region very dry and parched, similar to the border of Tibetan Plateau. The Lo Manthang, capital of Upper Mustang, is an antique Tibetan village. And trekking to Lo Manthang is incredibly satisfying for those who want to experience the hospitality and warmth of the locals living in this remote region.
Upper mustang trekking is a moderate trekking and offers a close up view of the primitive society that has remained unaffected by modernization for centuries. It is a great option if you are looking for unique Tibetan culture together with stunning landscapes.
Recommended Season : March-May and September-November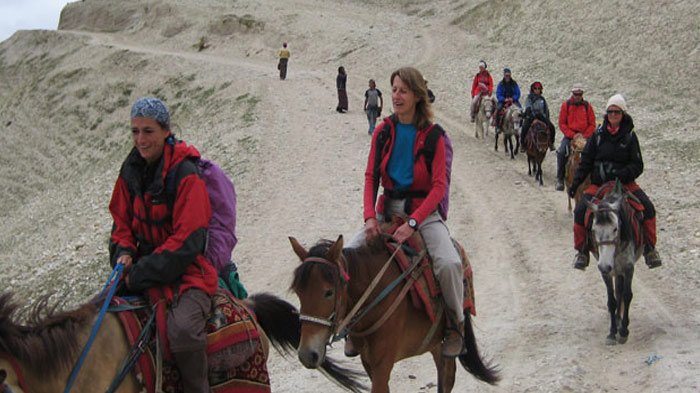 Horse-riding on the way to Lo Manthang
5. Round Dhaulagiri
Dhaulagiri (8167m), the world's seventh highest peak, rises majestically in isolation above the deep cliff of the Kali Gandaki valley. Trekking around Dhaulagiri is one of the extremely adventurous treks in Nepal, and is suited only to fit trekkers who wish to go on demanding trekking in Nepal
Around Dhaulagiri trek is an excellent panoramic trek which takes you to the heart of Annapurna region. It covers the massive Annapurna Himalayas and Kaligandaki river with world's deepest gorge, and two high passes,Thapa pass(5,155m) and French Pass (5,240m).
Along the way, you can appreciate breathtaking views of Mt. Dhaulagiri (8167m), Mt. Manaslu( 8163m), Mt.Annapurna (8091m) and other 23 snowy peaks , lush forest , the hidden valley , the pilgrimage Jomsom muktinath trail and so on. You may also have an opportunity to observe the life style of Nepal's ethnic people such as a Gurung, Magars and Chhetri.
Recommended Season : February- Mid June and September - November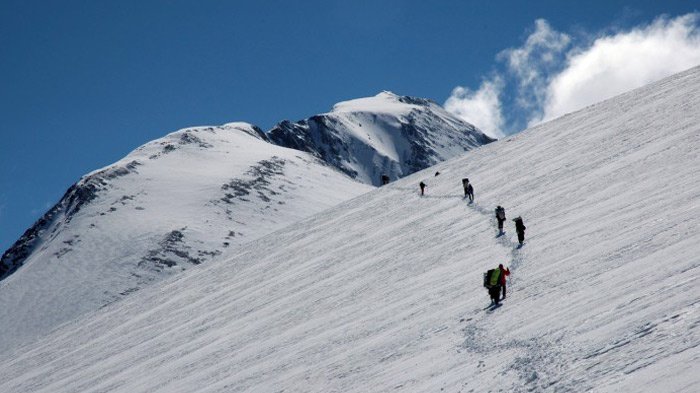 Climbing the snow-capped mountain
6. Annapurna Region
The Annapurna region in north western Nepal, possibly the most popular trekking region in Nepal, offers superb views and the greatest variety of scenery, people, culture, flora and fauna. There are mainly three treks in Annapurna region.
Annapurna Circuit Trek, circuit the entire Annapurna range and is generally regarded as the best of Nepal's classic mountain treks. It is a great introduction to Himalayan trekking with dramatic mountains, glaciers and some of the world's highest peaks.
The Annapurna Sanctuary Trek, also known as the Annapurna Base Camp Trek, culminates at a point surrounded by snow-capped peaks near the Annapurna and Machhapuchhre base camp area. Annapurna Base Camp will allow you to stand face-to-face with the world's most dangerous mountain, and the valley can be spectacularly beautiful when flowers in full bloom.
The Muktinath Trek is a short trek in the Annapurna region. Muktinath is a holy place for Hindu and Buddhist devotees. The trail passes through ridges between Modikhola and Kali Gandaki, where both the terrain and the vegetation undergo sharp changes. The route offers breathtaking views of the Himalayas.
Recommended Season: March-May and October-November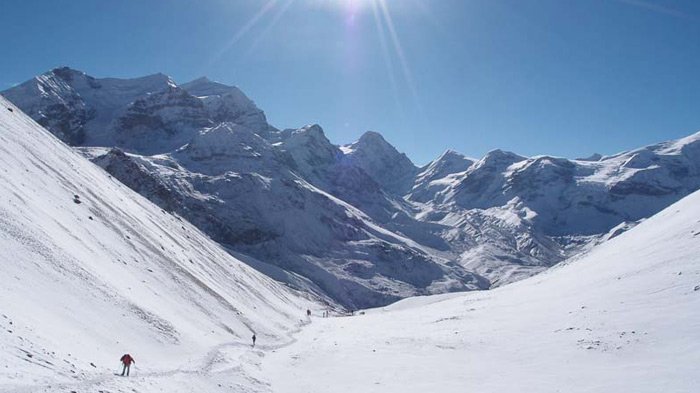 Snowscape of Annapurna Region
7. Manaslu Region
The Manaslu Trek is one of the classic treks in Nepal around Manaslu, the world's eighth highest mountain followed by crossing Larkya La pass. It is now a great tea-house trek. Some people also call it the best all-round trek in Nepal on the great Himalaya trail.
The Manaslu region trekking is an optional choice for special trekkers looking for a physically challenging trek as it involves some of the toughest trails, passing through a geographically spectacular and culturally fascinating area. To some extent, Manaslu is certainly a great alternative to the Annapurna Circuit.
You can't trek Manaslu without a guide. Any checkpoints within the region will ask for guide and his license, if not found you might be forced to retrace back and necessary steps might be taken against you and your team.
Recommended Season: March to May and September to November
Trekkers admire the superb view of snow-capped mountain
8. Langtang Region
Langtang is one of the nearest trekking destinations from Kathmandu. Langtang region trek takes you off the bitten track into the valley of a hardy, untouched Tibetan people and close up views of the majestic Himalayas. It combines the remote and spectacular valley of Langtang, with the high mountain lakes at Gosainkund and the beautiful Helambu Valley. Helambu valley, noted for its scenic grandeur and pleasant climate, is just north of the Kathmandu Valley.
Furthermore, the people living in the highlands of the Langtang region are certainly Nepalese but being the descendant of the Tibetan origin, they just look like the Tibetans. Therefore, Langtang region is one of the most popular trekking regions for those wishing a short trek from Kathmandu into the Himalayas influenced by Tibetan lifestyle.
En route, one can experience Tamang and Sherpa life, temperate forest and alpine pastures, glaciers, lakes and snowy peaks. You can also hike to the back of the valley or take numerous optional trips to explore glacier-filled side canyons.
Recommended Season : March-May and October-November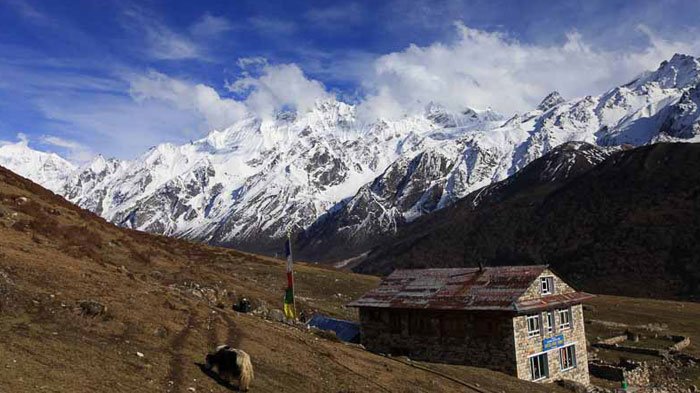 Stunning view of Langtang region trek
9. Everest Region
Mt. Everest is more than a mountain and the journey to its base camp is more than just a trek. Along a route regarded as "the steps to heaven," every bend in the trail offers beautiful forests, Sherpa villages, glacial moraines, and foothills, which provides you a fantastic trekking experience. You'll stand face-to-face with the world's highest mountain – Mt. Everest (8844.43m), and see other majestic peaks, such as Makalu, Lhotse, Cho Oyu, and Shishapangma. You'll also meet the Sherpa people, renowned for the climbing skills.
Recommended Season : March-May and September-October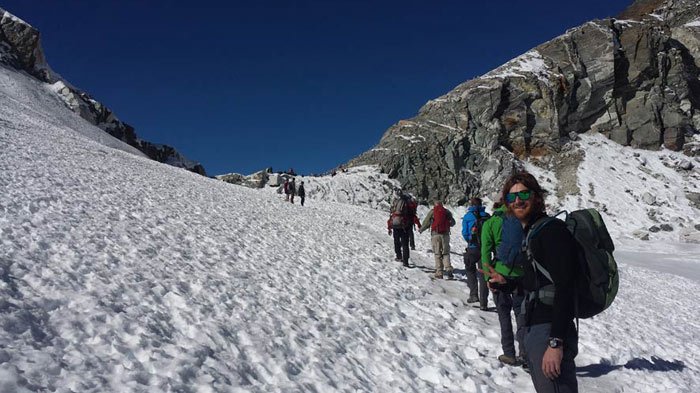 A foreign trekker is taking a photo on the way to Mt. Everest
10. Kanchenjunga Region
Mt. Kangchanjunga lies in the far eastern border of Nepal, is 3rd highest mountain in the world. This region is far from Kathmandu and quite uninhabited, so the trekkers must bring along all food and camping equipment.
Generally, Kanchenjunga region trek mainly contains Kanchenjunga circuit trek and Kanchenjunga base camp Trek. Kanchenjunga circuit trek is the most challenging trekking destination in eastern Nepal. It is quite a long adventure to the most remote and beautiful area of Himalayas. You can enjoy lovely nature and culture, green forest, lakes, mountains, and different types of ethnic culture and their lifestyle.
Kanchenjunga base camp Trek is a remote and wild area rich in Tibetan culture and lifestyle. It is an ideal trekking route for those with time and desire to venture into some of the remote regions of Nepal.The trek offers spectacular views of majestic mountains, lush forests of rhododendrons, orchids, pine, magnolia and rolling meadows.
On the other hand, trekkers need to obtain special restricted area entry permits for Kanchenjunga as it belongs to restricted region trekking in Nepal. The cost is US $ 10 per person per week. You have to be minimum 2 trekkers in group and accompanied by a Nepali guide.
Recommended Season : March-May and October-November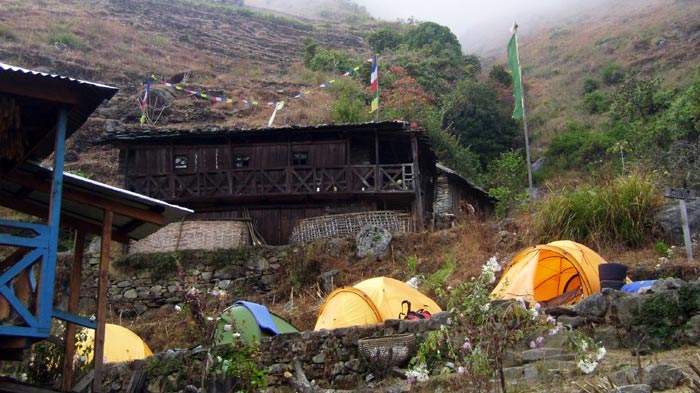 Camping at Kanchenjunga trek