Travel to Tibet Alone: Solutions for Independent Travel to Visit Tibet
As an independent traveler planning to visit Tibet, you may face various difficulties, like complex travel regulations, transportation options, and the best way to travel on a budget.
Here, we will share the best solutions for solo travelers to Tibet and provide tips on safe travel in Tibet.
Can I travel to Tibet Alone?
Simply put, the answer is "NO". Traveling to Tibet is like no other. You can not pack your bag and travel independently. According to the policy, all foreign travelers to Tibet must book their tours through a registered Tibetan tour operator and be accompanied by a local travel guide and driver.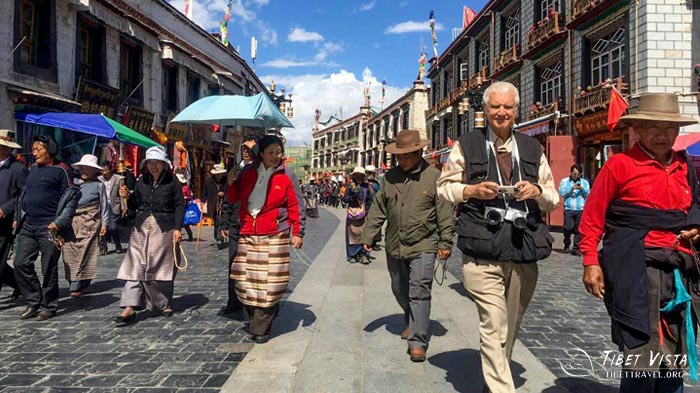 Our client travelled with our Tibetan guide in Barkhor Street
Joining a Small Group Tour is the Best Solution for Solo Travelers to Tibet
The best choice for solo travelers is to join a Tibet small group tour, which is a pre-set tour that will leave on a set date and travel to a set itinerary. As the first local travel agency running join-in small group tours in Tibet, we specifically designed various kinds of Tibet Small Group tours to give you the best possible choices of places to visit for different tour interests.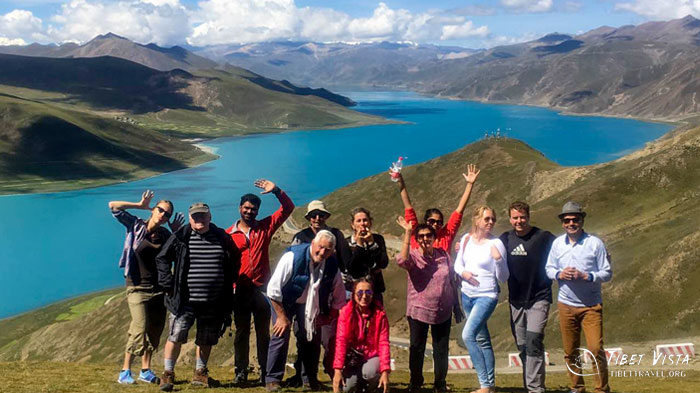 Travel with like-minded global tourists in our small group tour
The Cheapest Way for Solo Travelers to Visit Tibet
The greatest benefit of traveling on a Small group tour is the cost. With up to ten or twelve people traveling on the same tour, there is a reduction in the cost of certain aspects of the tour. The cost of the driver, guide, private vehicle, and fuel is greatly reduced as it is shared amongst all the members of the group. As this makes up a large part of the tour cost, it can reduce your Tibet tour price by as much as fifty percent. For anyone traveling on a budget, this is the perfect option to save money on a tour of Tibet and still be able to see the best parts of this beautiful region.
There is also the option of saving more money by sharing a room. All hotels in Tibet have a single room supplement, and for those solo travelers on a Small Group Tour, you can share a twin room with another member of the group if another solo traveler is available for room sharing and reduce the cost of your hotel charges whilst staying in the region. And don't worry, you will only share a room with someone of the same gender.
More Hassle-free for First-time Travelers to Tibet
Booking a group tour in Tibet is simple as the itinerary is already set, saving you the time and effort of planning and organizing every detail of your trip.
Our Tibet small group tour itineraries are designed by our local travel experts, ensuring that you visit the best places in a well-structured manner. Also, we provide a wide range of Tibet tour options to choose from. You can select the tour that aligns best with your interests and preferences, whether it's focused on cultural exploration, adventure activities, or scenic landscapes.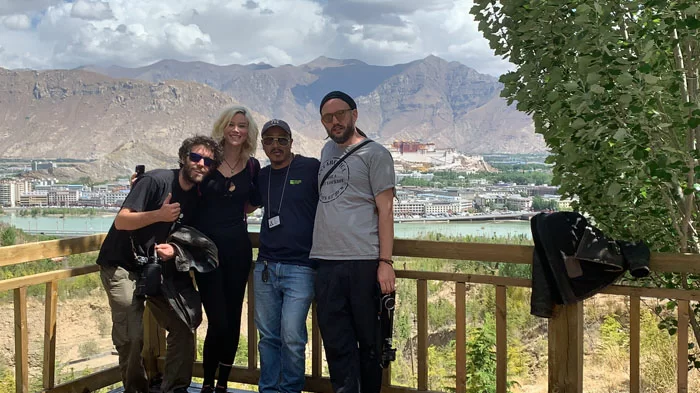 Our Tibet local travel Agency guides will provide you with the best service for small group Tours.
Make New Friends with Like-minded Tourists
Group tours in Tibet provide the opportunity to meet and connect with like-minded travelers from various backgrounds. Once you choose the same itinerary in Tibet, there is a higher likelihood that you will find people that you can get on with and talk to. Many of our small group tour members find people they like and get on with, and often find lifelong friends that they stay in touch with after the tour is over.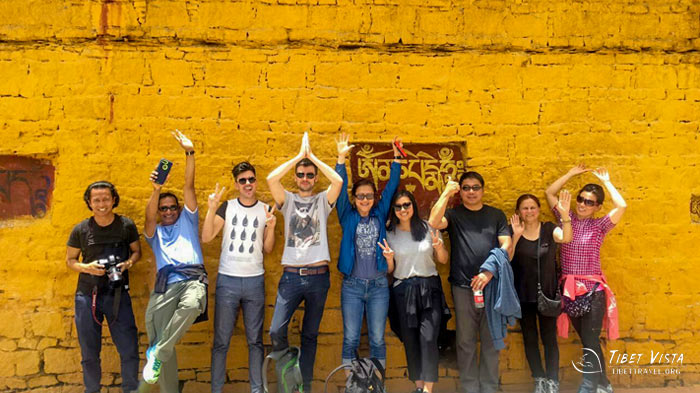 Having great fun traveling with other international tourists
Customize Your Trip to Tibet for a More Private Travel Experience
Traveling in Tibet through a private tour offers a more personalized and tailor-made experience. Private tours are specifically arranged for individuals or families, ensuring that no unfamiliar faces are included in the group.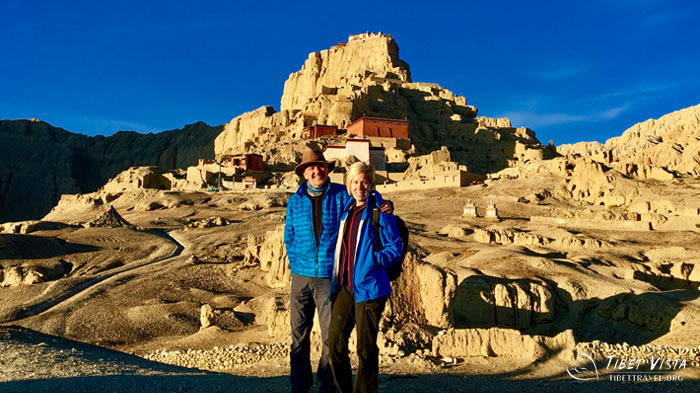 A private tour to Guge Kingdom in Ngari, western Tibet
Our professional travel advisors will assist you in determining the ideal time and travel route, as well as suggesting suitable accommodations and the best means of transportation from the main land of China or Nepal to Tibet.
However, private Tibet tours come with advantages and disadvantages. Private tours can be expensive, as you will be paying for all of the costs yourself, without any sharing of costs for drivers and tour guides. However, this is really the only downside to a private tour, as the benefits far outweigh the higher costs.
Opting for a private tour allows you to enjoy an enhanced experience in Tibet, as you will have a personal guide who will accompany you to all desired destinations.
Tibet Vista Takes Care of Every Single Traveler to Tibet
As the largest local travel agency in Tibet, we, Tibet Vista, have been arranging Tibet tour for overseas tourists for over 30 years. We understand that traveling to Tibet alone can be daunting, but you can rest assured that we will take care of everything.
Our local Tibetan travel guides are passionate about their culture and history and will give you detailed information and personalized attention during your trip.
At Tibet Vista, we don't just focus on your days in Tibet. Our services start before you even arrive, ensuring a 100% guaranteed Tibet travel permit for every traveler.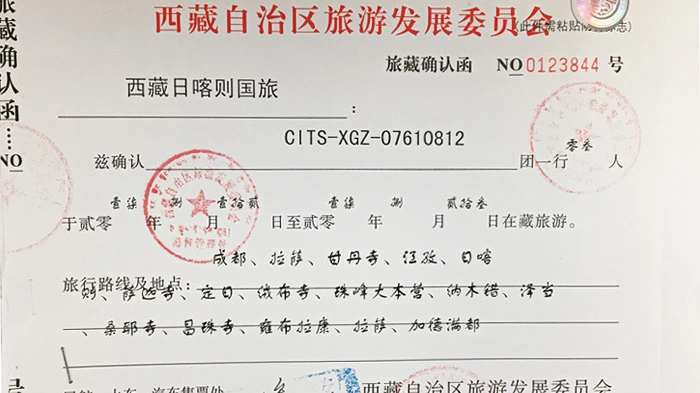 A Sample of Tibet Entry Permit
Whether you choose to join one of our group tours or book a private tour, we will provide you with the best service to make your journey unforgettable.
More Dos and Don'ts for Solo Travelers Visiting Tibet
There are a few things to remember for solo travelers to Tibet to make your tour even more exciting and enjoyable than you ever thought possible.
It is safe to travel to Tibet alone. But don't ignore safety guidelines or travel alone at night in unfamiliar areas.
Don't over-exert yourself rushing around when you just arrive in Tibet. Take sufficient time to acclimatize and avoid over-exerting yourself.
Don't disrespect religious customs or rituals, such as touching or stepping on prayer flags or spinning prayer wheels in the wrong direction.
Conclusion
Traveling to Tibet alone doesn't mean you can visit Tibet independently. It is essential to either join a group tour or customize a private tour with a local travel agency that can obtain the Tibet Travel Permit on your behalf.
The optimal choice for solo travelers is to join a small group tour. This not only helps reduce travel expenses but also provides an opportunity to meet new friends from various parts of the globe. It's an excellent way to enhance your travel experience.
Whether you seek a budget-friendly solo adventure or a private and exclusive journey, we are here to fulfill your dream of visiting Tibet.
Most Popular Tibet Tour Packages