Travel to Tibet Alone: Solutions for Independent Travel to Visit Tibet
Southeast Asia has long been a haven for backpackers and independent travelers, wandering through the countries exploring the off-the-beaten-track places and finding lost gems of delightful architecture and cultures in hidden areas. Tibet was once one of these favored destinations, with travelers finding their own way to the heady heights of the plateau in search of ancient Buddhist teachings and the awesome sight of the mighty Himalaya Mountains.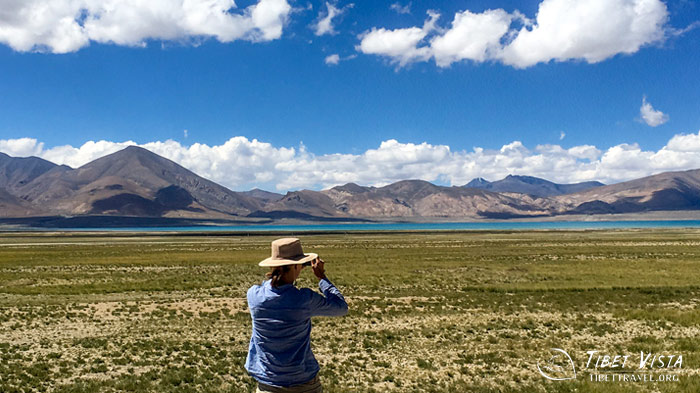 Enjoying the stunning alpine landscape in Tibet
However, traveling to Tibet is like no other! You can't pack your bag, and buy a flight ticket to Tibet the next morning. For solo travelers who are keen to visit holy Tibet, we would like to offer you the most useful tips for independent travel.
Can I travel to Tibet Alone?
Simply put, the answer is now a resounding "NO". Since 2008, Tibet has become a tourist destination that cannot be traveled to independently. The tourism policy of China with regards to Tibet is one of restricted tourism and environmental impact reduction. Now, all travelers to Tibet must book their tours through a registered Tibetan tour operator, such as the Tibet tour service we offer at Tibet Vista.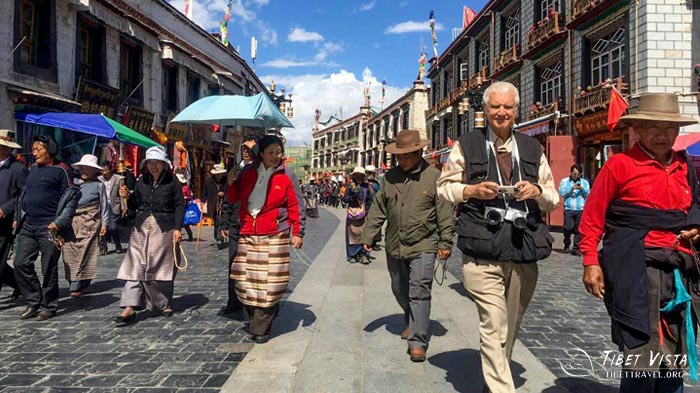 Our client travelled with our Tibetan guide in Barkhor Street
Tibet travel permits were already a requirement for tourists to the region, and with the closure of independent travel to Tibet, many people felt that it would be too much trouble to try and arrange a tour. However, despite the opinions of many, this was never the case.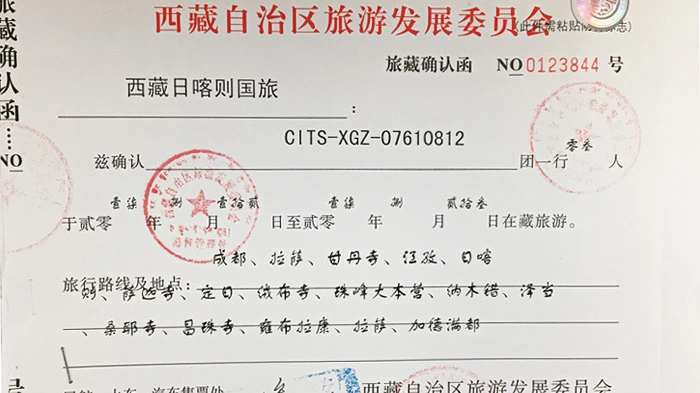 A Sample of Tibet Entry Permit
The need to have a tour operator actually made the whole trip to Tibet much easier than it had ever been before. While previously, travelers could travel independently into Tibet, traveling around the region was hard, with few regular buses to the outlying areas and very expensive private car hire to get to the most remote areas that people liked to visit.
With the advent of the Tibetan tour operator, suddenly there were private tours, vehicles to take you to wherever you wished to go, and a massive reduction in the hassles of getting through the red tape of permits and travel passes. Here at Tibet Vista, we arrange all the aspects of your tour on your behalf, from the first application of permits to the hotels and accommodations you will stay in whilst on your tour. That way, you are left free to just focus on enjoying your upcoming vacation.
Solutions for Independent or Solo Traveler to Visit Tibet
For those that want to travel to Tibet as a solo traveler, there are options that can help with your requirements. Whilst wholly independent travel is no longer permitted, there are ways for solo travelers to travel to Tibet.
Customize Your Private Tibet Tour
One of the solutions open to solo travelers is to book your tour of Tibet as a private tour. Private tours are booked for one person or family alone, and there are no other people added to the tour. Our professional tour advisors can help you decide when and where to travel, as well as what to see, which hotels to stay in, and how to get to Tibet from China or Nepal.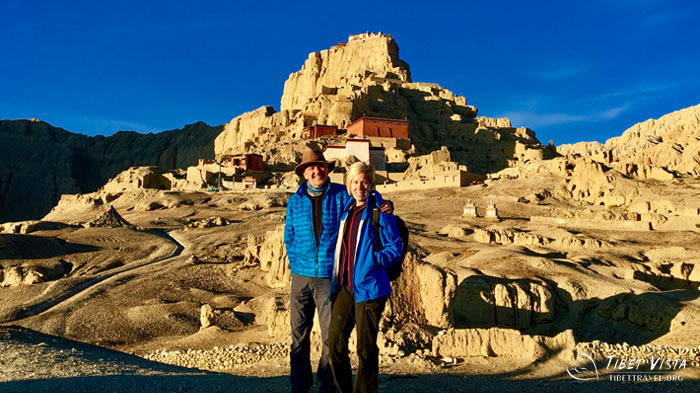 A private tour to Guge Kingdom in Ngari, western Tibet
Private tours of Tibet have their good and bad points and choosing whether to take out a private tour package requires you to know both sides of the offer. Private tours can be expensive, as you will be paying for all of the costs yourself, without any sharing of costs for drivers and tour guides. However, this is really the only downside to a private tour, as the benefits far outweigh the higher costs.
Private tours can give you a much better experience in Tibet, as you will have a personal guide to take you to all the places you want to visit. Our guides, who are all local Tibetans and experts in Tibetan history and culture, will be able to give you their full attention at all times, and explain in more detail the things you are seeing and doing. You will also get a private vehicle all to yourself, with your guide and driver, and will not have any problems of being cramped into a van or small bus with lots of other people.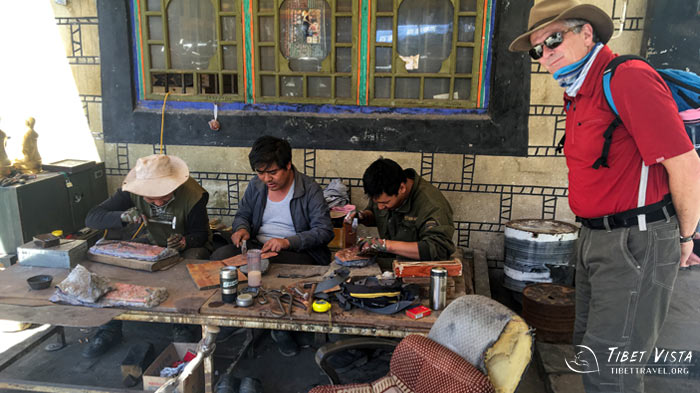 Visit a handicraft workshop in Lhasa
Customizing your tour on a private tour is also one of the major benefits. Many of the group tours are limited in where they go, as the itinerary is set for a certain number of places to visit according to the usual requirements for those types of tour. With a private tour, however, you get to choose where to go and what to see, and you are not restricted to a set itinerary. This also makes you overall experience of the Tibetan plateau much wider and more interesting.
Private tours are also ideal for those people that do not want to travel in a group with strangers. Some people prefer to travel alone, and in that respect, the private tour gives you that opportunity. If traveling with a group is not what you think of as an ideal vacation, then a private tour is the perfect choice for you.
Join the Small Group Tours
For those that do not want a private tour or cannot manage the larger expense of the private tour costs, then our Small Group Tours are the perfect option for you. Small Group Tours are pre-set tours that will leave on a set date and travel to a set itinerary that has been specifically designed by our travel experts to give you the best possible choices of places to visit for that tour type.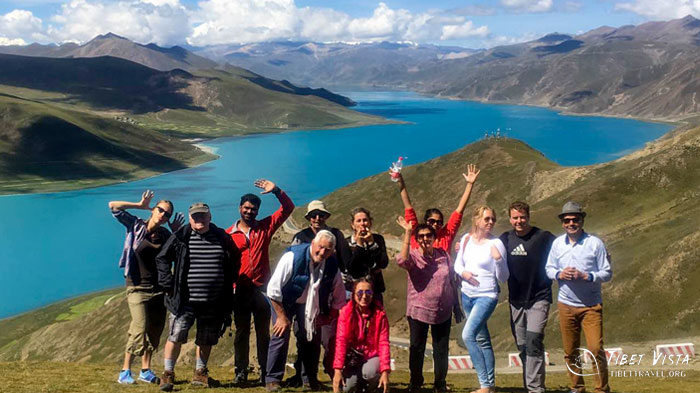 Travel with like-minded global tourists in our small group tour
Booking a group tour is even simpler than booking a private tour, as the itinerary is already set and you have a wide selection of itineraries to choose from. Our professional advisors can explain the details of each tour for you and help you to choose the best tour for you based on what you want to see in Tibet. Once your tour is booked, all of the rest of the details are left to us to arrange for you, and you just need to arrive in Tibetan and start your tour with the minimum of fuss.
Small Group Tours are arranged so that anyone can join, and for the budget traveler or those on a solo trip can join any of the tours that have available spaces. Our Small group Tours are also really that; small groups of people, usually no more than ten to twelve, that are traveling to the same places you want to visit.
Traveling with these like-minded people means that you already share similar interests on Tibet, and there is a higher likelihood that you will find people that you can get on with and talk to, to make your tour that much more of a unique experience. Many of our Small Group Tour members find people they like and get on with, and often find lifelong friends that they stay in touch with after the tour is over.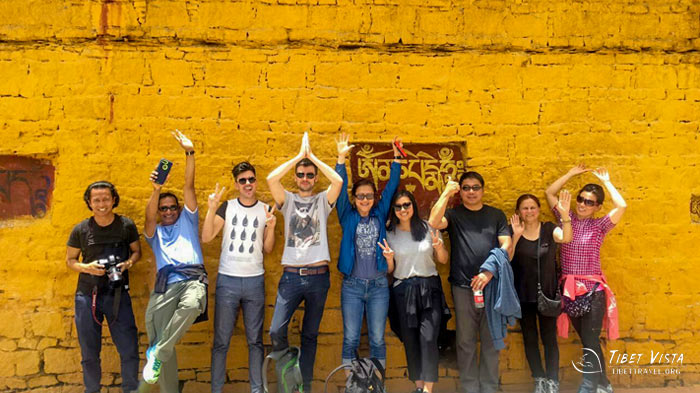 Having great fun traveling with other international tourists
Another benefit of traveling in a Small group Tour is the cost. With up to ten or twelve people traveling on the same tour, there is a reduction in the cost of certain aspects of the tour. The cost of the driver, guide, private vehicle, and fuel is greatly reduced as it is shared amongst all the members of the party. As this makes up a large part of the tour cost, it can reduce your tour price by as much as fifty percent. For anyone traveling on a budget, this is the perfect option to save money on a tour of Tibet and still be able to see the best parts of this beautiful region.
There is also the option of saving more money by sharing a room. All hotels in Tibet have a single room supplement, and for those solo travelers on a Small group Tour, you can share a twin room with another member of the group if another solo traveler is available for room sharing and reduce the cost of your hotel charges whilst staying in the region. And don't worry, you will only share a room with someone of the same gender.
Dos and Don'ts for Solo Travelers Visiting Tibet
There are a few things to remember for solo travelers to Tibet to make your tour even more exciting and enjoyable than you ever thought possible.
It is compulsory to book a tour to Tibet to get the Tibet Travel Permit, which is required to get into Tibet in the first place. The permit is a requirement for you to board the train or flight to Lhasa. There are still some internet-based companies that offer the Tibet Travel Permit without giving you a tour. These are scam sites and should be avoided.
When choosing a tour operator to join a group tour, it is important to look into their background carefully, and even read the reviews of the operator on the review websites, Lonely Planet and TripAdvisor. That way, you can guarantee that you get a good tour operator. Here at Tibet Vista, we have great reviews from our clients on both sites, and with our decades of experience can give you the best possible tour for your Tibet trip. See our clients' review on Tripadvisor
If you want to reduce the cost of your trip overall, it is better to take the train to Lhasa than to fly. While there is no advantage in terms of acclimatization by using the train over the plane, it is very much cheaper and a much more enjoyable experience.
When you get to Lhasa, do not over-exert yourself rushing around to try and make the most of your short time in Tibet. Altitude sickness is something almost everyone gets, and strenuous activity can increase both the risk and the severity of the symptoms. Please click the link to learn more about altitude sickness and the correct ways to avoid it.