Is It Possible to Travel to Tibet Without Tibet Permit
Traveling to Tibet is like no other. To international tourists, having a Chinese visa is far from enough. To visit Tibet, you are expected to book your Tibet tour via a local travel agency and later get a Tibet Permit for the legal entry. Follow our expert advice to learn more.
Why Having a Tibet Travel Permit Is So Vital to Your Tibet Tour?
Why is it so important to have the Tibet Travel Permit for your tour of the Tibet Autonomous Region (TAR)? The answer is really simple: you can't visit Tibet without it by Tibet travel agency. The permit is required for more than just allowing you to travel in the area of the TAR. You will not be allowed to get onto a train or flight to Tibet unless you possess a Tibet Travel Permit. In fact, you will not get into the departure lounge of the Chinese airport without the permit. And when you try to board the trains to Tibet, you will find that you cannot even get onto the platform without showing your passport, visa, and Tibet Travel Permit.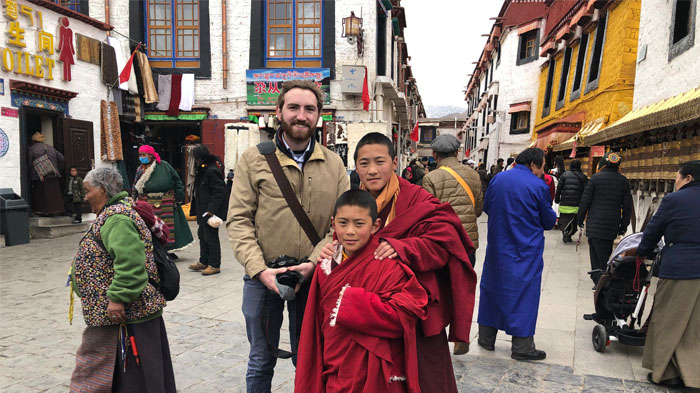 You can enjoy your Tibet tour after getting your Tibet Travel Permit.
How Can You Get Your Tibet Permit?
Obtaining a Tibet Travel Permit for travel into and around Tibet can only be done through a Tibetan travel agency or tour operator. And even then, you have to have first booked one of their organized and pre-arranged tours of the region to get it. Now, this practice is an integral part of the application process for the Tibet Travel Permit.
The Tibet Entry Permit is an essential document for your Tibet travel.
Once you have booked your tour with us, we will make the application for the permit on your behalf, using scanned color copies of your passport and visa. Processing of the permit can normally take around 10 days and up, depending on the season. Once the permit has been approved by the Tibet Tourism Bureau in Lhasa, we will forward your copy to your hotel in China ready for your trip to Lhasa.
When Will Your Tibet Permit Be Checked?
Normally, the permit will be checked as you board the train or flight to Lhasa in other cities in China or when you enter the Tibet Autonomous region by land from inland China or Nepal, you are also expected to show it to officers.
You will also need it when you travel in Lhasa when you check in to your hotel or visit an attraction such as the Potala Palace, you will also need to produce it for inspection. If you travel beyond Lhasa, it will also be needed as you will come across local checkpoints and police patrols. And to visit other restricted regions in Tibet, Tibet permit is also essential for getting other travel permits.
Is There Anywhere Else Where Tibet Permit Is Not Needed for International Travelers?
With the permit taking as long as 10-14 days to process, if you have a tight schedule for your holiday, you may find that you cannot get it in time. However, you can visit some of the Tibetan areas of Sichuan, Yunnan, Gansu, and Qinghai Provinces, where you get all the Tibetan traditional lifestyles that you get in the TAR itself. The ancient Tibetan empire stretched far into what is now mainland China, and many of the towns in Qinghai Province and the western areas of Sichuan and Yunnan are still mainly Tibetan-inhabited areas. And you do not need the permit to travel there.
Other Helpful Travel Tips for Tibet Travel Even If You Have a Tibet Permit.
The Tibet Travel Permit is actually mainly valid for traveling inside and around Lhasa, and for those wanting to travel to other areas, you will need other permits and passes. Most of these are available in Lhasa, while one is required to be applied for prior to your trip.
A Sample of Alien's Travel Permit
The Alien's Travel Permit (ATP) is required for travel to the "unopened" areas of Tibet outside Lhasa, including Shigatse. The Restricted Areas Permit, often called the "Military Permit", is required for travel to military-sensitive areas such as Ngari, Nyingchi, etc. In this case, usually, your Tibetan guide will keep your Tibet Permit throughout your stay in Tibet and help you get other permits needed for a particular attraction. There is no need to worry about it.
Conclusion
While Tibet may sound like an amazing place to go backpacking, you should consider the restrictions on travel in the region. The Tibet Travel Permit is required for all international tourists to Tibet, and will be checked at various points on your trip. This includes boarding transports to get to Lhasa from mainland China. And you will also need to have other permits for travel to other areas of Tibet outside Lhasa. So for the easiest way to get your permits, come book your trip to Tibet talk to us and we can and take care of everything for you.