The Ultimate Guide to Sichuan: Tibet Overland Tour
China offers a lot to its travelers, especially its big cities that are so full of liveliness and culture that you could easily spend weeks roaming the streets without noticing time flying by. That is, if you're a "city person," and many are emphatically not. If that's you, and you find yourself overwhelmed by all the hustle and bustle, the place to escape to is, without a doubt, Sichuan.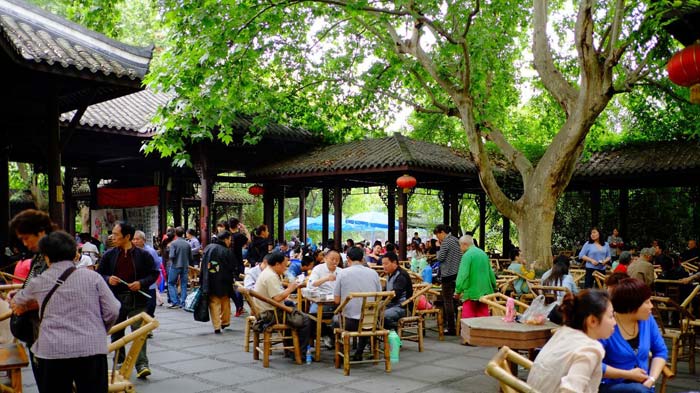 Enjoying your time in Chengdu
Referred to as a vital gateway region bridging eastern and western China, the Sichuan Province is an oasis for travellers itching for real downtime—the deep, soulful kind achieved when you connect with the natural world. Spacious, with luscious grasslands, exquisite mountains, alpine lakes, and plenty of yaks milling about, this southwestern land has been described as characteristically "Tibetan." So, if you don't have the travel documents needed to get into Tibet proper, consider Sichuan your ideal destination.
A little background on this land
Curious about how this area came to be? It had various ups and downs throughout history, with particular events playing a significant role in forming the Sichuan we know today. At its genesis, over 2000 years ago, when China had yet to become a unified nation, this land was comprised of the ancient states Ba and Shu. Later, after the unification of China under emperor Qin, Sichuan benefited by becoming stronger.
Years later, in the 1600s and still under the Qin Dynasty's ruling, the Sichuan people had to deal with a crushing defeat. This came at the hands of the Shaanxi peasants, who were led in revolt by Zhang Xianzhong, aka "The Yellow Tiger." The result of their conquering the land? Locals were massacred, greatly diminishing the population and leaving the nation weak and unstable. This state of vulnerability meant the Manchus were able to easily take control next.
It would not be for some two hundred years later that Sichuan would regain its strength and become an attractive, productive region once again. But its successes in the 1800s resulted in yet another demise. As it was made the capital of China, it became the prime target of the devastating Japanese bombing.
Other sufferings endured by the people include the fall to the Communist party that led to a divide in the land for 3 years; plus, the Great Chinese Famine of 1959 that also lasted 3 years; and finally the separation of the Chongqing Municipality in 1997, which led to its substantial decrease in popularity.
Not all is lost, however. With its smaller number of inhabitants, a tranquil, peaceful energy has been fostered here, which somehow seems to augment the beauty of its natural landscapes. Plus, in becoming more sequestered, hyper-modernization has been prevented, preserving its unique culture.
The language
In addition to the stunning scenery and the rich history, the unique culture encountered here provides reason in and of itself to visit. At its foundation?Communication, of course. You will hear the locals speaking a particular type of Mandarin, which has a structure that's more in line with Standard Chinese than southeastern Chinese. This branch of Mandarin stems out of the Ming dynasty, a period that is known for the great social stability it created in China. Under this ruling, Sichuan was inundated with many immigrants from Hunan, Hubei, Jiangxi and Guangdong. Borne out of this great re-population was this language known as Sichuanese.
Regional cuisine
The food that can be found here is the result of the warm, damp climate. Since it is believed in Traditional Chinese Medicine that such weather conditions necessitate a particular diet, dishes that have become staples here all have one thing in common: they are spicy. In fact, nearly every meal features the hot Sichuan pepper. The cuisine is also known for its strong fragrance and freshness, earning it the title of one of the four great traditional types of Chinese cuisine.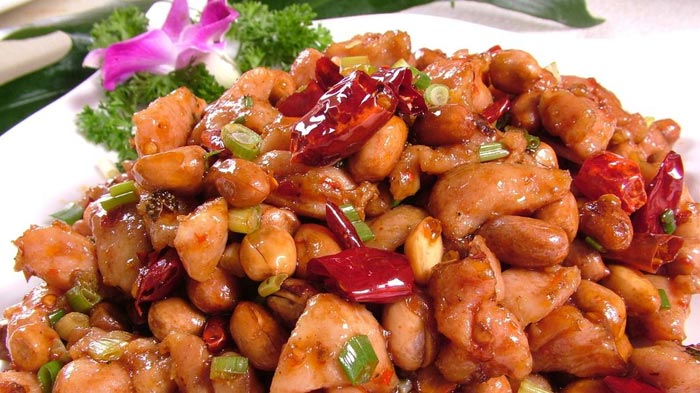 Kung Pao Chicken
Popular entrées include Kung Pao chicken and Mapo tofu, that have become well-loved all over the world. What are they?Kung Pao Chicken is a delectable stir fry with peanuts, vegetables and chili peppers. To whip it up, these ingredients are marinated in a rice/sherry wine and soy sauce, coated in a sweet hoisin sauce, stir-fried with scallions, garlic and ginger, and then topped off with a sprinkling of green onions.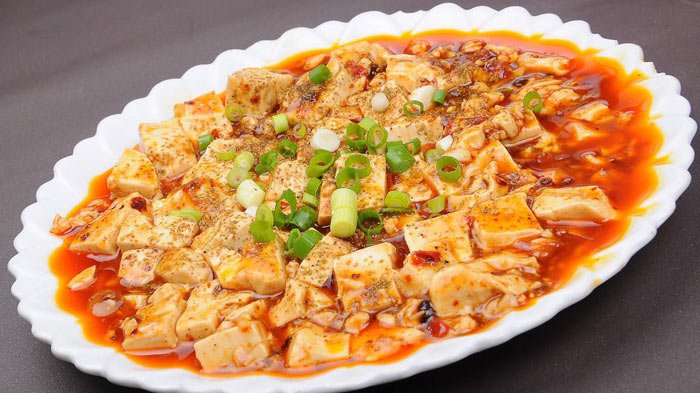 Mapo Tofu
Mapo tofu consists of ground pork or beef, tossed with tofu that's been marinated in a bean paste. The melange is flavoured further by an oily, red, spicy sauce, which it sits in for a substantial amount of time to promote absorption.
Sites to visit
Wenshuyuan Buddhist Temple
There are a plethora of monasteries in Sichuan, but this is a long-agreed favourite amongst travellers. Its serene atmosphere is complete with a library, school, beautiful gardens and a tea house, plus you can find restaurants nearby if you're feeling peckish.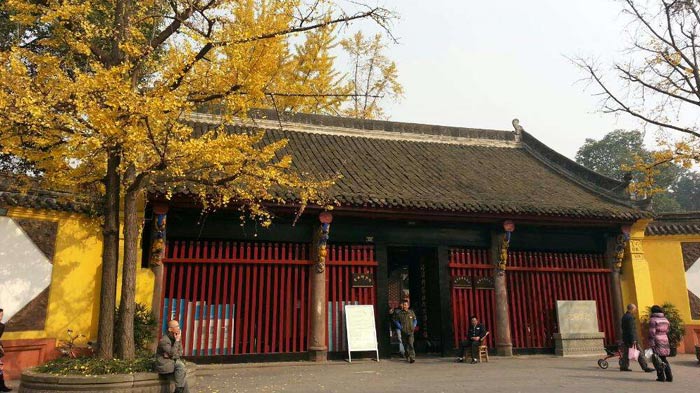 Wenshuyuan Buddhist Temple
Tagong
A small town located on the northern part of the Sichuan highway, it's known for its monastery, which is one of the most important in Tibet, affiliated as it is with the sacred Mount Yala. This settlement is also the place to try Tibet's famed yak butter tea. Why? There are plenty of yaks roaming the grasslands here, which the cafes and restaurants use to their advantage. In other words, you won't find fresher yogurt, butter and/or tea anywhere else. Check out the tourist hotspot Khampa Café day or night, but also feel free to set up your own tent on the grasslands and enjoy your snack while gazing at the very animals who are responsible for its existence.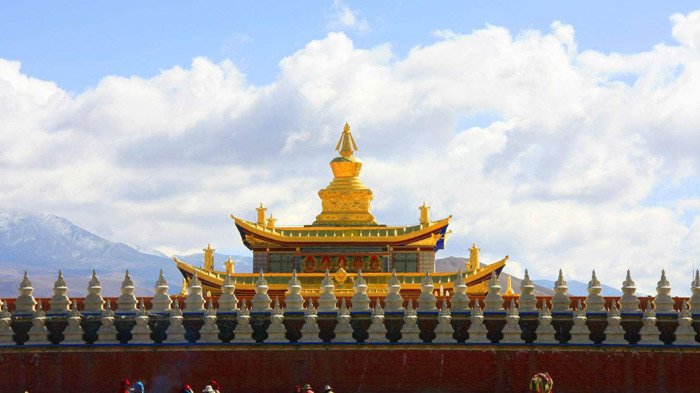 Tagong Monastery
Leshan Giant Buddha
Facing Mount Emei in the southern part of Sichuan, this figure is over two hundred feet tall, sculpted out of a stone cliff during the Tang Dynasty (late 700s). It is at once considered the world's largest Buddha statue, and the largest pre-modern statue. Specifically, it depicts the Maitreya, the figure of the future Buddha, the one succeeding the present Buddha who is believed will come to this earth when the dharma is almost completely forgotten in order to teach the lessons of the dharma and achieve complete enlightenment.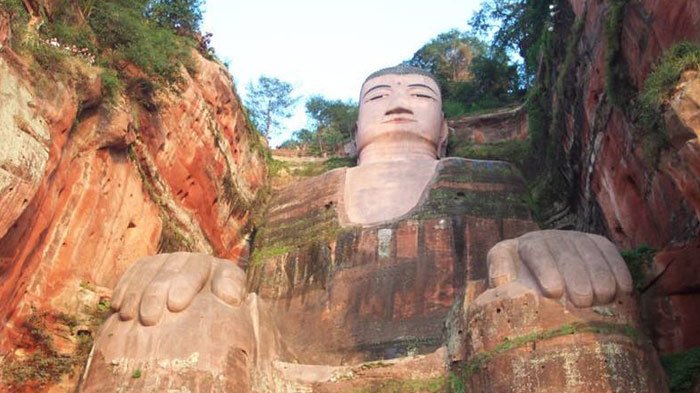 Leshan Giant Buddha
Giant Panda Sanctuaries
Providing the opportunity to see pandas in their natural habitat, the sanctuary has been crafted into a widespread haven, featuring seven nature reserves and nine parks. It is home to over thirty per cent of the world's pandas, a highly endangered species. Also found here are other at-risk species like the red pandas, the snow leopard and the clouded leopard. Providing not only a rare treat for tourists, but working on the admirable mission to preserve these animals' lives, this is a truly magical spot.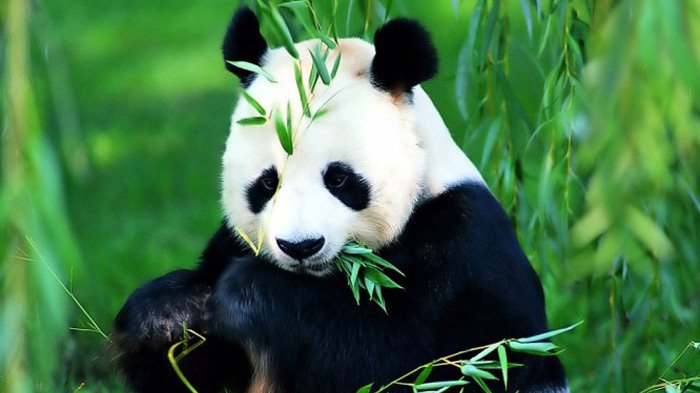 Giant Panda Sanctuaries
Jiuzhaigou National Park
Spanning over 180 000 acres, this vast nature reserve and park has been marked a World Heritage Site. It's composed of three valleys, which altogether form a Y-shape. These are the Rize, Zechawa and Shuzheng valleys, which can all be toured by shuttle bus. Notable features include its snow-capped mountains, colourful lakes—like Mirror Lake, and astounding, multi-level waterfalls.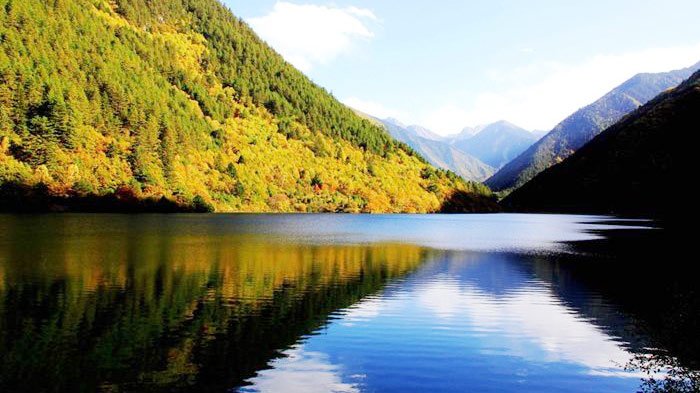 Jiuzhaigou National Park
Yading Nature Reserve
If you're adventurous, physically fit and trained in mountain climbing, try the holy hike around the three mountains found in this reserve: Chenresig, Chana Dorje and Jampelyang. According to the teachings of Tibetan Buddhism, they represent compassion, power and wisdom. Completing the trails is viewed as a sign of devotion, and for this reason disciples of the faith are commonly found winding their way up these mountains in this 35 km hike. It's a truly remarkable opportunity, so if you can fit it into your trip, definitely make sure to do so.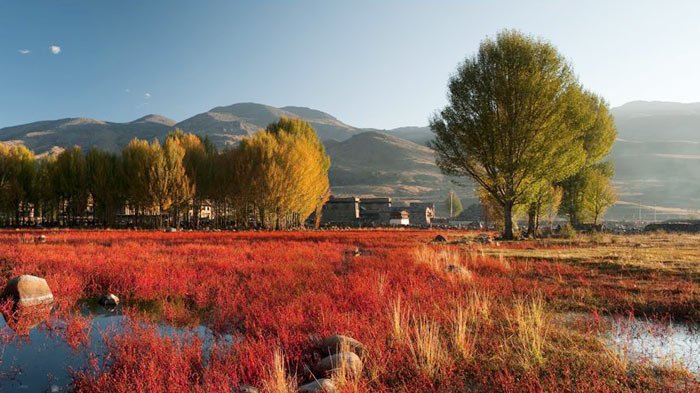 Yading Nature Reserve
One last quick tip - There are many political activists that inhabit Sichuan; as a result, there have come to be many police officials milling about, and they've been trained to act quickly, detaining individuals they deem suspicious for whatever reason—and this treatment extends to tourists. So, be mindful of your behaviour and follow any rules you're told while there. Other than that, enjoy your visit—hike the land, camp out overnight, and don't forget to try the yak butter tea!